Features
Ram Introduces 1500 Revolution BEV Concept at CES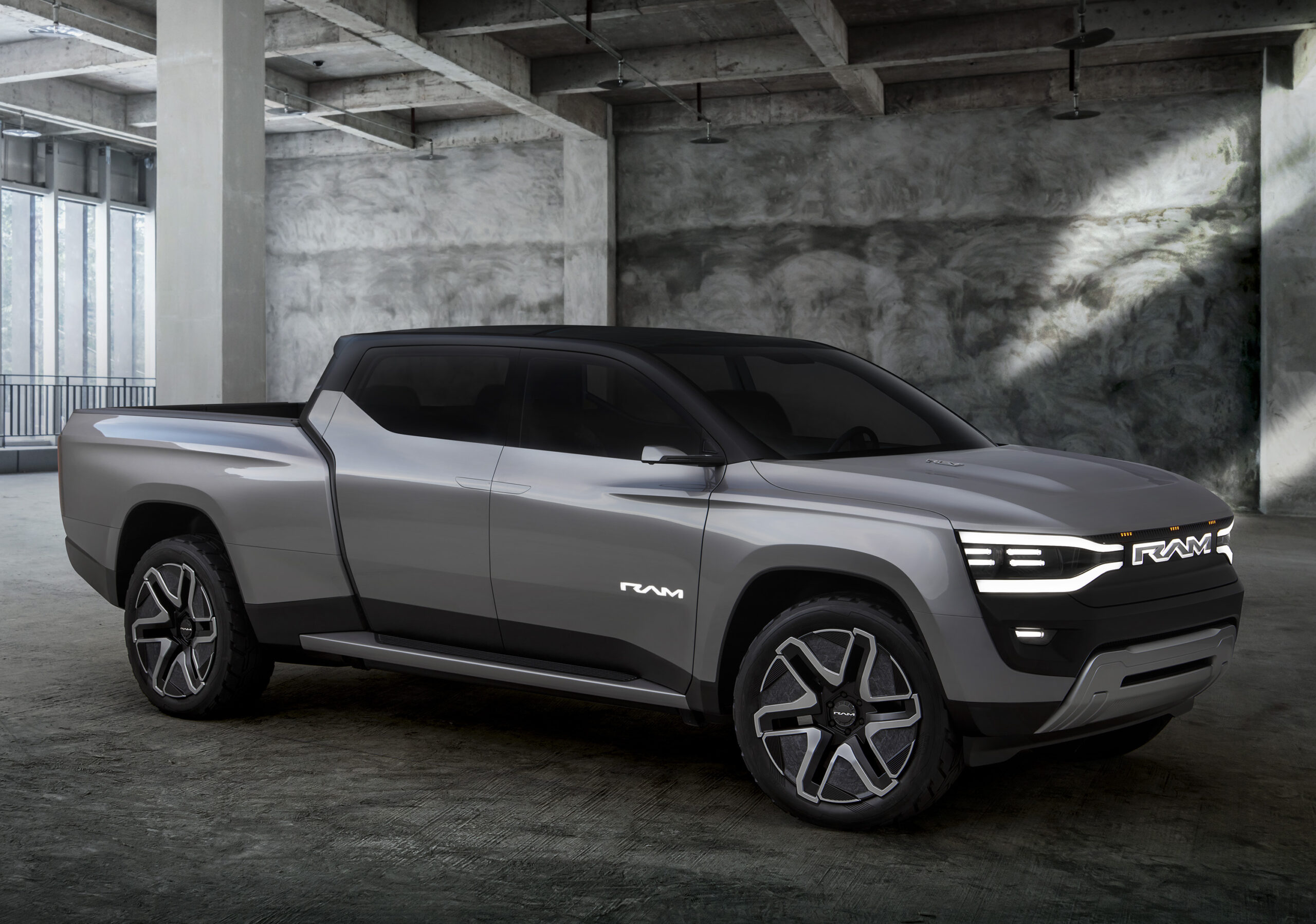 The Ram Truck brand introduced its new road map for electrification at CES 2023 with its Ram 1500 Revolution Battery-electric Vehicle (BEV) Concept, the automaker announced. The concept showcases a full slate of new features that will be included in future Ram trucks.
The Ram 1500 Revolution BEV Concept features an exterior design with an animated and modernized "R-A-M" badge. The doors have been reimagined in a grand saloon-style opening without a B-pillar. LED lights have been integrated into the front bumper flares and advancements in lighting are highlighted by fully animated LED taillamps and badging. The Ram 1500 Revolution BEV Concept design also features an integrated fascia design with a skid plate and new pivoting tow hooks that can sit flush.
Powered features include a new powered frunk with one-touch open-and-close functionality, as well as a powered charge-port door situated on the driver's side front quarter panel, a powered tailgate, flush-mounted door handles, powered side steps and a powered rear step with active diffuser.
The concept also features side-view mirrors that are smaller, more lightweight and use 3D printed materials for optimal aerodynamics and reduced drag. The side-view mirrors use a digital camera to capture the truck's surroundings, allowing for a smaller physical size, Ram designers said.
The charge port illuminates and blinks while charging. An audible sound will signal it's plugged in and charging has begun. The charge port features Level 1 and Level 2 AC charging on the top half and DC fast charging on the bottom half of the charger.
Recognizable Ram design cues include a power multifunction tailgate and a larger RamBox. The acute hourglass body design and fender wells clear 35-inch tires with a new unique design. The 1500 Revolution BEV Concept features self-leveling capability and rides on 24-inch wheels with center caps that light up and stay in place.
These new proportions are achieved courtesy of the STLA Frame EV platform on which the Ram 1500 Revolution BEV Concept is built. New intelligent safety systems and smaller, more powerful electric motors afforded the design team the ability to shift the cabin forward and increase cabin length. The 1500 Revolution BEV Concept features a cabin that is four inches longer than today's production truck, while the bed length remains the same.
A more spacious interior and greater cabin length are the result of a new architecture while the battery's size allows for more cargo volume, designers said. Ram Track, Ram's rail attachment/floor track system, provides cabin flexibility for the seats and console, as well as usable tie-downs or other storage potential. Ram Track is also incorporated in the frunk, as well as the bed.
One highlight of the concept's interior is a new feature: third-row jump seats. The powered mid-gate features mounted jump seats with a removable lower section for placement in the bed or outside the vehicle. The mid-gate with powered glass enables a pass-through (and into the frunk) that can fit objects up to 18-ft. long with the tailgate closed.
Additionally, the center console can be removed for even more space. If desired, the center console armrest individually converts to a workstation surface. Combined with mid-gate and jump-seat options, the 1500 Revolution BEV Concept offers multiple flexible seating configurations. Lightweight seats feature integrated seatbelts, grab handles and speakers with the ability to fold flat along with extended recline, work, conference modes and deploying the jump seats.
A full touchscreen display comprised of two screens offers up to 28 inches of screen space. The lower display has three different positions depending on the task at hand – minimal view, extended view and full screen view – and can be removed and used in different areas of the truck. The upper screen can also slide on the Ram rail attachment system.
When in reverse, the camera stitches together images from various cameras around the truck, providing the driver with a 360-degree view on the interior digital screens.
Digital side-view mirrors and augmented reality (AR) head-up display (HUD) highlight the onboard advanced technology.
A flat-top and bottom collapsible steering wheel offers enhanced hand grips with capacitive controls, digital screens and a lit "RAM" badge. Tactile swiping technology enables occupants to configure the sun visors or the entire electro-chromatic roof with the ability to adjust the opaqueness. The full glass roof with electro-chromatic panels and integrated roof rails features ambient lightning that's operated through the overhead console.
The Ram 1500 Revolution BEV Concept features all-wheel-drive capability and is powered by two electric drive module (EDMs), which are positioned toward the front and rear of the vehicle, and is designed for the potential for future high-performance applications.
The Ram 1500 Revolution BEV Concept can add up to 100 miles of range in approximately 10 minutes with 800-volt DC fast charging at up to 350 kW.
The Ram 1500 Revolution BEV Concept also features four-wheel steering with up to 15 degrees of articulation.
Adjustable air suspension enables three different modes: ingress/egress, aero, off-road.