Features
Questions That Lead to Bolt-On Lighting Sales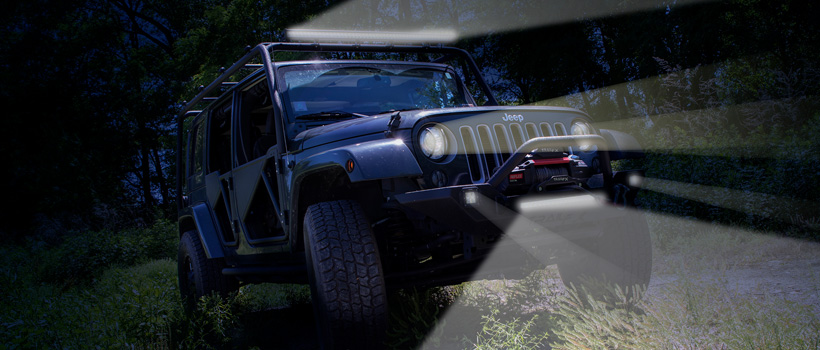 Much of the popularity for LED light bars began as truck drivers required better visibility on highways at night. Not only did it serve a purpose, but it looked good, too. Gradually, the market expanded into pick-up trucks, SUVs and even cars.
The market has been steadily growing since and LED lighting options are increasing. The off-road community as well as RV and overlanding lifestyles continue to expand the need for aftermarket lights and products.
---

Photo 1: It's important to learn what style of lighting is ideal for each customer. Spotlight is shown on the left, while a floodlight is demonstrated on the right.
---
LEDs consume less energy, generate less heat and provide cleaner, brighter light. LED is a light emitting diode or semiconductor diode that projects light. They don't use conventional filaments, so they are more durable, last longer and come in a variety of shapes and sizes.
When determining what light will work best for your customer's needs, it is important to consider what they intend to use the lighting for, and the light's primary function. The first question to ask is, "Do you need spot or flood?" Are they going off-road, need more light on the road at night or simply upgrading the look of their ride?
Depending on their answer, you can choose what style light will work best. There are two beam patterns: spot and flood. Spot lights focus the beam pattern, which is great for lighting the road a long distance; while flood lights provide a wide beam pattern giving more side-to-side coverage perfect for trails and off-roading (see Photo 1).
About This Sponsored Content
TrailFX offers an extensive line of high-quality light bars, which include aluminum housing and polycarbonate lens, mounting brackets, LED switch and a limited lifetime warranty to meet the needs of your customers who looking for an upgrade. Visit TrailFX.com for more information.
In today's market, you can find light bars that offer both spot and flood beams in one combo light bar. This may be overkill for some, so determine early in the conversation what they plan to do. LED light bars are offered in single and double rows, straight and curved, and from 6 inches to 54 inches (see Photo 2).
TrailFX Premium Series LED light bars feature a combo beam pattern and side emitting LED reflector technology with gore breathers. The aerodynamic design reduces wind noise and a black plastic cover is included. These are great for customers who want the flexibility to take their daily driver off-road.
The next question is, "Where do you want to mount the light?" You can find a variety of universal and vehicle-specific light mounting brackets for most applications. Popular mounting locations include above the windshield, in the grille or bumpers, on a bull bar or even on the hood.
---

Photo 2: LED light bars are offered in single and double rows, straight and curved, and from 6 inches to 54 inches.
---
Traditionally, spot lights are mounted higher on the hood or roof because they project long, narrow beams for long distance. Flood lights are mounted lower in the grille or bumper because they produce wide, shallow beams so you can see what is around your vehicle.
Many of today's aftermarket light duty and heavy duty replacement truck and Jeep bumpers will accommodate built-in light bars and cube lights both front and rear, providing stylish and functional lighting upgrades for your customer's vehicle (see Photo 3).
LED cube lights and work lights are a perfect upgrade to your customer's ride for additional lighting. Compact but powerful, these lights direct light where you need it most. The addition of cube lights along with a light bar will give your customer the option to have both spot and flood lights.
---

Photo 3: It does not take a lot for a big lighting upgrade for certain customers and vehicles, as evidenced by this Ford Super Duty.
---
LED work lights can be mounted on contractor vehicles and headache racks (see Photo 4). Lastly, it is important to have the right equipment. LED light bars vary in quality. Consider wattage, lumens, IP rating as well as housing and lens quality when choosing a light bar.
Also keep in mind DOT regulations vary by state. Some states require a light cover while driving on public roads to comply with regulations. If you're not certain, be sure to check the DOT in your state.
---

Photo 4: Contractors never have to work in the dark thanks to several aftermarket appointments designed to make the job easier, even at night.
---