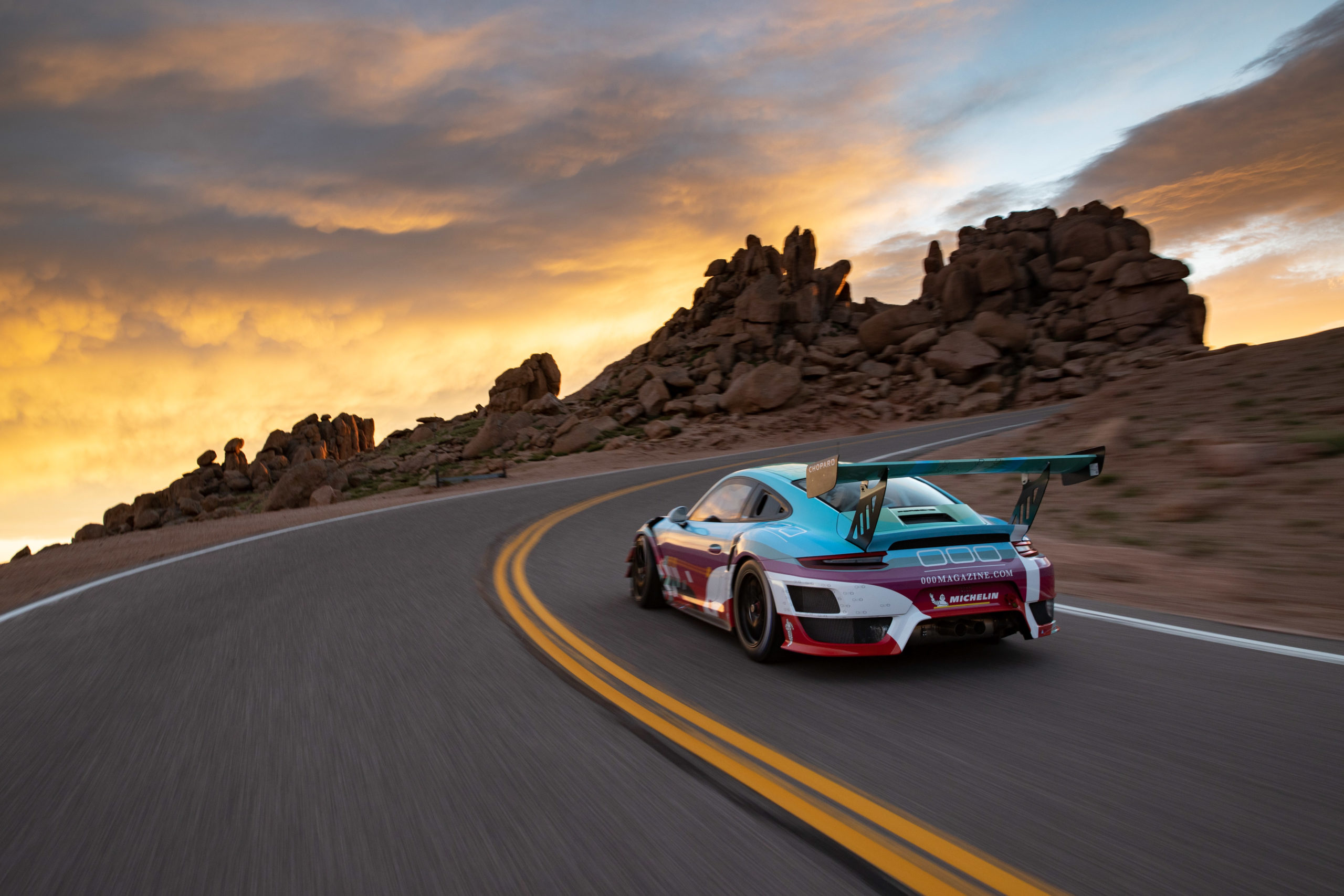 As teams prepare for the 2020 Pikes Peak International Hill Climb, the Colorado race welcomes an entry in the form of the 000 Magazine art car—a Porsche 911 GT2 RS Clubsport driven by three-time "King of the Mountain" David Donner.
"I was never interested in returning to Pikes Peak unless I could drive something with a racing pedigree, plenty of horsepower, traction control, and ABS," says the three-time King of the Hill. "Porsche's GT2 RS Clubsport checks all those boxes, and then you place it on Michelin race tires and we have the car. And the 000 art car looks spectacular."
Designed by 000 creative director Justin Page and wrapped by Pro Graphics Install of Denver, the colorful art car will compete in the Time Attack 1 class. Its design takes a cue from Rare Shades, an event series launched by 000 in collaboration with PTSRS to highlight Porsches in unusual colors or Paint to Sample. Page's design includes many "Easter eggs," with the zeroes in the magazine's logo appearing throughout the car.
"It will be exciting to watch David Donner return to competition on Pikes Peak this summer in the 000 Porsche," said Megan Leatham, executive director for the PPIHC. "The Donner family has been part of the history of this world-class event for more than 60 years. We were pleased to induct the Donner family, including David, to the Pikes Peak Hill Climb Museum Hall of Fame in 2016. David and fellow competitor Jeff Zwart, who was inducted in 2018, are the first Hall of Fame recipients to return to competition on Pikes Peak. We are pleased to offer a bespoke white windshield banner from our partner, Gran Turismo, to exclusively honor current Pikes Peak Hill Climb Hall of Famers who return to competition on America's Mountain."
Check out the Hill Climb competitor in the photo gallery below.