Features
Photo Gallery: Overland Builds at the SEMA Show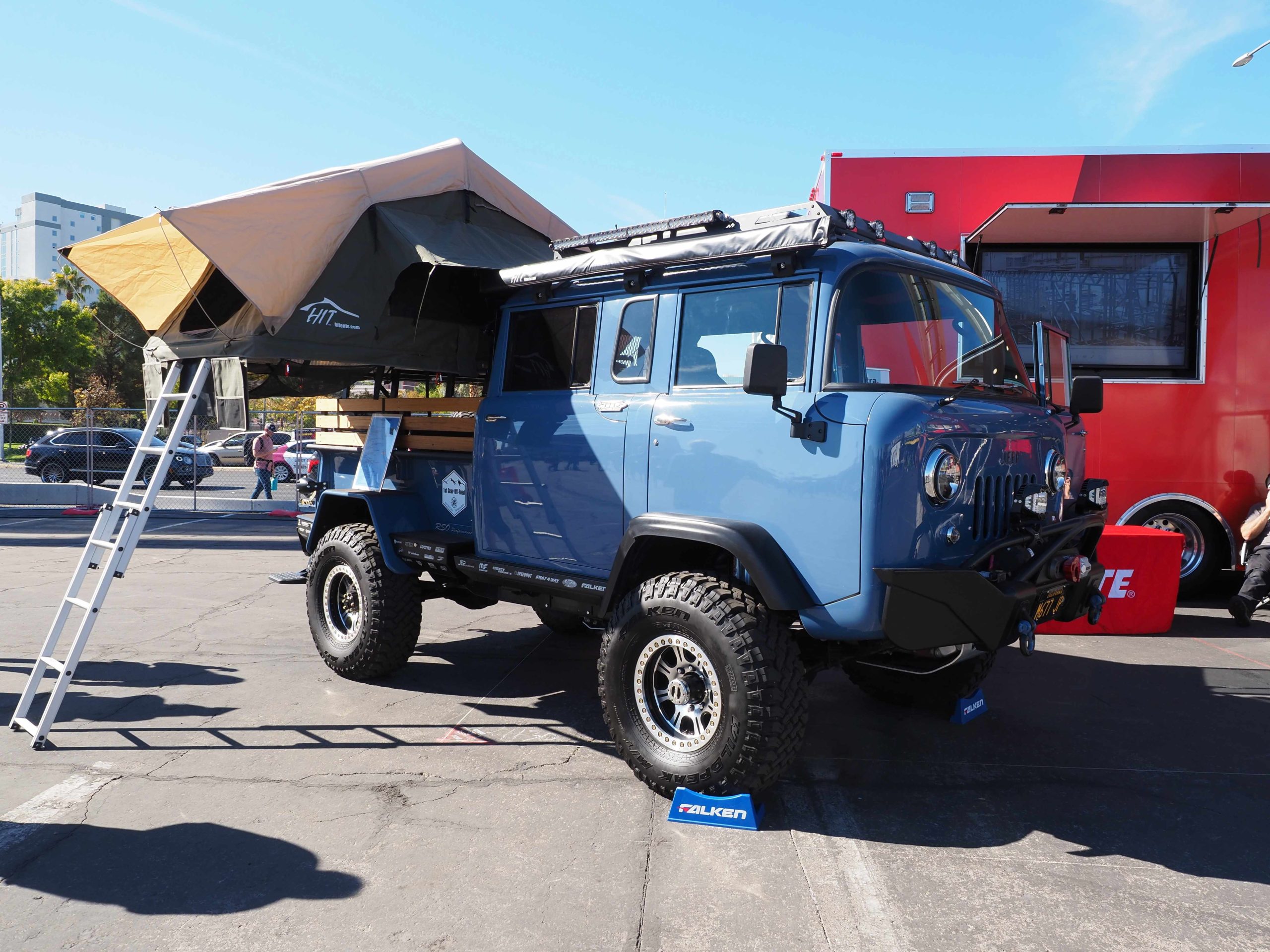 Overlanding is here to stay, as evidenced by the numerous builds featured last week at the SEMA Show. Difficult to define, overlanding lends itself to a certain diversity, with rigs taking on all shapes and forms. Check out the gallery below to see the full spectrum of builds, including everything from a Super Duty carrying a behemoth bed camper to a do-it-all daily driver prepped for weekend wilderness getaways.
Lance Enduro Overland Camper Trailer with Custom VW Atlas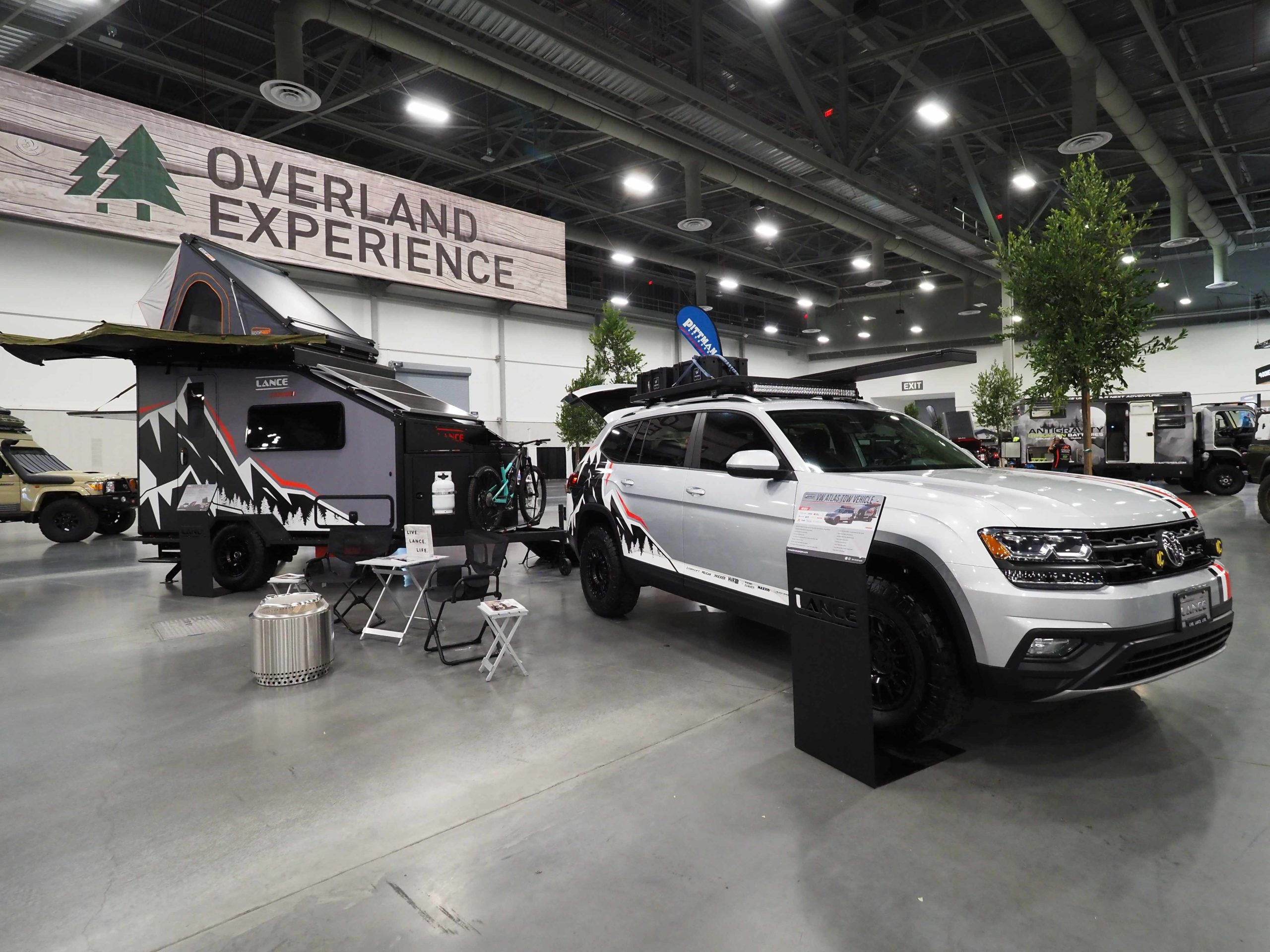 Lance Camper's new Enduro overland concept trailer rides on a Timbren independent suspension setup with all-terrain tires for better ground clearance. It has a single-axle design and a length of 18 feet, while composite construction gives it a weight of just 2,700 pounds. The Enduro sleeps up to six with its king-size bed, two bunk beds and a Roofnest Falcon XL roof-top tent. The Enduro includes a shower and cassette toilet with heated water and air and an exterior galley with Truma fridge-freezer and Camp Chef stove. Two 100AH lithium batteries and twin 190-watt solar panels provide power for the self-contained camper.
The Enduro was paired with a custom VW Atlas. The Atlas is equipped with an H&R suspension clearing Maxxis AT tires wrapped around Black Rhino wheels, an Advanced FLOW Engineering Momentum intake system and MACH Force Xp cat-back exhaust,  KC Hilites Flex lights, a Front Runner Slim Line II roof rack with Front Runner storage boxes and a Truma dual-zone fridge-freezer.
EarthRoamer LTi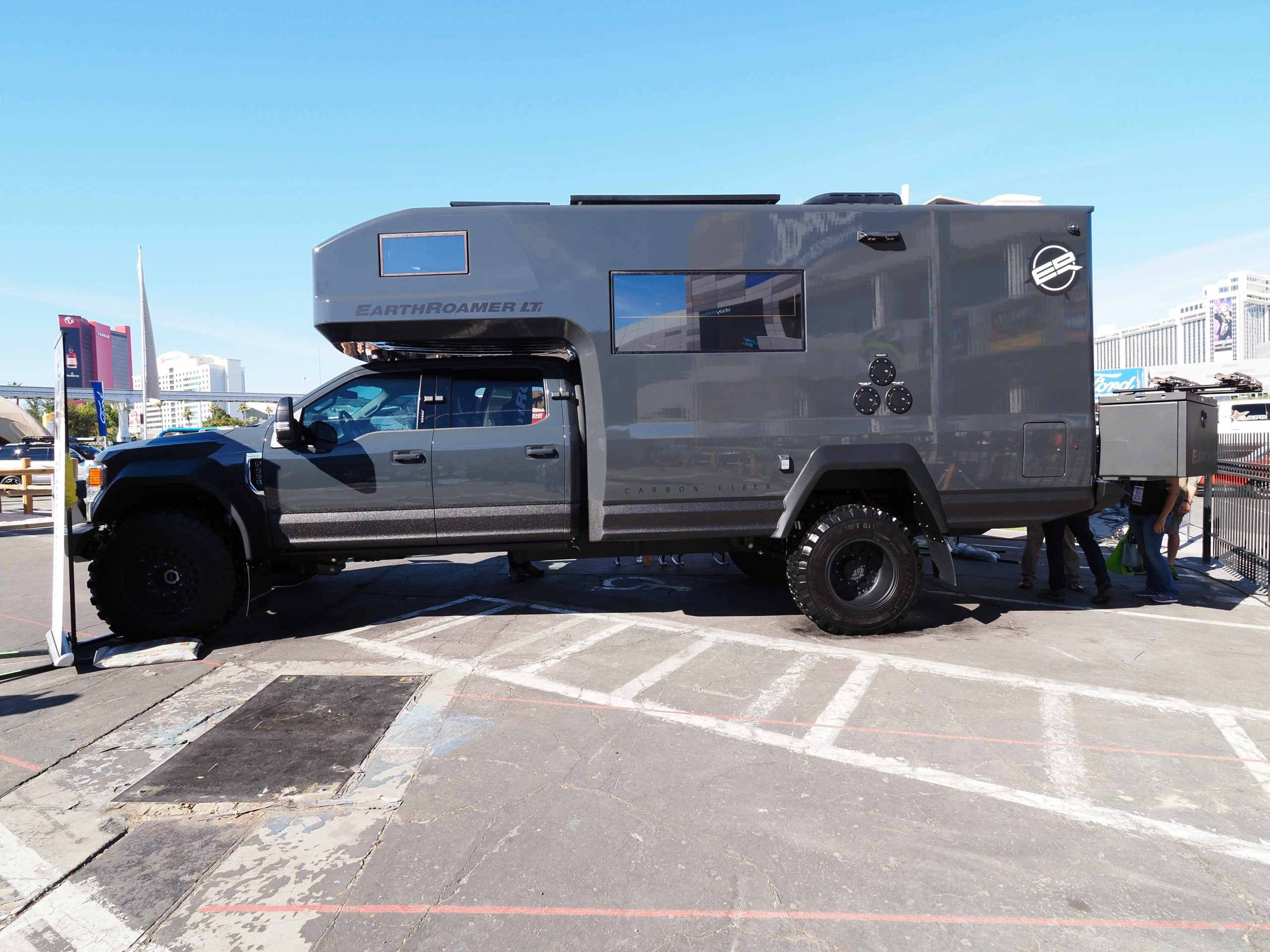 Based on Ford's beefy F-550 Super Duty chassis, the new EarthRoamer LTi uses a camper body that is made entirely of vacuum-formed carbon fiber and is equipped with a 1,320-watt solar array and an 11,000-hour lithium-ion battery system. The LTi can also carry 95 gallons of diesel, 100 gallons of fresh water and 40 gallons of grey water.
Ford Raptor Prelander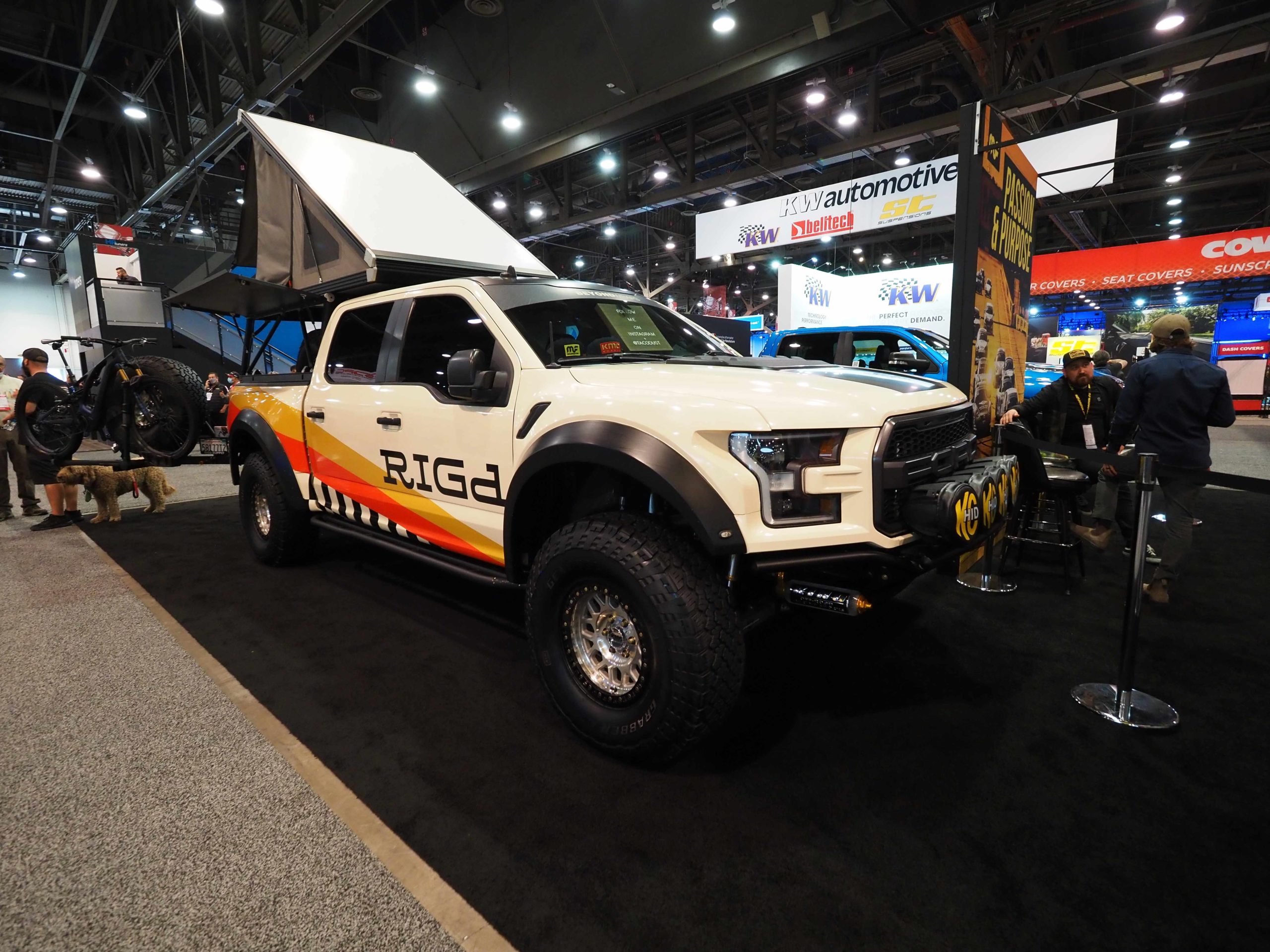 This Raptor is upgraded with a Camburg long-travel system with King shocks and a host of KC Hilites lights, along with 37-inch General Grabber AT tires wrapped around KMC wheels. The bed of the Raptor uses an SDHQ Chase Rack to secure a full-size spare, a Dometic fridge, a Pro Eagle jack and a Go Fast Camper.
Land Cruiser Bandeirante FJ-45 Crew Cab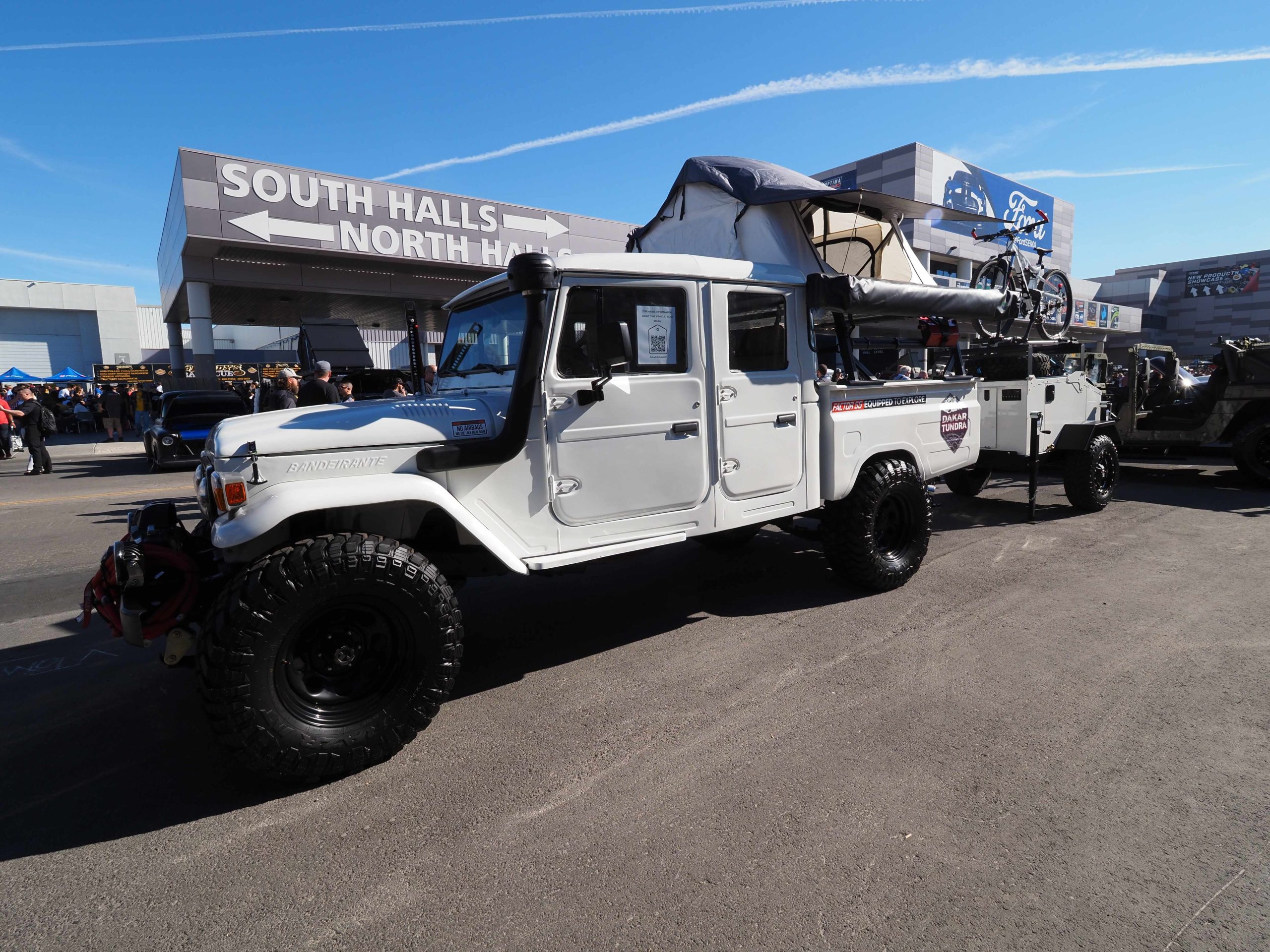 This FJ-45 Land Cruiser Bandeirante is ready for any overland adventure with an Old Man Emu suspension clearing 35-inch Maxxis Razr MT tires and a Warn Zeon 10-S winch. A Nomadic roof-top tent mounted on a Freedom Bed Rack from Overland Vehicle Systems provides a place to sleep. The Bandeirante also pulls a Goat Overland Trailer for extra room for gear and bikes.
Toyota Land Cruiser FJ-75 Troopy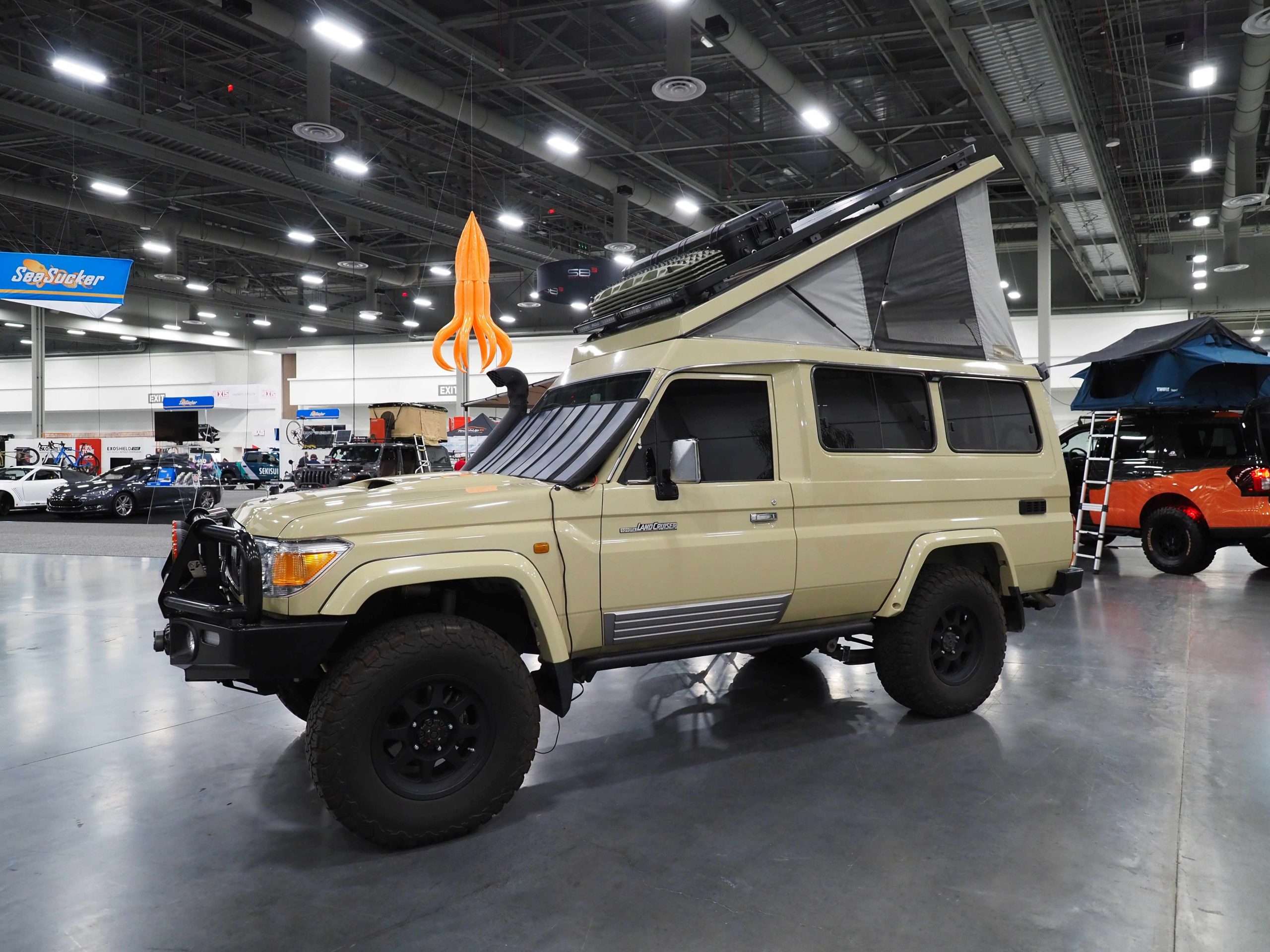 This Land Cruiser FJ-75 Troopy has been outfitted with an Old Man Emu suspension and BP-51 shocks, in addition to BFGoodrich All-Terrain tires on Method wheels and ARB bumper with a Warn winch. Unique to this FJ-75 Troopy is its Mulgo Pop Top conversion.
Toyota 4Runner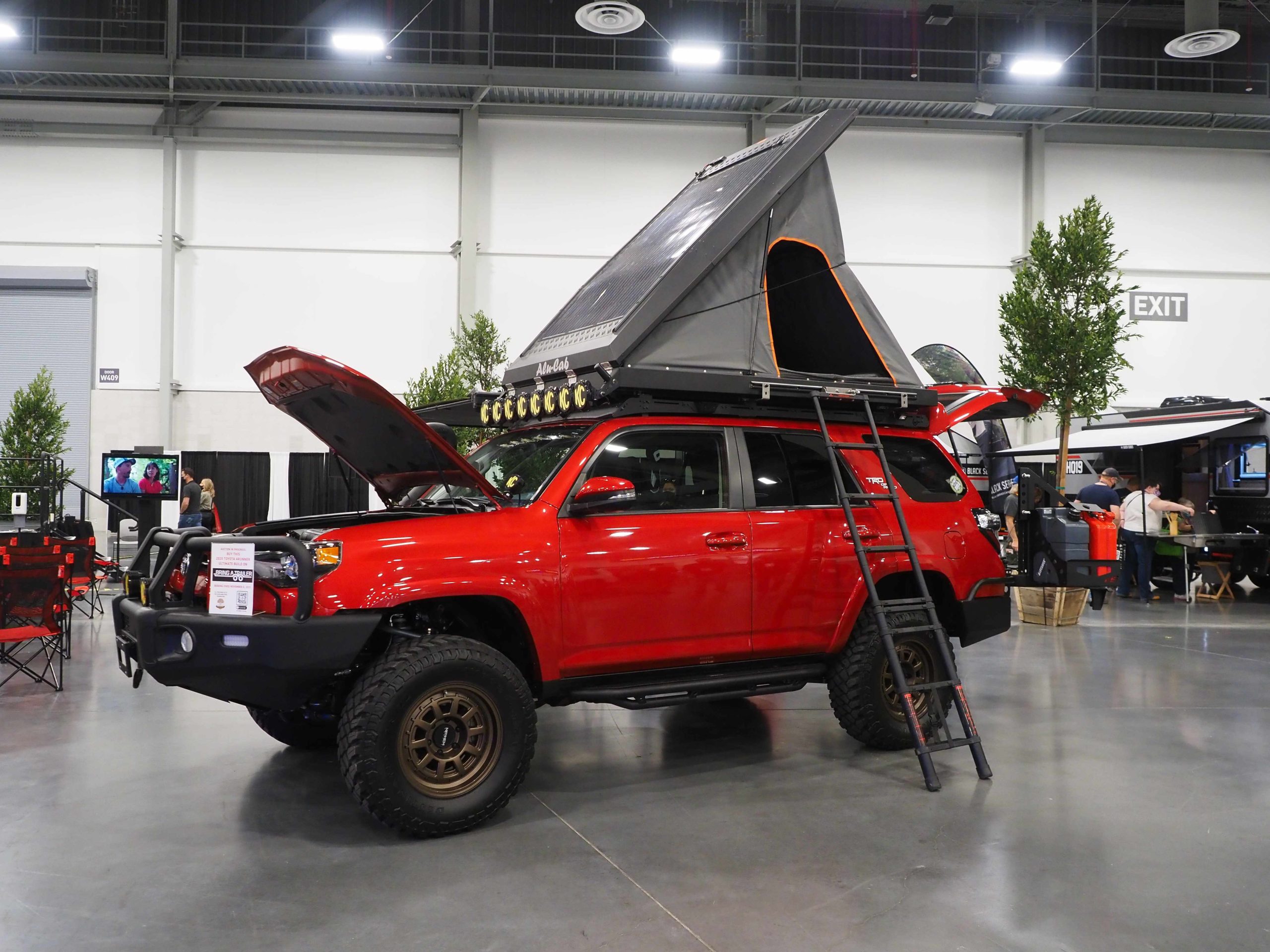 This 2020 Toyota 4Runner's most visible modification is the AluCab roof-top tent equipped with low-profile Sunflare XPLOR solar panels mounted on a Prinsu roof rack. An array of KC Hilites Pro 6 lights have been installed, as well as an ARB Summit front bumper, CBI rear bumper and Westin sliders. Other upgrades include a Total Chaos suspension system with Radflo shocks, 33-inch Firestone tires on 17-inch Mayhem wheels and a Dobinson drawer system. Mounted to the top of the drawers is a Dometic fridge freezer on an Easy Slide slideout. Additional AluBox boxes offer more storage.
1964 Jeep M677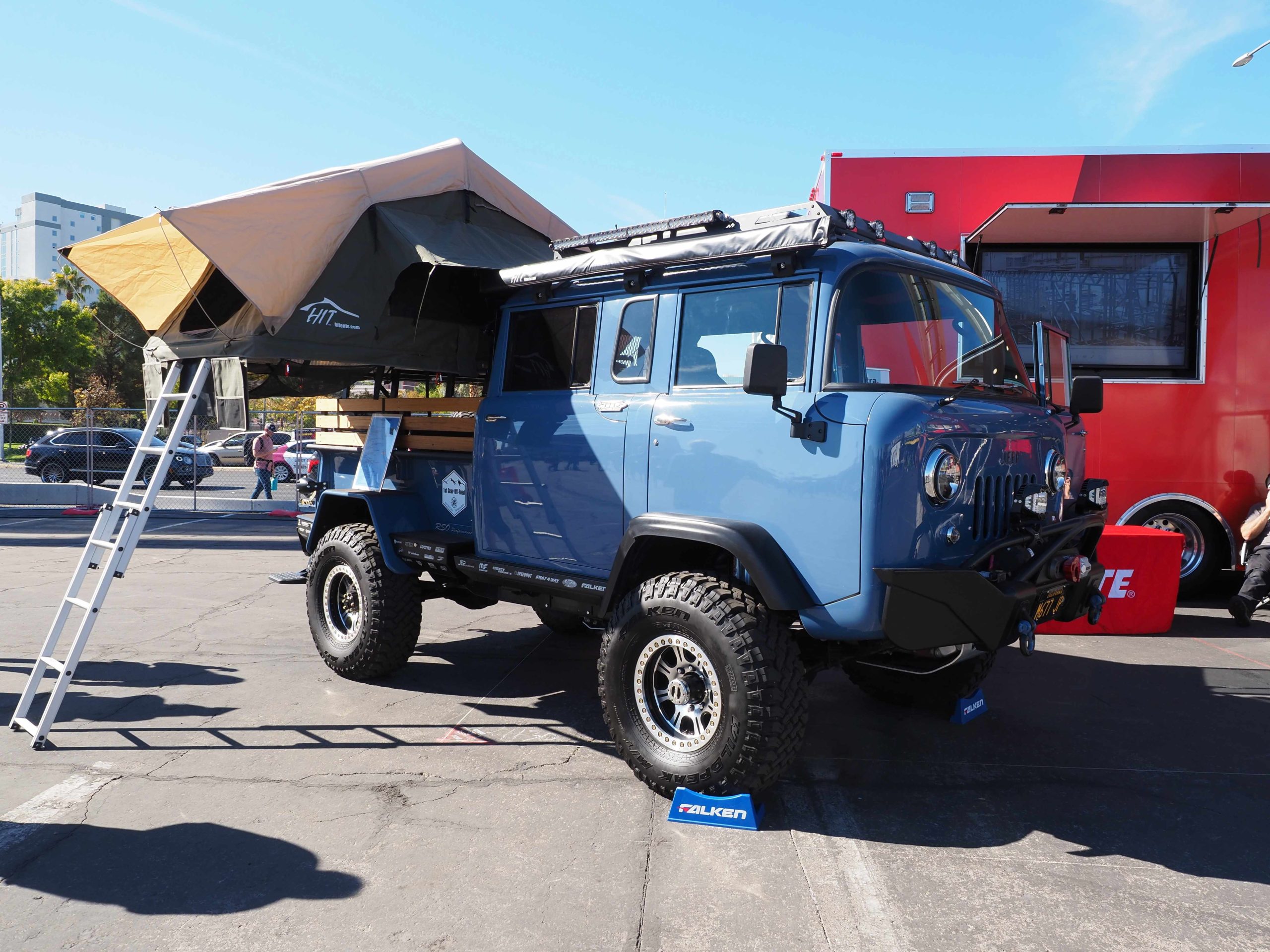 With only 500 made for the USMC and Navy, this Jeep M677 is a unique overland build. Instead of bolting on a slew of readily available aftermarket parts, almost everything had to be hand-built for the Jeep Forward Control. Powering the Jeep is a Chevy 350 cubic-inch V-8 with a Holley fuel injection system. Custom leaf springs with Advanced FLOW Engineering Sway-A-Way shocks make enough room for 37-inch Falken Wildpeak tires on Raceline wheels. The original interior was replaced with seats from a Jeep JK. Giving the M677 overland cred is the mandatory roof-top tent and awning from HIT.
Other modifications include a hand-built storage panel hiding a remote welder and a York onboard compressor under the cab with an air storage tank behind the rear bumper.
Ford Tremor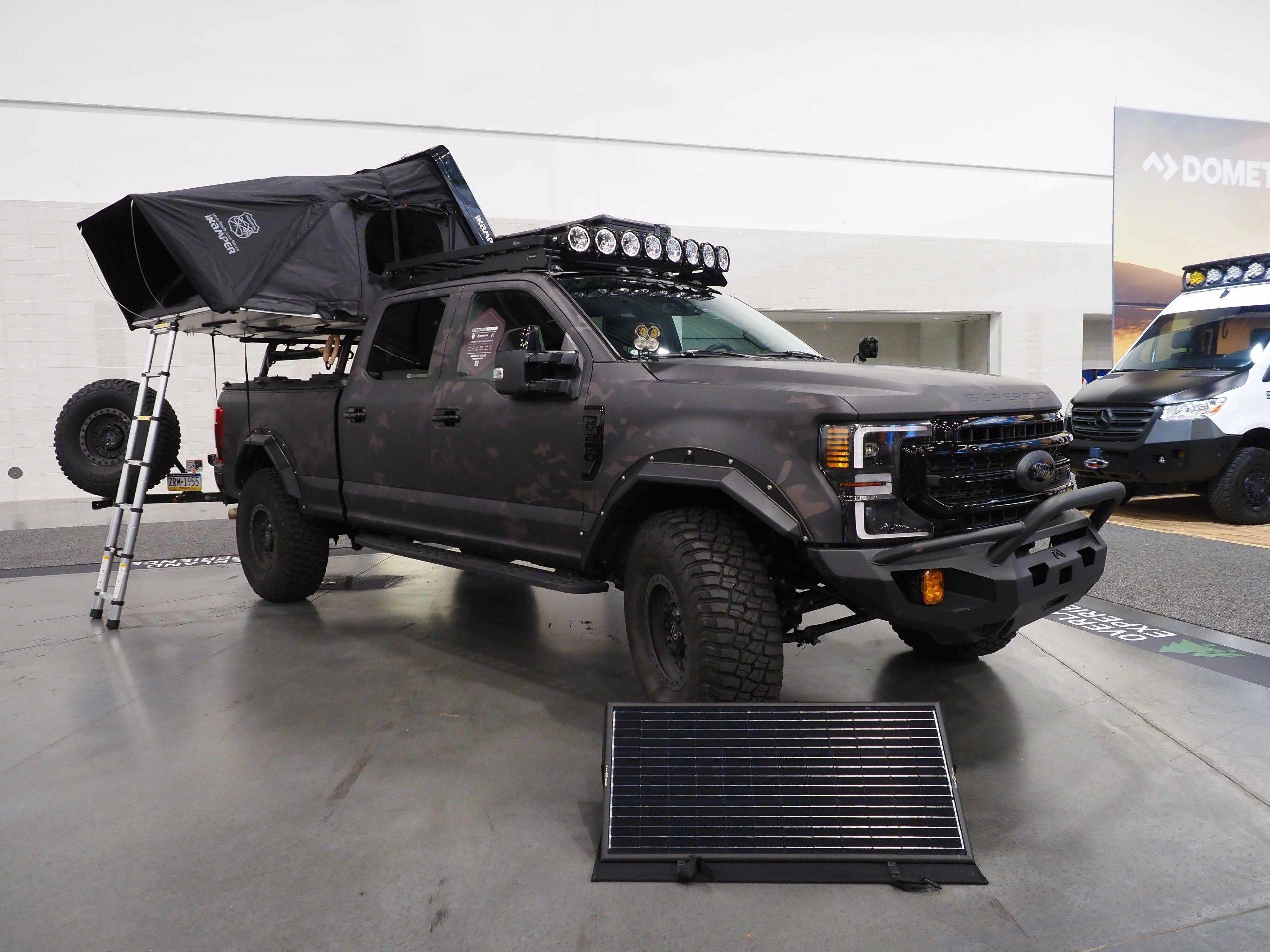 From the YouTube channel Last Line of Defense, Matt Pfieffer built this Ford F-250 Super Duty Tremor. Instead of lifting the truck, Pfieffer went with a Fab Fours fender system, making enough room for 39-inch BFGoodrich Mud Terrains on Black Rhino wheels. Bumpers from Fab Fours protect the nose and tail of the Ford and hold a full-size spare in the rear. The build is filled out with an iKamper roof-top tent, Pelican storage boxes on the Front Runner roof rack and a Cargo Ease bed slider holding a Dometic fridge.