Features
Paying Tribute to Bondurant with Limited-Production Race Cars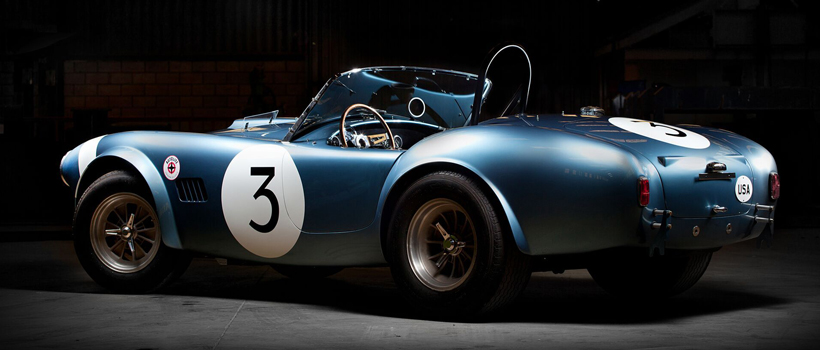 Superformance, doing business as Shelby Legendary Cars, has collaborated with Shelby American Inc. to build a limited production series of Cobra Roadsters and Daytona Coupes honoring racing legend Bob Bondurant.
Superformance manufactures 1960s-era continuation sports cars.
The race cars are based on the cars Bondurant raced in the mid-1960s and possess an official CSX2000 Shelby serial number Bondurant brought to the Shelby American team at the end of the 1963 season. In 1964, Bondurant went on to compete in Europe, winning the GT class at Le Mans with teammate Dan Gurney in a Shelby Daytona Coupe. In 1965, he won seven out of the 10 FIA World Championship races in a Daytona, securing the FIA GT Championship for Ford and Shelby.
"Bob Bondurant was a fierce competitor in just about every form of road racing, winning in cars from Shelby American, Ferrari, Chevrolet and many other top sports car companies," said Lance Stander, CEO of Shelby Legendary Cars. "He was one of the most successful Shelby American drivers during the 1960s. Bob helped America win its first and only FIA Sports Car World Championship, an achievement that we feel should be duly commemorated."
The FIA Shelby Cobra continuation roadster is based on chassis CSX2345, which competed in seven of the 10 FIA races, the most of any other competing convertible. CSX2345 was also the only Cobra to compete in both the 1964 and 1965 racing seasons in Europe.
"I'm very proud to have been behind the wheel when we won the FIA World Championship on July 4, 1965," said Bob Bondurant. "That victory was for everyone in America. I loved driving any version of the Shelby Cobra, from taking a roadster up a tough hill climb to hitting close to 200 mph in a Coupe on one of the high-speed tracks. The Shelby American team was incredible as they made the Shelby Cobra a dominating race car."
The tribute Cobra roadsters come as turnkey race car, minus engine and transmission. Each continuation car incorporates features found in the original CSX2345 chassis including the raked windscreen, driver's side knee-pad, high beam light switch, diagonal roll bar and a plaque displaying the cars country of origin.
The body can be made of fiberglass or aluminum and include:
Original frame configuration with 3-inch round tube main rails and a 90-inch wheelbase
Independent front and rear suspension with upper transverse leaf springs and rack & pinion steering
Shelby Brakes with Shelby inscribed calipers
Shelby aluminum differential housing with Dana 44 gears and a 3.54 ratio
16-inch original style wood rim steering wheel
Period correct gauges
14-Gallon fuel tank
The Bondurant Edition Shelby Cobra Daytona Coupe is a historically-accurate continuation race car, including leaf spring suspension, tube frame and thin wooden-rimmed steering wheel. It also features modern components like disc brakes, aluminum bodies, updated and strengthened frames and a racing interior.
The cars will be available in liveries used by Bondurant over the course of his career. Owners can choose between:
Roadster CSX2345 as the No. 3 car when he won his class at the 1964 Grand Prix de Spa
Roadster CSX2345 when it was the No. 21 in the 1965 Rossfeld Mountain Hill Climb
Daytona Coupe CSX2601 painted as the No. 26 in 1964 (Viking) or 1965 (Guardsman) blue team colors
As part of ownership, buyers are offered a day of training at the Bondurant Racing School in Arizona. Since it's opening in 1968, over 500,000 students have utilized Bondurant's extensive racing experience and expertise.
Shelby Legendary Cars and its dealer network are now taking orders for the Bondurant Edition FIA Roadster and Daytona Coupe.
For more information visit ShelbyLegendaryCars.com, Superformance.com or call 800-297-6253.