Features
NSF1 Project Jeep Continues to Serve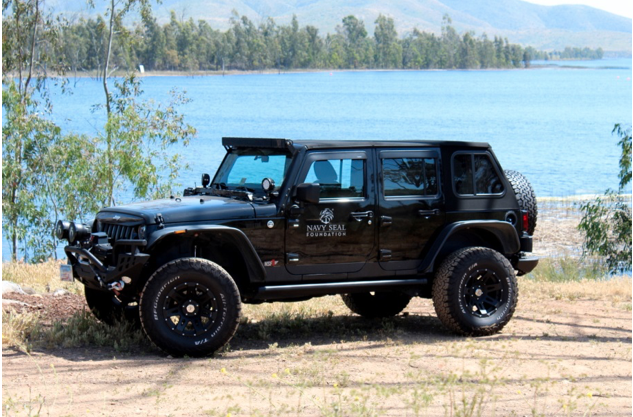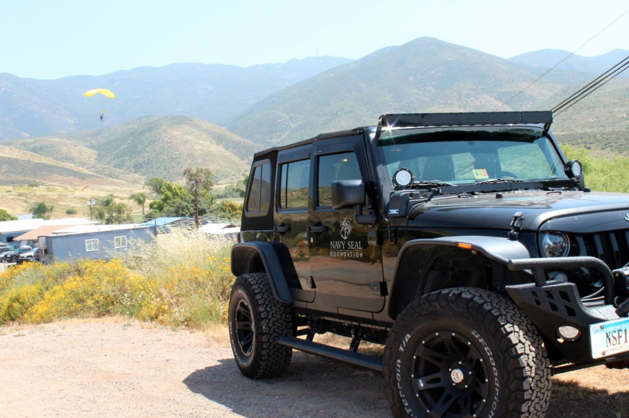 EDITOR'S NOTE: The following article was written by John Arnaud, content manager for AAM Group, specially for THE SHOP magazine.
—-
When The AAM Group delivered NSF1-"a fully customized 2015 Jeep Wrangler Unlimited-"to the Navy SEAL Foundation in 2016, the hope was that the vehicle would aid the organization in its mission to help Naval Special Warfare (NSW) warriors and their families cope with the stress and sacrifice associated with dangerous military deployment. Nearly two years later, NSF1 continues to fulfill its mission as an ambassador for the Foundation-"and it's not nearly done.
According to Navy SEAL Foundation Programs Event Coordinator Linda Tucker, the organization routinely uses the Jeep to draw attention to its mission at events all over Southern California.
"You would think that after a while you'd get used to the stares you get driving NSF1," Tucker said. "But, whether it's parked at an event or you're stopped to get gas, this Jeep creates a stir wherever it goes."
One of the places you might spot NSF1 is in Coronado, California, home of SEAL Qualification Training (SQT) and Combatant Qualification Training (CQT). Graduation events for these courses happen several times a year, and foundation leadership uses NSF1 to increase visibility for the organization at these ceremonies. Program graduates, their families, and even course instructors are drawn to the Jeep to get a closer look, giving the foundation an opportunity to share about their mission of support. It's not unusual for onlookers to jump in the driver's seat for a quick photo op.
NSF1 also makes appearances at dinners and events the foundation hosts to educate and train NSW families. These events teach spouses and families about the type of support available to them and let them know they are not alone. Holiday events, father-daughter dances, workshops designed to increase family resiliency, and other programs support these families, who can spend up to 270 days a year separated from their active-duty warriors.
The foundation also brings NSF1 along for command family days, where there's a more casual atmosphere. No matter where it goes, the Jeep draws a crowd, creating continued opportunities for conversation and education.
Kids get to enjoy the Jeep, too. The foundation's specialized summer camps afford hundreds of youth, ages 7-"17, the opportunity to learn, grow, and relax together with other kids from the NSW community at no cost to the families. Camp activities include camo painting, mock mountain searches, and even a find the target exercise where NSW volunteers conduct a mission brief with the kids. The final objective culminates in water balloon combat, after which staff members drive NSF1 onto the field to recover drenched, exhausted, yet elated campers and take them back to their home base.
The AAM Group and its sponsoring manufacturers all pitched in to build NSF1 with the hope that it would help a truly worthwhile organization in its mission to support those making the hardest imaginable sacrifices for our country. And while it's one thing to pursue a laudable intention, it's quite another to see that goal fully realized.
"I have been blessed to be part of building a lot of great Jeeps, but it still blows me away that, two years later, the Navy SEAL Foundation continues to use NSF1 to spread awareness of its mission," said Greg Griffith, AAM program sales manager and lead Jeep designer. "That Jeep was special, and I knew she would be around a while. But knowing how the Foundation is still using NSF1 is something I am so very proud of-"and I hope that our AAM members and manufacturers all feel the same way."
Robin King, CEO of the Navy SEAL Foundation, was involved with the project from the very beginning.
"When The AAM Group told us they wanted to donate a Jeep to the foundation, we were excited and so grateful for their generosity, but we had no idea the amount of attention the Jeep would eventually draw to our mission of service to SEALs and their families," King said. "The care and thoughtfulness with which NSF1 was built are apparent to everyone who sees it. NSF1 is a part of our foundation family now, and we are truly grateful to every manufacturer who made it a reality. It's also a lot of fun to drive!"
Navy SEAL Foundation
The Navy SEAL Foundation (NSF) supports all active-duty Naval Special Warfare (NSW) personnel, including U.S. Navy SEALs, and their families stationed all over the world. It provides critical programs for NSW Gold Star families and NSW veterans, according to the group.
In 2016, over $13 million was invested in direct program support for these warriors and their families in six main areas: Warrior and family support, educational opportunities, tragedy assistance and survivor support, warrior transition, veteran support, and legacy preservation.
The Navy SEAL Foundation has received six consecutive four-star ratings from Charity Navigator. It is one of only 59 charities from among more than 8,500 to have earned a perfect score of 100 for its financial health, accountability, and transparency, placing NSF in the top 0.7 percent of the rated charities. Ninety-four cents of every dollar donated goes directly to programs or is retained for future mission use.
The Navy SEAL Foundation is a 501c3 national non-profit charitable organization (TAX-ID 31-1728910) and a non-federal entity. It is not a part of the Department of Defense or any of its components, and it has no governmental status.
For more information, visit navySEALfoundation.org.
Photos by Jose Galez