Features
NHRA Trailblazer Honored at Lingenfelter Blue Suede Cruise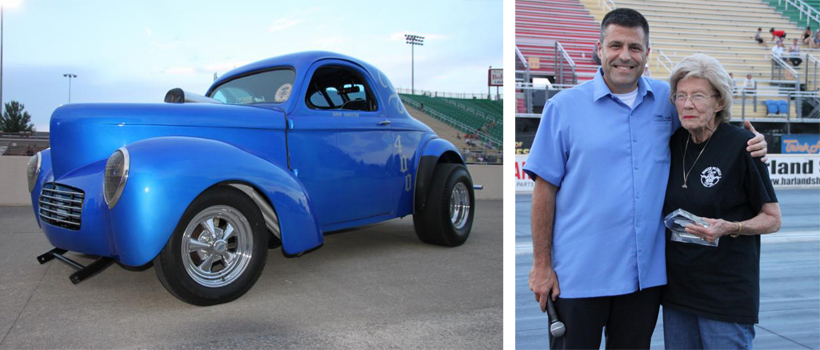 More than 2,500 show cars and 300 race cars rolled in and revved up for the Lingenfelter Performance Engineering Blue Suede Cruise, July 13-15 at Summit Motorsports Park in Norwalk, Ohio. Though the event included stiff racing competition, all eyes were on Barb Hamilton-Advey.
Hamilton-Advey, who became the first woman to receive a license to drive a supercharged car in the National Hot Rod Association in 1964, served as the grand marshal of the event. She was also honored with an on-track presentation for her accomplishments in the sport.
Hamilton-Advey famously received her NHRA license to race in her 1937 Willys Gasser in the 1960s.
Hamilton-Advey was a staple at the track in the 1960s prior to receiving her license to race. She would watch racers work on their cars and wheel to wins, all the while dreaming of doing the exact same thing.
Racing in that era was a male-dominated sport. Hamilton-Advey for instance was denied 20 requests for a competition license by the sport's sanctioning body between 1962 and 1963.
Finally, in 1964 Hamilton-Advey became the first woman to receive a license to drive a supercharged car in the National Hot Rod Association. She drove the 1937 Willys Gasser she purchased for $750,
Hamilton-Advey immediately began traveling from track to track with her close friend and crew chief Nancy Leonello by her side. When she wasn't busy putting gas in her tank or pulling the heads off of her engine, she was competing in the C-Gas Supercharged category.
Hamilton-Advey retired from racing in 1971. Her legacy was cemented further after her induction into the International Drag Racing Hall of Fame in 1992. Her car is often on display at the Don Garlits Museum of Drag Racing in Florida.
"Barb once said that she admired 16-time Funny Car champion John Force because of his enthusiasm for the sport, but what we can only hope she knows is just how much she's admired because of her enthusiasm for the sport," said Mary Lendzion of Summit Motorsports.
Hamilton-Advey still attends races and car shows, while remaining in touch with drivers she raced through the years. Some of them even credit Hamilton-Advey for the role she played in their own racing careers. Mark Benjamin, for instance, went from carburetion to injection on his 1933 Willys solely because Hamilton-Advey suggested it.