Features
New Soft-Top D110s from E.C.D. Automotive Design Tailored for Outdoor Lifestyles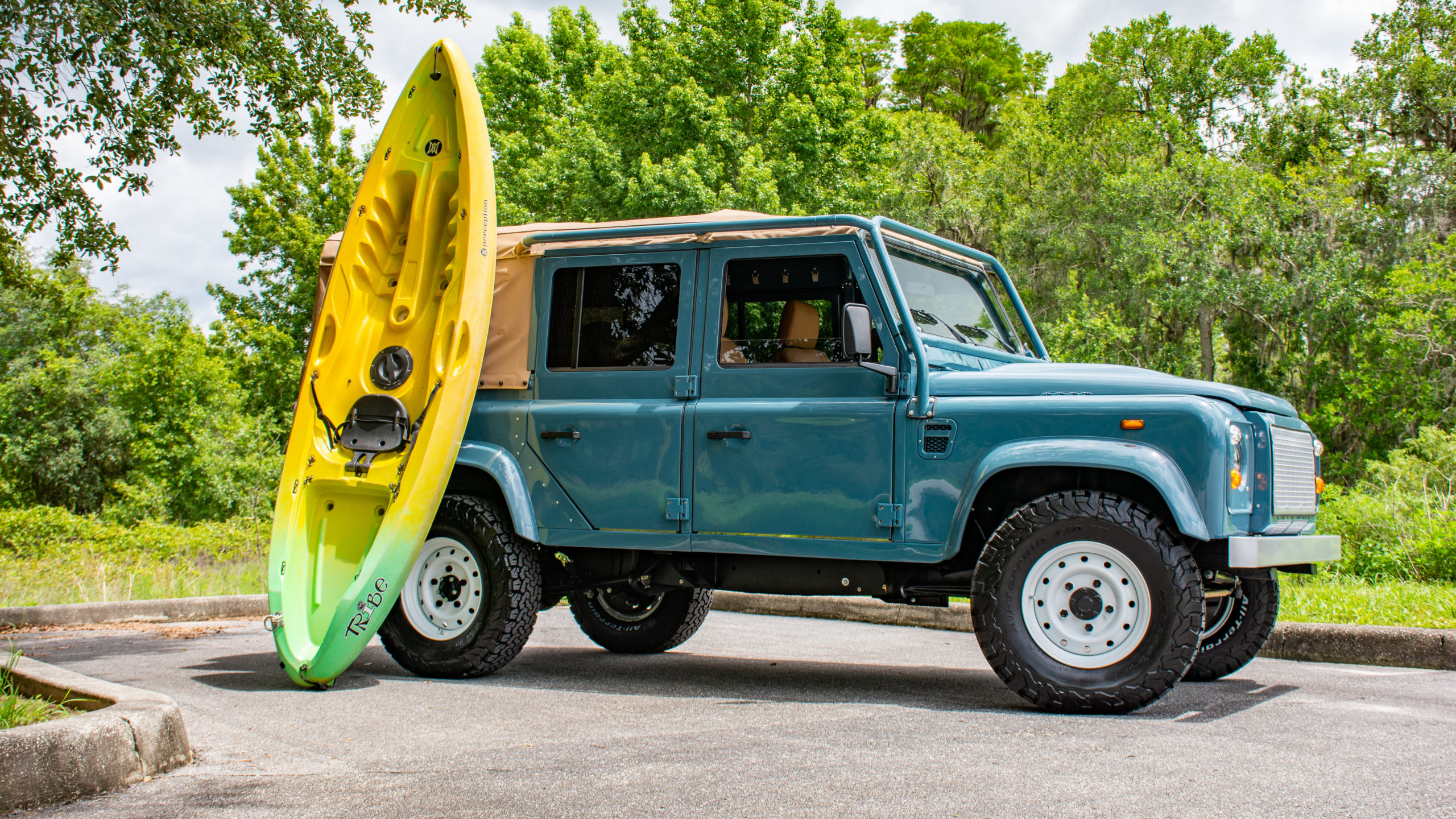 E.C.D. Automotive Design (E.C.D.), a custom Land Rover builder, has unveiled a new line-up of summer-ready Defender 110s (D110s), the company announced. Named Project C2 and Project Blue Tide, these soft-top convertible trucks are tailored for the outdoor lifestyle and artisanal crafted according to each client's vision.
"Although both share the same base model and similar blue exteriors, these D110s represent wildly different approaches to the custom build process," Co-Founder of E.C.D. Tom Humble said. "Project C2 features a more classic restoration, keeping true to the traditional style while Project Blue Tide takes on a more ornate and modernized focus."
Project C2 maintains its original TDI diesel engine, torn down and rebuilt for peak optimization. Like the engine, many of the truck's original features are maintained throughout, including stock suspension, brakes, auto 4-speed transmission and vintage gauges. Covered in a glossy Marine Blue, the truck rests on 16-inch WOLF steel wheels and BF Goodrich All-Terrain T/A tires. The seats are configured in a classic Puma 9 layout and wrapped in Avion Caramel Garrett leather with a single vertical diamond pattern, along with four inward-facing jump seats in the rear. Modern upgrades include JL Audio speakers and subwoofers, Sony Stereo with Apple CarPlay, Bluetooth, blind-spot assistant, backup camera and a backup sensor.
Project Blue Tide is E.C.D.'s first soft-top D110 with an LT4 engine and 8-speed automatic transmission. Finished in a Cool Khaki Gray, the D110 is equipped with four Hella 500 series driving lights perched above the windshield and a custom multi-point roll cage featuring NAS style roof rack, two rear ladders and a mounted 48-inch Hi-Lift jack. Outfitted to hit the hardcore trails, Project Blue Tide features 18-inch Sawtooth silver wheels, 20-inch BF Goodrich All-Terrain T/A tires and Tubular A bar bumper complete with a wired winch. The interior includes E.C.D. custom MOMO steering wheel and, in the cargo area, teak wood flooring with blue-tinted caulking to match the exterior paint. A wireless charger, five USB ports, KENWOOD eXcelon radio and an Infinity Kappa sound system ensure entertaining rides.
"It's through our world-class customization process that each vehicle we create comes to truly reflect the personality of its owners," said Humble. "That's why no two E.C.D. Land Rovers are ever the same."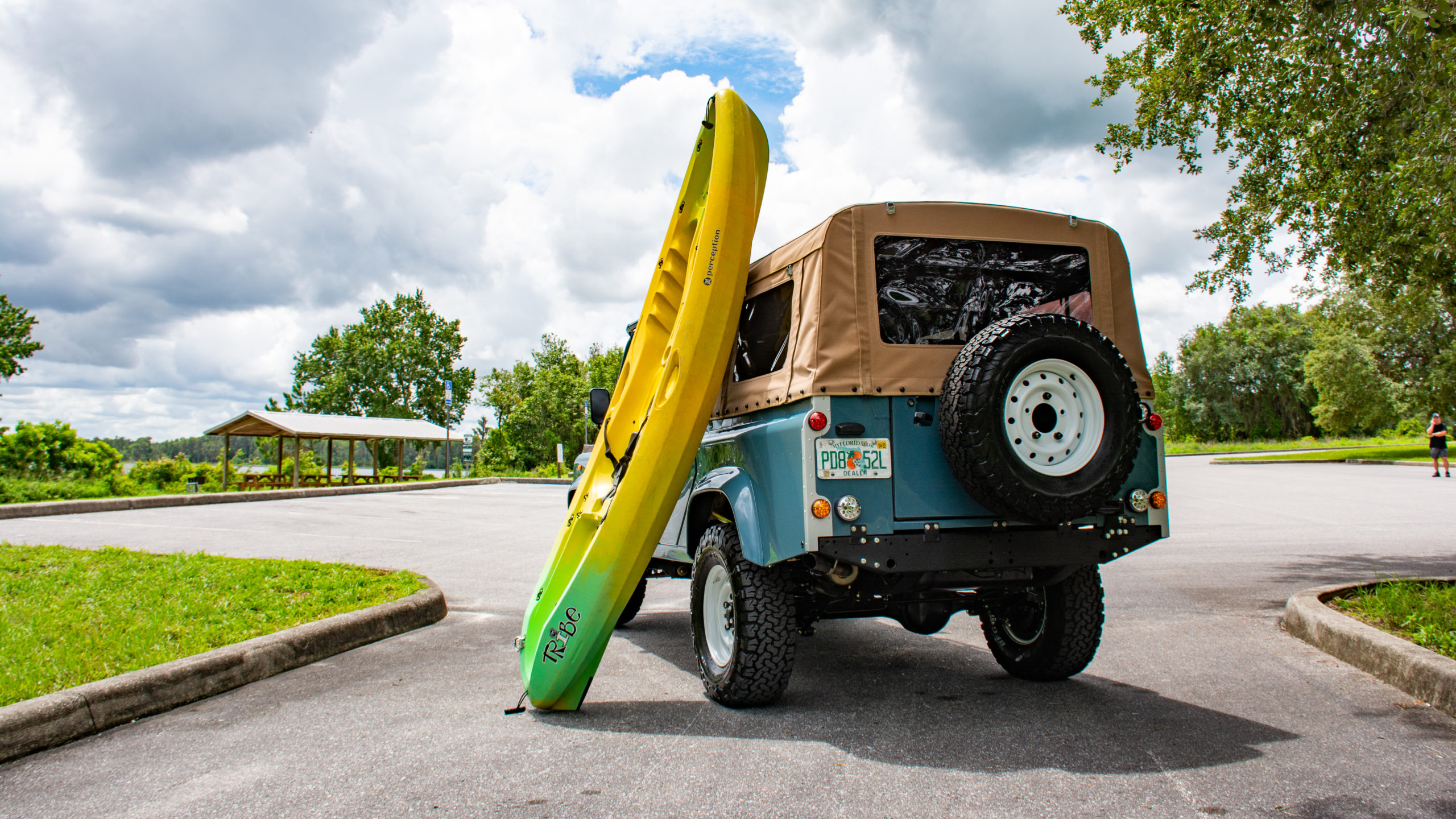 Project C2 Specifications
Model — D110
Engine — Turbocharged Direct Injection (TDI) engine
Transmission – 4-Speed Automatic
Suspension — Stock
Brakes – Stock
Additional Features — Diesel Fuel System, Soft Top Roof
Exterior
Paint Color — Marine Blue with Full Gloss
Wheels — 16" Steel Wolf Wheels (Painted in White)
Tires — BF Goodrich All Terrain T/A KO2
Grille – Silver Heritage Grille
Bumper — Silver Slimline Bumper
Rear Lights – 1 Spotlight on Right Side
Spare Tire – Swing Away Carrier on Rear Door
Interior
Front Seats — Puma Classic with Front Seat Risers, Heated
Middle Row Seats – Puma 60/40
Seat Layout – Puma 9
Load Area Seats — 4 Inward-Facing Jump Seats
Leather Color — Avion Caramel Garrett Leather
Seat Design – Single Vertical Diamond
Carpet – Aqua Turf Driftwood, Rubber Mats All Around
Steering Wheel — MOMO Heritage Indy Steering Wheel with Hydro Dipped Finished Wood
Gauges — Vintage Gauges
Audio & Electronics
Infotainment — Kenwood Installed with Apple Car Play, Bluetooth, USB
Sound System — JL Audio (Speakers and Subwoofers)
Additional Features — Blind Spot Assistant, Back Up Camera and Sensor, Viper Security System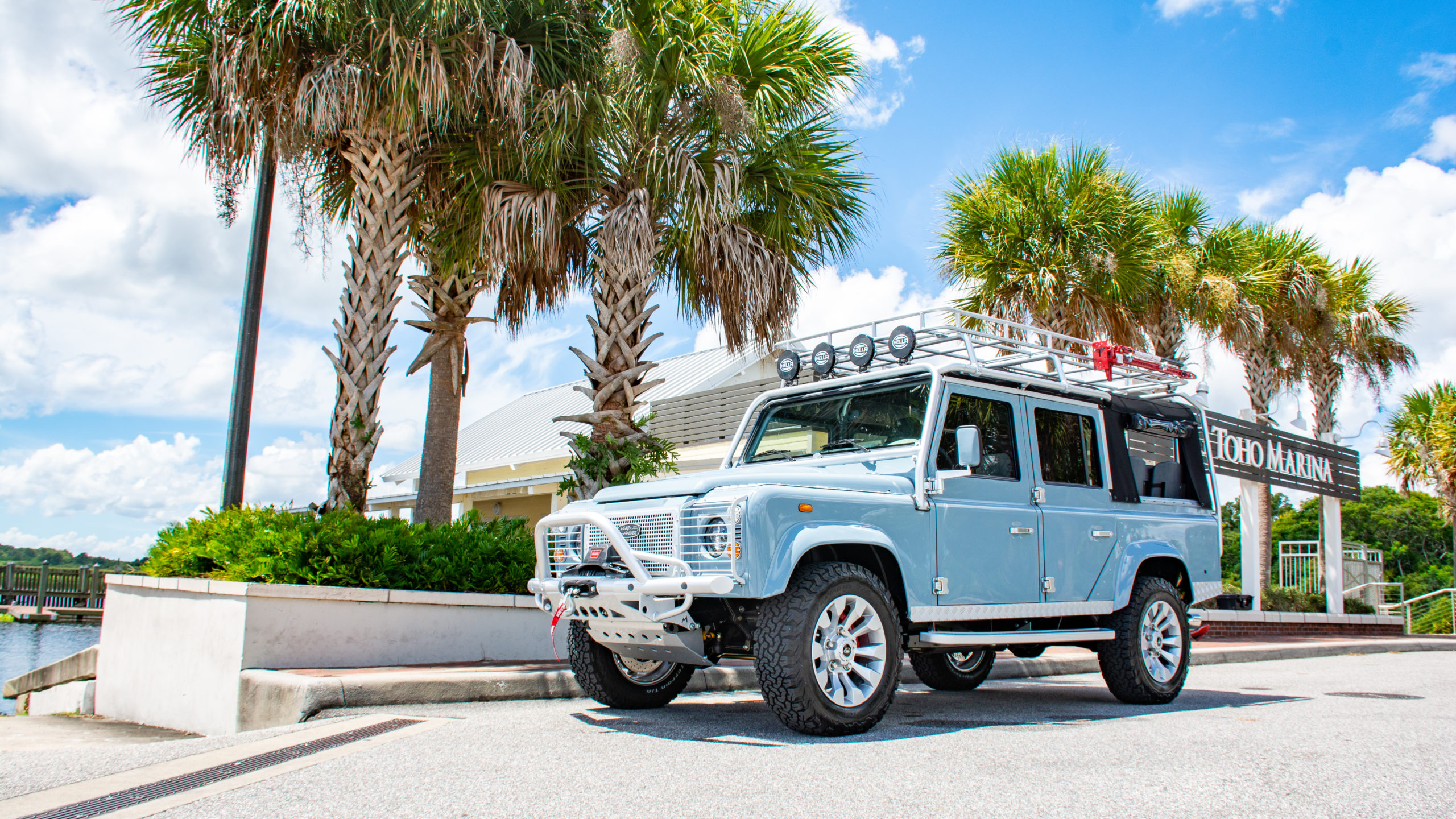 Project Blue Tide Specifications
Model — D110
Engine — GM LT4
Transmission – 8-Speed Automatic
Suspension — E.C.D. Air Ride
Brakes – Brembo Brakes
Additional Features — Strengthened Axles, Borla Stainless Steel Dual Sport Outlets, Black Soft Top Roof
Exterior
Paint Color — Cool Khaki Grey with Gloss Finish
Wheels — 18" Sawtooth Silver
Tires — BF Goodrich All Terrain T/A KO2
Roll Cage – Soft Top Multi-Point Roll Cage with NAS Style Roof Rack and Rear Ladders
Grille – Silver Heritage Style Grille with Land Rover Emblem
Bumper — Tubular A Bar with Wired Winch
Front Lights – 4 Hella 500 Series Driving Lights with Clear Lens
Rear Lights – Spotlight Above Rear License Plate
Additional Features — Custom 48" Exterior Hi-Lift Jack HL486, Rear NAS Bumper and Side Steps, Swing Away Wheel Carrier
Interior
Front & Middle Seats — Corbeau Trailcats, Heated and Ventilated
Seat Layout – 2+2+4
Load Area Seats — 4 Inward-Facing Jump Seats
Leather Color — Selected Relicate Matte Distressed Leather Mineral Blue 3010 and Hydes Porsche Nappa Silver Metallic #1177
Seat Design – Single Vertical Diamond
Carpet – Black, Rubber Mats All Around
Steering Wheel — ECD Custom MOMO Prototype with Silver Spokes and Wrapped in Blue Leather
Gauges — Classic White Gauges
Additional Features — Teak Wood Flooring with Blue-Tinted Caulking in Cargo Area, Rear AC
Audio & Electronics
Infotainment — KENWOOD eXcelon, Bluetooth Audio
Sound System — Infinity Kappa (Speakers and Subwoofers)
Additional Features — Rear and Front Cameras, Wireless Charger, USB (5), WiFi, Blind Spot Assistant, Back Up Sensor, Digital Rear-View Mirror