Features
New E.C.D. Build Designed for Summer Vacations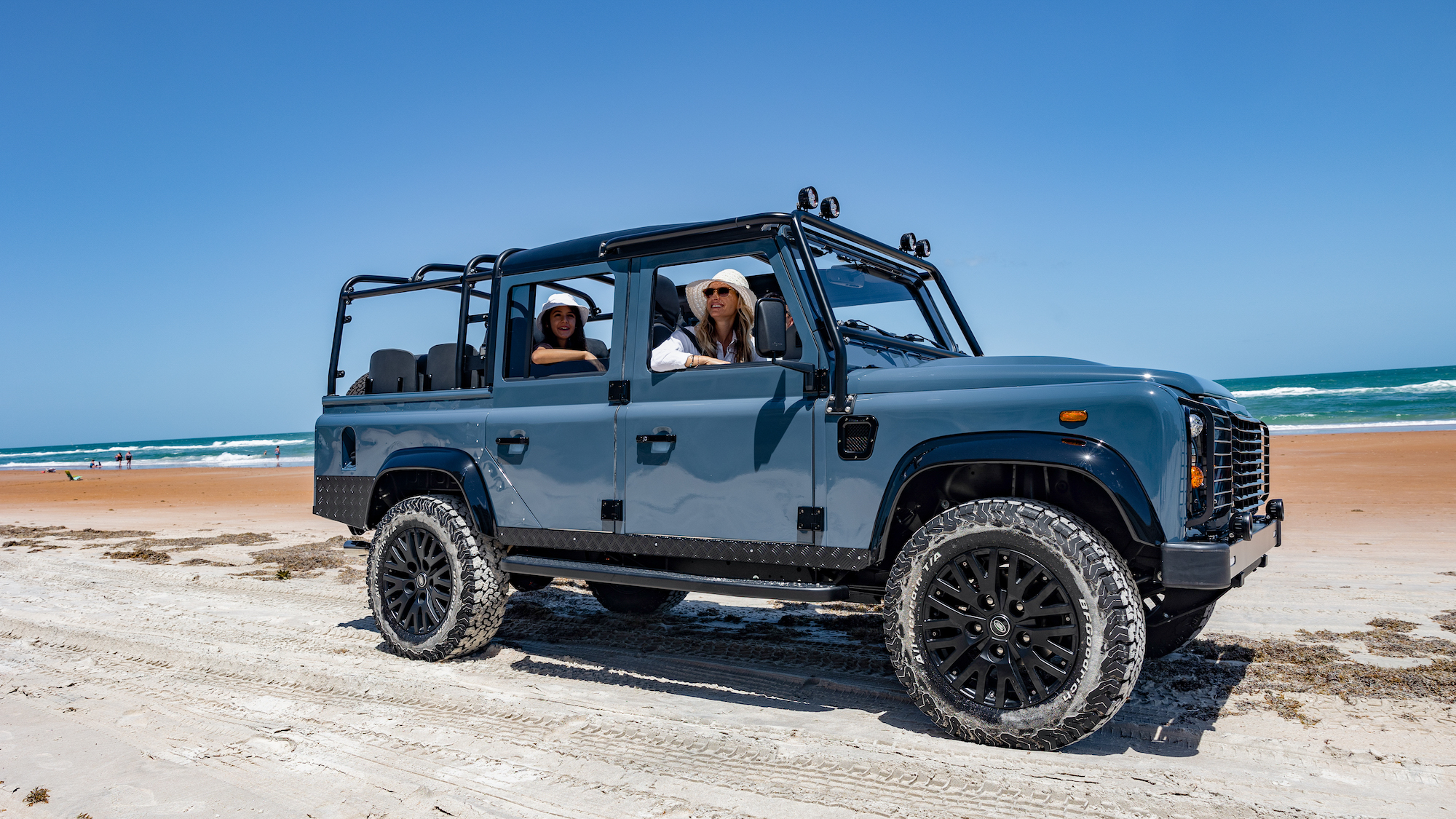 E.C.D. Automotive Design (E.C.D.) has unveiled a new LT1 Defender 110 designed for summer vacations, the Land Rover restoration outfit announced.
Dubbed Project Georgica, the classic Land Rover Defender will call the New York Hamptons home, the company said.
"When people are looking for custom Defenders at this level, there are only a few options to choose from, and no one matches us in terms of quality, options and customer service. We treat the client like family, and our reputation speaks for itself – even to our fellow Brits," said chief technology officer and co-founder of E.C.D. Elliot Humble. "This client's unique off-roader is absolutely marvelous for the summertime – and is sure to be beloved by the drivers and passengers alike."
Designed by a U.K.-based client, this convertible Defender features a glossy Arles Blue finish. The vintage soft-top vehicle is elevated on 32-inch all-terrain tires and E.C.D.'s in-house suspension and brake systems. Project Georgica also features a classic NAS bumper with a hitch receiver and trailer plug, and four round LED spotlights – two on each side of the multi-point roll cage.
Inside, nine caviar-black seats are highlighted with gray inserts and vertical diamond stitching, as well as a MOMO Prototipo steering wheel and Puma dashboard wrapped in the same Italian leather as the seats, E.C.D. designers said. Project Georgica also features a hidden floor lock box to safely store belongings and an audio system equipped with CarPlay, Bluetooth and multiple USB ports.
Project Georgica
Model — Defender 110
Engine — GM LT1
Transmission — 8-Speed Automatic
Axles — Heavy Duty Performance Axles
Suspension — E.C.D. Air Ride
Brakes — E.C.D. Performance Disc Brakes
Exhaust — Sport dual exhaust with one pipe on each side
Exterior
Paint Color — Arles Blue in Gloss
Soft Top — Black Canvas
Wheels — 18-inch Kahn 1983
Tires — BFGoodrich All Terrain
Grille — Classic
Bumper — Classic with daytime running lights
Additional Features — Defender letting on hood in Narvik Black; soft-top multi-point roll cage; 4 Round LED Spot Lights, mounted 2 and 2 on each end of roll cage; NAS bumper with hitch receiver and trailer plug
Interior
Seat Layout — 2+3+4
Front Seats — Puma modular seats, heated
Midrow Seats – Land Rover 60/40 seats
Load Area Seats – 4 inward-facing jump seats
Leather Color — Garrett Torino Caviar TO1450 and Chelsea Gray TO1451
Seat Design — Vertical diamond stitch, gray middle inserts
Dash – Puma dash with top in Caviar TO1450 and bottom in Chelsea Gray TO1451
Carpet — Black
Steering Wheel — MOMO Prototipo with black spokes
Gauges — Moal Bomber
Additional Features — Hidden floor lock box, door cupholders
Audio & Electronics
Infotainment — Touchscreen stereo
Sound System — JL Audio speakers and JLB Bass Pro subwoofer
Additional Features — 4 USB ports, CarPlay, Bluetooth, automatic headlights, backup camera and sensor