Features
New Convertible Defender from E.C.D. Designed for Beach Adventures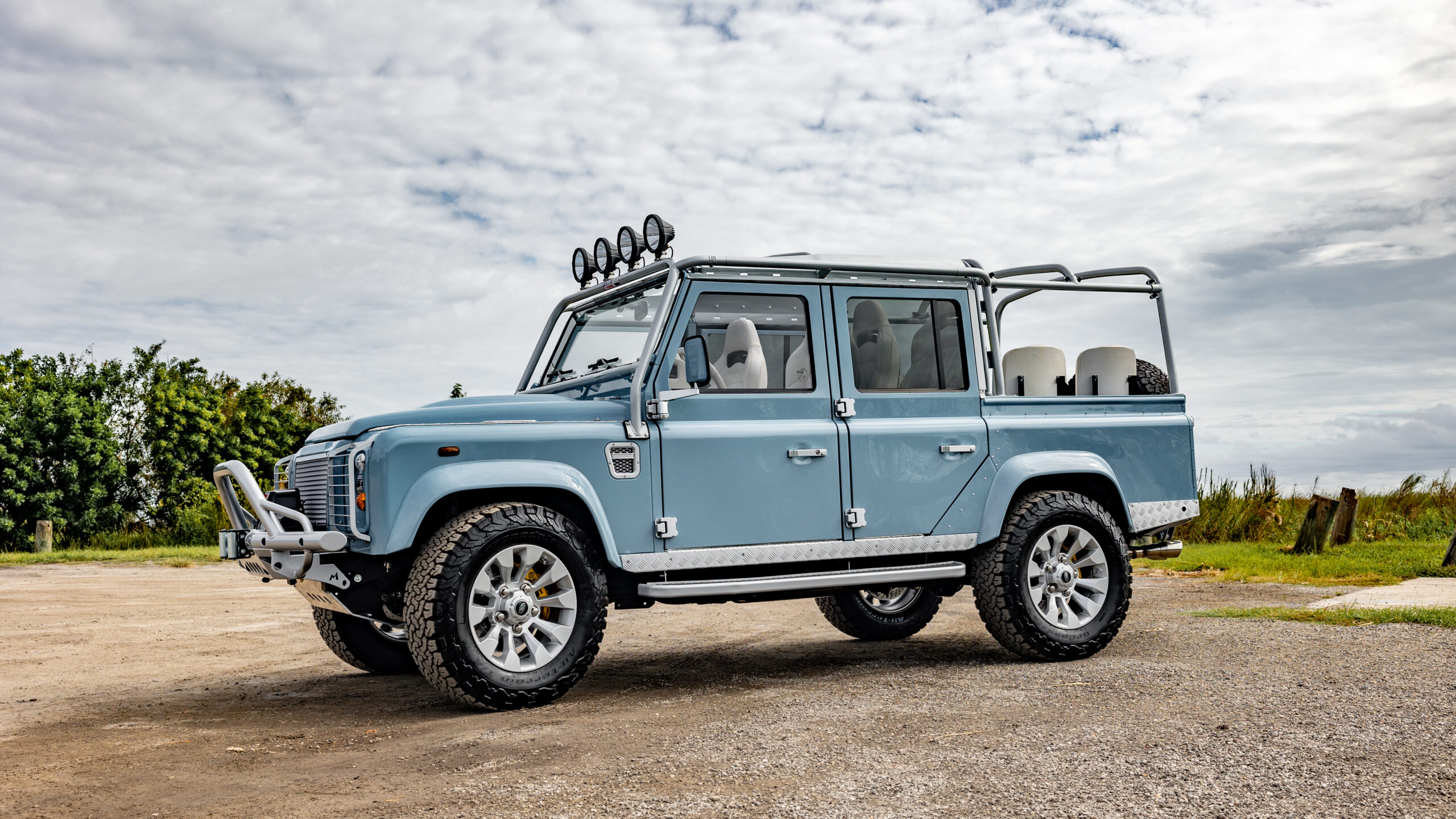 E.C.D. Automotive Design (E.C.D.) recently introduced Project Hutton, a convertible Defender 110 outfitted with a high performance LT4 engine. Trimmed with silver and bright yellow accents throughout, the latest addition to E.C.D.'s custom build lineup is built for beach days, the builders said.
"This custom Defender together with its convertible top and extra seats in the back is tailor-made for sunny summer days with the family," E.C.D. Co-Founder Elliot Humble said. "Whether cruising along boardwalk towns or across sandy shores, this luxurious E.C.D. build will be the envy of all."
Sitting on 18-inch Sawtooth wheels with Ferrari yellow Brembo brakes, Project Hutton is a soft top Defender painted in glossy Porsche Frozen Blue, while the restored Defender's silver heritage grille, rear NAS bumper and specially sourced vintage Land Rover Station Wagon plaque honor the old Defender's British history. Designed with the modern family in mind, the build features full-length silver rubber checker side steps and a white vinyl convertible roof to enjoy summer breezes. Other upgrades include a silver roll cage with four mounted HELLA lights, a remote-controlled Warn winch and tubular A-Bar in silver.
The vintage Defender's polished interior reflects the breadth of options available at E.C.D. Wrapped in Caressa Silver Touch leather, the MOMO PROTOTIPO steering wheel with silver spokes features shockingly yellow TEX stitching and a black center cap, adding a modern twist to the older Defender legacy. Project Hutton's cheery accents continue throughout, including Hot White dashboard gauges with custom faces in Ferrari Yellow and matching seatbelts. Sticking to its client-chosen color palette, the interior heated Corbeau Trailcat Reclining seats and four jump seats are wrapped in the same luxurious white leather with diamond back stitching. Contemporary tech upgrades – including touch screen Kenwood eXcelon with CarPlay and wireless Bluetooth, WiFi, wireless charging, four USB charging ports and an audiophile quality Infinity Kappa sound system – finish off this utterly custom build.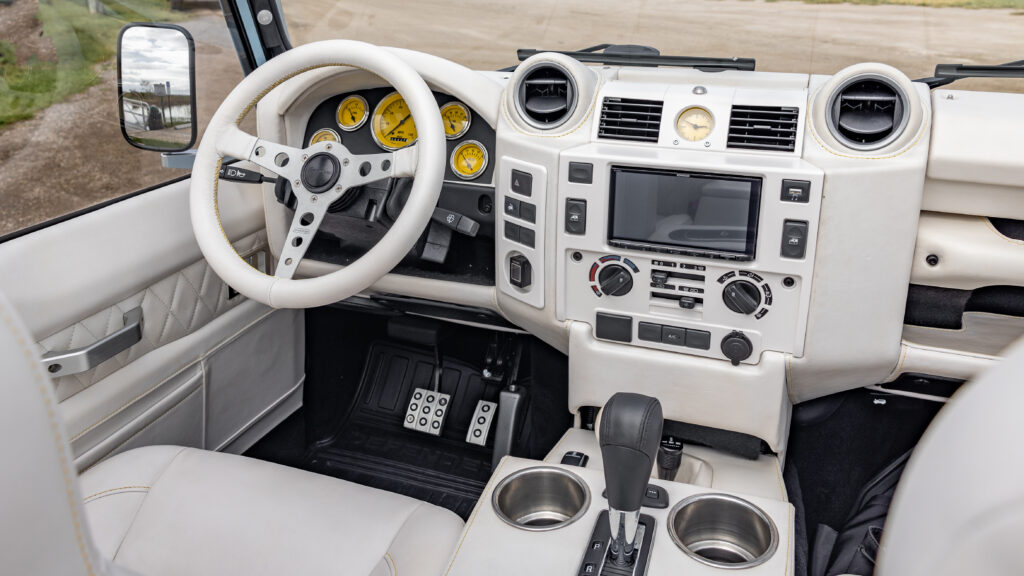 Project Hutton
Model — Defender 110
Engine — GM LT4
Transmission — 8-Speed Automatic
Axles — Strengthened Internals
Suspension — E.C.D. Air Ride
Brakes — Brembo brakes with Ferrari yellow calipers
Exhaust — Borla Stainless Steel quad exhaust
Exterior
Paint Color — Porsche Frozen Blue in Gloss
Soft Top — White Vinyl
Wheels — 18" Sawtooth in silver
Tires — 33" BF Goodrich All Terrain
Grille — Silver
Bumper — Tubular A frame with side extension arms
Additional Features — Silver metal steering guard with "HUTTON" engraved, Full length rubber checker side steps in silver, Vintage Land Rover Station Wagon plaque
Interior
Seat Layout — 2+2+4
Front Seats — Corbeau Trailcat Reclining Seats, Heated and Ventilated
Midrow Seats – Corbeau Trailcat Reclining Seats, Heated and Ventilated
Load Area Seats — 4 Inward Facing Benches
Leather Color — Caressa Silver Touch C960 and Berkshire Sunburst B871
Seat Design — Vertical diamond single stitch
Dash – Puma wrapped in Caressa Silver Touch C960 leather
Carpet — Black
Steering Wheel — MOMO PROTOTIPO with Silver Spokes, wrapped in Caressa Silver Touch leather, TEX 70 Lemon T4005A stitching and black center cap
Gauges — Hot White Gauges with custom faces in Ferrari Yellow
Additional Features — Seat belts in TEX 70 Lemon T4005A
Audio & Electronics
Infotainment — Touchscreen Kenwood eXcelon
Sound System — Infinity Kappa speakers and subwoofer
Additional Features — Wireless charger, 4 USB ports, WiFi, front and rear cameras