Global automotive sales remain weak as a result of restrictions and stay-at-home orders due to the coronavirus pandemic. Europe's new passenger car sales have been significantly impacted, for example. Data obtained by Learnbonds.com—a fast-growing financial publication launched in 2015 with the goal to provide readers with daily income investing news and advice on all types of financial investments from bonds down to ISAs, cryptocurrency and forex—shows a sharp year-to-date sales decline of approximately 74%. The decrease includes 27 European member states alongside the United Kingdom, Iceland, Norway and Switzerland.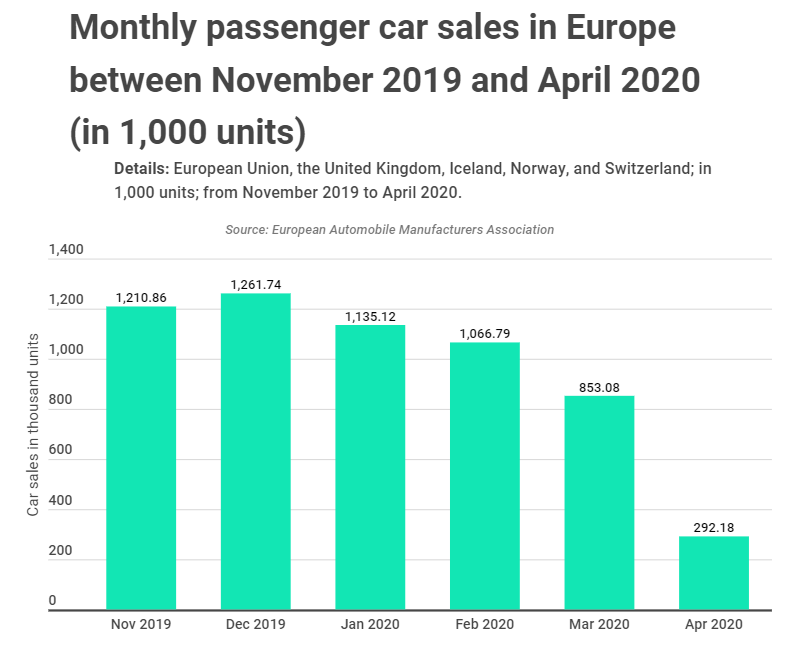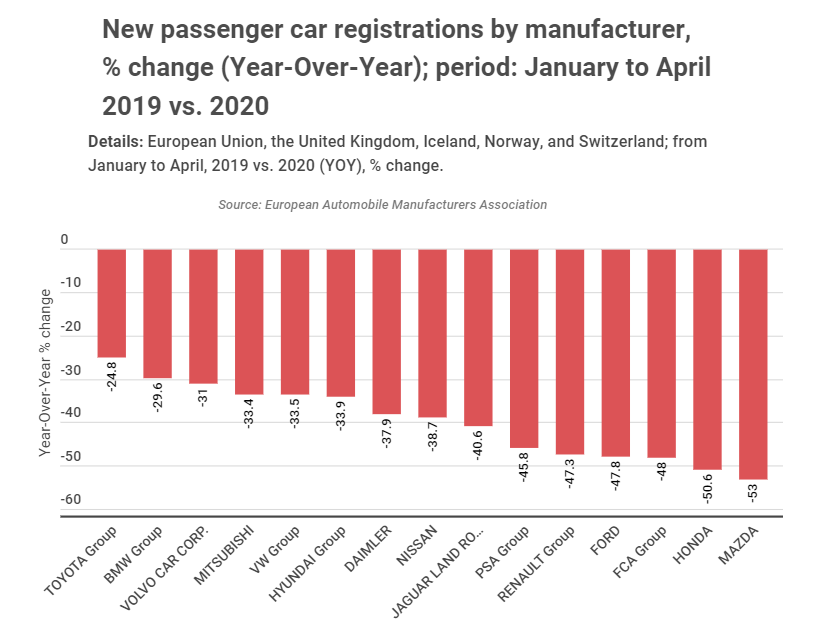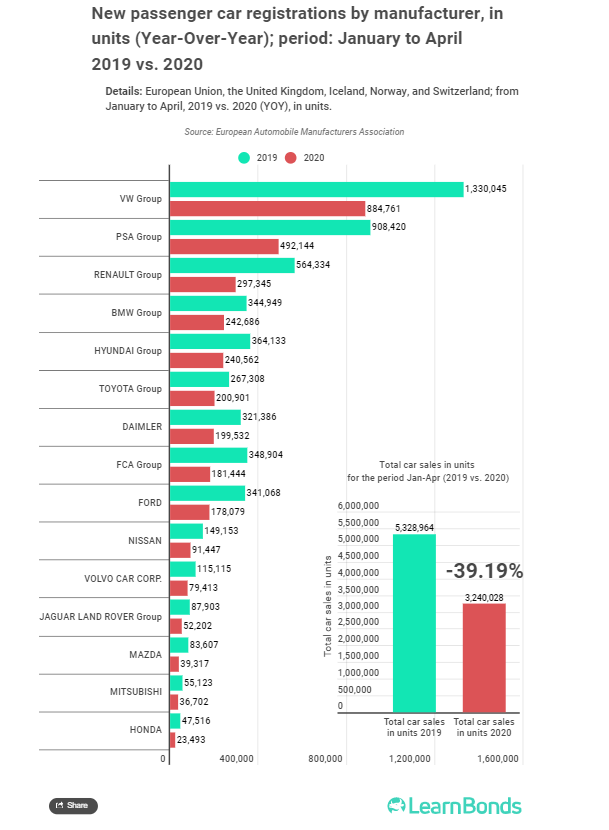 "The drop in car sales might impact some European economies that heavily rely on car manufacturing. For example, Germany's strong economic position relies on vehicle exports and car dealerships. As countries worked on their reopening plans, the car manufacturing sector was given a priority. In Germany, the car manufacturing sector was among the first to be reopened but with strict social distancing and hygiene measures in place," said Justinas Baltrusaitis, author of "Europe's New Passenger Car Sales Drop by 74% YTD Amid Coronavirus Crisis."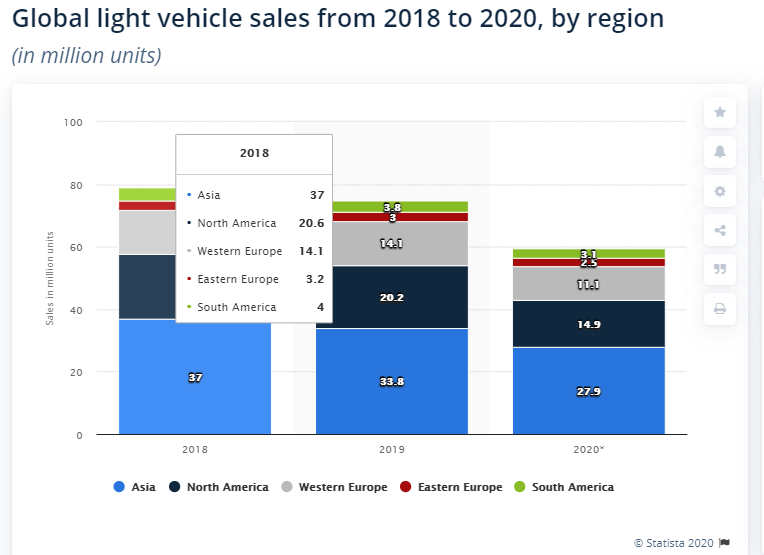 Statista reported that light vehicle sales in 2020 are expected to decline by over 20%. Light vehicle sales in North America are anticipated to fall to 14.9 million units. Light vehicle sales are projected to be around 13 million units in the United States, North America's largest market, down from approximately 17 million units one year earlier.
U.S. New Vehicle Sales Outlook
The new vehicle sales outlook is similar across the U.S. "April auto sales took the biggest hit we've seen in decades," said Jessica Caldwell, Edmunds executive director of insights. "These bleak figures aren't just because consumers are holding back on their purchases—fleet sales are seeing an even more dramatic drop as daily rental business has dried up. Like many other industries, the entire automotive sector is struggling as the coronavirus crisis continues to cripple the economy," she added.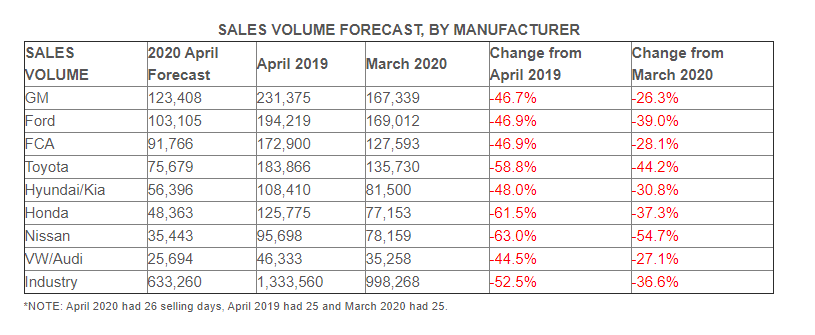 However, there is a clear rebound in sight as dealership operation limitations are eased across the country. At a more granular level, the week ending May 10 marks six straight weeks of new vehicle retail and wholesale auction sales improvement, according to J.D. Power.
Retail sales were down 26% from the pre-virus forecast, an improvement over the 30% decline experienced the week ending May 3.
Retail sales through May 10 reached 232,000 units, a decline versus the pre-virus forecast of 27%, or 88,000 units.
Furthermore, while new vehicle retail sales decreased 31% year-over-year during the seven-day period ending Thursday, May 14th, it was an improvement from the 71% year-over-year decline when comparing the final week of March, according to Cox Automotive analysis of DealerTrack transaction volumes on a same-store basis.
New light truck pickup sales were only down by about 10% in April. There's actually a concern in the automotive industry about a shortage of new pickup truck inventory because that could hurt the automobile industry's recovery. The automotive industry is crediting the 84-month, 0% interest financing that started in March with propping up pickup truck sales. – Automotive News
All things in consideration, J.D. Power estimates a May retail sales outlook of 965,000 – 1,099,000, representing a decline of 16% – 26% compared to pre-coronavirus expectations. The company revised its full-year retail sales forecast to 11.4 – 12.4 million versus a pre-virus baseline of 13.4 million, and its 2020 full-year outlook for total sales to 13.0 – 14.5 million versus a pre-virus baseline of 16.8 million.
U.S. Used Vehicle Outlook
There are signs of preliminary stabilization in the used vehicle market after several weeks of measurable improvement. "Wholesale prices are currently 9% below pre-virus expectations and represent a market still under pressure from fractured supply and demand," stated J.D. Power in a recent valuation report. "However, while still depressed, wholesale prices are on course to recover as stay-at-home orders are lifted and markets reopen. Auction sales surpassed 60,000 units for the second consecutive week as the used market recovery builds momentum. Wholesale auction prices improved for the third week in a row, rising by 2% on a weekly basis. Prices have grown 6% over the past three weeks and are now down by 9% from our pre-virus forecast."
The company forecasts:
• Prices will decline 8% – 11% through June before improving
• Prices in Q4 will be flat-to-down 2% versus 2019 levels
• Prices will be down 3% – 5% on a full-year basis versus 2019
Additionally, wholesale used vehicle prices (on a mix-, mileage- and seasonally adjusted basis) increased 5.74% when comparing the first 15 days of May to the month of April. This brings the mid-month Manheim Used Vehicle Value Index to 133.0, which is a 4.8% decrease from May 2019.

"Manheim Market Report (MMR) prices improved over the last two weeks, resulting in a 2.1% cumulative increase in the first two weeks of May on the Three-Year-Old Index. Over the first 15 days of May, MMR Retention, which is the average difference in price relative to current MMR, was above 100% for all but one day and averaged above 101%. The MMR Retention trend reflected that vehicles were selling above current MMR values and was a clear reversal of what happened in late March and April," according to the company.
As expected, all major market segments saw year-over-year seasonally adjusted price declines during the first 15 days of May. "Used retail vehicle sales were down 6% year-over-year on Thursday, which was an improvement from the 67% year-over-year decline at the end of March," stated Manheim.