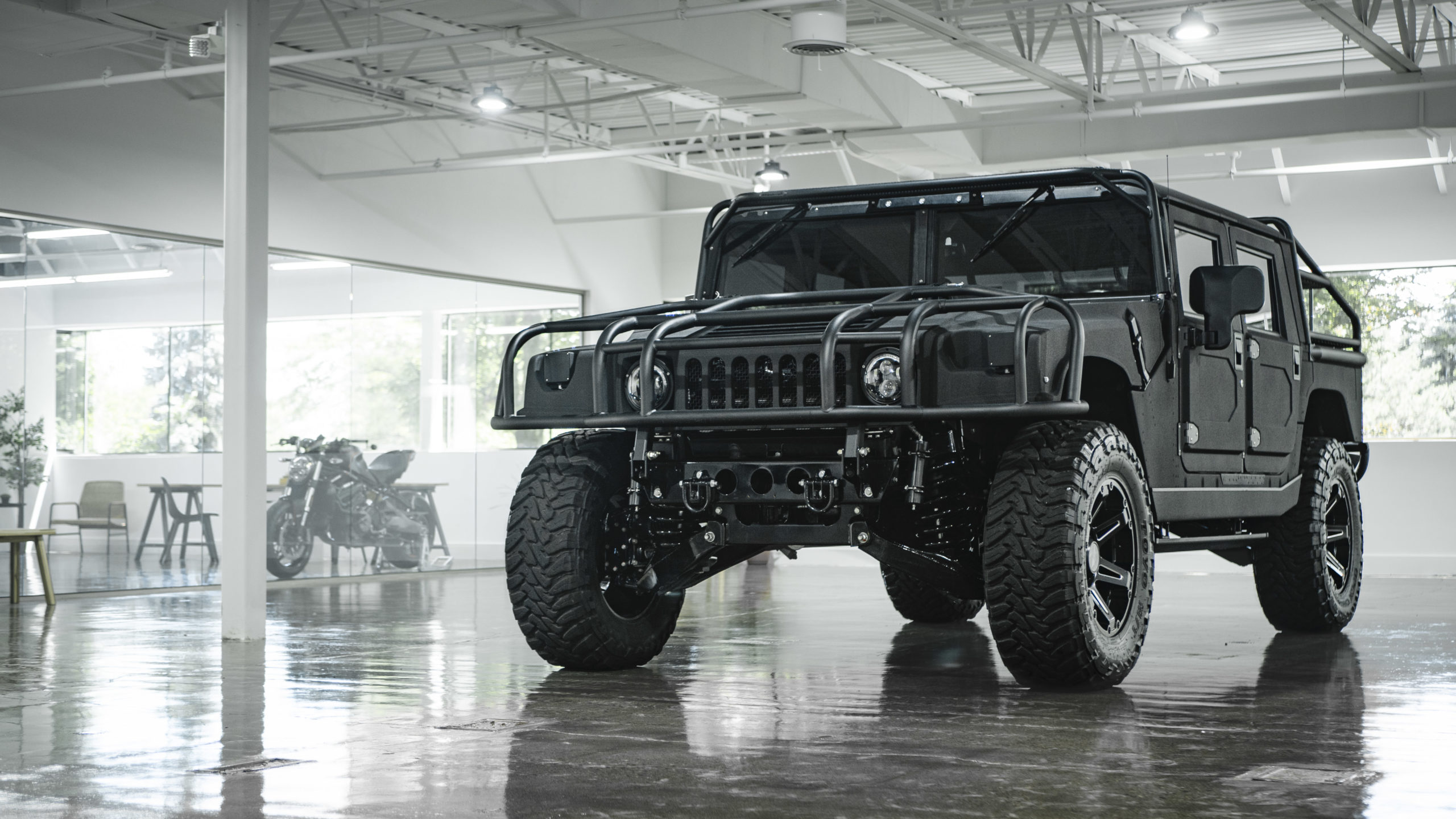 Mil-Spec Automotive has debuted its newest H1 supertruck, and it features a number of first-time upgrades offered by the off-road specialists.
The newest Mil-Spec Automotive H1 is powered by a specially tuned 500-horsepower/1,000 lbs.-ft. LBZ 6.6L Duramax diesel engine mated to an Allison 6-speed automatic transmission. Mil-Spec Automotive also incorporated a special heavy-duty drivetrain configuration into the build, which includes redesigned front and rear drive shafts, carrier bearings, motor mounts and transmission crossmember. For more stopping power, Mil-Spec Automotive integrated Wilwood's 6-piston high performance brake package.
The bespoke H1 features several new first-time upgrades offered by Mil-Spec Automotive. To increase drive time, the truck incorporates a new 30-gallon extended range aluminum fuel cell that is included alongside a fully integrated steel skid plate to make this the ideal rig for longer off-road excursions. The truck features an exclusive four-door hardtop configuration in a blacked-out onyx paint scheme. The Deep Sky Black Kevlar-infused polyurethane exterior coating is offset with semi-gloss black powdercoated accents.
All mechanicals were upgraded with Mil-Spec Automotive hardware. A ceramic underbody and engine bay coating were installed to provide insulation and thermal protection for the cabin. For further protection, heavy-duty rocker panel protection skid plates were added on to the truck's T6 hardened aerospace-grade aluminum body. The new Mil-Spec Automotive H1 also includes the Bumper Tow Package with an integrated two-inch ball hitch, electrical plugs, and a reverse camera to assist with trailer alignment and hook-up for hauling.
Another element featured is the exclusive Baja Suspension Package. This system practically doubles wheel travel to 13 inches to increase high-speed dampening and off-road handling. Among the upgraded components in this package are longer coil springs and remote-reservoir shocks, stronger front and rear billet balljoints and an upgraded sway bar designed for long travel. Mil-Spec Automotive's newest H1 rides on 38×13.50R20 Toyo Open Country M/T tires to further improve overlanding capabilities.
Partnering with Formawerx, Mil-Spec Automotive integrated new components throughout the cabin interior with a custom-machined steering wheel that matches an all-new car key design. The cabin interior is further upgraded with the company's exclusive Executive Interior Package, highlighted by onyx colored Nappa leather featuring quilted stitching and custom lumbar supports.
Other interior touches include a custom designed gauge layout featuring anodized black bezels and striking imperial measurements. The cabin doors include specially designed billet aluminum door lock pulls finished in black powder-coat. Mil-Spec Automotive's newest H1 also features a premium JL Audio sound system.