Features
MAHLE Motorsport Expands Event Schedule, SEGA Sponsorship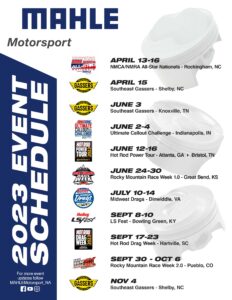 MAHLE Motorsport is expanding its event schedule and sponsorship support for the Southeast Gassers Association (SEGA) for 2023, the company announced.
This year, MAHLE Motorsport will attend 11 events including three SEGA events in April, June and November, the NMCA/NMRA All Star Nationals, Ultimate Callout Challenge, Hot Rod Power Tour and Rocky Mountain Race Week in June, the Midwest Drags in July, and three events in September including Holley LS Fest, Hot Rod Drag Week and Rocky Mountain Race Week.
As part of its expanded role, MAHLE Motorsport will be the sponsor of all six classes of SEGA racing for 2023 including A/Gas, B/Gas, C/Gas and SEGA Super Stock, H/Gas and A/FX and added two additional events to the company's event schedule for 2023.
"Sixties style drag racing has grown in participation dramatically in the past few years. It is great fun for the entire family, and we are excited to increase our level of support for 2023 to make sure that the early days of drag racing with these now vintage cars following original gasser rules continues to thrive," said MAHLE Motorsport Marketing Manger, Rob Kinnan. "We hope anyone that has questions about our PowerPak piston sets will stop by and visit us this year at SEGA or any of the events we have on schedule for 2023."