Features
KPI — September: New & Used Vehicle Sales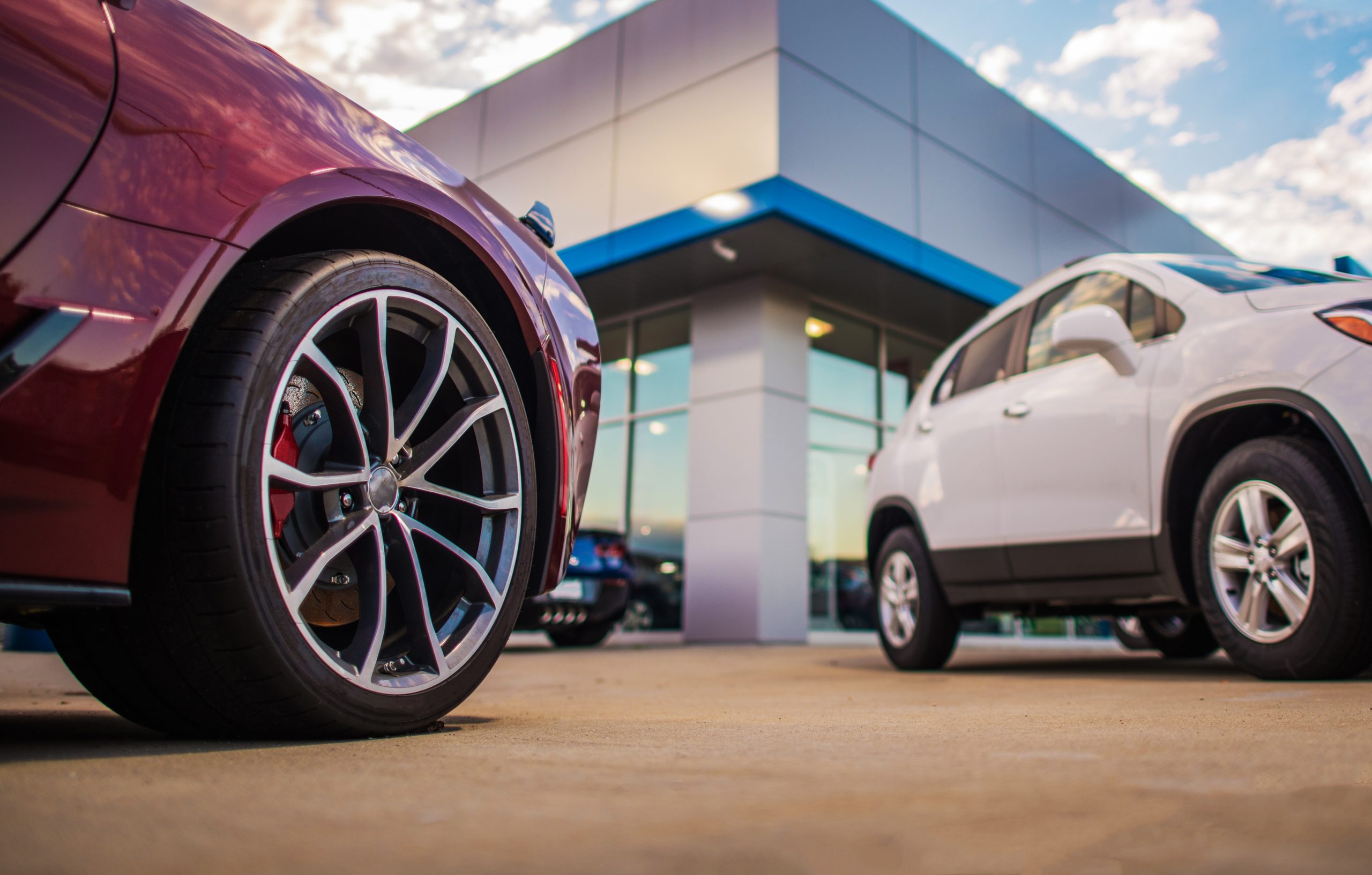 New Vehicle Sales
Total new vehicle sales improved for the fourth consecutive month in August, with the SAAR registering 15 million units. While it is well below the 17.1 million recorded last year, it is a notable increase from last month's 14.5 million.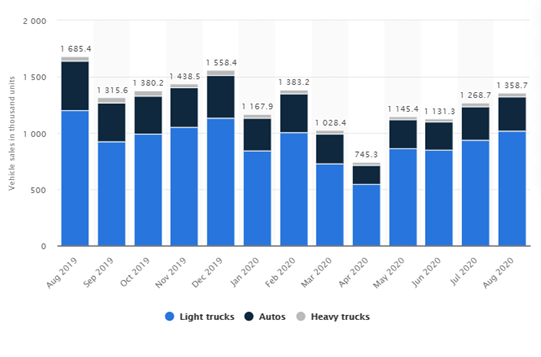 U.S. vehicle sales between August 2019 and 2020, by vehicle type (in 1,000 units), per Statista. Nearly 1.36 million motor vehicles were sold to customers in the United States during August 2020. Compared to a year ago, vehicle sales are down nearly 330,000 units, or 20%; however, sales experienced a boost of 90,000 units, or approximately 7%, when compared to last month, according to Cox Automotive.
August was a win, "an excellent result considering the SAAR was 8.6 million just four months ago," noted Cox Automotive. Furthermore, "The sales results reinforce what auto dealers were saying in mid-August when nearly 70% of franchised dealers indicated that sales were returning to normal."
Market recovery remains on track, though not without speed bumps. "There are headwinds holding back sales—limited inventories, fewer cash incentives—and those likely suppressed some activity as potential buyers could not find what they wanted," explained Charlie Chesbrough, senior economist at Cox Automotive.
Also, the industry is wrestling with 2021 new vehicle delays; under normal circumstances, OEMs would be introducing them to the public right now. "The lack of fresh product likely kept some buyers on the sidelines. The inventory situation is going to take some time to improve, and when coupled with an ongoing pandemic and weak economy, vehicle sales could face a difficult period this fall," commented Chesbrough.
A silver lining: the selling rate in August validates there is demand. "Given the ongoing disruption that COVID-19 has on the industry, the fact that retail sales of new vehicles are only 4% below the pre-virus forecast is evidence of strong consumer demand for vehicles," commented Thomas King, president of the data and analytics division at J.D. Power.
Despite inventory shortages and new vehicle delays, dealers are finding ways to close deals and deliver product. "The market is far from recovered, but considering the overall economic conditions, it is healthy," added Chesbrough.
For the fifth consecutive month, trucks/SUVs are on pace to account for more than three-fourths of retail sales. The continued shift towards more expensive trucks/SUVs supports record transaction prices in August. – Thomas King, J.D. Power
Important takeaways, courtesy of Cox Automotive
All major segments are expected to experience increased sales compared to last month, but overall SUVs and pickup trucks continue to outperform.
The market continues to slowly rebound, but a number of factors are preventing more robust gains. For example, "You cannot sell what you do not have—limited inventory for some brands, as well as the ongoing high unemployment and low confidence from the pandemic, continue to keep sales from rebounding more quickly. There's been a noticeable pull-back in incentives as well. These problems will likely persist, at least in the near term," noted Chesbrough.
Research indicates nearly 20% of dealers have raised retail prices since the start of the pandemic. A similar percent of consumers admit they are putting a vehicle purchase on hold, waiting for a better deal.
Valuation analysts at Kelley Blue Book reported the estimated average transaction price in August for a new light vehicle in the United States was $38,635.
"The rise in used vehicle prices may actually help new vehicle sales," said Chesbrough. "Since vehicle prices are rising substantially in the used market, there are fewer deals to be found. Some shoppers may decide to buy new because the relative difference from used is not as great as it was," he explained.
Looking Ahead
J.D. Power points to a "quirk" in the September calendar, which may support a boost in monthly sales. "The unusual gap between the August close and Labor Day weekend means there is the potential for higher-than-average promotional activity and, therefore, stronger sales," said Thomas King, president of the data and analytics division at J.D. Power.
"Consumer demand coupled with any inventory improvement could help the industry take another step forward in the recovery," he added.
Used Vehicle Sales
The August 2020 used SAAR registered 38 million, a year-over-year decline from 39.7 but unchanged from a month prior. The stall may suggest momentum is tapering off, according to Manheim.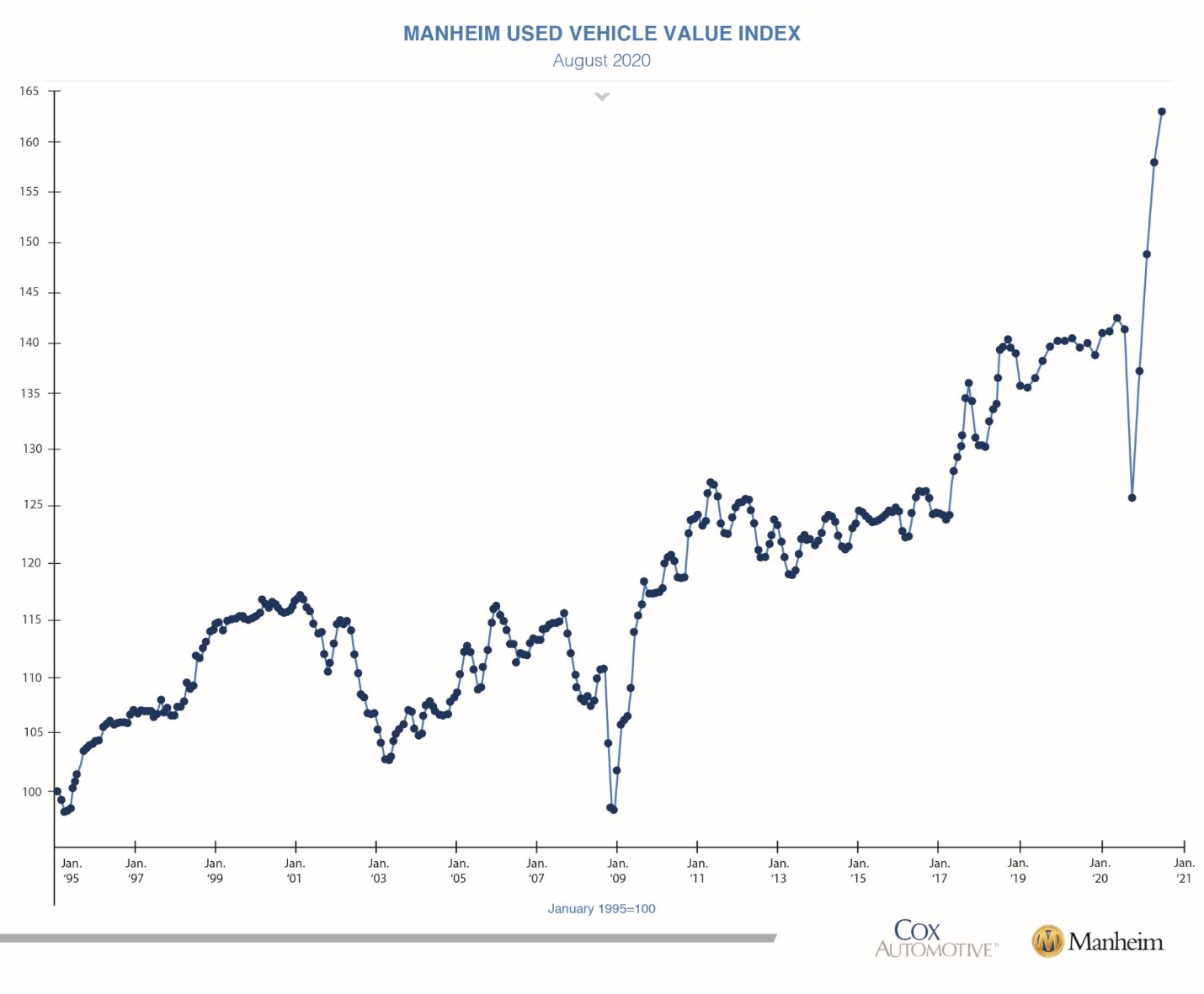 The used retail SAAR estimate was 20.3 million, a dip from 20.7 million last year and slightly down from 20.4 million in July. Likewise, Certified Pre-Owned (CPO) sales decreased 9% year-over-year, while also declining 6% month-over-month.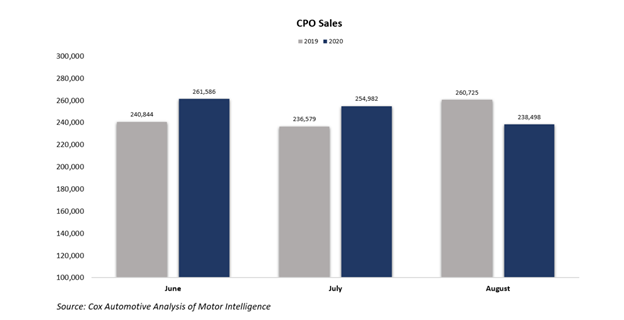 In the first eight months of 2020, the CPO market is more than 165,000 units below last year, which finished at 1,553,901 units sold. The revised 2020 Cox Automotive CPO sales forecast, which is subject to change, is 2.6 million units, down from 2.8 million sold in 2019. Read the full analysis here.
Looking Ahead
Compared to August 2020, wholesale used vehicle prices (on a mix-, mileage- and seasonally adjusted basis) decreased 0.9% during the first 15 days of September. This brought the mid-month Manheim Used Vehicle Value Index to 162.3, a 16% increase from September 2019.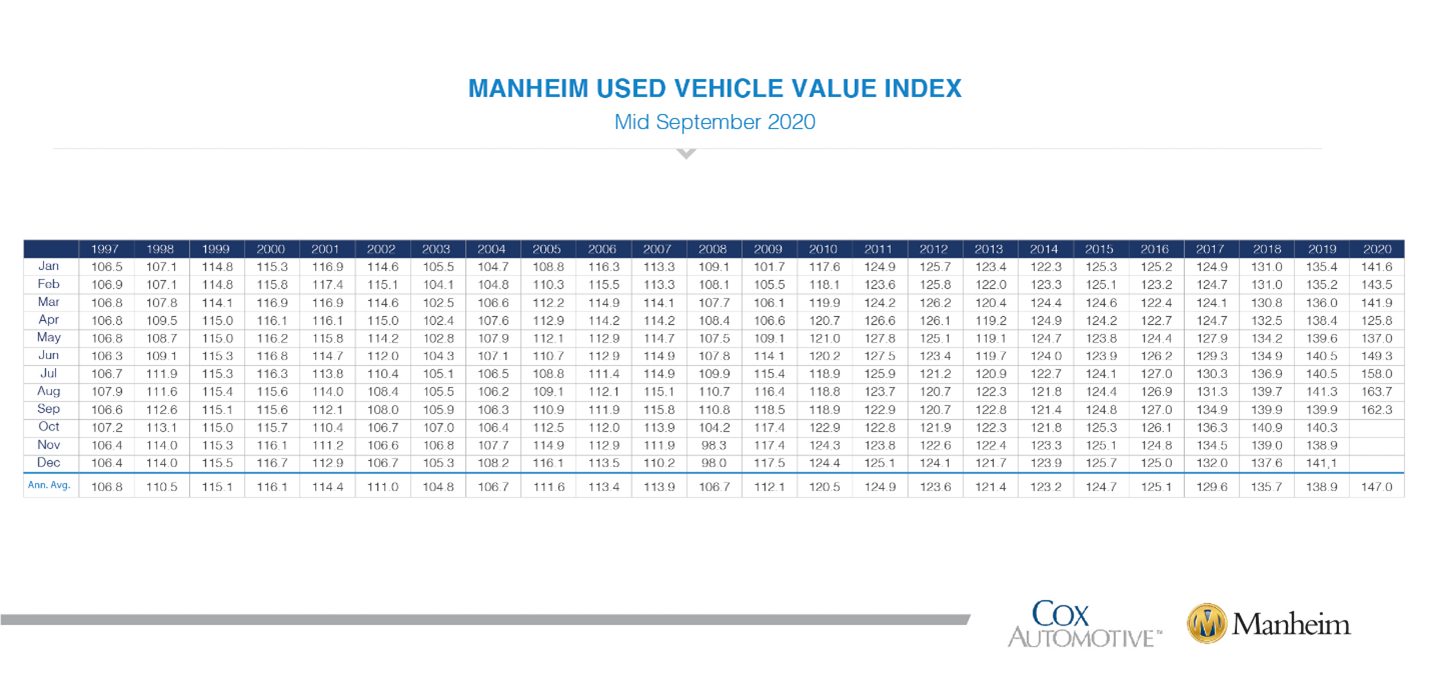 Moreover, all major market segments saw seasonally adjusted (on a year-over-year basis) price increases. Luxury cars and pickup trucks outperformed the overall market, while most other major segments underperformed in the overall market.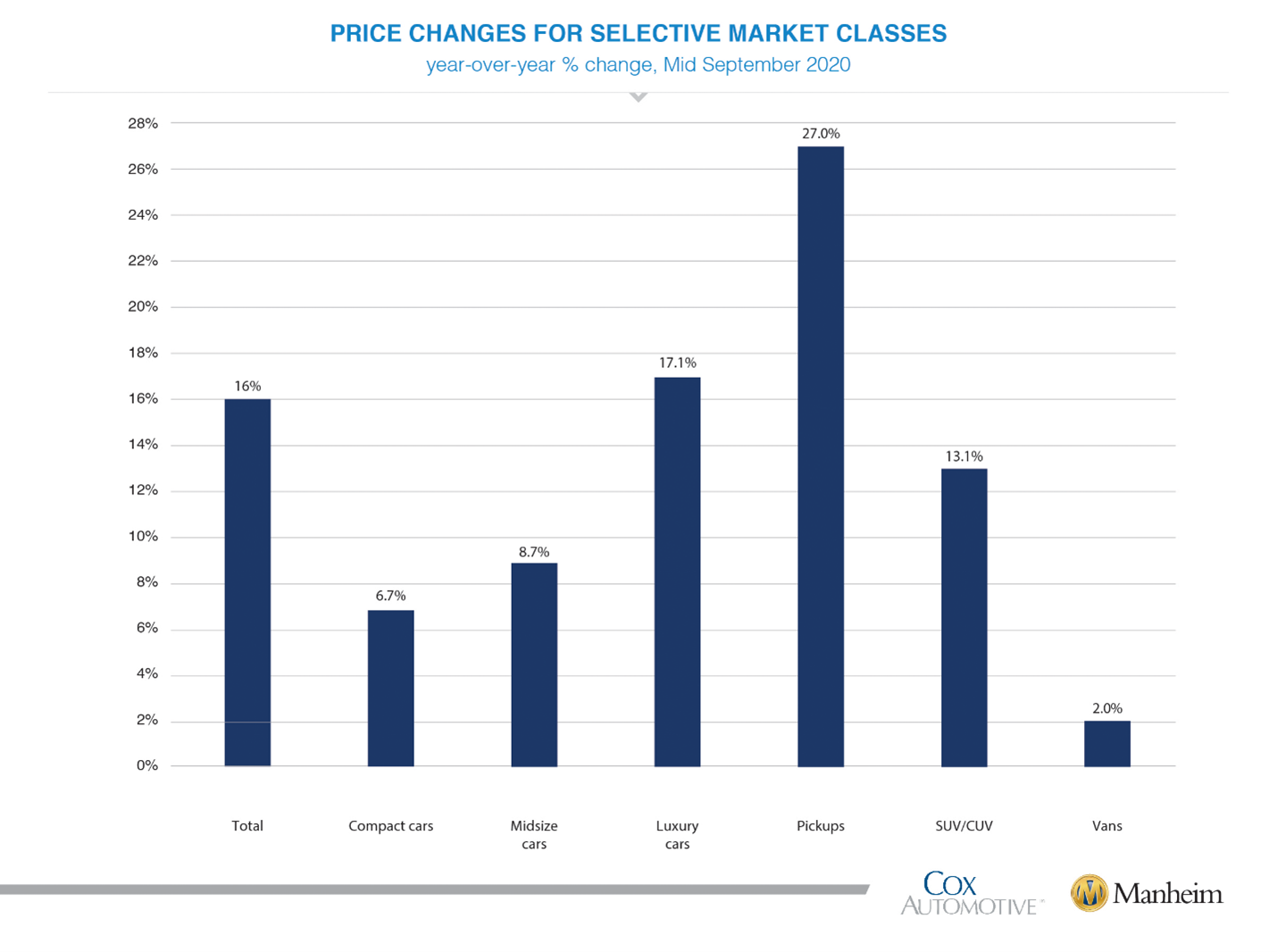 Additionally, "The inventory situation for the used market is tight, but it is also stable," noted Charlie Chesbrough, Cox Automotive senior economist. "Days' supply hasn't changed much over the last two months, suggesting that selling rates and available inventory are changing at similar speeds."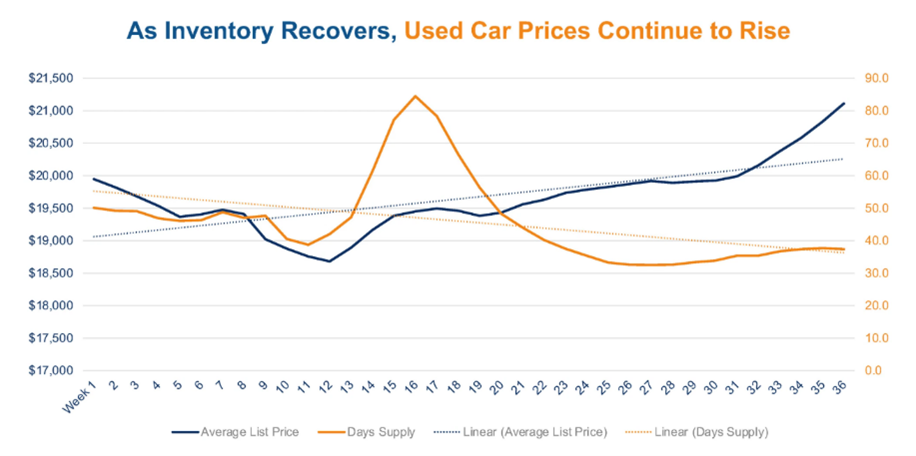 Important takeaways, courtesy of Cox Automotive and Manheim
Used-vehicle prices keep rising while the inventory of unsold used vehicles stabilizes, and even slightly improves, in contrast to new-vehicle inventory that is falling, according to a Cox Automotive analysis of vAuto Available Inventory data. Current reporting shows total U.S. supply of unsold used vehicles at 2.23 million—trending slightly up from a month ago when it was 2.20 million and increasing from 2.12 million in the same week a year ago.
Demand for used vehicles is strong, and the usual supply sources for them have been disrupted, causing a drawdown of inventory.
The average used vehicle list price set another record, surpassing the $21,000 milestone. Specifically, the average used vehicle was listed at $21,111, according to a Cox Automotive analysis of vAuto Available Inventory data.
Used vehicles listed under $10,000 showed the lowest inventory levels, with only 28 days' supply (up slightly from a month ago). All other price categories had days' supply of 36 to 39 (up slightly from a month ago).
As of late, Manheim Market Report (MMR) prices declined on younger-aged vehicles. The Three-Year-Old MMR Index, which represents the largest model year cohort at auction, experienced a 1.2% cumulative decline in the first two weeks of September. Similarly, MMR Retention, which is the average difference in price relative to current MMR, was below 100% in all but two days and averaged 99.4%. This trend suggests further price declines ahead, according to mid-September reporting.
KPI — September: Recent Vehicle Recalls