Features
KPI — September 2022: State of Business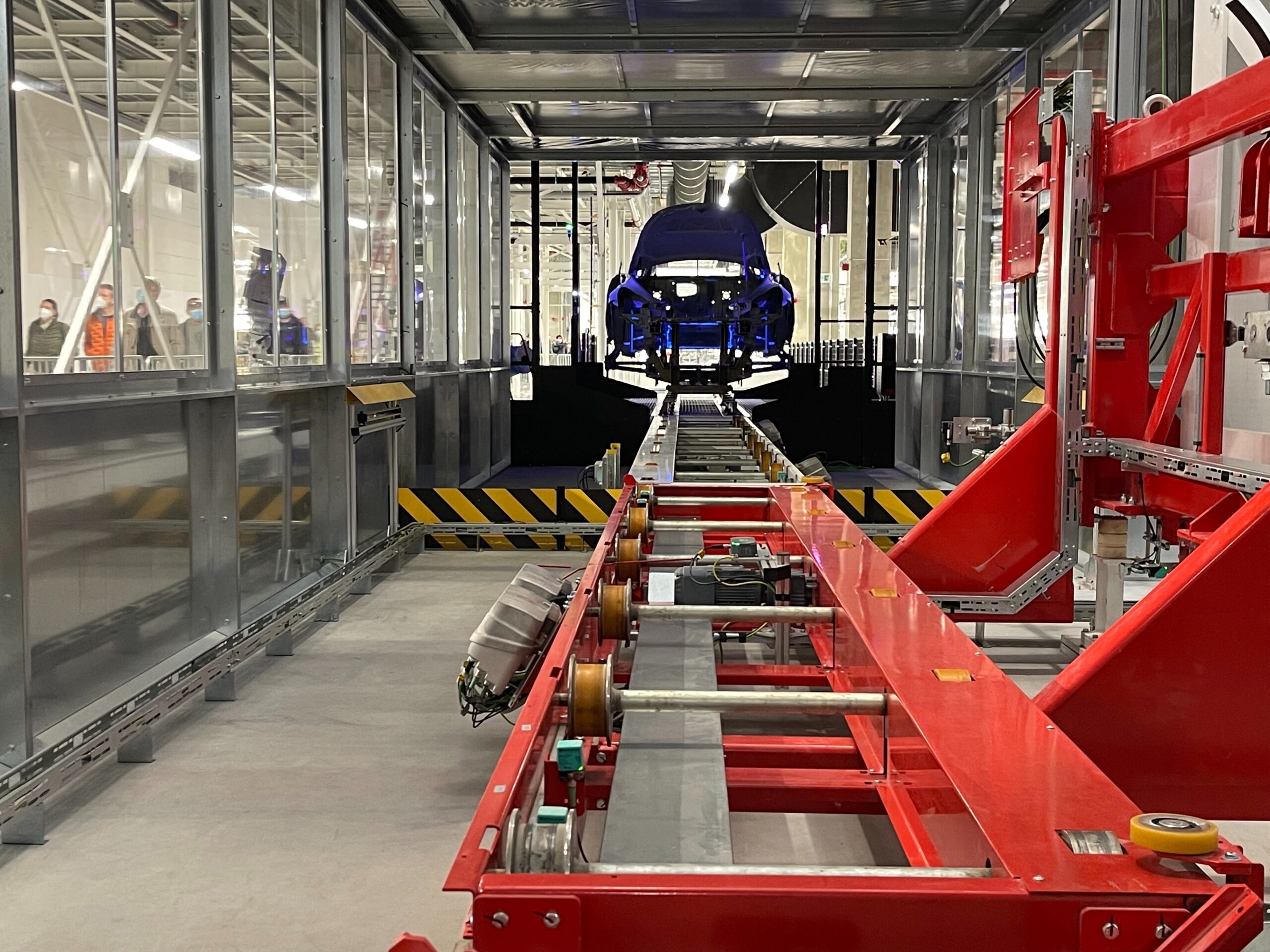 LMC Automotive reports Global Light Vehicle (LV) sales improved to 94 million units per year in August, the strongest gains of the year thus far but still down 3.8% year-over-year. While China continues to recover and spur an increased global selling rate, other major markets like Europe and the U.S. remain hamstrung by ongoing supply chain disruptions.
"The surge of volume in China is expected to drive the forecast for 2022 global light-vehicle sales higher by nearly 1 million units to 81.8 million, tipping the market to an increase of 0.4% from 2021. China sales projections have been increased to 27.4 for the year, up 8% from 2021," says Jeff Schuster, president of Americas operations and global vehicle forecasts at LMC Automotive.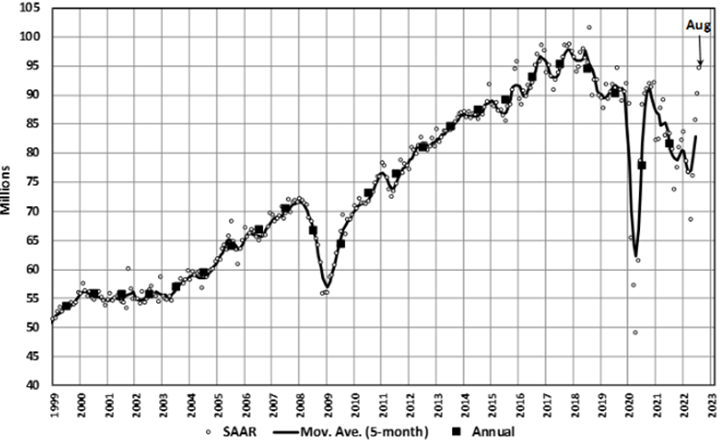 The July Manufacturing PMI® registered 52.8%, down 0.2 percentage point from a reading of 53% in June and the same as July, according to supply executives in the latest Manufacturing ISM® Report On Business®.
"The U.S. manufacturing sector continues expanding at rates similar to the prior two months. New order rates returned to expansion levels, supplier deliveries remain at appropriate tension levels and prices softened again, reflecting movement toward supply/demand balance," says Timothy R. Fiore, CPSM, C.P.M., chair of the Institute for Supply Management® (ISM®) Manufacturing Business Survey Committee.
According to Business Survey Committee respondents' comments, Fiore says companies continued to hire at strong rates in August, with few indications of layoffs, hiring freezes or head-count reductions through attrition. Panelists, he says, reported lower rates of quits, which is indeed a positive trend. Prices expansion eased dramatically in August as well, which, when coupled with lead times easing, should bring buyers back into the market and improve new order levels. However, Fiore says panelists continued to express unease toward a softening economy.
Important takeaways, courtesy of the Manufacturing ISM® Report On Business®:
Demand increased, with the (1) New Orders Index returning to expansion, (2) Customers' Inventories Index remaining at a low level (retreating slightly compared to July) and (3) Backlog of Orders Index increasing its rate of growth.
Consumption (measured by the Production and Employment indexes) improved during the period, with a combined positive 1.2-percentage point impact on the Manufacturing PMI® calculation.
The Employment Index returned to expansion after three months of contraction, and the Production Index lost ground but remained in growth territory. With the gains in hiring and fewer supplier delivery issues, production expansion should improve in September.
Inputs – expressed as supplier deliveries, inventories and imports – continued to constrain production expansion but to a lesser extent compared to July.
The Supplier Deliveries Index indicated deliveries slowed at a slower rate in August, while the Inventories Index grew at a slower rate as well.
The Imports Index expanded in August for the third consecutive month, though at a slower rate compared to July.
The Prices Index increased for the 27th consecutive month, but at a much slower rate compared to July.
U.S. New Vehicle Sales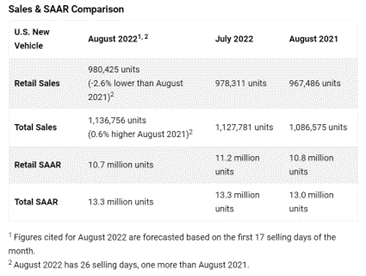 Total new vehicle sales for August 2022, including retail and non-retail transactions, are projected to reach 1,136,800 units – a 0.6% year-over-year increase. Comparing the sales volume without adjusting for the number of selling days translates to an increase of 4.6% from 2021, according to a joint forecast from J.D. Power and LMC Automotive.
"Traditionally, August is a high-volume sales month as manufacturers launch marketing actions to clear out the last model-year vehicles and start sales of the new model-year products," says Thomas King, president of the data and analytics division at J.D. Power.
"This August, the industry is still constrained by insufficient inventory to meet robust consumer demand. The result is a retail sales pace that fails to fulfill its potential. However, the silver lining for retailers – and manufacturers – is that transaction prices and profits are continuing to reach record levels even in the face of rising interest rates," he adds.
Important Takeaways, Courtesy of J.D. Power:
Buyers are on pace to spend $45.4 billion on new vehicles, up $5.2 billion from August 2021.
Truck/SUVs are on pace to account for 78.4% of new vehicle retail sales in August.
The average new vehicle retail transaction price is expected to reach $46,259. The previous high for any month is $46,173 – set in July 2022.
Average incentive spending per unit on trucks/SUVs is expected to be $1,011, down $787 from a year ago, while the average spending on cars is expected to be $818, down $1,136 from a year ago.
Average interest rates for new vehicle loans are expected to increase 137 basis points from a year ago to 5.51%.
Total retailer profit per unit – inclusive of grosses and finance and insurance income – is on pace to reach a monthly record of $4,976, an increase of $639 from a year ago. Eight of the past 11 months have seen retailer profit per unit at or above $5,000. This elevated per-unit profit level more than offsets the drop in sales volume. Total aggregate retailer profits from new-vehicle sales for the month of August is projected to be up 16.5% from August 2021, the best August ever and the fourth-highest amount of any month on record.
Fleet sales are expected to total 156,300 units in August, up 26% from year-over-year on a selling day adjusted basis. Fleet volume is expected to account for 14% of total light-vehicle sales, up from 11% a year ago.
"In September, the constraints are expected to continue with sales being hampered by available inventory. In the near term, prices and per-unit profitability will remain strong. Shoppers waiting for Labor Day sales events with substantial discounts on outgoing model-year vehicles will be frustrated by the lack of markdowns and choice of vehicles," King says. "However, for the time being, there are plenty of new-vehicle buyers willing to pay higher prices and be less selective."
U.S. Used Market
Wholesale used-vehicle prices (on a mix, mileage and seasonally adjusted basis) decreased 4% month-over-month. The Manheim Used Vehicle Value Index declined to 210.8 but is up 8.4% from a year ago.
In August, Manheim Market Report (MMR) values posted larger-than-normal declines that were consistent over the month. Over the last four weeks, the Three-Year-Old Index decreased a net 2.5%.
According to Manheim, all major market segments posted seasonally adjusted prices that were higher year-over-year in August, except for full-size cars. Compact cars recorded the largest increase at 15.9%, followed by vans and midsize cars, which all had seasonally adjusted year-over-year gains ahead of the overall industry. Compared to July, all eight major segments' performance was down. Sports cars lost nearly 5%, while compact and midsize cars declined 3.5% and 3%, respectively. SUVs were down 4.3%, while vans were down 2.9%.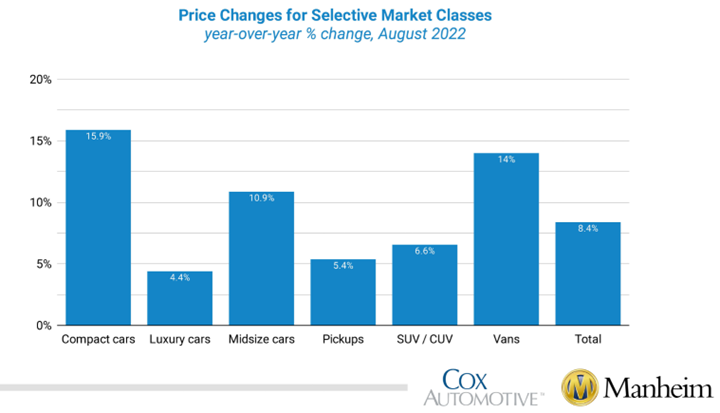 KPI — September 2022: Recent Vehicle Recalls