Features
KPI — October: New and Used Vehicle Sales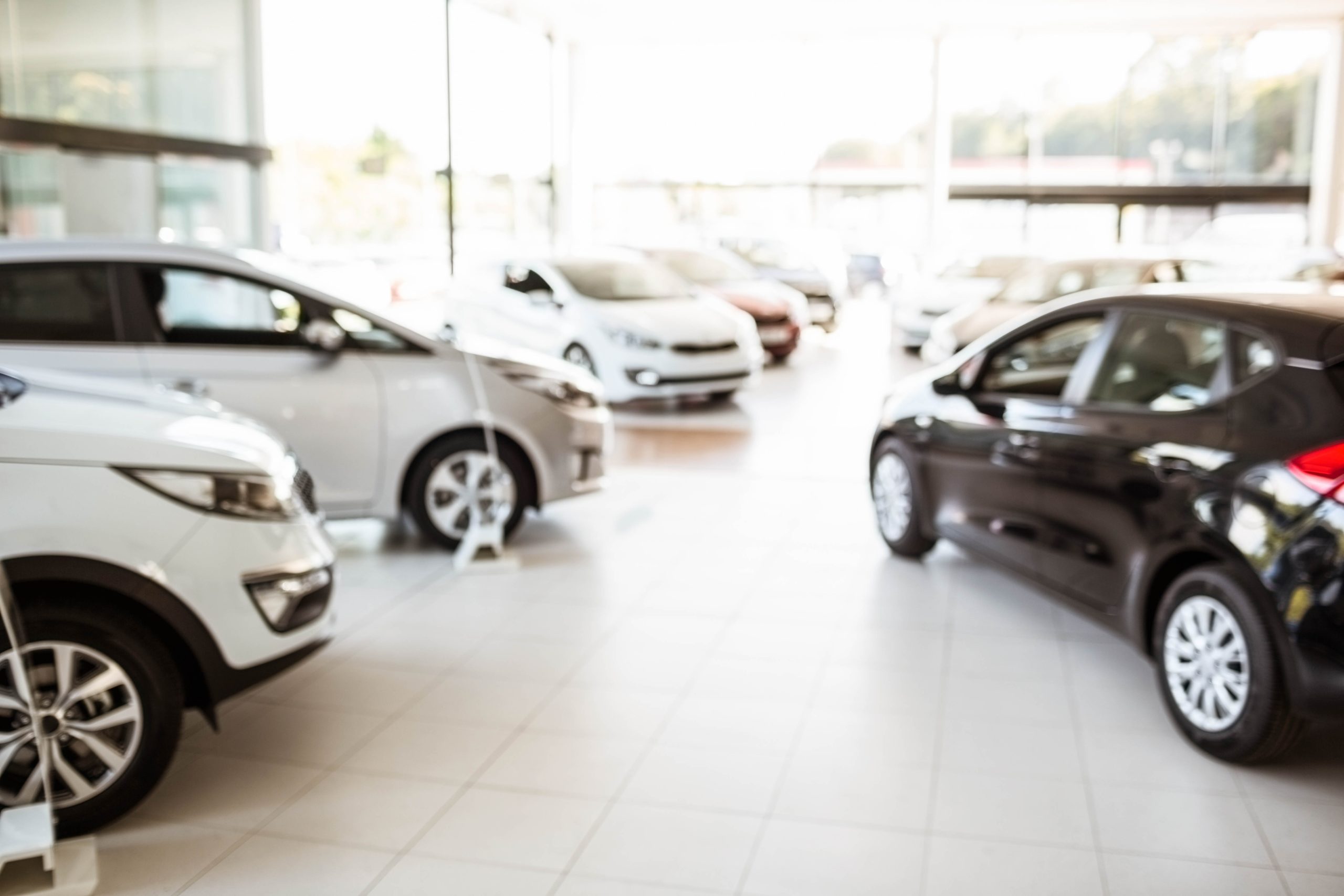 New Vehicle Sales
Total new vehicle sales improved for the fifth consecutive month in September, with the SAAR hitting 16.3 million—a 5% decrease from 17.1 million last year but an improvement compared to 15.2 million last month, according to Cox Automotive.
While new vehicle sales are heading in the right direction, the market is faced with low supply, less incentives and high prices.
The good news, "A strong sales pace is occurring despite tight inventories," noted Thomas King, president of J.D. Power analytics division. "The combination of strong demand and lean inventories is enabling manufacturers to reduce new-vehicle incentives and is allowing retailers to reduce the discounts they typically offer on new vehicles," he continued.
Case in point, the average new vehicle incentive from manufacturers is approximately $3,678 per vehicle, a year-over-year decrease of $425, and the second consecutive month below $4,000, according to J.D. Power.
Furthermore, "Expressed as a percentage of the average vehicle MSRP, incentives for October are 8.7%, down 1.4 percentage points from a year ago and below 9% for the first time since June 2016," added J.D. Power. For context, incentive spending peaked at $4,953 per unit in April 2020.
Average transaction prices are up as well, according to recent Kelley Blue Book data—hitting $38,000 in September, with a projected year-over-year increase of 3.1% ($1,223) and a month-over-month uptick of 0.7% ($262) during October.
For dealers, inventory levels continue to be a severe pain point. "Those who turn the most, earn the most," said Brian Finkelmeyer, senior director of new car solutions at Cox Automotive. "In other words, the dealers able to keep inventory moving are the ones who are earning healthy allocations from their automaker partners," he explained.
"In the market right now, inventory is king. And this race for inventory is likely to continue for the foreseeable future, as wholesale shipments to dealers in August and September only reached 83% of the expected norm for this time of year," added Finkelmeyer.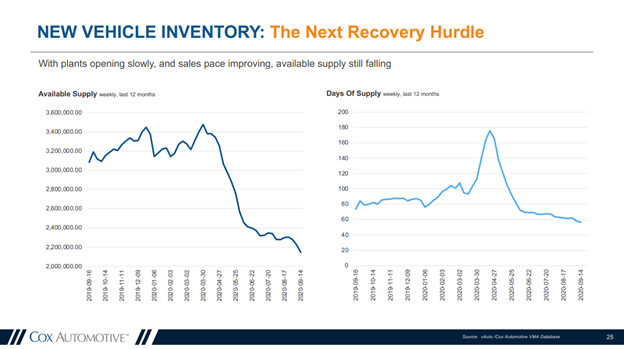 On a positive note, "Leaner inventories have made the business more efficient and helped in the industry's ongoing efforts to control costs," said Mike Manley, CEO for Fiat Chrysler.
Looking Ahead
Sales are expected to grow in October, with J.D. Power and LMC Automotive predicting a 3% year-over-year increase by month end. "Two consecutive months of year-over-year retail sales increases demonstrates that consumer demand is showing remarkable strength," said King.
As such, the SAAR is expected to inch near 16.4 million—up slightly from the 16.3 million posted last month but down from the 16.8 million level a year ago, according to Cox Automotive.
"Given the severity of the health and economic crisis in the country right now, the strong vehicle sales pace is a pleasant surprise, particularly when six months ago most market observers didn't expect us to be here," said Charlie Chesbrough, senior economist at Cox Automotive.
"Modest improvements in the U.S. economy from gains in consumer confidence and job creation, coupled with the roll-out of new MY2021 products, are keeping consumers interested in purchasing even during turbulent times," added Chesbrough.

Important Takeaways from Cox Automotive Q3 Report:
Charlie Chesbrough, senior economist at Cox Automotive: Vehicle sales appear to be coming in above initial expectations. Pandemic and recession be darned, Americans are out buying new wheels. Upper-income consumers dominate the new vehicle market, and this group has not been impacted severely by the recession, which is why vehicle sales have been rebounding from April so quickly. There are plenty of reasons to believe Q4 could be a more difficult period for the U.S. economy, leading the vehicle sales pace to moderate. Tight inventories, bad economic news, concerns as pandemic hotspots break out and plenty of political uncertainty in the time of presidential election—this is not an environment that supports strong auto sales. And yet, if Q4 is like Q3, American car buyers will keep on buying cars at a healthy pace.
Michelle Krebs, executive analyst at Cox Automotive: Q3 auto sales illustrate the strength and resilience of both auto dealers and new car buyers in America. New car buyers are a small slice of the general population and clearly, for that group, a global pandemic, high unemployment and general uncertainty about the economy are not holding them back. Out of necessity or want, they're still out there buying.
Brian Moody, executive editor at Autotrader: Overall new vehicle sales are down, but there are bright spots in the numbers. Like almost everything else in life right now, it looks like consumers are re-examining their needs. For example, sales of the all-electric Chevrolet Bolt are up. Is it possible that the lack of a daily commute is giving electric vehicles, the perfect cars for errand-running, a new lease on life? Another counter to the norm: Several sedans are doing quite well, specifically sedans and hybrid from Toyota and Lexus. It's a similar story at Ford, while many discontinued models are dragging the average down, consumers are discovering, and buying, truly good utility vehicles like the Ford Explorer and Lincoln Aviator. In addition, more buyers seem to be giving Hyundai a chance—likely boosted by a fresh vehicle lineup.
Used Vehicle Sales
Total used vehicle sales volume was down 5% year-over-year in September. The used SAAR registered at 38 million, down from 39.8 million last September and flat compared to August.
Additionally, the used retail SAAR—which analyzes used vehicles sold via franchise and independent dealerships—reported 20.2 million, down from 20.7 million last year and slightly down month-over-month.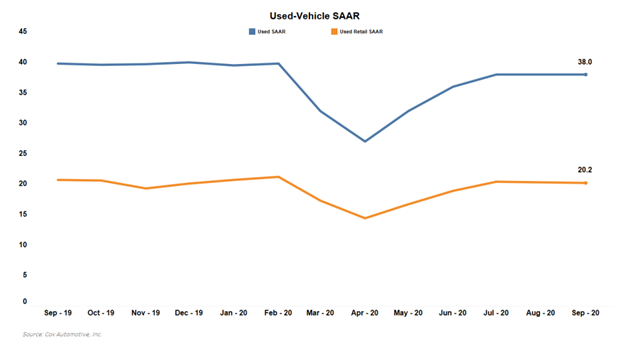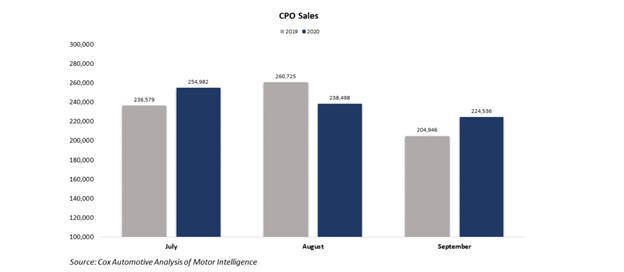 Sales of certified pre-owned (CPO) vehicles increased nearly 10% year-over-year in September but were down 6% month-over-month compared to August. For September, 224,536 CPO units were sold, according to Cox Automotive. Read the full analysis here.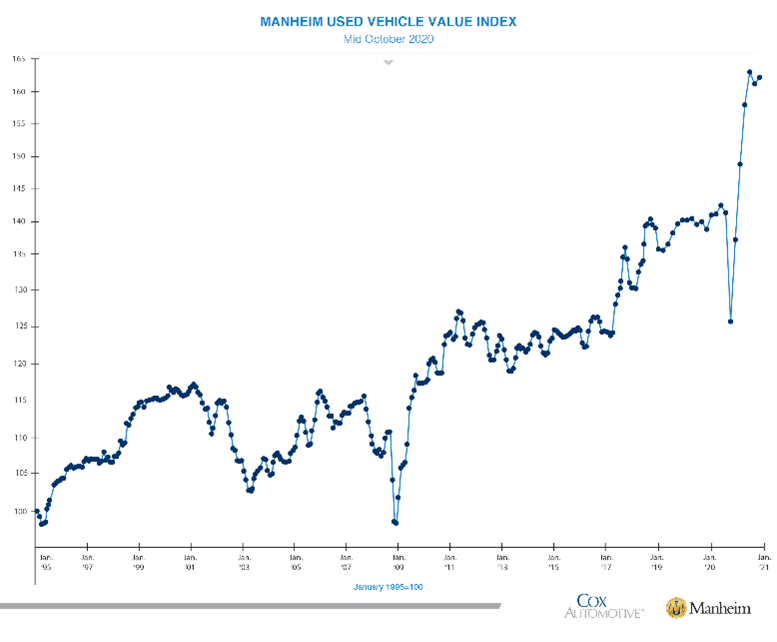 Compared to September, wholesale used vehicle prices (on a mix-, mileage- and seasonally adjusted basis) increased 0.9% in the first 15 days of October. This brought the mid-month Manheim Used Vehicle Value Index to 162.7, a 16.0% increase from October 2019.
Moreover, all major market segments saw seasonally adjusted (on a year-over-year basis) price increases during the first 15 days of October. Luxury cars and pickup trucks outperformed the overall market, while most other major segments underperformed the overall market, according to Manheim.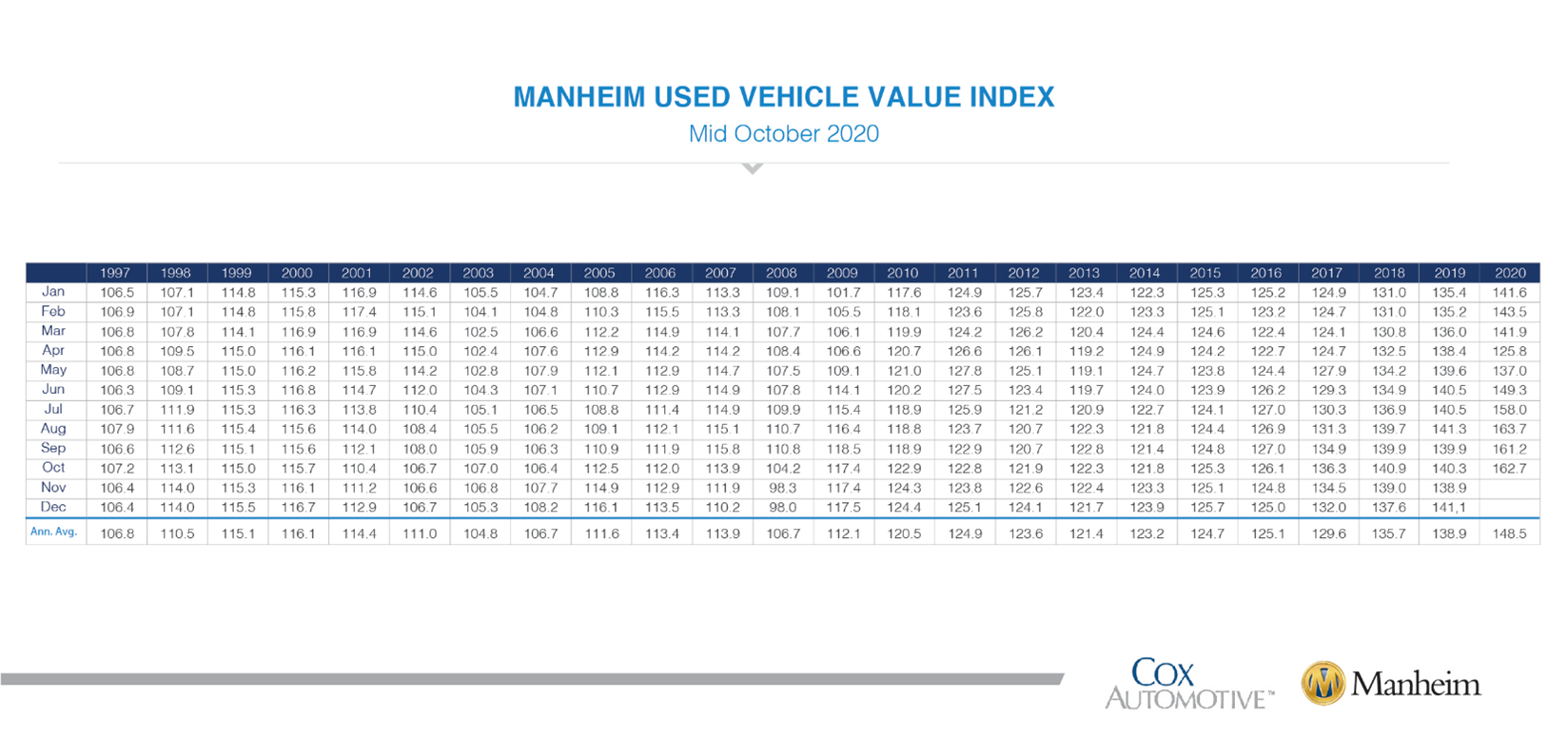 The used vehicle market is having a record year. It is quite possible to hit 36.1 million used-vehicle sales, according to a recent forecast by Cox Automotive. However, the projection is heavily reliant on whether another federal stimulus package arrives.
"If we fail to see any stimulus before year-end, the odds grow for a double-dip recession and higher unemployment to end the year," said Smoke. "If that's the case, credit will become more challenging and sales could be lower than we're forecasting. If we have a bigger stimulus package, the used market could particularly be stronger and, of course, much continues to depend on the virus itself and the timing of vaccines."
KPI — October: Recent Vehicle Recalls