Features
KPI — October 2021: State of Business: Automotive Industry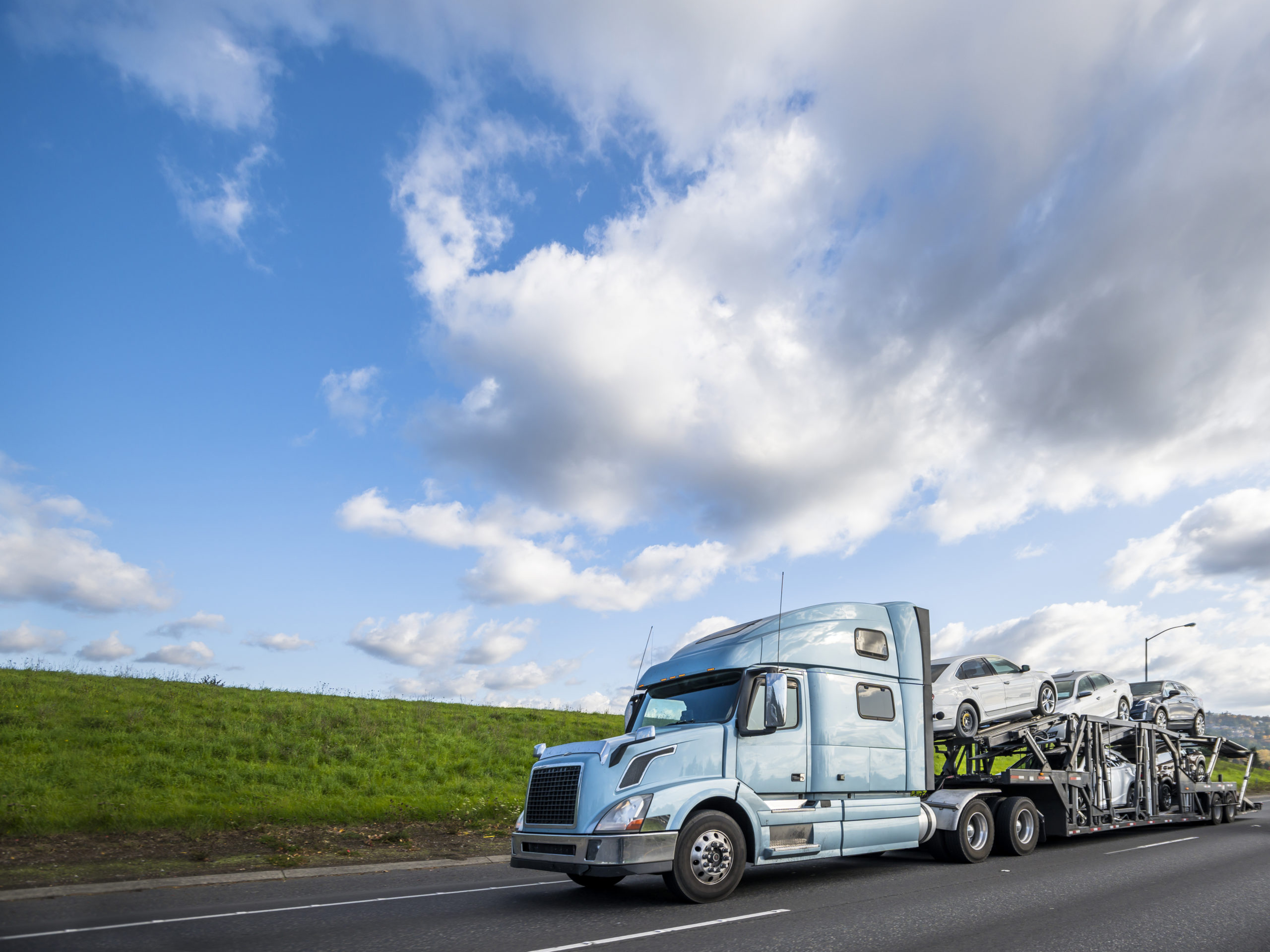 The semiconductor crisis continues to freefall, taking the global selling rate with it. Global Light Vehicle (LV) sales slipped to 80 mn units/year in August, marking the lowest result in over a year, according to LMC Automotive.
"Looking at September, the inventory constraint is expected to intensify," stated Jeff Schuster, president of Americas operations and global vehicle forecasts for LMC Automotive. "We forecast volume to fall 20% from September 2020, with volume at 6.3 million units and a subdued selling rate of 73 million units – nearly 18 million units below September 2020."
As such, the auto industry is facing an extended delayed recovery. "We have substantially cut our outlook for global light vehicles in 2021 and 2022. We expect 2021 volume to be three million units lower than our forecast a month ago – now just 80.6 million units, an increase of 4% from 2020," said Schuster. "With the extension of the chip shortage, the outlook for 2022 has been cut by 6.5 million units to 85.2 million. The situation remains extremely fluid and additional downside risk of five million units remains for 2022."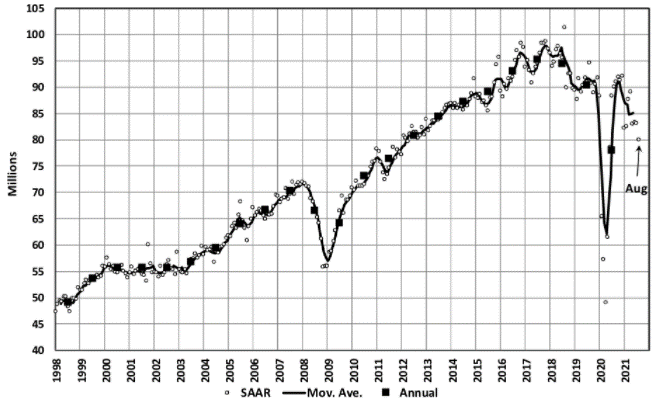 Global Light Vehicle (LV) sales slipped to 80 mn units/year in August, marking the lowest result in over a year, according to LMC Automotive.
State of Manufacturing
On the manufacturing side, the September Manufacturing PMI® registered 61.1%, an increase of 1.2 percentage points from an August reading of 59.9%. The data indicates expansion in the overall economy for the 16th month in a row after contraction in April 2020, according to supply executives in the latest Manufacturing ISM® Report On Business®.
"Business Survey Committee panelists reported that their companies and suppliers continue to deal with an unprecedented number of hurdles to meet increasing demand. All segments of the manufacturing economy are impacted by record-long raw materials lead times, continued shortages of critical materials, rising commodities prices and difficulties in transporting products," said Timothy R. Fiore, CPSM, C.P.M., chair of the Institute for Supply Management® (ISM®) Manufacturing Business Survey Committee.
Global pandemic-related issues such as worker absenteeism, short-term shutdowns due to parts shortages, difficulties in filling open positions and overseas supply chain problems continue to limit manufacturing growth potential.
"Demand remains at strong levels, despite increasing prices," said Fiore.
Demand expanded, with the (1) New Orders Index growing, supported by continued expansion of the New Export Orders Index, the (2) Customers' Inventories Index remaining at very low levels and the (3) Backlog of Orders Index staying at a very high level.
Consumption (measured by the Production and Employment indexes) grew slightly during the period, with a combined .6 percentage point increase to the Manufacturing PMI® calculation.
The Employment Index returned to expansion after one month of contraction but hiring difficulties at panelists' companies show no significant signs of abating.
Inputs – expressed as supplier deliveries, inventories and imports – continued to support input-driven constraints to production expansion, at higher rates compared to August.
The Supplier Deliveries Index reversed a recent pattern of softening, while the Inventories Index continued to expand faster due to work-in-process inventory being held longer because of key part shortages, as well as more finished goods inventory being held due to downstream customer issues.
The Prices Index expanded for the 16th consecutive month, at a faster rate in September, indicating continued supplier pricing power and scarcity of supply chain goods.
U.S. New Vehicle Sales
New-vehicle retail sales in September 2021 are expected to decline both year-over-year and compared to September 2019, according to a joint forecast from J.D. Power and LMC Automotive.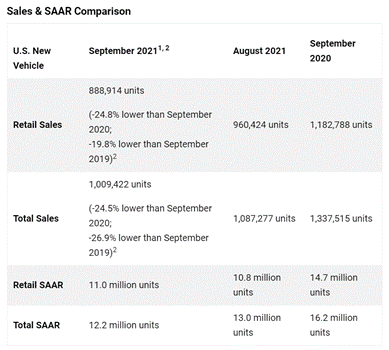 Total new vehicle sales in September 2021, including retail and non-retail transactions, are projected to reach 1,009,400 units – a 24.5% decrease from September 2020 and a 26.9% decrease from September 2019.
"September results show there are simply not enough vehicles available to meet consumer demand. Similar to August, inventory levels have been depleted to the extent that new vehicle sales are being dictated by how many vehicles are being delivered to dealerships each month. In September 2019, 1,020,000 retail sales occurred as buyers chose from 2.9 million vehicles in inventory. This month, retail customers will buy 888,900 vehicles, with just 920,000 in inventory," said Thomas King, president of the data and analytics division at J.D. Power.
He noted the mismatch between strong consumer demand and constrained inventory is leading to unprecedented vehicle prices.
Important Takeaways, Courtesy of J.D. Power:
Consumers are on pace to spend $38 billion on new vehicles, down $4.6 billion from September 2020 but up $3.6 billion from September 2019.
As of September 2021, the average number of days a new vehicle sits on a dealer lot before being sold is on pace to fall to a record low of 23 days – down from 54 days a year ago and down two days from August 2021. Retailers continue to sell a large proportion of vehicles almost as soon as they arrive in inventory. This month, nearly 50% of vehicles will be sold within 10 days of arriving at a dealership.
Total retailer profit per unit – inclusive of grosses and finance & insurance income – should reach an all-time high of $4,753. That is an increase of $2,587 compared to a year ago.
Truck and SUVs will account for nearly 78.3% of new vehicle retail sales in September.
Average incentive spending per unit is expected to fall to $1,755, down from $3,792 in September 2020 and $4,154 in September 2019. Spending as a percentage of the average MSRP is expected to fall to 4%, down 5.2 percentage points from September 2020 and down 6.3 percentage points from September 2019.
The average new vehicle retail transaction price is expected to reach a record $42,802 – the fourth consecutive month over $40,000.
Fleet sales are expected to total 120,500 units in September, down 22.1% from September 2020 and a decline of 55.8% from September 2019 (when adjusted for selling days). Fleet volume is expected to account for 12% of total light-vehicle sales, flat from 12% a year ago.
"Looking forward to October, with inventory and production levels at historical lows, dealers are turning vehicles on lots almost as soon they arrive and, as demand continues to exceed production, the overall industry sales pace will continue to be supply constrained. At these unprecedented low levels of inventory, the sales pace will be dictated mostly by manufacturers' procurement, production and distribution activities," said King. "However, regardless of inventory position or production levels, manufacturers and retailers will continue to benefit from the current intense level of consumer demand, achieving higher profits per every unit sold."
U.S. Used Market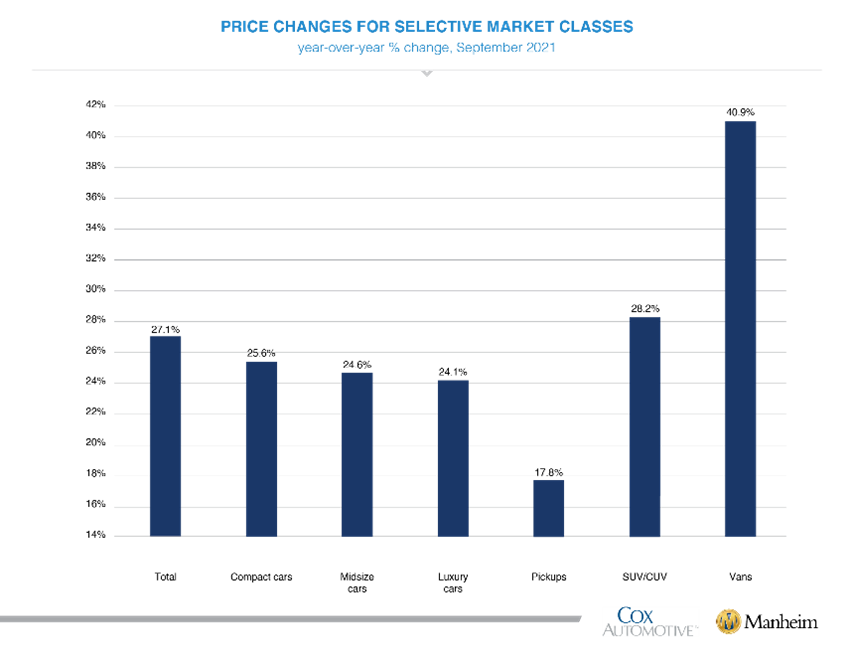 Wholesale used vehicle prices (on a mix-, mileage- and seasonally adjusted basis) increased 5.3% month-over-month in September – bringing the Manheim Used Vehicle Value Index to 204.8, a 27.1% year-over-year increase.
According to the most current report, the Manheim Market Report (MMR) values posted accelerating weekly increases throughout September. Over the full four weeks in the month, the Three-Year-Old Index increased a net 4.6%.
All major market segments recorded year-over-year, seasonally adjusted price increases. Vans and sport utility vehicles had the largest year-over-year performance, while car and pickup segments lagged the overall market. On a month-over-month basis, no segment showed declines.
Overall, total used vehicle sales were down 13% year-over-year in September. Cox Automotive estimates the September used SAAR to be 36 million – a year-over-year decrease from 40.9 million and down compared to August's 36.5 million SAAR. The September used retail SAAR estimate is 19.5 million, also down from 21.7 million last year and flat month-over-month.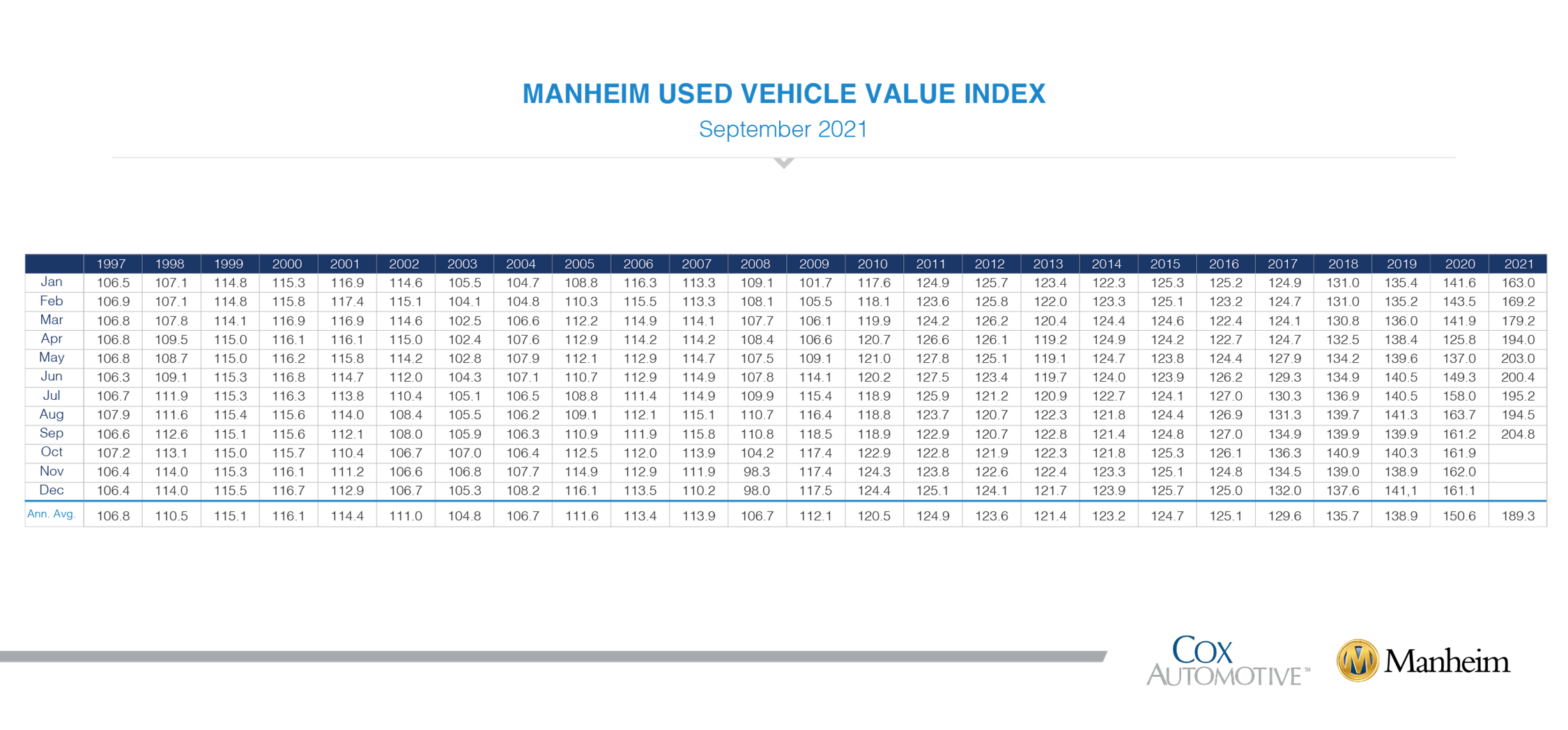 KPI — October 2021: Recent Vehicle Recalls