Features
KPI — November: State of Business: Automotive Industry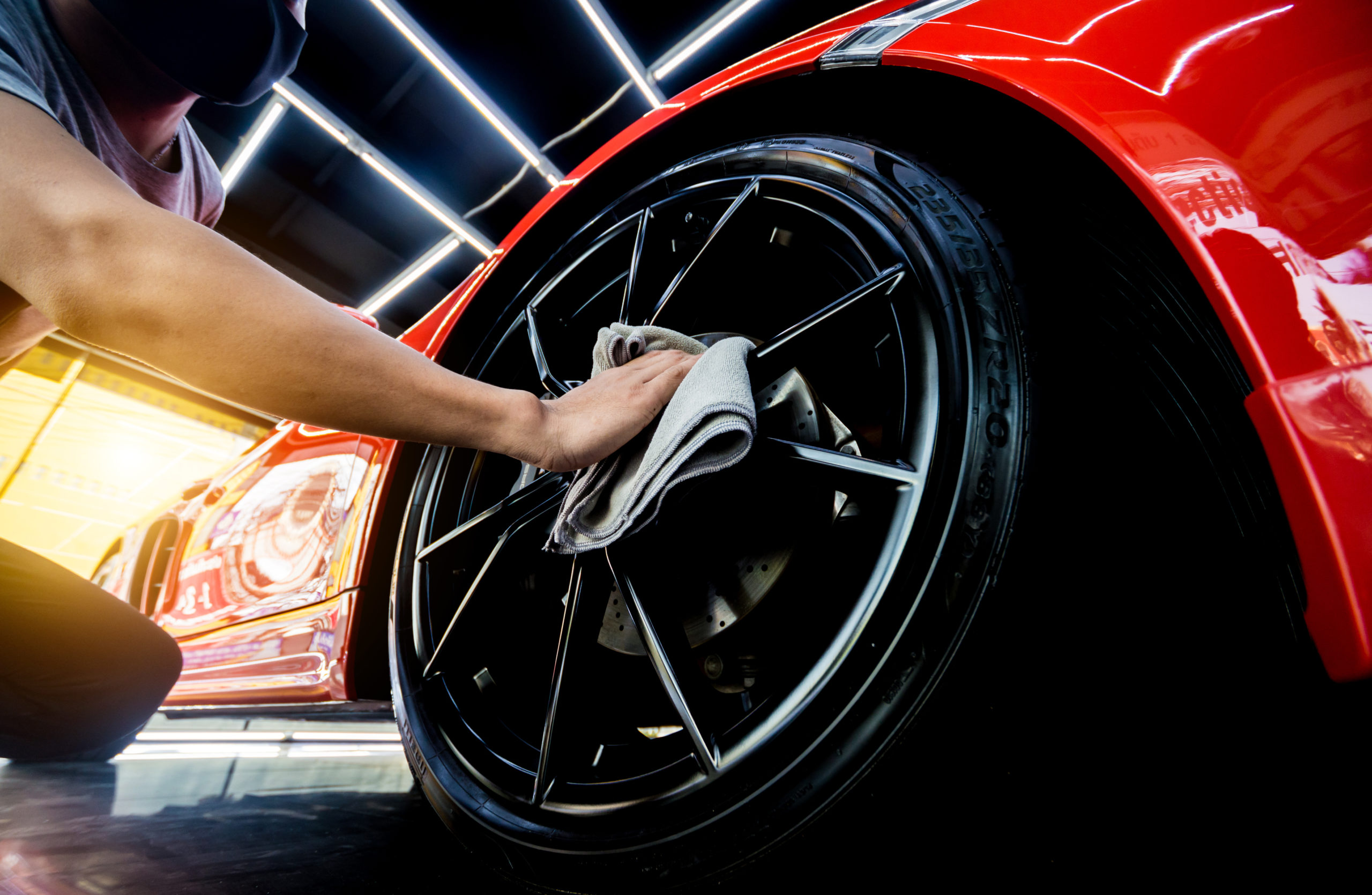 COVID-19 continues to infiltrate, impact and divide every facet of society as countries seek to balance public and economic health. More than 58 million cases and 1.3 million deaths have been confirmed across 235-plus countries, areas or territories.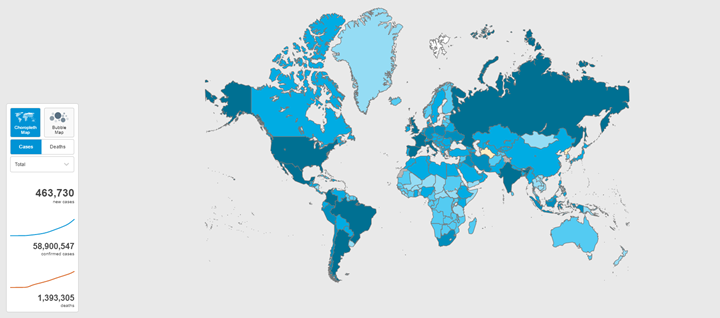 COVID-19 Cases by Country
Another wave of COVID-19 is being monitored on an international scale, with various countries imposing new stay-at-home mandates.
As of late October, French residents must carry a document justifying their presence outside. Similarly, Germany plans to enforce a month-long lockdown, closing restaurants, theatres, pools and gyms as of Nov. 2.
The UK—consisting of England, Wales, Scotland and Northern Ireland—originally resisted another nationwide lockdown, citing economic hardships attached to such a decision. For example, car manufacturing output dropped to its lowest level in 25 years during September, according to data released by the SMMT. In October, the UK new car market was down 1.6%, with 140,945 cars registered—marking a nine-year low for the sector.
Though leadership and residents remain wary another shutdown could prove devastating, Prime Minister Boris Johnson pressed forward with a four-week stay-at-home order, which "allows people to leave their homes only for essential purposes, like going to school, the doctor and grocery stores," according to CNBC.
As a result, the COVID 'firebreak' population restrictions in Wales (which closed non-essential retailers, including car dealers) accounted for more than half of the month's losses, explained Graeme Roberts of JustAuto, an online news, insight and research portal for the global automotive industry. A similar 'stay-at-home order' for England started November 5th and will force more UK showrooms to close, added Roberts.
At the time of writing, there were 12 million confirmed cases in the U.S., with Texas, California, Florida and Illinois reporting the highest numbers.
Certainly, a resurgence of COVID-19, personnel and inventory shortages, as well as a contested presidential election all threaten short and long-term economic recovery efforts. However, despite a recent rise in cases, many states remain opposed to another shutdown.
Global Vehicle Sales
The global manufacturing community has been impacted tremendously this year, from facility closures and new protocols to large-scale surges in demand.
Pre-pandemic estimates of international vehicle sales were tracking 80 million. Although the latest outlook figures are showing improvement, "The industry's economic woes continue, and demand for new motor vehicles is forecast to be in the negative throughout 2020," according to Statista.
As a result, worldwide vehicle sales are expected to fall slightly below 62 million in 2020.
Mainland China is expected to decrease by 7.5% between 2019 and 2020, sliding to 23.6 million units by the end of 2020. North American auto sales are projected to fall below 17 million units in 2020. Predictions for the European auto industry include a 20% year-over-year decrease, according to Statista.
Even though global vehicle sales are down, there are positive signs of recovery in the automotive industry.
For example, October's Global Light Vehicle (GLV) selling rate stood at a solid 91mn units/year, which is in line with an upwardly revised September result, according to LMC Automotive. Total sales grew by 2.3% year-over-year, a "good result" considering the pandemic-induced challenges faced by the industry at present, though results were uneven across the globe.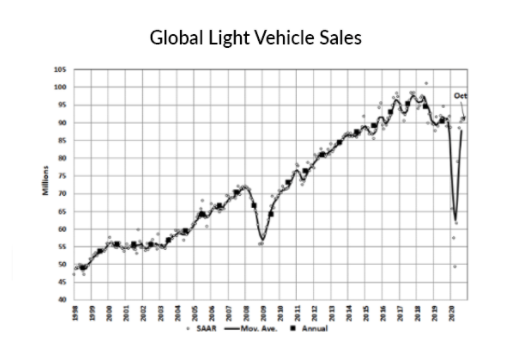 October's Global Light Vehicle (GLV) selling rate stood at a solid 91mn units/year, which is in line with an upwardly revised September result, according to LMC Automotive.

Important Takeaways, Courtesy of LMC Automotive: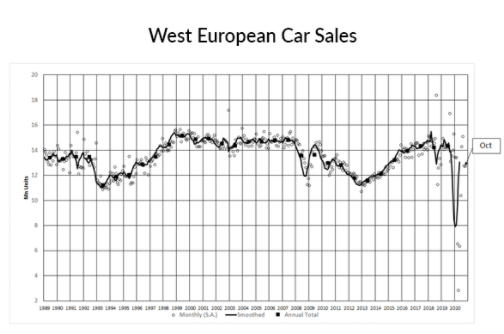 West European car registrations fell by 6.3% year-over-year in October, with the selling rate remaining stable at 12.7mn units/year, as inflated post-lockdown activity continues to dissipate in favor of a far more pessimistic outlook for the rest of the year. Although various government incentive programs continue, this was another month of fairly disappointing selling rates.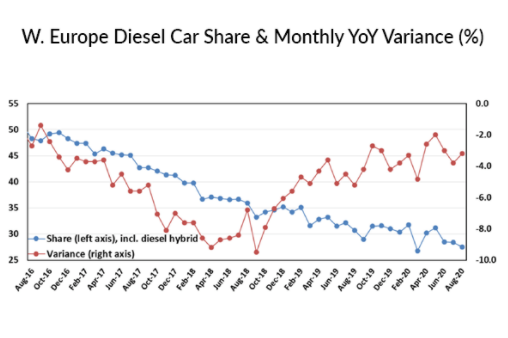 September's diesel share is confirmed at 25.5% with October coming in at 26.9% (only one small country's data was unavailable at the time of writing). Sweden and Norway posted the largest year-over-year share falls, while the most benign included Belgium, France and Spain, where the loss of share did not exceed two percentage points.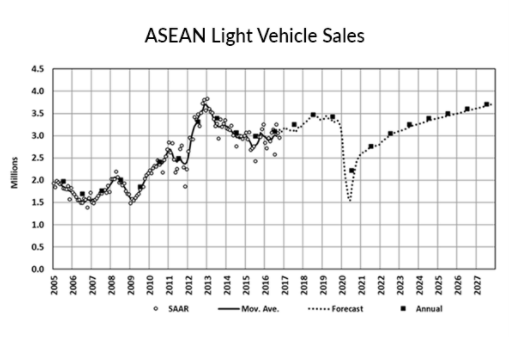 ASEAN LV sales this September fell by 13% year-over-year, but increased 17% month-over-month, marking the fifth consecutive month of growth. In terms of volume, sales hit a 2020 peak of 239k units in September, improving upon January and February results of 237k and 238k units, respectively.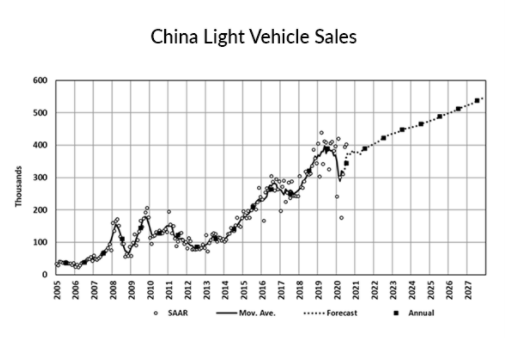 China's Passenger Vehicle (PV) sales (i.e., wholesales) increased by 7.2% year-over-year in September (2.15 mn units), thus lessening the year-to-date decline to -12.6%. The strong momentum in the Light Commercial Vehicle (LCV) segment continued, with year-over-year growth of 25.5%, or .34mn units, boosting the January-September outturn to +11.5%.
"The economy has rebounded strongly from the COVID-19 pandemic earlier in the year, helped by huge government stimulus including sharply higher fiscal spending, interest rate cuts and lower reserve requirements for banks," said Graeme Roberts of JustAuto.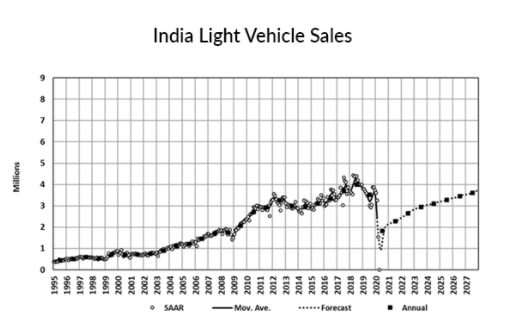 Driven mainly by Suzuki Group, OEMs in India prolonged their stockpiling efforts in September, with the monthly volume surging by 26% year-over-year to 337k Light Vehicles (LVs). This also marked the second straight month of year-over-year growth, on the back of automakers building up stock to meet the likely spike in demand during the ongoing festival season.
Overall, on a global scale, "We believe that September will be the high point of the year, with October and November forecast to slip to August's selling rate of 83-84mn. We believe there will be a seasonal rally in December with a SAAR of some 87mn forecast," said Calum MacRae, author at JustAuto.
Thus far, MacRae's theory is holding true, with final numbers likely available in coming days.
Automotive Aftermarket News
Despite a global pandemic, new research indicates the specialty-equipment industry is rebounding on target and industry professionals remain optimistic for the future. Approximately 70% of companies are hopeful the industry will return to pre-pandemic levels by the middle of next year, and 90% think it will be back by the end of 2021 at the latest, according to Kyle Cheng at SEMA.

In a recent SEMA e-News, Cheng points to a new "SEMA State of the Industry" report, in which SEMA Market Research evaluates the current state of the specialty-equipment industry, including how companies have adapted to the virus, current sales and forecasts, industry trends and outlook for the future.
Interestingly, most companies met or exceeded their sales goals in Q3 2020: 79% of manufacturers, 70% of distributors and 69% of retailers; 55% of companies expect their 2020 sales to finish higher or at least the same as 2019; and 93% of companies report being mostly business as usual or only impacted short term.
"Despite the pandemic, in-store and physical channels continue to drive our industry's sales and outpace online sales," stated Cheng.
Indeed, there was no better "place" to celebrate the resilience, ingenuity and comraderie of the automotive aftermarket than at the inaugural SEMA360, which wrapped up with a bevy of distinguished awards. Myles Kovacs, President and Co-Founder of DUB Magazine, was named 2020 SEMA Person of the Year; Brendan McGrath, CEO of Dyme PSI, was named 2020 SEMA Gen-III Innovator of the Year; Roland Hence, founder and director of FrontLane Inc., won SEMA Launch Pad; and Redline Detection was selected 2020 SEMA Manufacturer of the Year.
The annual Battle of the Builders competition did not disappoint either. "When 40 of the nation's top builders take the stage to compete for recognition and celebrate who's best, the industry takes notice," said Joe Evans, author of Auto Industry News: SEMA360 Recap, October 2020 Sales Figures, PerTronix Acquisition of Aeromotive. Congratulations to Brady Ranweiler and his 1963 Chevrolet Full Custom 2 Door Wagon, named winner of the 2020 SEMA Battle of the Builders.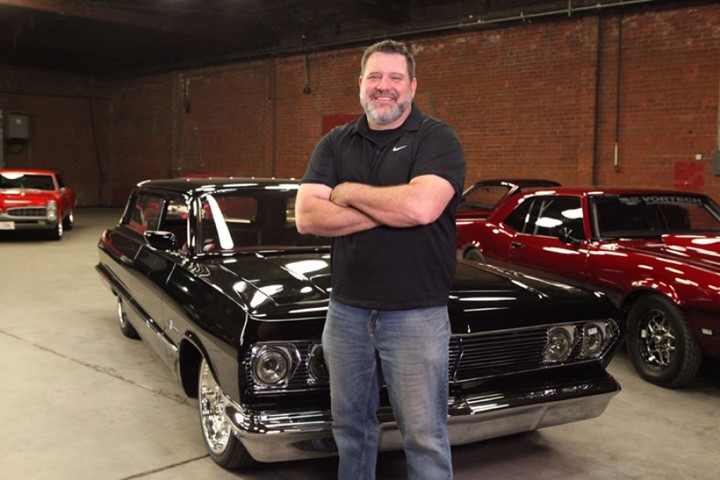 Not to be outdone, SEMA announced the industry's Best New Products Award winners, which were selected from more than 2,200 products in the SEMA360 New Products Showcase. This distinction recognizes the most innovative and cutting-edge automotive aftermarket products that will be consumable in 2021.
Collision Repair & Refinish Product
Winner: adasTHINK, adasTHINK
Runner Up: CollisionRepairTools.com, FAN™ 220 MIG / MAG / Brazing welder
Runner Up: P&S Detail Products, Iron Buster Wheel Decon
Engineered New Product
Winner: AEM Performance Electronics, VCU300 EV Control Unit
Runner Up: AFCO Performance Group, AFCO Air Adjustable Eyelet System
Runner Up: QA1, New 3″ MOD Series Shocks
Exterior Accessory Product
Winner: Curt Group, Tri-ball Universal Coupler Lock
Runner Up: Go Rhino Big Country Truck Accessories, SRM 500 Roof Rack
Runner Up: TrailFX, Roof Rack for JEEP(R) JL
Interior Accessory Product
Winner: Speedway Motors, Omega Avant 6 Gauge Set Electric
Runner Up: T.V.K. Industries, Inc., SURESHIFTER
Runner Up: Dometic, Dometic CCF-T Center Console Refrigerator
Merchandising Display
Winner: Go Rhino Big Country Truck Accessories, Go Rhino Point of Purchase Display Rack
Runner Up: Quadratec, Inc., Quadratec Merchandising Promo Kit
Runner Up: RaceDeck, RaceDeck Charred Oak Showroom & Garage Flooring
Mobile Electronics Product
Winner: Cedar Electronics – ESCORT/Cobra, ESCORT Redline 360c
Runner Up: AutoMeter, DashLink 2.0 with late model Ford enhanced PIDs
Runner Up: Energizer Holdings, Energizer Arc3 Lithium-iron Phosphate 300Wh, 350W Portable Power Station
Off-Road/4-Wheel Drive Product
Winner: Warn Industries, Inc., HUB Wireless Receiver & App
Runner Up: ARB 4×4 Accessories, Air Compressor – Pressure Control Unit
Runner Up: Westin/Superwinch, Overland Cargo Rack
Packaging Design
Winner: TS Booster, TS Booster
Runner Up: All-Fit Automotive, All-Fit Rim Trim – V2
Runner Up: AERO Detail Products, AERO SHIELD FLIGHT Ceramic 6 PACK
Performance-Racing Product
Winner: AEM Performance Electronics, PDU-8 Power Distribution Module
Runner Up: Performance Electronics, Dual Channel PE-Wideband O2 Kit
Runner Up: Performance Electronics, PE3-IG8 Ignition Controller
Performance-Street Product
Winner: DashLogic, SensorTap IAT / Baro Relocation Module
Runner Up: Red Roberts Inc. dba Driveline Component Co., ACCUVALVE
Runner Up: Edelbrock Group, Powerhouse® Retainer Degree Gauge Tool
Powersports Product
Winner: Mickey Thompson Tires & Wheels, Baja Pro X
Runner Up: Brandmotion, SummitView™ UTV Dual 1080p Camera System with High Definition 7″ DVR Monitor SUTV-2020
Runner Up: Wehrli Custom Fabrication, 2019-2020 Honda Talon 2 or 4 Seat X/R Front Bumper, without fair lead mount
Street Rod/Custom Car Product
Winner: FRI Exhibits/Flaming River Industries, MICROSTEER ELECTRIC POWER STEERING with speed sensor
Runner Up: Speedway Motors, LS Swap Radiator Hose Adapter
Runner Up: Vintage Air Inc., FrontRunner for the LT1 and LS
Tire and Related Product
Winner: Mickey Thompson Tires & Wheels, Baja Boss A/T
Runner Up: Bartec USA, Tech600Pro
Runner Up: ATEQ TPMS Tools, Quickset X Summer/Winter Tire Reset Tool
Tools & Equipment Product
Winner: Colourlock North America, Colourlock Scanner
Runner Up: Beta Tool USA, Beta Tools C27 S-Green Folding Tool Cart
Runner Up: CollisionRepairTools.com, ASTRA PowerLift & Move
Van/Pickup/Sport-Utility Product
Winner: Tire Stickers, Cerebrum Boost – Smart Tire Sensor Solution
Runner Up: Warn Industries, Inc., WARN Ascent XP Bumpers
Runner Up: AutoMeter, 95-98 Chevy Truck InVision Dash
Wheel and Related Product
Winner: Forgeline Motorsports, F01 Flow Formed Wheel
Runner Up: Design Infini, Drifz D09
Runner Up: BBS of America, BBS CI-R Bronze Anniversary Edition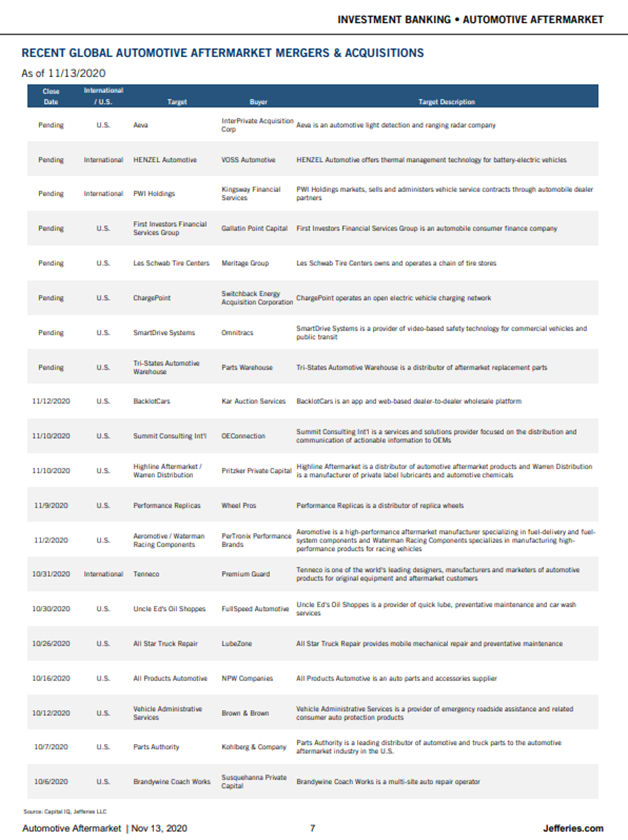 KPI — November: New and Used Vehicle Sales