Features
KPI – November 2023: State of Business
Sponsored by HOLLEY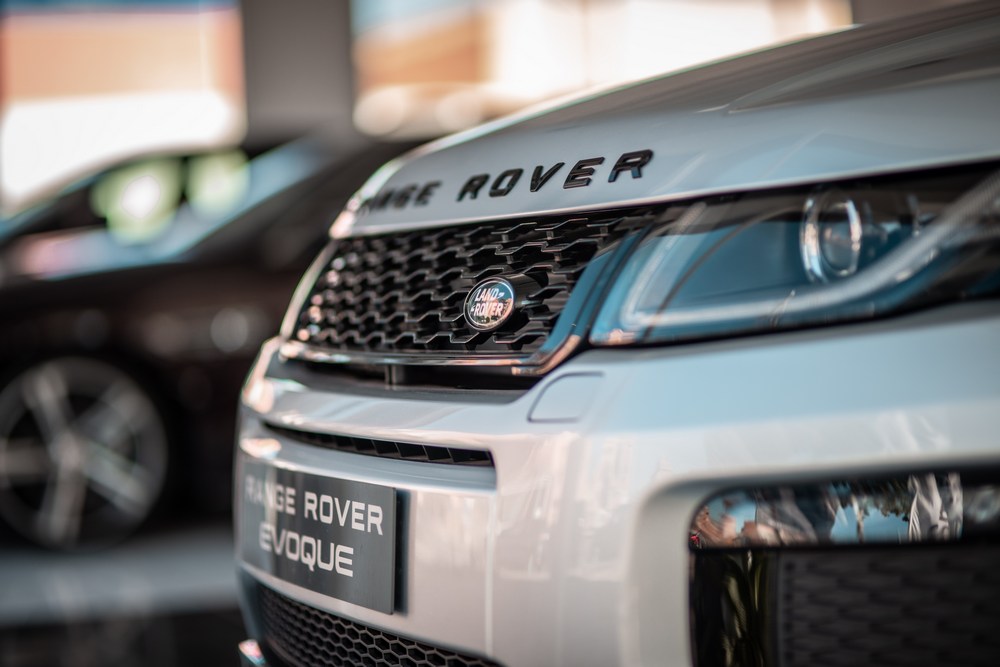 KPI – November 2023: The Brief
KPI – November 2023: State of the Economy
KPI – November 2023: State of Manufacturing
KPI – November 2023: Consumer Trends
GLOBAL LIGHT VEHICLE SALES
GlobalData reports the global light vehicle (LV) selling rate concluded its six-month climb by dipping to 93 million units per year in September, down from an upwardly-revised figure of 100 million units per year in August. Overall, the global LV market is up 10.2% year-over-year.
North America, plus Western and Eastern Europe, all posted double-digit year-over-year growth this month–at 21%, 15% and 31%, respectively. Professionals say the increase is two-fold: one, partly due to 2022 serving as a weak baseline measure and, two, alleviation of supply-side issues.
Asia experienced mixed results. Japan grew 11% and China rose 5.7%, with the latter driven by a "booming" export sector and a domestic market aided by personal income tax cuts and price reductions across automakers. On the contrary, South Korea contracted 4%, with tighter credit and a weaking economy having widespread impact.
"China and North America are still exceeding expectations, driving an upward revision to the 2023 forecast. Global light-vehicle sales are now expected to finish at 88.6 million units, up 9% from 2022," says Jeff Schuster, group head and executive vice president of automotive at GlobalData. "Thus far, there has been little effect to sales from the UAW strike but the longer it continues–and if it expands–there may be a more pronounced influence, which could carry into early 2024."
The outlook for 2024 was bumped to 92 million units, a 4% year-over-year increase. Volatility and risk remain elevated, given the number of variables that are currently affecting auto sales globally.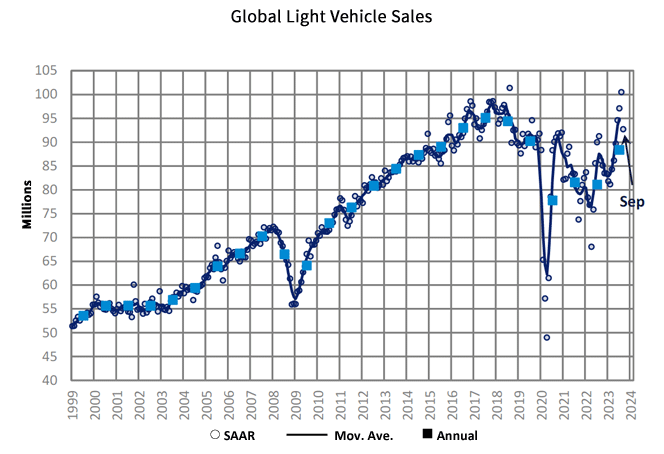 Image Source: GlobalData Global Light Vehicle Sales Update (September 2023) – MarkLines Automotive Industry Portal
U.S. NEW VEHICLE SALES
Total new vehicle sales for October 2023, including retail and non-retail transactions, are projected to reach 1,201,800 units–a 6.6% year-over-year increase, according to a joint forecast from J.D. Power and GlobalData.
"October results indicate a relatively robust performance with modest year-over-year sales growth but with record consumer expenditures," says Thomas King, president of the data and analytics division at J.D. Power. "Despite the work stoppage, retail inventory levels in October are expected to finish around 1.5 million units, a 5.5% increase from last month and 41.2% increase compared with October 2022, but still well below pre-pandemic levels."
Fleet sales remain elevated, as manufacturers leverage higher vehicle production to allocate more vehicles to fleet customers. Fleet sales are expected to total 188,694 units in October, up 4.9% year-over-year on a selling day adjusted basis.
Fleet volume is expected to account for 15.7% of total light-vehicle sales, down slightly from 16% a year ago.
Caption: EV retail share reached an all-time high of 9% in September 2023, up from 6.8% a year ago, says Elizabeth Krear, vice president of electric vehicle practice at J.D. Power. In terms of upper-funnel sales activity, however, she says the percentage of new-vehicle shoppers who are "very likely" to consider buying or leasing an EV is at 26%, status quo month-over-month. While EVs account for a larger piece of the consideration pie, the consideration pie itself isn't getting proportionally bigger. She notes shoppers still have concerns about charging anxiety, price and product availability.
Important Takeaways, Courtesy of J.D. Power:
Retail buyers are on pace to spend $43.7 billion on new vehicles, up $0.3 billion year-over-year.
Trucks/SUVs are on target to account for 79% of new vehicle retail sales.
The average new vehicle retail transaction price is expected to reach $45,651.
Average incentive spending per unit on trucks/SUVs is estimated to be $1,881, up $935 from a year ago. The average spending on cars is expected to be $1,373, up $538 from a year ago.
Average interest rates for new-vehicle loans are projected to increase to 7.5%, 140 basis points higher than a year ago.
The total retailer profit per unit, which includes grosses, finance and insurance income, is expected to reach $3,182 in October–down 28.9% year-over-year, but still more than double October 2019.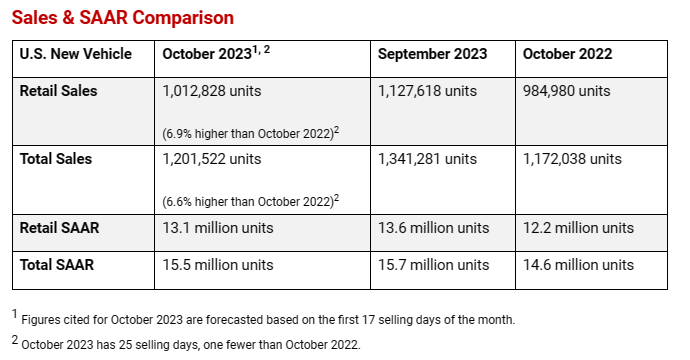 "Despite a slight increase in inventory levels compared with previous months, the industry is still facing a supply shortage. This is evident from consumer spending and inventory turnover rates in October, which highlight robust demand and ongoing supply challenges. This situation further strengthens the foundation for sustained strong new-vehicle pricing and overall profitability," King says.
Review comprehensive Q3 2023 new vehicle sales data and analysis here, courtesy of Cox Automotive.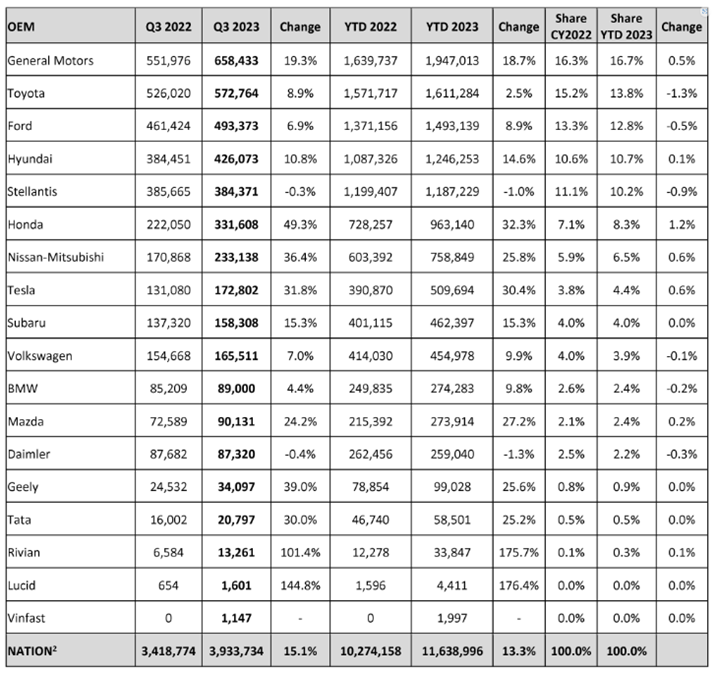 Caption: Cox Automotive Q3 2023 new vehicle sales breakdown by automaker.
U.S. USED MARKET
Wholesale used vehicle prices (on a mix, mileage and seasonally adjusted basis) decreased 2.3% in October compared to September. The Manheim Used Vehicle Value Index (MUVVI) dropped to 209.4, down 4% year-over-year.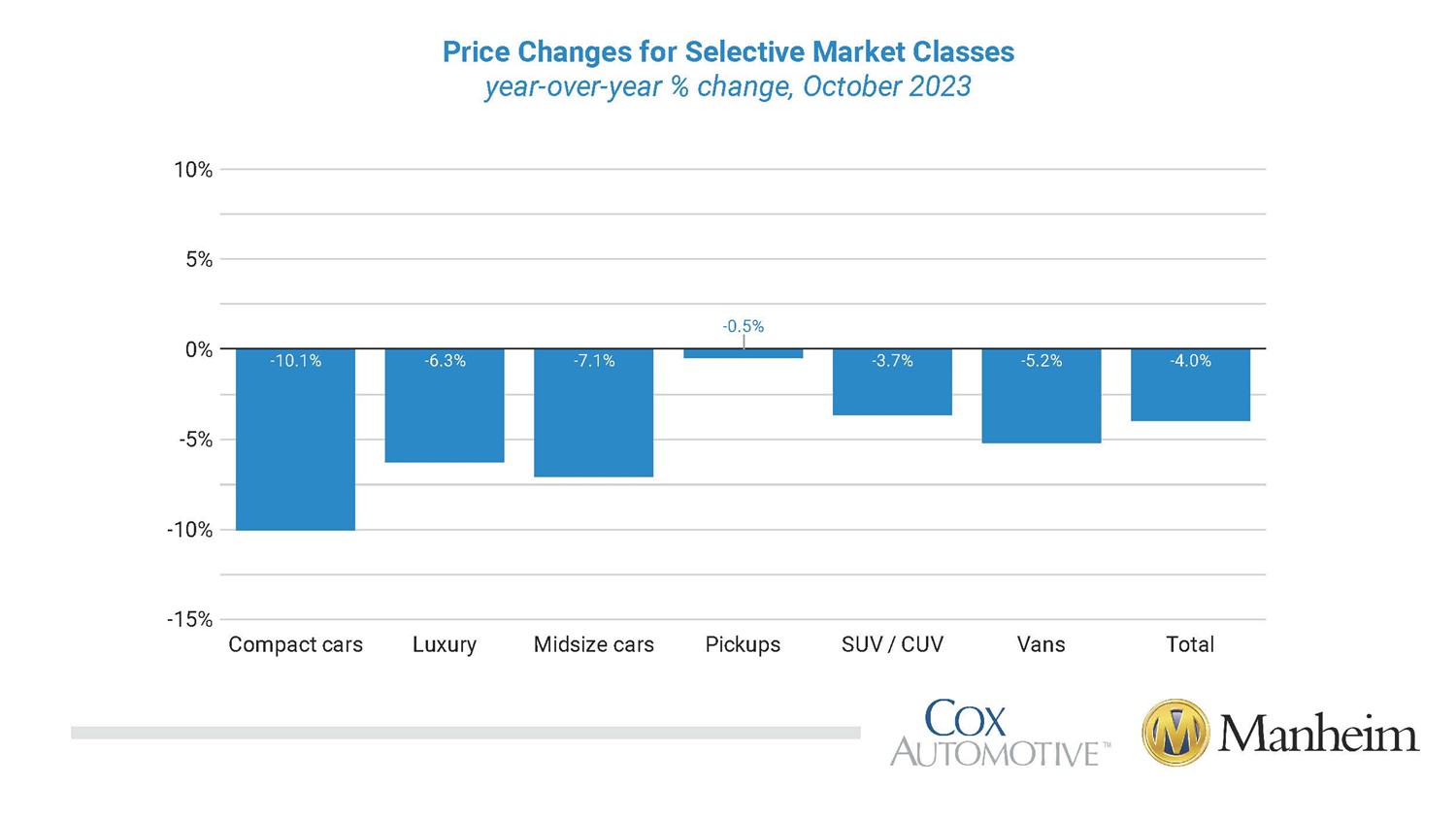 According to Manheim, the major market segments posted seasonally adjusted prices that were lower year-over-year in October. Compared to last year, pickups and SUVs decreased less than the industry at large, down 0.5% and 3.7%, respectively. Compact, midsize and luxury cars plus vans continued to spiral, down 10.1%, 7.1%, 6.3% and 5.2%, respectively.
Compared to last month, luxury and pickups declined less than the overall industry (1.7% and 2%, respectively). Both vans and midsize cars decreased by 3%, while SUVs were down 2.7% and compact cars dipped 2.3%, flat versus the industry.
Overall, used-vehicle prices experienced a modest drop from the previous year but remain relatively close to their historical peak levels. For example, J.D. Power said the average trade-in equity during October was trending toward $8,956, down $378 from a year ago but double the amount of pre-pandemic levels.