Features
KPI — November 2022: State of Business
LMC Automotive reports Global Light Vehicle (LV) sales volume was up 17% in September. India led the way based on percentage, achieving 81% year-over-year growth. Asia-Pacific climbled 30%, posting double digit growth in all major markets, including China at 28%. North America followed at 9% and Western Europe at 6%.
Sales hovered 86 million units per year in October. Volume was up nearly 12%, as a strong recovery in Asia combined with better prospects in the United States and Western Europe. Like September, October benefited from a low year-ago base, which subsequently kept most markets in positive growth territory, according to Jeff Schuster, president of Americas operations and global vehicle forecasts at LMC Automotive.
"Supply chain issues are expected to ease throughout 2023, but a full recovery is still not on the near-term horizon. The industry has cumulatively lost more than 30 million units since the start of the pandemic, some of which will not be recovered," Schuster says. "Next year, we expect demand to increase 4% to 84.8 million units, but another year at 81 million units is certainly plausible given the high level of uncertainty that remains."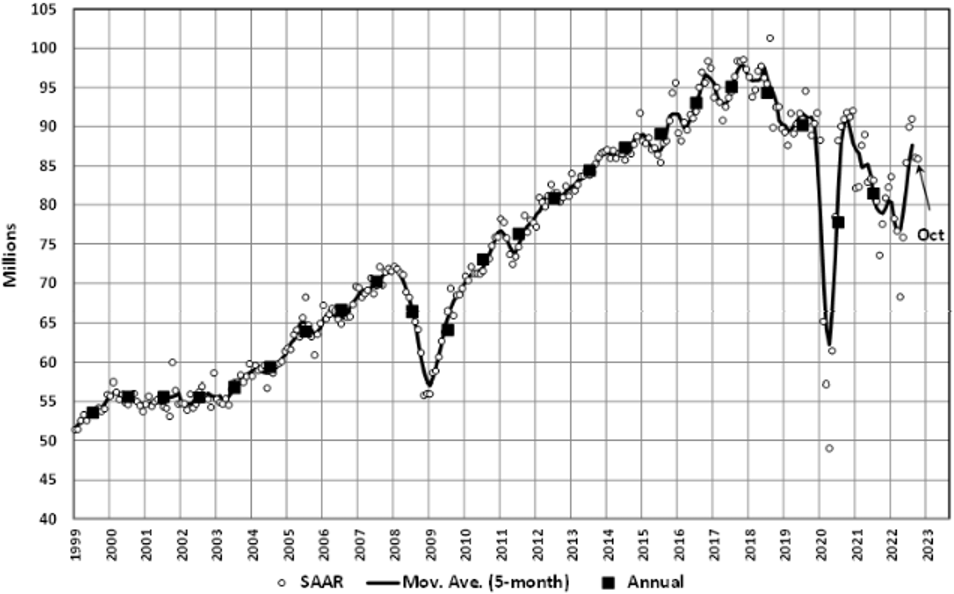 State of Manufacturing
The October Manufacturing PMI® registered 50.2%, 0.7 percentage point lower than the 50.9% recorded in September, according to supply executives in the latest Manufacturing ISM® Report On Business®. The Manufacturing PMI® figure is the lowest since May 2020, when it registered 43.5%.
"The U.S. manufacturing sector continues to expand, but at the lowest rate since the coronavirus pandemic recovery began. With panelists reporting softening new order rates over the previous five months, the October index reading reflects companies' preparing for potential future lower demand," says Timothy R. Fiore, CPSM, C.P.M., chair of the Institute for Supply Management® (ISM®) Manufacturing Business Survey Committee.
According to Business Survey Committee respondents' comments, companies continue to carefully manage hiring. While month-over-month supplier delivery performance was the best since March 2009, the Prices Index indicated decreasing prices for the first time since May 2020. Like September, mentions of large-scale layoffs were absent from panelists' comments, indicating companies are confident in near-term demand. As a result, Fiore says managing medium-term head counts and supply chain inventories remain primary goals. With the decline in the Backlog of Orders Index, buyers and sellers will begin to shore up order books and order streams to reduce share loss in the medium-to-long term.
Important takeaways, courtesy of the Manufacturing ISM® Report On Business®:
Demand eased, with the (1) New Orders Index remaining in contraction territory, (2) New Export Orders Index below 50% for a third consecutive month and at a faster rate of contraction, (3) Customers' Inventories Index remaining at a low level, with the same reading as in September and (4) Backlog of Orders Index slipping into contraction.
Output/Consumption (measured by the Production and Employment indexes) improved month-over-month, with a combined positive three-percentage point impact on the Manufacturing PMI® calculation.
The Employment Index shifted from contraction to a reading of 50% (unchanged), and the Production Index increased by 1.7 percentage points to remain in modest growth territory.
Inputs – defined as supplier deliveries, inventories, prices and imports – mostly accommodated growth.
The Supplier Deliveries Index indicated faster deliveries and the Inventories Index dropped three percentage points as panelists' companies continued to manage the total supply chain inventory.
The Prices Index decreased for a seventh straight month and fell into contraction territory, which should encourage buyers.
U.S. New Vehicle Sales
Total new vehicle sales for October 2022, including retail and non-retail transactions, are projected to reach 1,157,900 units – a 15.2% year-over-year increase. Comparing the sales volume without adjusting for the number of selling days translates to an increase of 10.9% from 2021, according to a joint forecast from J.D. Power and LMC Automotive.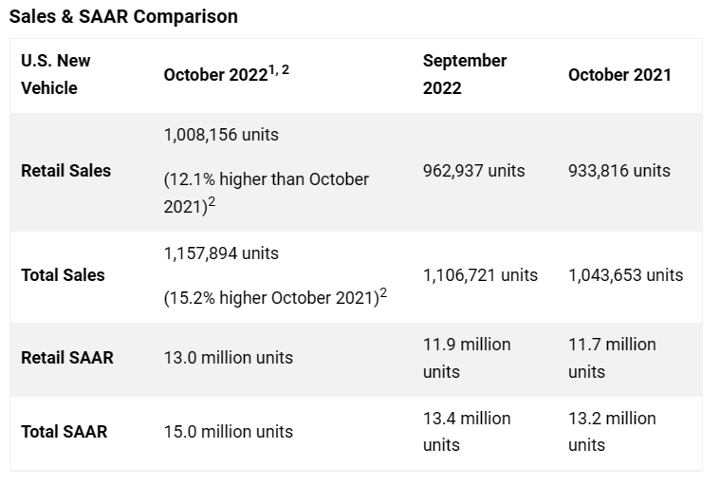 "October results show that new-vehicle inventory levels are experiencing modest improvement with month-end retail units expected to exceed one million units for the first time since May 2021. The result is a retail sales pace that shows a meaningful increase from a year ago but still falls below its potential due to historically lean vehicle availability," says Thomas King, president of the data and analytics division at J.D. Power.
"As expected, with an increase in supply, several financial indicators are seeing a 'cooling off' from the heated growth rates earlier this year – but the industry's financial health is still positive," he adds.
Important Takeaways, Courtesy of J.D. Power:
Buyers are on pace to spend $46 billion on new vehicles, up $4.5 billion year-over-year.
Truck/SUVs are on pace to account for 78.8% of new vehicle retail sales in October.
The average new vehicle retail transaction price in October is expected to reach $45,599, a 2.7% year-over-year increase. The previous high for any month was $46,173, set in July 2022.
Average interest rates for new vehicle loans are expected to increase to 6.03%, 199 basis points higher than a year ago.
Total retailer profit per unit – inclusive of grosses and finance and insurance income – is on pace to be $4,522, down 10.4% from a year ago. Total aggregate retailer profits from new vehicle sales is projected to be down 3.3% from October 2021, reaching $4.6 billion, the second-best October on record.
Fleet sales are expected to total 149,700 units in October, up 41.6% year-over-year (on a selling day adjusted basis). Fleet volume is expected to account for 13% of total light-vehicle sales, up from 11% a year ago.
"November is the traditional start of the holiday sales event season for the industry. This typically involves a bias towards premium vehicles along with pricing discounts in the form of manufacturer supported lease offers," King says. "While production has shown some signs of improvement, it most likely will not be enough to bring forward any material sales events. Higher interest rates will continue to compress transaction prices and retailer profit, though overall industry health is still at historically high levels."
U.S. Used Market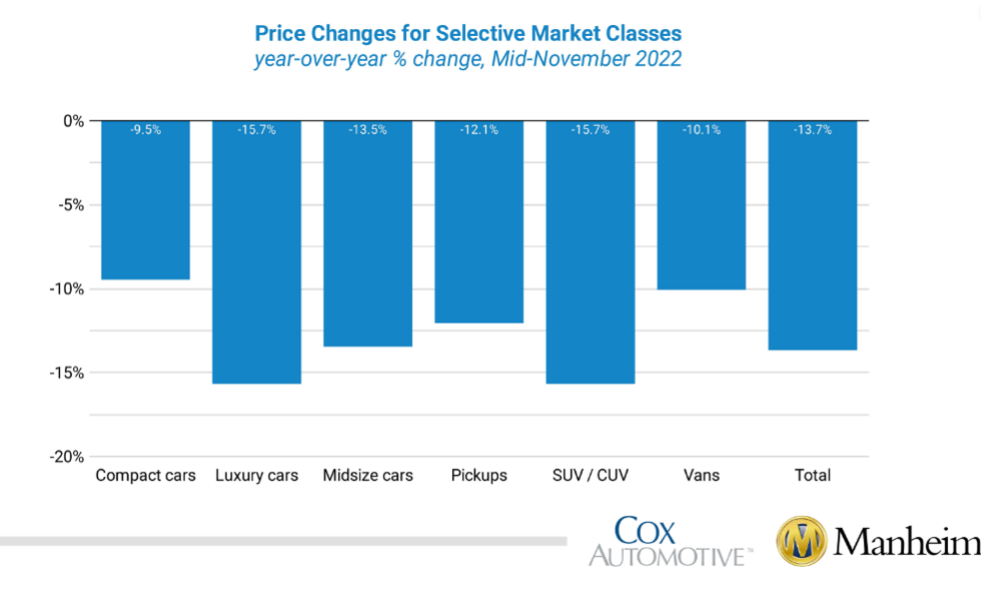 Wholesale used-vehicle prices (on a mix-, mileage- and seasonally adjusted basis) increased 0.4% during the first 15 days of November. The mid-month Manheim Used Vehicle Value Index rose to 200.7 – down 13.7% from the full month of November 2021.
Over the last two weeks, Manheim Market Report (MMR) prices saw "fairly normal declines" for the time of year. This resulted in a 1.1% cumulative decline in the Three-Year-Old MMR Index, which represents the largest model-year cohort at auction.
According to Manheim, all eight major market segments posted seasonally-adjusted prices which were lower year-over-year in the first half of November. Compact cars had the lowest decline at -9.5%, while sports cars, vans, pickups and midsize cars decreased less compared to the overall industry in seasonally adjusted year-over-year changes. Compared to October, five major segments saw price increases, with full-size, luxury and midsize cars lower than the industry. Only sports cars and vans showed unadjusted price increases versus October.
KPI — November 2022: Recent Vehicle Recalls