New Vehicle Market
The dead of winter turned out to be a pleasant surprise in total new vehicle sales, with Manheim and Cox Automotive data citing an 8.4% year-over-year increase during February. The SAAR came in at 16.8 million—a boost from last year's 16.5 million, though down from January's 16.9 million rate. A number of automakers performed well during February, as Automotive News reports below; however, sales data is incomplete since most companies, including Detroit's Big 3, German brands and Nissan Motor Co., have shifted their U.S. sales reporting from monthly to quarterly.
• Hyundai said February retail sales increased 26%, driven by a 57% jump in crossover volume, led by the Tucson (up 58%), Kona (up 16%) and the new Palisade (retail sales of 6,953). The company's overall deliveries have increased 17 out of the last 19 months.
• Subaru recorded its best February to date, with U.S. sales rising 5.3% to 51,695. The Forester had record-breaking volume, jumping 25% to 16,458. Outback sales rose 2.7% to 12,665, while the Crosstrek was up slightly at .4% to 8,287. Conversely, Legacy deliveries dropped 9.3% to 2,434 and Ascent volume dipped 2.9% to 5,982.
• U.S. deliveries rose 19% at Mazda, 18% at Volvo, 13% at Mitsubishi and 3.9% at Genesis.
• Toyota Motor Corp. experienced a record February because of several key light trucks, resulting in a 12% increase in sales. Volume rose 13% at the Toyota division and 5.1% at Lexus. In addition, the Toyota RAV4, Highlander, Tacoma and 4Runner set a high bar of their own, lifting the division's light-truck deliveries 20% to 109,394—an all-time high for the month. The Toyota brand also welcomed a surprising uptick in car sales, which rose 3% to 63,619.
• American Honda, led by the CR-V and HR-V crossovers along with the Civic sedan, posted a 4.2% gain, with deliveries of 120,006 during the month. Sales rose 4.7% at the Honda division.
Furthermore, combined rental, commercial and government purchases of new vehicles were up 2.7% year-over-year during February, reported Manheim. In fact, commercial vehicle sales posted an 8.7% year-over-year increase, and retail sales of new vehicles came in at 9.9% during the same timeframe—resulting in a retail SAAR of 13.4 million, a boost from 12.9 million last February but down from January's 13.9 million rate.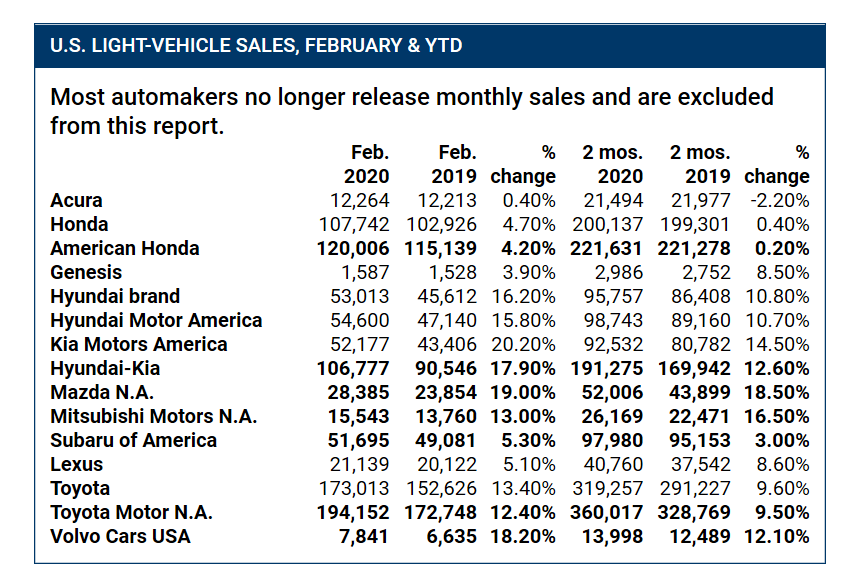 Several automakers, led by Toyota, Honda and Hyundai, posted higher U.S. sales last month as consumers took advantage of rising incentives and President's Day deals. Across the board, light trucks, notably pickups, crossovers and SUVs, drove the gains. – Automotive News
Kelley Blue Book reported that light vehicles commanded an average transaction price of $37,876 during February, which is up 2.6% year-over-year. "Many of the major manufacturers increased prices by more than 4% [in January] by capitalizing on the shift toward SUVs. However, trucks, especially full-size trucks, are exhibiting weakness. After prices climbed 3% in 2018 and 4% in 2019, truck prices are only flat through February 2020," said Tim Fleming, Kelley Blue Book analyst.
Perhaps even more concerning than flat sales and the steady rise of average vehicle transaction prices are the number of steep incentives and extended financial terms presented to consumers at many dealerships in an effort to win their business. Both J.D. Power and LMC Automotive agree the average industry incentives were tracking around $4,179 per vehicle—the highest level ever recorded for the month and an increase of $293 in comparison to previous year. Furthermore, TrueCar/ALG estimates average incentives totaled $3,576 last month, a slight increase from February 2019 ($3,568).
"Amid slowing retail demand, automakers and dealers continue to dangle fatter discounts to keep inventories in check and clear out remaining 2019 models. Cadillac is offering up to $20,000 off the outgoing Escalade SUV, Cars Direct reported. Costco is promoting $2,500 in incentives for members who buy an Audi e-tron by March 31. Dodge dangled up to $4,250 in cash allowances on the 2019 Journey crossover," said Automotive News.
Fleming believes, "With the GM and Ram trucks in their second year of production and Ford about to sell-down the current F-150 for its upcoming redesign, this year may be a good time to find a deal on a new truck," but unresolved trade tensions as well as a global coronavirus pandemic that has halted supply chains, tanked the stock market and applied unprecedented pressure to small businesses across the country appear to be a perfect storm for consumers to, just maybe, sit tight.
Used Vehicle Market
Similarly, wholesale used vehicle prices (on a mix-, mileage- and seasonally adjusted basis) increased by 1.35% in February, bringing the Manheim Used Vehicle Value Index to 143.5. That's a 6.2% increase from a year ago and a record high for the Index.
"After a normal and steady trend in weekly Manheim Market Report (MMR) prices in January, February saw prices rise as the month ended. Three-year-old vehicle values in aggregate were up 1.1% for the month. Both non-luxury and luxury vehicles saw similar gains. This February's performance was notably stronger than last year, as prices relative to the beginning of the year are up 0.9% when they were down 1.9% at this point last year," reported Manheim. "On a year-over-year basis, all major market segments saw seasonally adjusted price increases in February. Luxury cars outperformed the overall market, while most other major segments underperformed the overall market."
Total used vehicle sales volume bumped 4.4% year-over-year during February, according to Cox Automotive. Manheim estimates the February used SAAR to be 39.8 million, up from both 39.4 million last February and 39.5 million during previous month. The February used retail SAAR estimate stands at 21.2 million, an uptick from 19.8 million last year and 20.7 million last month.