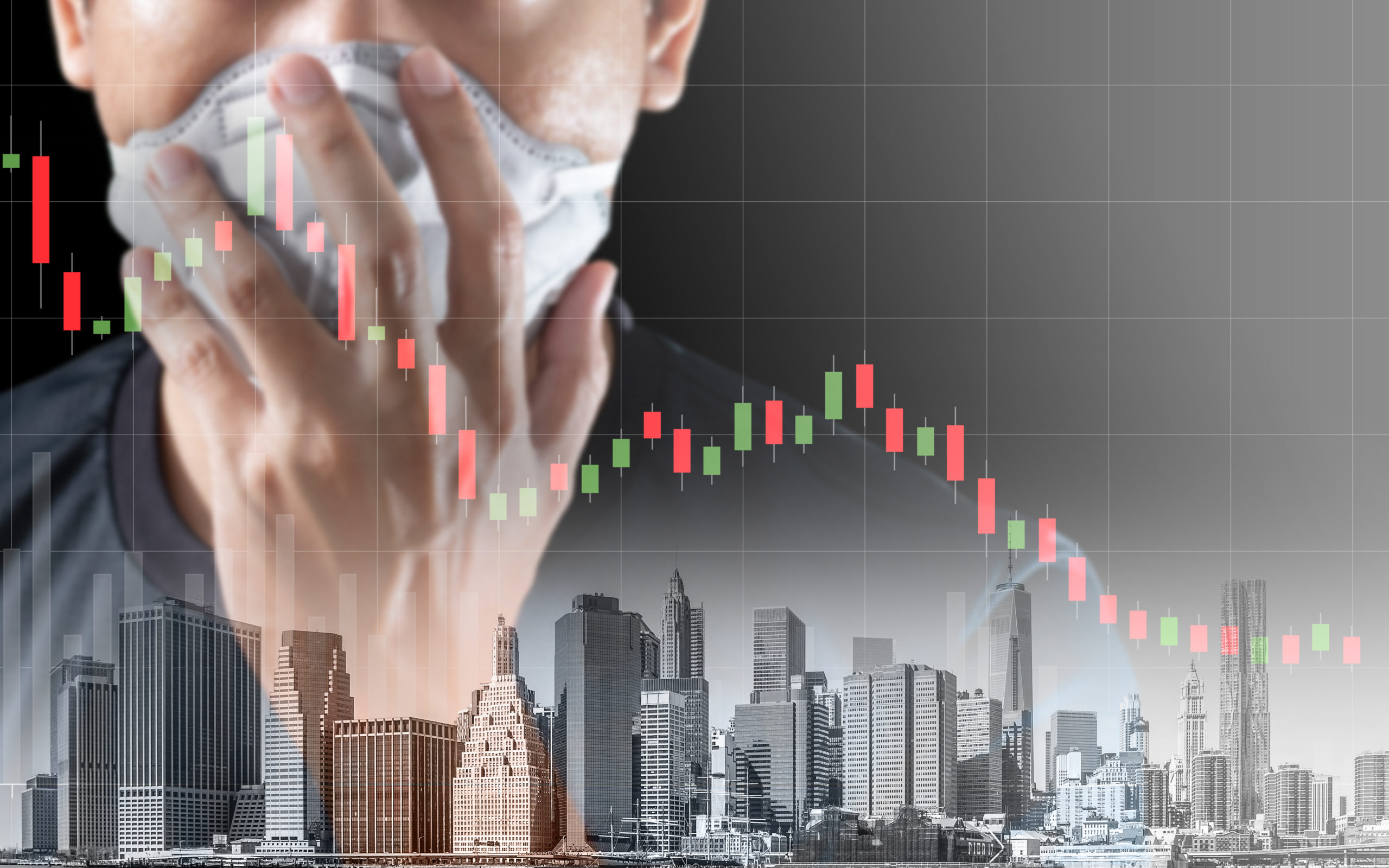 The COVID-19 pandemic has infiltrated every corner of the world, with economies, industries and public health all in jeopardy.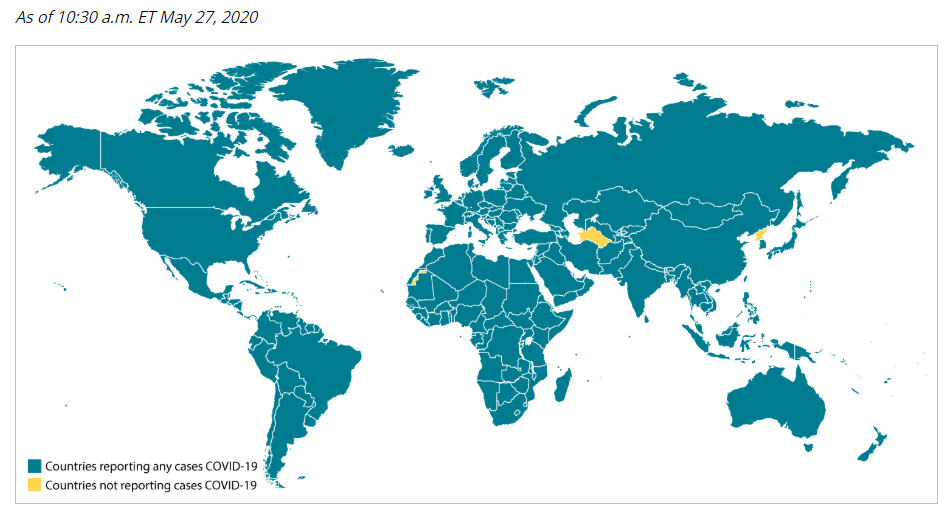 The U.S. economy shrank more than expected during the first quarter of the year, falling at a seasonally adjusted annual rate of 5% in the three-month period January – March, announced the Commerce Department. Additionally, more than 2.1 million people filed for unemployment last week, bringing the total jobless claims to 40.8 million since mid-March.
The last few months have presented many challenges indeed, but most economists concur the depth of the recession hit mid-April, with gradual economic improvement expected over the coming months. The U.S. economy, heavily driven by consumer spending, will determine and ultimately decide a successful recovery.
Though the country is on the move to reopen and resume business, the Institute for Supply Management (ISM) warns:
Economic downturn to continue through 2020
Manufacturing expected to contract in 2020
Revenue to decrease 10.3%
Capital expenditures to decrease 19.1%
Capacity utilization currently at 75.9%
Non-manufacturing expected to contract in 2020
Revenue to decrease 10.4%
Capital expenditures to decrease 13.4%
Capacity utilization currently at 73.3%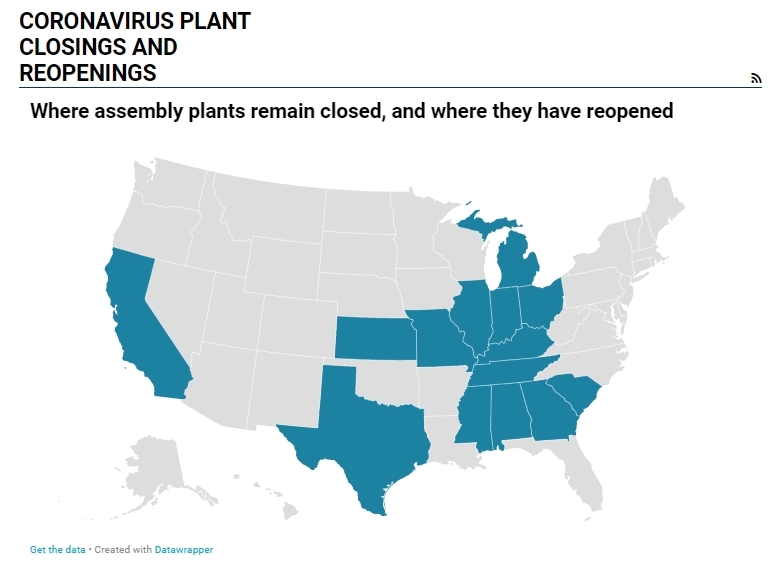 Automotive Industry Impact
How does the automotive industry fair in all this? "The global economy has been largely affected by growth in the automotive sector, which employs more than 9 million people alone in manufacturing of automobiles globally—over 5% of the global manufacturing workforce. Many other industries including steel, iron, glass, plastics, textile, rubber and software (among others) are dependent on the demand from the automotive sector," explained VynZ Research, author of "Coronavirus (COVID-19) Outbreak – Impact Assessment on Automotive Industry."
"Globally, the automotive sector was already witnessing a downturn during 2019, and COVID-19 made it more difficult for the industry to recover. It is estimated that global automobile sales will decline about 23% in 2020," continued VynZ Research. "Initially the disruption in supply and manufacturing hampered the industry significantly and now with the multifold decline in demand, it has led to the uncertainty regarding the recovery," the company added.
The OEM-level impact remains grim, but what about the aftermarket?
Traditionally, the aftermarket has been relatively safe during economic downturns, as analyzed by Jefferies LLC (Jefferies) and the Automotive Aftermarket Suppliers Association (AASA) in their joint "2020 Automotive Aftermarket Outlook & 2019 Review Report," an annual review of automotive aftermarket mergers, acquisitions and equity activity. Their prediction is the automotive aftermarket will emerge from the pandemic faster than most industries, remaining relatively stable during the length of the following recessionary period.
A detailed synopsis of the findings and analysis is below. All information and imagery, including charts, are courtesy of Jefferies and AASA.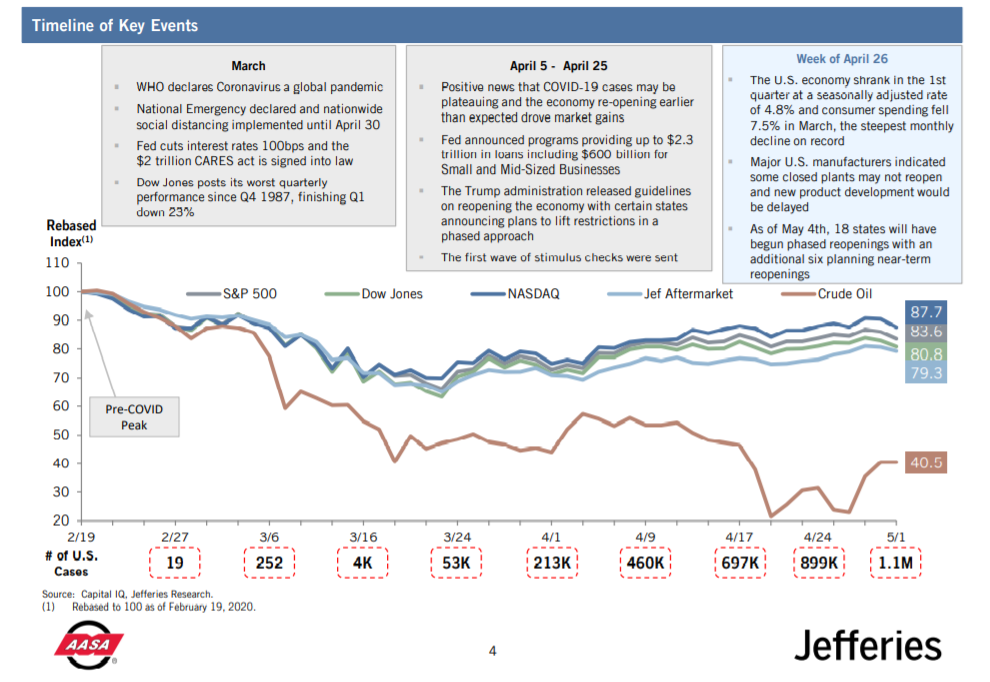 First, and perhaps the single most important factor, is the Department of Homeland Security identifying automotive repair and maintenance facilities (and supporting supply chains) as essential critical infrastructure during the pandemic—a decision that allowed many aftermarket businesses to remain open despite social distancing initiatives and state government orders, thereby helping to blunt the financial impact of the COVID-19 economic shock on the aftermarket, according to the report.
Other important takeaways, courtesy of Jefferies and AASA:
• Analysis of the Great Recession (2007-2009) impact on the automotive aftermarket has confirmed that the aftermarket provided investors with an outperforming equity landscape as well as strong and stable M&A valuations, making it an attractive market segment to invest in during times of economic distress. Other core aftermarket indicators, especially the current dynamics around vehicle age, will also benefit the aftermarket over the coming months. Additionally, and importantly, there is clear indication from behaviors measured in China that, at least in the short-run, and likely until a reliable COVID-19 vaccine is developed, the safety, seclusion and perceived "cleanliness" of the personal vehicle will alter the mix between private vehicle use and public transportation to the benefit of miles driven and thus the aftermarket.
• The non-discretionary nature of aftermarket demand has driven outperformance in past recessions, including the Great Recession of December 2007–June 2009, caused by the financial downturn. During previous periods of economic uncertainties, the trend has been for vehicle owners to maintain and repair vehicles instead of replacing them with new or used vehicles. This specifically benefits aftermarket suppliers and retailers who see direct upside from increased demand.
• It is worth noting that miles driven did not significantly decline (down ~0.7%) during the Great Recession, a time when consumers faced an increase in regular gasoline prices compounded by an increase in unemployment rates. We believe miles driven is the fundamental driver of the broad automotive aftermarket. The correlation between annual miles driven and aftermarket industry sales is extremely high. As of December 2019, annual miles driven was ~3.3 trillion miles, growing by ~1.3% CAGR since 2011. We expect a full-recovery to this pre-COVID level of driving activity and extremely stable growth.
• As seen in the recession performance stock price chart below, the aftermarket index outperformed the broader market during the previous recession, given the non-discretionary and counter-cyclical nature of automotive maintenance and repair. Aftermarket companies are viewed by investors as relative safe havens, benefiting from the counter-cyclical demand seen during a recessionary period. In many ways, the industry operates as a consumer staple, given that people will pay for the necessary repairs and upkeep of their vehicles during good times and bad.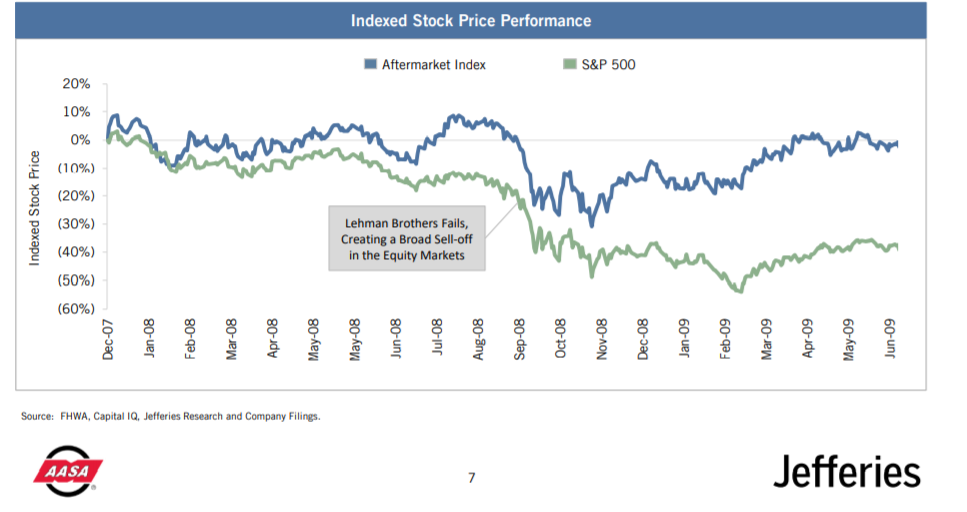 Why is the aftermarket such an attractive place to invest? Considered non-cyclical, it generally produces higher margins, oftentimes greater free cash flow and more stable investment returns in comparison to OEMs.
"Aftermarket demand, driven by vehicles in operation (VIO) and miles driven, is not tied to new vehicle sales since the sweet spot for automotive parts suppliers, distributors and retailers is ~4-11 years after a vehicle is manufactured," as explained in the "2020 Automotive Aftermarket Outlook & 2019 Review Report" by Jefferies and AASA. "Although light vehicle sales are negatively impacted by recessionary environments, total VIO is not correlated and has exhibited stable, steady growth during historical periods of volatility. These industry dynamics have led to relatively higher investment returns for aftermarket companies over the longer term."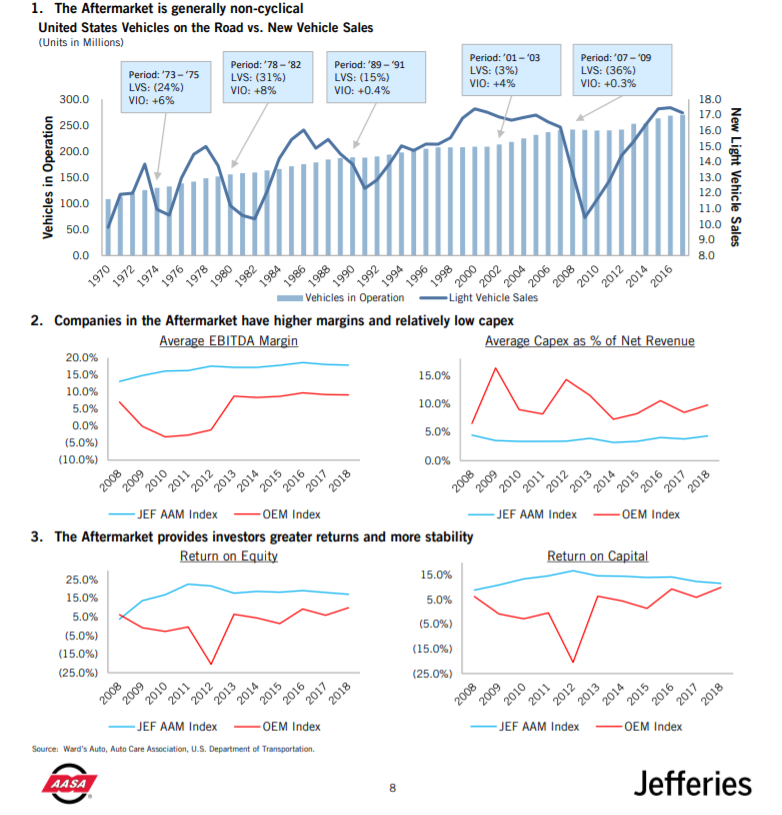 Another positive sign the aftermarket is sound, Hedges & Company—a digital marketing agency serving the automotive aftermarket, OEM parts and powersports industries—has been tracking and analyzing the weekly eCommerce activity of nearly 13 million user sessions and online purchases from parts and accessory websites across the U.S. and Canada, including retailer websites as well as manufacturer websites selling direct to consumer (DTC). Hedges & Company broke down online sales into five market segments, including OEM replacement parts, light truck and off-road parts and accessories, performance and racing parts, aftermarket accessories, as well as powersports parts and accessories.
Below are sales increases for the week of May 3-9 compared to the week of March 1-7, which serves as a baseline before the coronavirus pandemic forced widespread shutdowns of retail businesses.
Overall aftermarket eCommerce sales including automotive, light truck and powersports: Up 42%
OEM replacement parts sales: Up 14%
Light truck and off-road parts sales: Up 37%
Performance/racing parts sales: Up 26%
Powersports parts and accessories: Up 126%
Automotive aftermarket accessories: Up 41%
The 12th week of analysis includes May 17-May 23. The findings suggest:
Overall aftermarket eCommerce sales, including automotive, light truck and powersports: Up 56%
OEM replacement parts sales: Up 26%
Light truck and off-road parts sales: Up 26%
Performance/racing parts sales: Up 69%
Powersports: Up 121%
Automotive aftermarket accessories: Up 75%
Other data supports Hedges & Company findings that consumer demand remains strong as Americans prepare to climb out of lockdown. Recently, Gavin Knapp, director of market research at SEMA, announced that SEMA, in conjunction with Directions Research, conducted a nationally representative survey of more than 1,000 consumers. While many people say they are driving less these days, more than a third (35%) say they are using this time to do some work on their car or truck. The following information and charts are courtesy of SEMA.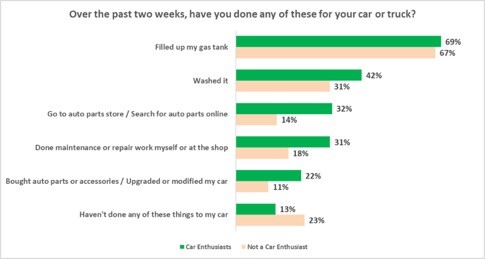 • Consumers are also continuing to maintain, repair and upgrade their cars and trucks. This is especially true for auto enthusiasts. In recent weeks, 32% of enthusiasts have gone to an auto parts store or searched for parts online. Nearly one-fourth of enthusiasts (22%) said they bought parts, accessories or made modifications to their vehicles
• Overall, most consumers (57%) believe that the changes they have made in their lives because of the virus will return to normal within the next three months. Despite some uncertainty right now, consumers remain optimistic and are looking forward to getting in their cars and out on the road again.