Features
KPI — May 2022: State of Business — Automotive Industry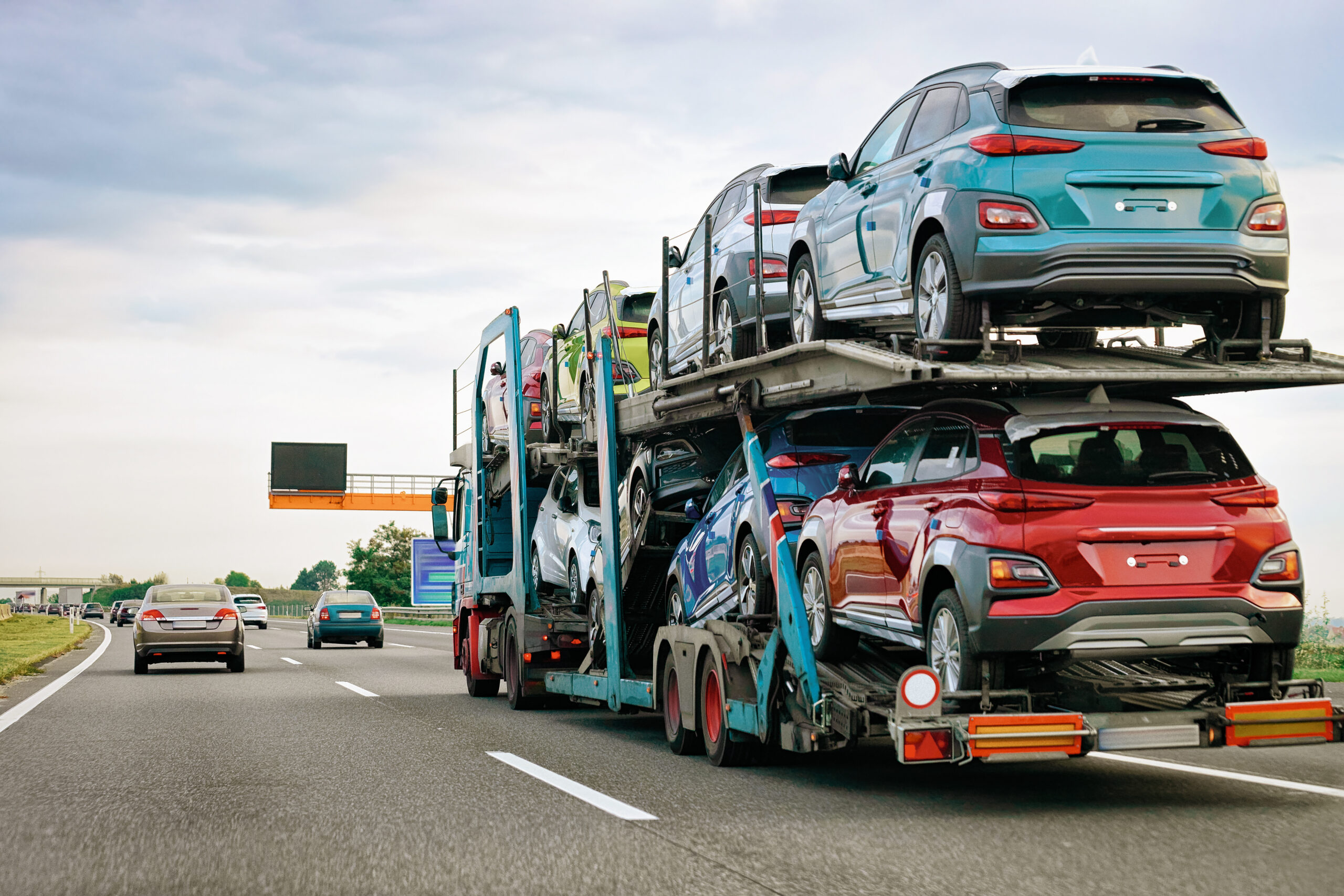 The Global Light Vehicle selling rate plunged to 67 million units per year in April. Most major markets remain supply-constrained, with lockdowns in China and the war in Ukraine only amplifying these persistent issues.
Ongoing supply chain challenges, rapid inflation and lingering Russia-Ukraine wartime are impacting the industry at large, with April figures down 25% year-over-year. China has remained relatively resilient despite strict lockdown measures, but parts shortages held sales in North America and Europe well below potential.
"We expect April to remain under pressure – that could expand as the restrictions in China increase and inflationary fears weigh on consumers. Volume is projected to be down 18% and the selling rate is expected to slip to 72.5 million units, down 17 million units from the rate last April," says Jeff Schuster, president of Americas operations and global vehicle forecasts at LMC Automotive.
"At this stage of 2022, given the number of negative variables, it is not surprising the outlook remains uncertain and subdued from what should be notable recovery from the pandemic. After another round of revisions to the outlook in China and India, our forecast for light vehicles in 2022 has slipped to 81.7 million units, an increase of just .3% from 2021 and down 900,000 units from last month," he says. "While the outlook is clouded and growth has evaporated, we still believe that the weak state of global demand is due mainly to supply shortages. If inflation does not subside, however, more consumers may be squeezed out of the new-vehicle market as we move into 2023."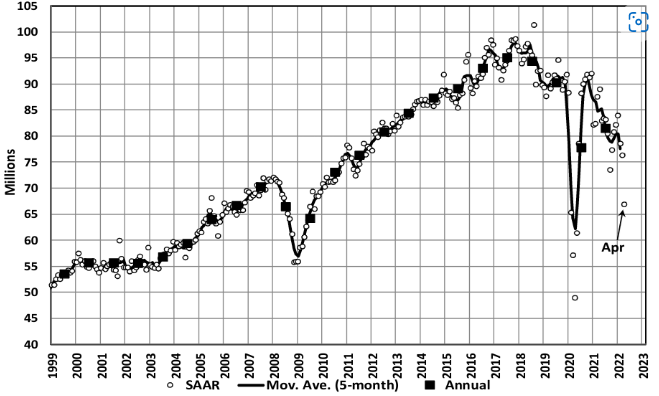 The April Manufacturing PMI® registered 55.4% – a decrease of 1.7 percentage points from the March reading of 57.1%, following a 1.5-point decline the month prior, according to supply executives in the latest Manufacturing ISM® Report On Business®.
"The U.S. manufacturing sector remains in a demand-driven, supply chain-constrained environment. In April, progress slowed in solving labor shortage problems at all tiers of the supply chain. Panelists reported higher rates of quits compared to previous months, with fewer panelists reporting improvement in meeting head-count targets. April saw a slight easing of prices expansion, but instability in global energy markets continues. Surcharge increase activity across all industry sectors continues," says Timothy R. Fiore, CPSM, C.P.M., chair of the Institute for Supply Management® (ISM®) Manufacturing Business Survey Committee.
Panelists continue to note supply chain and pricing issues as their biggest concerns.
Important takeaways, courtesy of the Manufacturing ISM® Report On Business®:
Demand expanded, with the (1) New Orders Index remaining in growth territory, supported by weaker growth of new export orders, (2) Customers' Inventories Index remaining at a very low level and (3) Backlog of Orders Index continuing in respectable growth territory.
Consumption (measured by the Production and Employment indexes) grew during the period, though at a slower rate, with a combined minus-6.3-percentage point change to the Manufacturing PMI® calculation.
The Employment Index expanded for the eighth straight month. Panelists indicated limited improvement in ability to hire, but challenges with turnover (quits and retirements) and resulting backfilling continue to plague efforts to adequately staff organizations, to a greater extent compared to March.
Inputs – expressed as supplier deliveries, inventories and imports – continued to constrain production expansion.
The Supplier Deliveries Index indicated deliveries slowed at a faster rate in April, while the Inventories and Imports indexes grew at slower rates.
The Prices Index increased for the 23rd consecutive month, at a slower rate compared to March.
U.S. New Vehicle Sales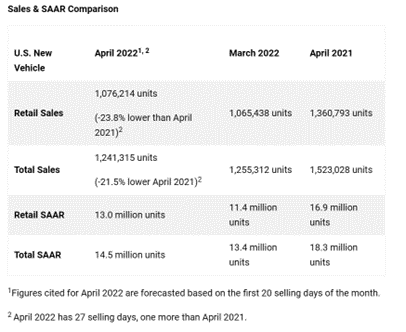 Total new vehicle sales for April 2022, including retail and non-retail transactions, are projected to reach. 1,241,300 units – a 21.5% decrease from April 2021, according to a joint forecast from J.D. Power and LMC Automotive.
"The April sales pace may look disappointing compared with April 2021, but last April's record sales pace was enabled by the combination of extremely strong consumer demand and enough inventory (nearly 1.7 million units) to turn that demand into actual sales," says Thomas King, president of the data and analytics division at J.D. Power.
Demand maintains its grip, but with fewer than 900,000 units in inventory at dealerships, King says sales volumes are projected to dip. Inventory may be under pressure, but dealer profitability continues to hit new records.
"The growth in transaction prices means that, while the sales pace is down 23.8% year-over-year, consumers will spend $48.7 billion on new vehicles this month, the second-highest level ever for the month of April and down just 6.1% from April 2021," King points out.
Important Takeaways, Courtesy of J.D. Power:
Truck/SUVs are on pace to account for 78.4% of new vehicle retail sales in April.
The average new vehicle retail transaction price in April is expected to reach $45,232. The previous high for any month was $45,247, set in December 2021.
Total retailer profit per unit—inclusive of grosses, finance and insurance income – is on pace to reach a monthly record $5,046, an increase of $2,313 from a year ago. Six of the past seven months recorded retailer profit per unit at or above $5,000.
Fleet sales are expected to total 165,100 units in April, down 2% from April 2021 on a selling day adjusted basis. Fleet volume is expected to account for 13% of total light-vehicle sales, up from 11% a year ago.
"May is traditionally one of the larger sales months of the year, enabled by Memorial Day promotional activity and discounts from manufacturers. This May will be very different as inventory constraints will persist and manufacturer discounts are unlikely to reappear in any meaningful way," King explains. "Therefore, the year-over-year sales results will again be suppressed, and sales pace will be dictated by manufacturers' vehicle supply to dealers during the month. With consumers remaining resilient even in an elevated pricing environment, manufacturers and retailers will continue to benefit from historically high profitability on nearly every vehicle sold."
U.S. Used Market
Wholesale used-vehicle prices (on a mix-, mileage- and seasonally adjusted basis) increased .7% in the first 15 days of May compared to the full month of April. This brought the Manheim Used Vehicle Value Index to 222.7 – up 9.7% year-over-year.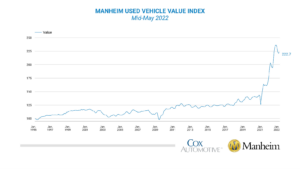 Most major market segments saw seasonally adjusted prices that were higher year-over-year in the first half of May. Pickups were the exception, says Manheim, with a 2.8% decline. Vans posted the largest increase at 27%, and both non-luxury car segments outpaced the overall industry in seasonally adjusted year-over-year gains. Manheim notes major segment performance was mixed compared to April. Half saw seasonally adjusted price increases, while other segments posted declines – full-size cars dipped the most. The seasonal adjustment drove the decreases, as all major market segments saw gains from April, with vans increasing the most and pickups increasing the least.
KPI — May 2022: Recent Vehicle Recalls