Features
KPI — May 2021: State of Business: Automotive Industry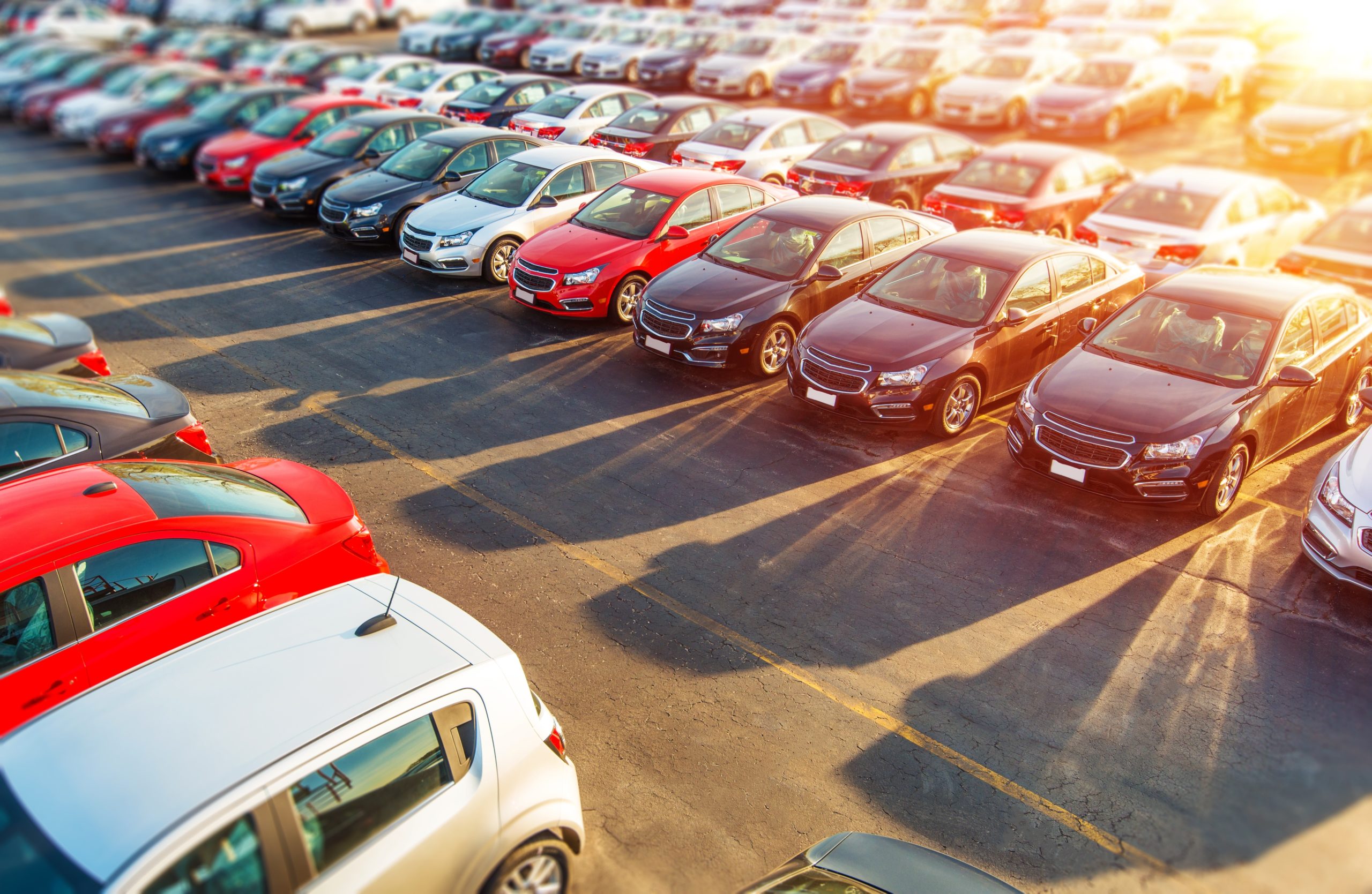 Global Light Vehicle (LV) sales increased to 87.5 mn units/year during March, a welcome improvement compared to an estimate of 81.8 mn units/year last month. Sales posted a 52.7% year-over-year increase; however, the number is heavily distorted due to the profound impact of the pandemic during this timeframe last year, according to LMC Automotive.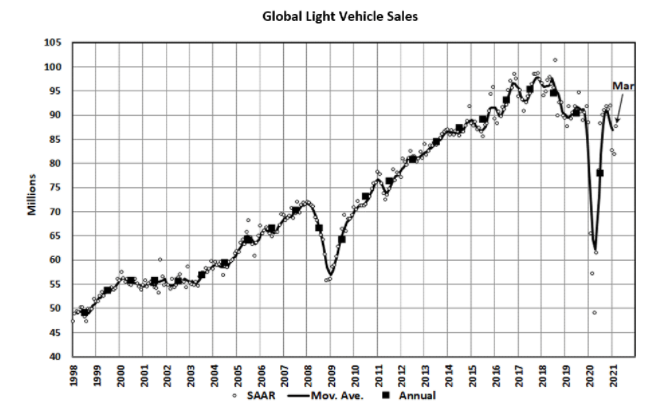 The March Manufacturing PMI®, a key indicator in measuring manufacturing activity, recently registered 60.7% – a decrease of four percentage points from the March reading of 64.7%, but a number that supports expansion in the overall economy for the 11th month in a row after contraction in April 2020, according to the nation's supply executives in the latest Manufacturing ISM® Report On Business®.
The latest PMI® clearly shows an industry in recovery, but a global semiconductor shortage continues to wreak havoc, causing serious disruptions at various points in the supply chain. Many automotive plants have shut down operations unexpectedly. General Motors and Ford, for example, continue to cut production at their North American factories as chip supplies grow even tighter, reported Fox Business. Company representatives acknowledged the chip shortage will amount to a billion-dollar headwind for 2021 profits.
Once considered a relatively short-term setback, the semiconductor shortage is gearing up to have long-term impacts. A fire at a Japanese factory in March made a bad situation worse, crippling supply chains. Chips of many types could remain generally scarce until 2022, according to Taiwan Semiconductor Manufacturing.
U.S. New Vehicle Sales
Despite the shortage, new vehicle retail sales during April 2021 are expected to be the highest ever recorded for the month of April, according to a joint forecast from J.D. Power and LMC Automotive. Accounting for both retail and non-retail transactions, U.S. sales are projected to reach 1,479,800 units – a 107.1% increase from April 2020 and a 7.8% increase from April 2019, when adjusted for selling days.
The seasonally adjusted annualized rate (SAAR) for total new vehicle sales is expected to hit 18.1 million units, up 9.4 million units from 2020 and up 1.7 million units compared to 2019.
"Despite low inventory, April 2021 will be another record-breaking month for the U.S. auto industry," said Thomas King, president of the data and analytics division at J.D. Power. "However, with the sales pace exceeding the rate at which vehicles are being produced, compounded by significant production disruption due to microchip shortages, there is a growing risk to the industry's ability to sustain the current sales pace in the coming months," he explained.
Once the final tally is in, the industry is poised to set records in sales volumes, transaction prices, consumer expenditure and retailer profitability during April.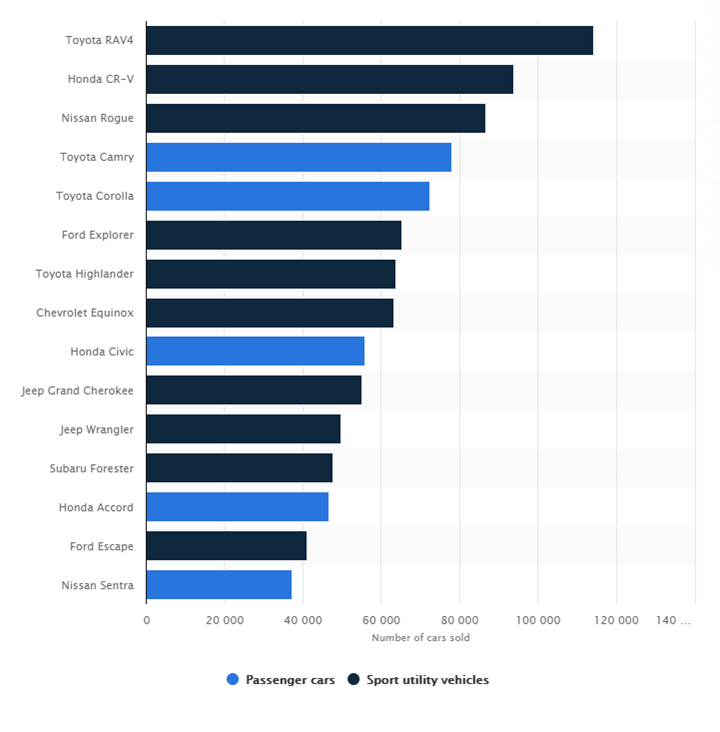 The best-selling cars and SUVs in the U.S. during the first quarter 2021 (based on unit sales), courtesy of Statista.
Important Takeaways, Courtesy of J.D. Power:
Consumers will spend approximately $49.8 billion on new vehicles, the highest ever for April and the third-highest consumer expenditure month on record – eclipsed only by the $51.2 billion spent in March 2021 and the $51.5 billion spent in December 2020.
Average transaction prices are expected to reach another monthly high, rising 6.8% to $37,572, the highest ever for the month of April and second highest all time on record behind December 2020. For context: average transaction prices are 20% higher in April 2021 than they were in April 2016 at $31,240.
Total retailer profit per unit, inclusive of grosses and finance & insurance income, are on pace to reach $2,697, a year-over-year increase of $1,313. Grosses have been above $2,000 for eight of the last 10 months. Coupled with the strong retail sales pace, total retailer profits from new vehicle sales will be $3.5 billion, the highest ever for the month of April and up 151% from April 2019.
SUVs and trucks are on pace to account for a combined 76% of retail sales.
The average interest rate for loans in April is expected to increase 46 basis points to 4.3 % from a year ago, on track for the first year-over-year increase since July 2019.
"Looking forward to May, with inventory levels materially lower than they were at the start of April, the risk of inventory related sales disruption is increasing, but April did demonstrate that lower than normal inventories were still sufficient to deliver record sales volumes. Whether inventory levels will finally fall in May to the point where aggregate industry sales are disrupted is unclear, but a couple of things are relatively certain. First, sales of certain models in select geographies will be disrupted. Second, retailers with inventory will continue to benefit from strong consumer demand and the opportunity to sell that inventory with minimal discounts," explained King.
U.S. Used Market
Wholesale used vehicle prices (on a mix-, mileage- and seasonally adjusted basis) increased 6.81% during the first 15 days of April. This brought the mid-month Manheim Used Vehicle Value Index to 191.4, a year-over-year increase of 52.2%.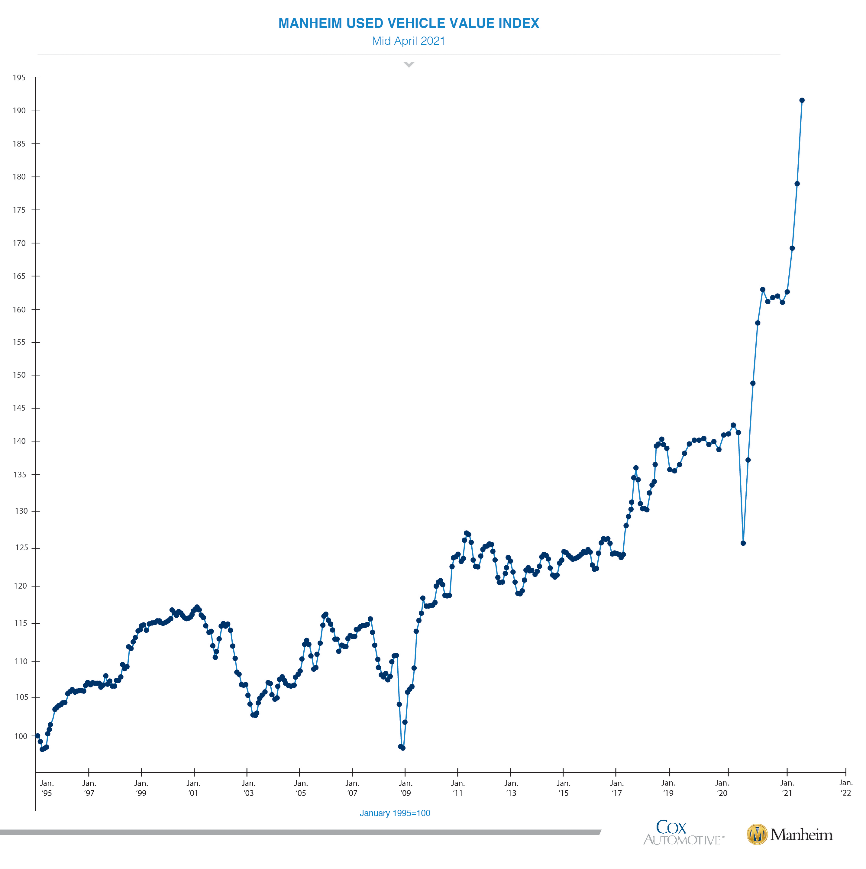 According to the most current Manheim report, Manheim Market Report (MMR) prices increased at an accelerating pace over the first two full weeks of April. The Three-Year-Old MMR Index, which represents the largest model year cohort at auction, experienced a 3.8% cumulative increase over the last two weeks. During this time, MMR Retention, which is the average difference in price relative to current MMR, averaged 103.2%. The sales conversion rate has also increased in the first half of April. Sales efficiency last week was more than 15 percentage points higher than the average sales efficiency in April 2019. The latest trends in the key indicators suggest used vehicle values are likely to continue to see appreciation for several more weeks.
All major market segments posted year-over-year, seasonally adjusted price increases during the first 15 days of April. Pickup trucks outperformed the overall market, while most other major segments underperformed the overall market, noted Manheim.
Overall, total used vehicle sales jumped 69% year-over-year in April, according to Cox Automotive. The SAAR is estimated to be 41 million, an increase from 23.6 million last April and 40.5 million last month.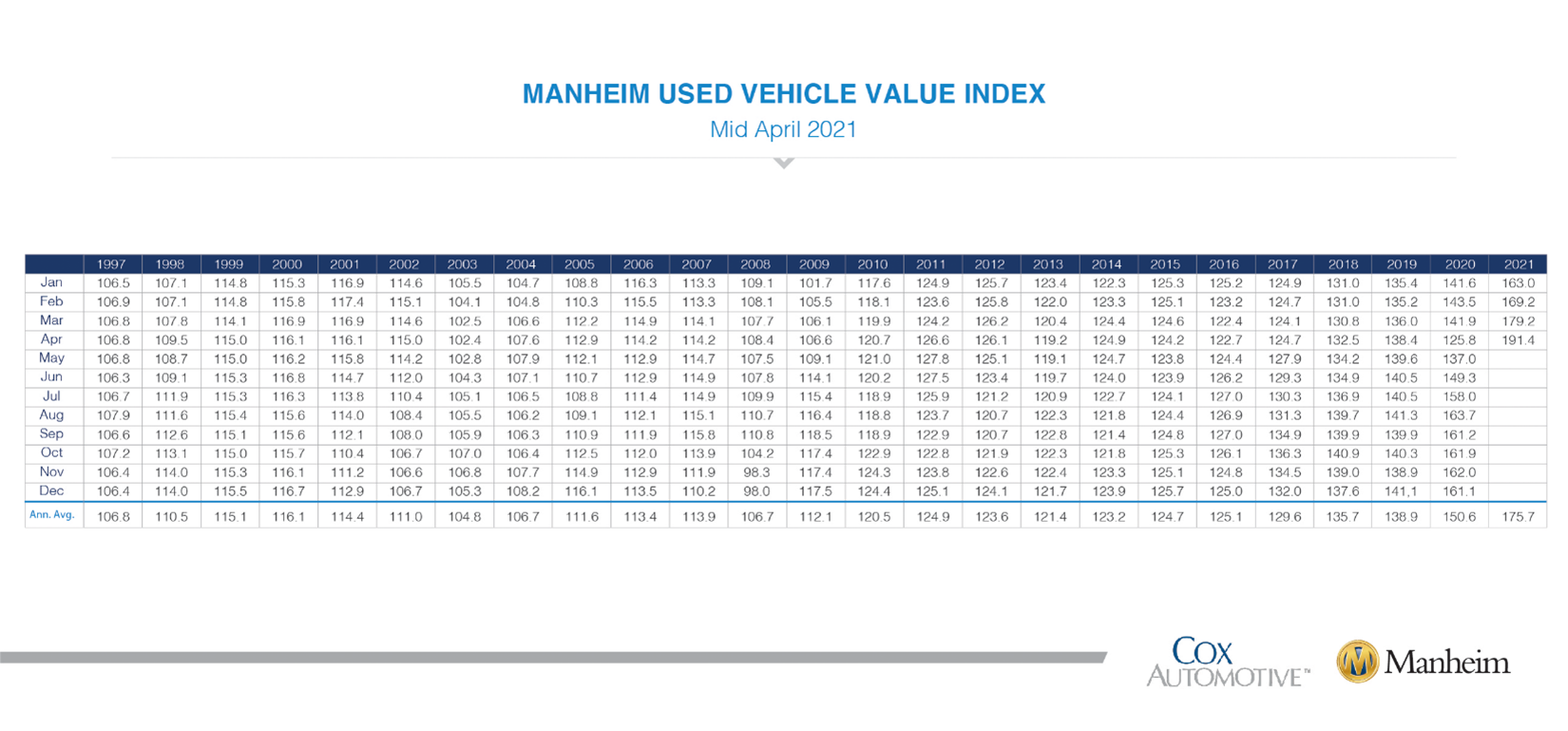 Wholesale Auction Prices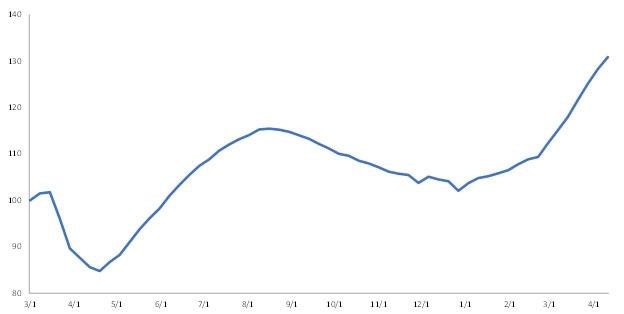 After increasing 2.5% for the week ending April 4, wholesale auction prices increased 2% during the week ending April 11. The week's exceptional performance extends the streak of week-over-week price increases in the wholesale marketplace to 15 weeks. Wholesale prices are now 13.3% greater than their previous peak back in August 2020, and a massive 26.2% above their level at the end of December 2020.
KPI — May 2021: Recent Vehicle Recalls