Features
KPI — March 2022: State of the Economy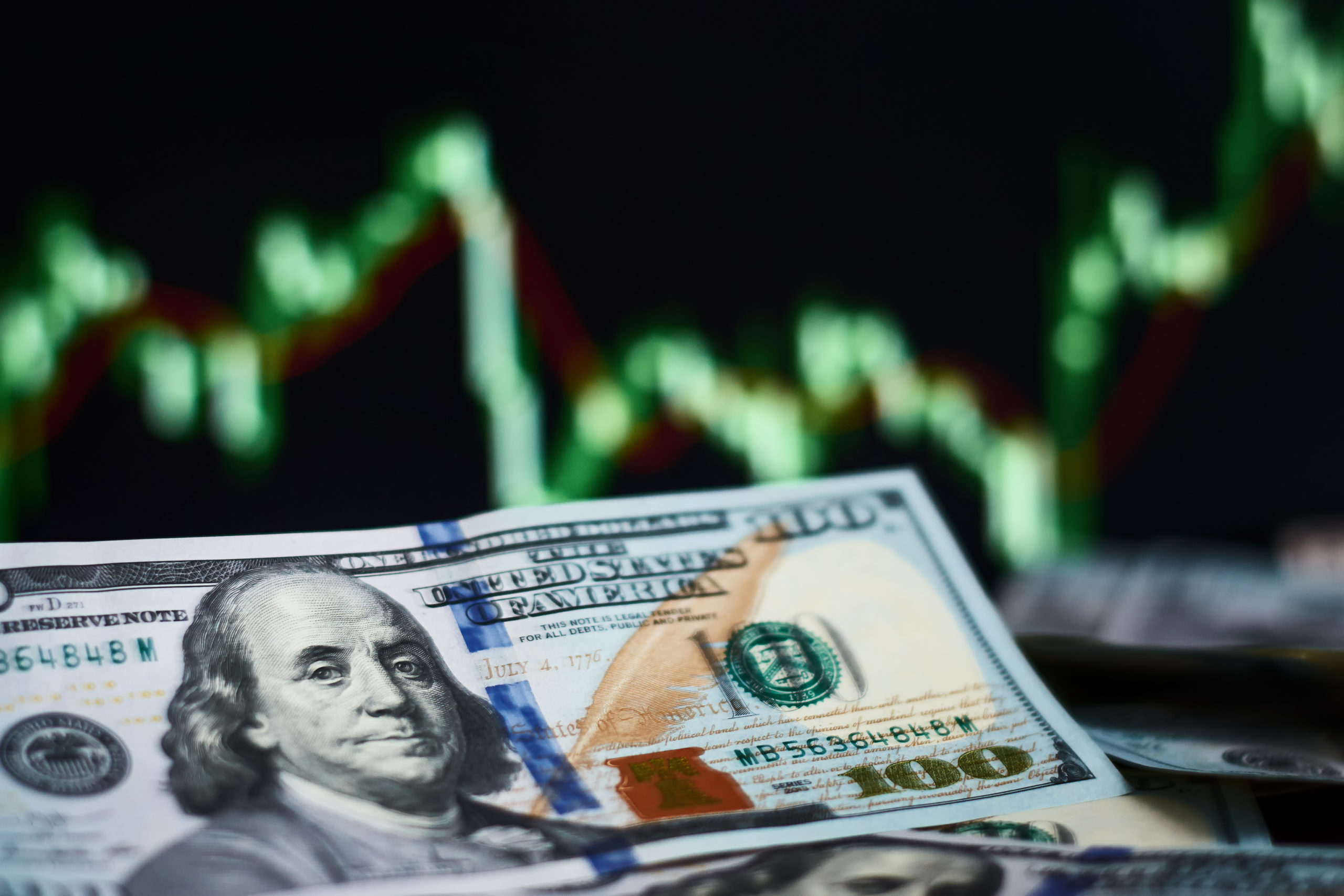 The Consumer Price Index for All Urban Consumers (CPI-U) increased .8% in February on a seasonally adjusted basis after rising .6% in January, according to the U.S. Bureau of Labor Statistics. The all-items index increased 7.9% before seasonal adjustment over the past 12 months – the largest increase since January 1982.
Key Takeaways, Courtesy of the U.S. Bureau of Labor Statistics:
Increases in the indexes for gasoline, shelter and food were the largest contributors to the seasonally adjusted all-items increase.
The gasoline index rose 6.6% and accounted for almost a third of the all-items monthly increase, while other energy component indexes were mixed. The food index rose 1% as the food at home index rose 1.4%.
The index for all items less food and energy rose .5%, following a .6% increase the prior month. The shelter index was by far the biggest factor in the increase, with a broad set of indexes also contributing such as recreation, household furnishings and operations, motor vehicle insurance, personal care and airline fares.
The all-items less food and energy index rose 6.4%, the largest 12-month change since August 1982. The energy index rose 25.6% year-over-year while the food index increased 7.9%, the largest 12-month increase since July 1981.

"I don't want to make a prediction exactly as to what's going to happen in the second half of the year, but we're likely to see another year in which 12-month inflation numbers remain very uncomfortably high," says Treasury Secretary Janet Yellen.
Real average hourly earnings for all employees continue to face headwinds in the midst of rising prices, decreasing .8% from January to February. Runaway inflation combined with a decrease in real average hourly earnings equates to less money in American pockets.
As a result, Goldman Sachs analysts downgraded their U.S. economic growth forecasts in 2022 – cutting annualized growth to 2.9% against a previous expectation of 3.1%. In addition, the investment bank expects fourth quarter real gross domestic product growth of 1.75% against a previous forecast of 2%.
Employment
Total nonfarm payroll employment rose by 678,000 in February and the unemployment rate declined to 3.8%, topping economists' forecasts for a second straight month.
"This is an economy that has learned to manage very well through uncertainty," says Robert Rosener, senior U.S. economist with Morgan Stanley. "We've continually been surprised by the resilience of the U.S. labor market."

Important Takeaways, Courtesy of the Bureau of Labor Statistics:
The number of those on temporary layoff and permanent job losers changed little at 888,000 and 1.6 million, respectively. Both measures remain higher than their February 2020 levels, 780,000 and 1.3 million.
The number of long-term unemployed (those jobless for 27 weeks or more) was essentially unchanged at 1.7 million but remains 581,000 higher than in February 2020. The long-term unemployed accounted for 26.7% of the total unemployed in February 2022.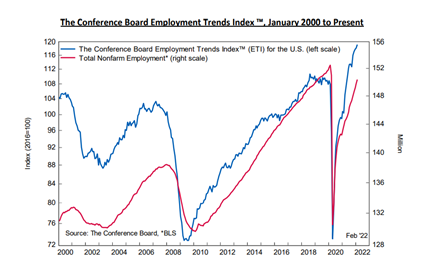 The Conference Board Employment Trends Index™ (ETI) rose in February and now stands at 119.18, up from 118.15 in January 2022 (an upward revision).
By Demographic
Unemployment rates among the major worker groups: adult men – 3.5%; adult women – 3.6%; teenagers – 10.3%; Asians – 3.1%; Whites – 3.3%; Hispanics – 4.4%; and Blacks – 6.6%.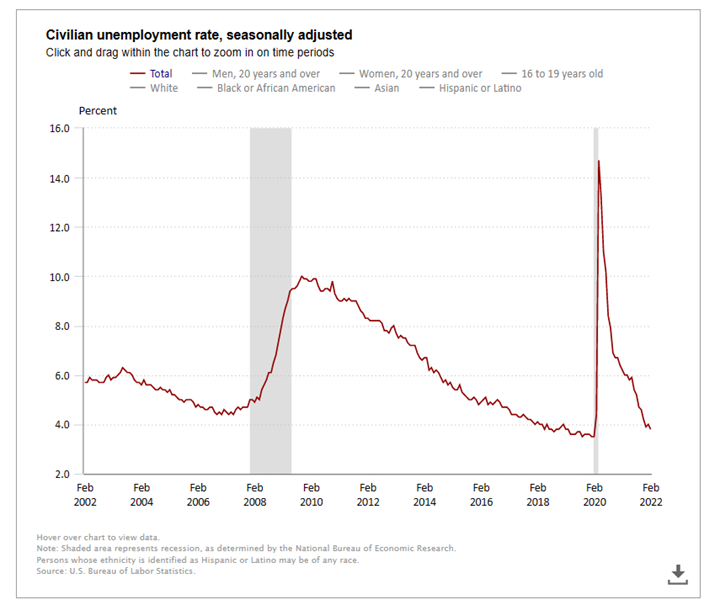 By Industry
Job growth was widespread during February – led by gains in leisure and hospitality, professional and business services, health care and construction. So far, the economy added more than one million jobs in 2022.
"However, some moderation in job growth is likely in the months ahead – we are now further into the recovery and economic growth rates are projected to decelerate compared to an especially strong 2021. Still, with the labor market being short 2.1 million jobs, returning to pre-pandemic employment levels is likely in 2022," says Frank Steemers, senior economist at The Conference Board.
"Hiring and retention continue to pose major challenges, which we don't expect to dissipate in the foreseeable future. In such a tight labor market, wage growth will likely remain elevated. In particular, workers in in-person services, such as restaurants, personal care, and hotels, are now benefitting from a tight labor market," he adds.
Important takeaways, courtesy of the U.S. Bureau of Labor Statistics:
Employment in leisure and hospitality continued to increase, with a gain of 179,000 in February. Job growth occurred in food services and drinking places (+124,000), as well as accommodation (+28,000). Since February 2020, employment in leisure and hospitality is down by 1.5 million, or 9%.
Employment in retail trade rose by 37,000, with gains in building material and garden supply stores (+12,000), furniture and home furnishings stores (+6,000), as well as gasoline stations (+5,000). Retail trade employment is 104,000 above its level in February 2020.
Employment in transportation and warehousing increased by 48,000 and is 584,000 higher than in February 2020. Month-over-month, job gains continued in warehousing and storage (+11,000), couriers and messengers (+9,000), support activities for transportation (+9,000), as well as air transportation (+7,000). All four of these component industries have surpassed their February 2020 employment levels, with particularly strong job growth in warehousing and storage (+420,000) and couriers and messengers (+240,000).
Construction added 60,000 jobs, following little change in the prior month. Approximately three-fourths of the job gain occurred in specialty trade contractors, with increases in both the residential (+24,000) and nonresidential (+20,000) components. Construction employment is slightly below (-11,000) its February 2020 level
Review all employment statistics here.

KPI — March 2022: Consumer Trends