More than 534.5 million COVID-19 cases and 6.3 million deaths are confirmed across the globe. Vaccination efforts remain a top priority among health and government officials, with an ultimate goal of reaching herd immunity. Approximately 66% of Americans are fully vaccinated, according to recent CDC data. Experts estimate 70%-85% of the population must be vaccinated in order to reach herd immunity.
To date, nearly 85.5 million cases were reported across the U.S, with California, Texas and Florida claiming the highest numbers, according to Statista. COVID-19 restrictions vary by state, county and even city. Review a comprehensive list of current restrictions here.
COVID-19 Cases by Country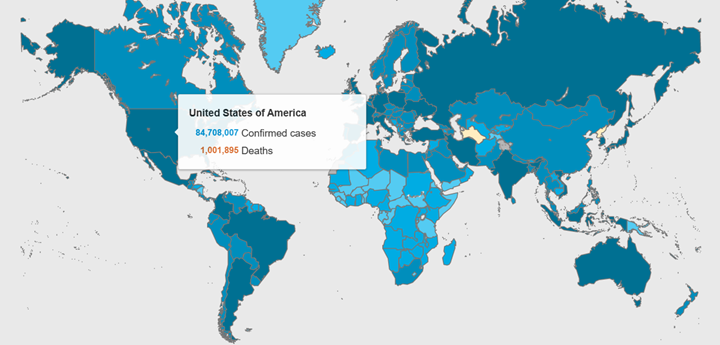 The Conference Board Consumer Confidence Index® decreased slightly in May, following a small increase in April. The Index now stands at 106.4 (1985=100), down from 108.6 in April (after an upward revision). The Present Situation Index – based on consumers' assessment of current business and labor market conditions –declined to 149.6 from 152.9 last month. The Expectations Index – based on consumers' short-term outlook for income, business and labor market conditions – declined to 77.5 from 79.
Similarly, The Consumer Sentiment Index – a survey consisting of approximately 50 core questions covering consumers' assessments of their personal financial situation, buying attitudes and overall economic conditions –declined to 58.4 in May, according to the University of Michigan Survey of Consumers.
Currently, consumer sentiment is trending down 14% since May, continuing a downward spiral over the last year and reaching its lowest recorded value – comparable only to the "trough" reached in the middle of the 1980 recession. According to Surveys of Consumers Director Joanne Hsu, data shows all components of the sentiment index fell, with the steepest decline in the year-ahead outlook in business conditions, down 24% from May. Consumers' assessments of their personal financial situation worsened about 20%. Forty-six percent of consumers attributed their negative views to inflation, up from 38% in May; this share has only been exceeded once since 1981, during the Great Recession.
In addition, NPR states Russia's invasion of Ukraine "triggered seismic [global] repercussions," including a fast-moving refugee crisis, unprecedented sanctions against a major economy and a shakeup of worldwide relationships, including a reinvigorated NATO. The Ukraine-Russia war is expected to result in further economic impacts in the U.S., from higher prices to dampened spending and investment, adds Federal Reserve Chair Jerome Powell.
Professionals in the automotive, RV and powersports industries remain steadfast in their efforts to evolve their business models and grow their brands in the face of adversity. As such, the monthly Key Performance Indicator Report serves as an objective wellness check on the overall health of our nation, from the state of manufacturing and vehicle sales to current economic conditions and consumer trends. Below are a few key data points explained in further detail throughout the report: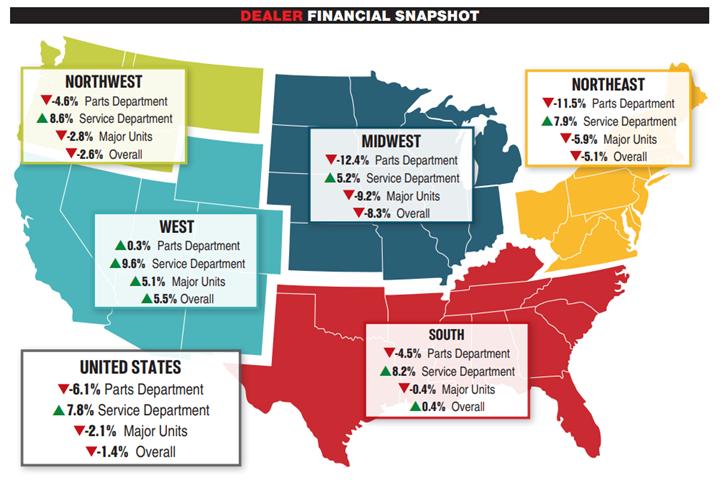 The April Manufacturing PMI® registered 56.1%, an increase of .7 percentage point from a reading of 55.4% in April, according to supply executives in the latest Manufacturing ISM® Report On Business®.
The Consumer Price Index for All Urban Consumers (CPI-U) increased 1% in May on a seasonally adjusted basis after rising .3% in April, notes the U.S. Bureau of Labor Statistics. Over the last 12 months, the all-items index increased 8.6% before seasonal adjustment.
LMC Automotive reports Global Light Vehicle (LV) sales improved to 76 million units per year in May but remains down 10% year-over-year. Supply chain bottlenecks remain the key issue for the global automotive industry, with manufacturers unable to meet demand in most regions.
JD Power estimates total new-vehicle sales for May 2022, including retail and non-retail transactions, will reach 1,188,100 units – a 18.0% decrease from May 2021.
The RV industry continues to post record numbers, with RV wholesale shipments projected to exceed 549,000 units by year-end 2022, according to the Summer 2022 issue of RV RoadSigns, the quarterly forecast prepared by ITR Economics for the RV Industry Association (RVIA).
Revenue from new and pre-owned sales posted another declined year-over-year in April with a 2.1% decrease on average, according to composite data from more than 1,700 dealerships in the U.S. that use the CDK Lightspeed DMS. Service department revenue increased, with a 7.8% gain on average, following 4.7% growth in March and 4.6% growth in February. Revenue from new and pre-owned Major Units declined by 2.1% in April after dropping 4.8% year-over-year in March. Parts sales declined in April, down 6.1% year-over-year on average. Combined, the average dealership experienced a revenue decrease of 1.4%. Dealerships in the West posed as the only bright spot for Major Unit sales, up 5.1% on average. The region also topped all others with a 9.6% average increase in the service department, following March's 8.4% gain. The West posted a 5.1% revenue increase in Major Unit sales during April, with the Midwest dealership on average seeing a 9.2% decline in Major Unit sales. The Midwest also saw parts sales dip 12.4% in April, contributing to a 9.2% overall average revenue decline for April vs. April 2021.
The NFIB Small Business Optimism Index fell .1 points in May to 93.1, marking the fifth consecutive month below the 48-year average of 98. "Inflation continues to outpace compensation, which has reduced real incomes across the nation," says Bill Dunkelberg, NFIB chief economist. "Small business owners remain very pessimistic about the second half of the year as supply chain disruptions, inflation and the labor shortage are not easing."
Key Takeaways, Courtesy of NFIB
Fifty-one percent of owners reported job openings that could not be filled, up four points from April.
The net percent of owners who expect real sales to be higher decreased three points from April to a net negative 15%.
A net 46% (seasonally adjusted) of owners reported raising compensation, down three points from April with a net 25% planning to raise compensation in the next three months (down two points from April but historically high).
Thirty-nine percent of owners report that supply chain disruptions have had a significant impact on their business, up three points. Another 31% report a moderate impact and 22% report a mild impact. Only 8% of owners report no impact from the recent supply chain disruptions.

KPI — June 2022: State of Business — Automotive Industry