Features
KPI — July 2022: State of Business — Automotive Industry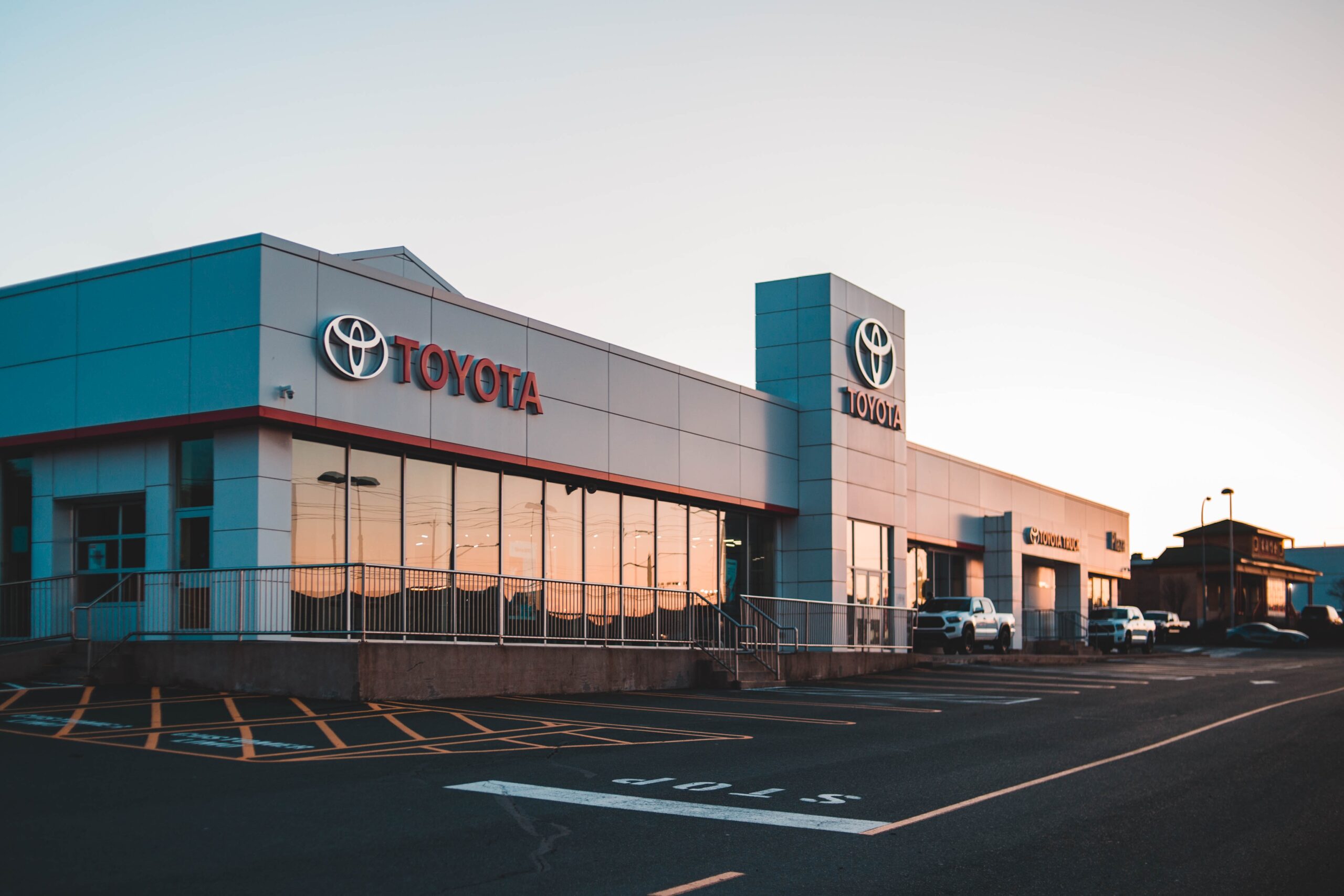 LMC Automotive reports Global Light Vehicle (LV) sales improved to 85 million units per year in June but remains down 8.5% year-over-year. A strong sales recovery in China contributed to month-over-month gains, including eased lockdowns allowing OEMs to ramp up production plus a temporary tax cut for passenger vehicles.
"With positive year-over-year growth expected in China and significant recovery from weakness last June in Japan, Korea and the ASEAN market, global sales volume is expected to be down just 5% in June from a year ago," says Jeff Schuster, president of American operations and global vehicle forecasts at LMC Automotive.
However, LMC notes supply chain bottlenecks as the key issue facing a global automotive industry, with manufacturers unable to meet demand in most regions. "A mixed global picture remains, as continued weakness in Europe and the U.S. is holding down the boost in Asia," says Schuster. The U.S. market, in particular, continues to struggle in the face of record-high transaction prices, low inventory and dismal manufacturer incentives.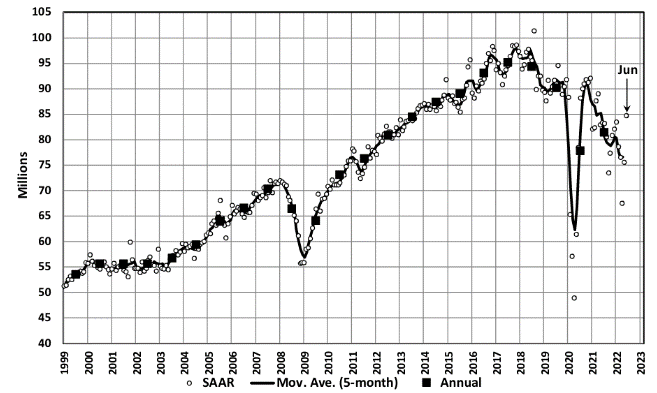 The June Manufacturing PMI® registered 53%, down 3.1 percentage points from the reading of 56.1% in May, according to supply executives in the latest Manufacturing ISM® Report On Business®. It is the lowest Manufacturing PMI® reading since June 2020, when it registered 52.4%.
"The U.S. manufacturing sector continues to be powered – though less so in June – by demand while held back by supply chain constraints. Despite the Employment Index contracting in May and June, companies improved their progress on addressing moderate-term labor shortages at all tiers of the supply chain, according to Business Survey Committee respondents' comments," says Timothy R. Fiore, CPSM, C.P.M., chair of the Institute for Supply Management® (ISM®) Manufacturing Business Survey Committee.
He says panelists reported lower rates of quits compared to May. Price expansion slightly eased for a third straight month in June, but instability in global energy markets continues. Sentiment remained optimistic regarding demand, with three positive growth comments for every cautious comment. Panelists continue to note supply chain and pricing issues as their biggest concerns.
Important takeaways, courtesy of the Manufacturing ISM® Report On Business®:
Demand declined, with the (1) New Orders Index contracting; (2) Customers' Inventories Index remaining at a very low level, though it increased; and (3) Backlog of Orders Index decreasing but still in growth territory.
Consumption (measured by the Production and Employment indexes) was mixed during the period, with a combined minus-1.6-percentage point change to the Manufacturing PMI® calculation.
The Employment Index contracted for the second month in a row after expanding for eight straight months (September through April). Again, panelists indicated month-over-month improvement in ability to hire in June. Challenges with turnover (quits and retirements) and resulting backfilling continue to plague efforts to adequately staff organizations, though to a lesser degree compared to the previous month.
Inputs – expressed as supplier deliveries, inventories and imports – continued to constrain production expansion but to a lesser extent compared to May.
The Supplier Deliveries Index indicated deliveries slowed at a slower rate in June, which was supported by a slight increase in the Inventories Index.
The Imports Index expanded in June after one month of contraction preceded by six consecutive months of expansion.
The Prices Index increased for the 25th consecutive month, though at a slower rate compared to May.
U.S. New Vehicle Sales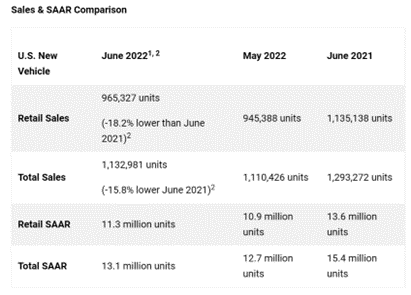 Total new-vehicle sales in June 2022, including retail and non-retail transactions, are projected to reach 1,133,000 units – a 15.8% decrease from June 2021, according to a joint forecast from J.D. Power and LMC Automotive.
The seasonally adjusted annualized rate (SAAR) for total new-vehicle sales is expected to be 13.1 million units, down 2.3 million units from 2021.
"The 2022 theme we have seen of sales quality over sales quantity is continuing in June. On a volume basis, June year-to-date retail sales will be just under 5.9 million units, a large decline of 19.1%. Excluding pandemic-affected 2020, this is the worst first six months' sales volume performance since 2011," says Thomas King, president of the data and analytics division at J.D. Power.
"However, from a profitability standpoint, the first half of 2022 has set records for both retailers and manufacturers as vehicle prices continue to rise, manufacturer discounts get ever smaller and retailer margins set new highs," he continued.
Important Takeaways, Courtesy of J.D. Power:
Buyers are on pace to spend $44.3 billion on new vehicles, down $1.2 billion year-over-year.
Truck/SUVs are on pace to account for 78.9% of new vehicle retail sales in June.
The average new vehicle retail transaction price is expected to reach $45,844. The previous high for any month was $45,502 – set in May 2022.
Average incentive spending per unit is expected to reach $930, a year-over-year decrease from $2,291. Spending as a percentage of the average MSRP is expected to fall to a record low of 2%, down 3.4 percentage points year-over-year.
Average interest rates for new vehicle loans continue to accelerate and are expected to increase 74 basis points from a year ago to 5.01%.
Total retailer profit per unit, inclusive of grosses and finance and insurance income from new-vehicle sales, are expected to reach first-half record levels on both a per unit and total basis. Profit per unit for the first half of 2022 is trending to reach $4,774, up $2,206 from the same period in 2021. Meanwhile, total profits are expected to reach $27.8 billion, up $9.4 billion from 2021.
Fleet sales are expected to total 167,700 units in June, up 1.9% year-over-year on a selling day adjusted basis. Fleet volume is expected to account for 15% of total light-vehicle sales, an uptick from 12% a year ago.
"Looking forward, while higher interest rates and economic concerns represent directional headwinds for the industry, consumer demand remains considerably higher than available supply. With each additional month of inventory constraints, pent-up demand for new vehicles is building ever larger – and that demand will insulate the industry from the effects of these economic headwinds," King says. "As new-vehicle availability eventually improves, some softening of the current record per unit pricing and profitability may occur but will be mitigated by a return to higher monthly sales volumes."
U.S. Used Market
Wholesale used-vehicle prices (on a mix-, mileage- and seasonally adjusted basis) decreased 1.3% month-over-month in June. As such, the Manheim Used Vehicle Value Index declined to 219.9, though remains up 9.7% year-over-year. In June, Manheim Market Report (MMR) values posted larger declines over the last two weeks than the prior two weeks.
"However, elevated used-vehicle values continue to help affordability for new-vehicle buyers who have a vehicle to trade in. The average trade-in equity for June is trending towards a record high of $10,381, a 49.2% increase from a year ago and the first time above $10,000," says King.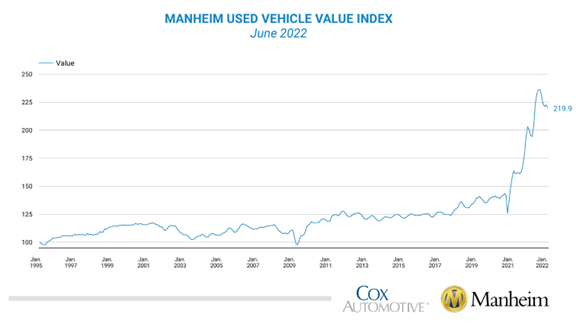 According to Manheim, all major market segments saw seasonally-adjusted prices that were higher year-over-year in June. Pickups were the exception, showing a 2.5% decline. Vans posted the largest increase at 23.1%, with compact and sports cars maintaining seasonally adjusted year-over-year gains ahead of the overall industry. Compared to May, all major segments' performance ticked down. Pickups and midsize cars lost more than 2%, followed by luxury cars and vans at 1.8% and 1.6%, respectively.
KPI — July 2022: Recent Vehicle Recalls