Features
KPI — July 2021: State of Business: Automotive Industry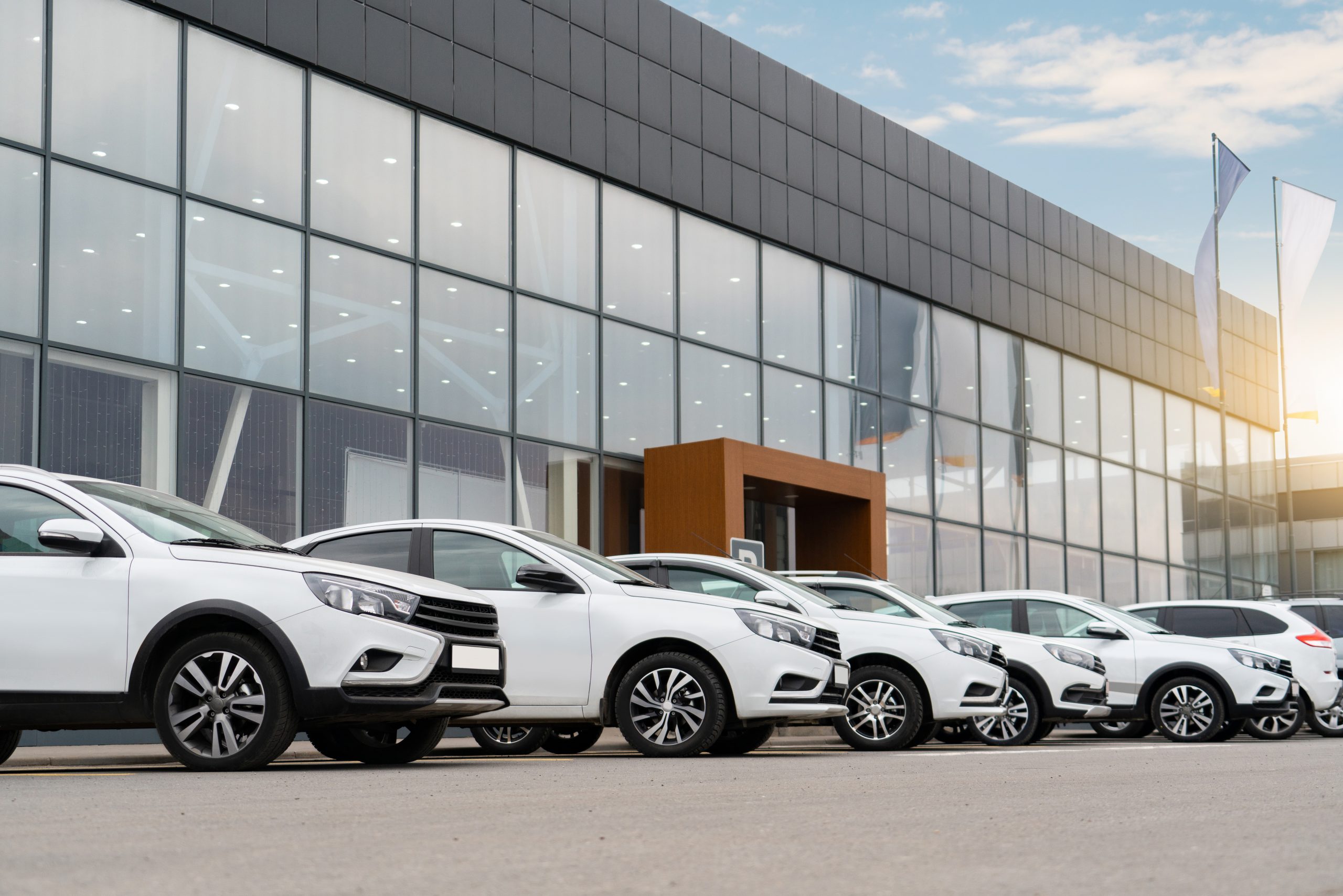 While global light vehicle sales were up 35% year-over-year in June, the selling rate dropped from 88.4 million units to 83.1 million.
"China and the United States saw some initial effect from a lack of inventory in May. Light-vehicle sales in Europe were disappointing as well because of slow market reopenings," noted Jeff Schuster, president, Americas operations and global vehicle forecasts, LMC Automotive.
"Our 2021 forecast for global light-vehicle sales has been trimmed by 150,000 to 87.4 million units – an increase of 12% from 2020," explained Schuster.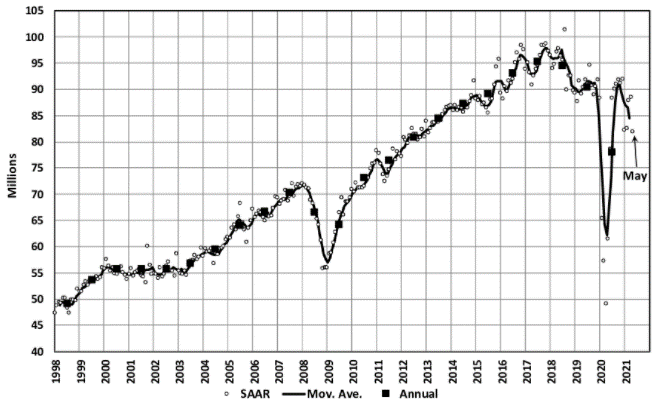 Indeed, the ongoing semiconductor shortage continues to impact various industries, causing serious disruptions at various points in the supply chain. From power steering and brake sensing to back-up cameras and dashboard touchscreens, microchips are integral in vehicle development.
A number of variables are influencing the shortage. While some blame manufacturing delays on a "faster-than-expected recovery from the coronavirus pandemic," others point to supply chains hit hard in the first-quarter by the storms in Texas, the Fukushima earthquake in Japan and the fire at a Japanese semiconductor factory owned by Renesas Electronics Corp., reported Automotive News.
Additionally, "The rise of new COVID-19 strains, especially in regions with limited vaccines, continues to threaten the availability of semiconductors due to workforce reductions," added IHS Markit, which forecasts a shortage into 2022.
As such, the semiconductor shortage has evolved into a forcing-function, prompting automakers to adjust assembly lines or reduce production altogether and rethink ways to obtain electronic components that are integral to modern vehicle design.
Ford padded its July production schedule with additional "downtime" at multiple plants due to the shortage, while GM announced its Kansas plant will remain idle until Aug. 16. Reduced production has resulted in the lowest levels of unsold cars and trucks on dealer lots in years, according to consulting firm AlixPartners.
While "global recovery" is being pushed down the line, experts do predict a stronger selling pace during the second part of the year.
Another upside, the June Manufacturing PMI® registered 60.6%, a decrease of .6% from the May reading of 61.2%. However, data indicates expansion in the overall economy for the 13th month in a row after contraction in April 2020, according to supply executives in the latest Manufacturing ISM® Report On Business®.
Manufacturing performed well in June, with demand, consumption and inputs registering month-over-month growth, but Business Survey Committee panelists reported their companies and suppliers continue to struggle to meet increasing levels of demand.
"Record-long raw-material lead times, wide-scale shortages of critical basic materials, rising commodities prices and difficulties in transporting products are continuing to affect all segments of the manufacturing economy," said Timothy R. Fiore, CPSM, C.P.M., Chair of the Institute for Supply Management® (ISM®) Manufacturing Business Survey Committee.
High backlog levels and too low customers' inventories are being reported, in addition to difficulty in filling open positions, worker absenteeism and short-term shutdowns due to parts shortages. "These continue to be issues that limit manufacturing-growth potential," he said.
U.S. New Vehicle Sales
Despite many challenges, new vehicle retail sales during June 2021 continued to set benchmarks, according to a joint forecast from J.D. Power and LMC Automotive. Total new-vehicle sales, including retail and non-retail transactions, are projected to reach 1,329,900 units. The figure is a 19.5% year-over-year increase, but an 8.3% decrease from June 2019 due to the decline of less-profitable non-retail/fleet sales.
New vehicle retail sales are forecast to reach 7,110,600 units during the first half 2021, a 36% increase from the first six months of 2020 and a 10.8% increase compared to the first half of 2019 when adjusted for selling days.
Moreover, the seasonally adjusted annualized rate (SAAR) for total new-vehicle sales is expected to hover 15.8 million units, up 2.6 million units from 2020 but down 1.4 million units from 2019.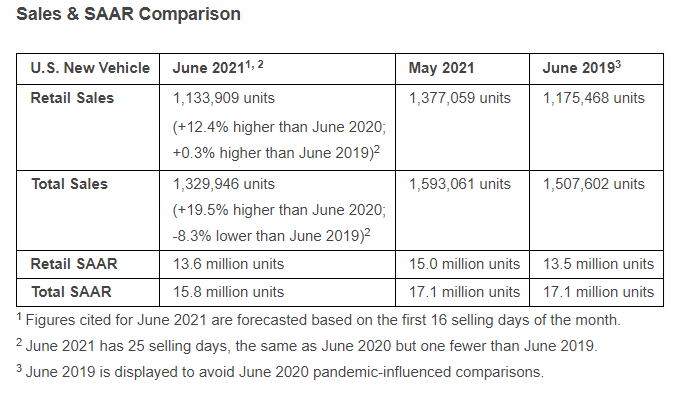 "June is set to top off a blistering first half of 2021 with multiple year-to-date performance records. On a volume basis, June 2021 year-to-date retail sales are trending to just above 7.1 million units, the best first half of any year on record. Records will also be set for average transaction price, total consumer spending on new vehicles and retailer profitability," said Thomas King, president of the data and analytics division at J.D. Power.
Important Takeaways, Courtesy of J.D. Power:
Consumers are on pace to spend $45.6 billion on new vehicles – a record for June, up $10.3 billion from June 2020 and up $6 billion from June 2019.
Average incentive spending per unit in June is expected to fall to $2,492, down from $4,349 in June 2020 and $3,966 in June 2019. Spending as a percentage of the average MSRP is expected to fall to 5.8%, down 4.7 percentage points from June 2020 and down 4.1 percentage points from June 2019.
The average new vehicle retail transaction price in June is expected to reach a record $40,206. The previous high for any month, $38,539, was set in May 2021.
Trucks/SUVs are on pace to account for 75.9% of new vehicle retail sales in June.
Average incentive spending per unit on trucks/SUVs in June is expected to be $2,397, down $2,066 from a year ago and down $1,720 from 2019. The average spending on cars is expected to be $2,778, down $1,197 from a year ago and down $793 from 2019.
Fleet sales are expected to total 196,000 units in June, up 89% from June 2020 but down 39% from June 2019 on a selling day adjusted basis. Fleet volume is expected to account for 15% of total light-vehicle sales, up from 9% a year ago.
"Looking forward to July, with inventory levels at historical lows, dealers turning inventory on lots at a breakneck pace, and demand continuing to exceed production, the overall industry sales pace may continue to be supply constrained. However, regardless of inventory position or production levels, manufacturers and retailers will persist to benefit from the current unprecedented level of consumer demand realizing higher profits per every unit sold," explained King.
U.S. Used Market
Wholesale used vehicle prices (on a mix-, mileage- and seasonally adjusted basis) decreased 1.3% month-over-month in June – bringing the Manheim Used Vehicle Value Index to 200.4, a 34.3% increase from a year ago.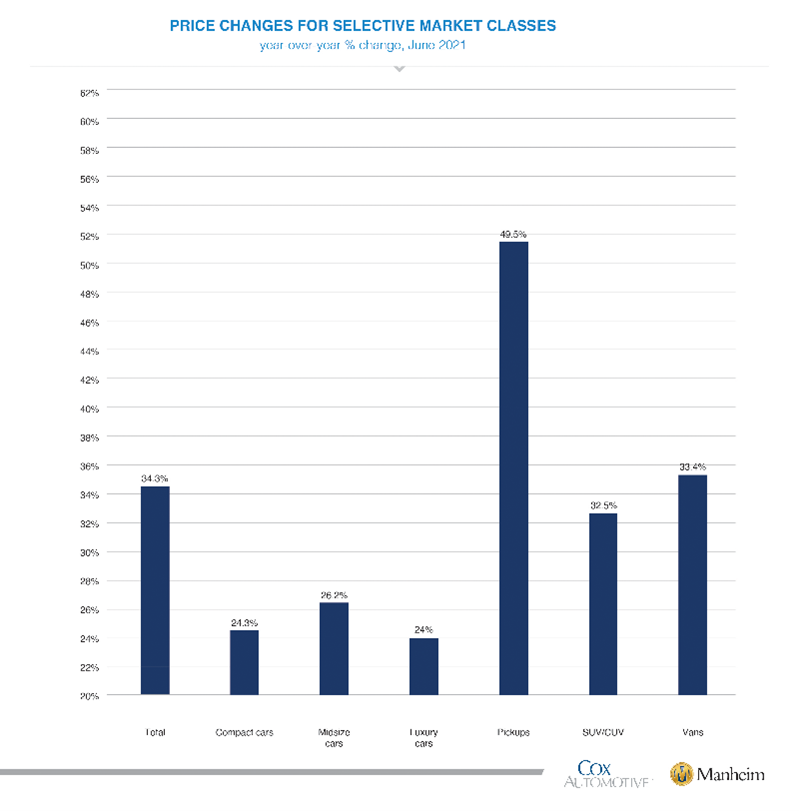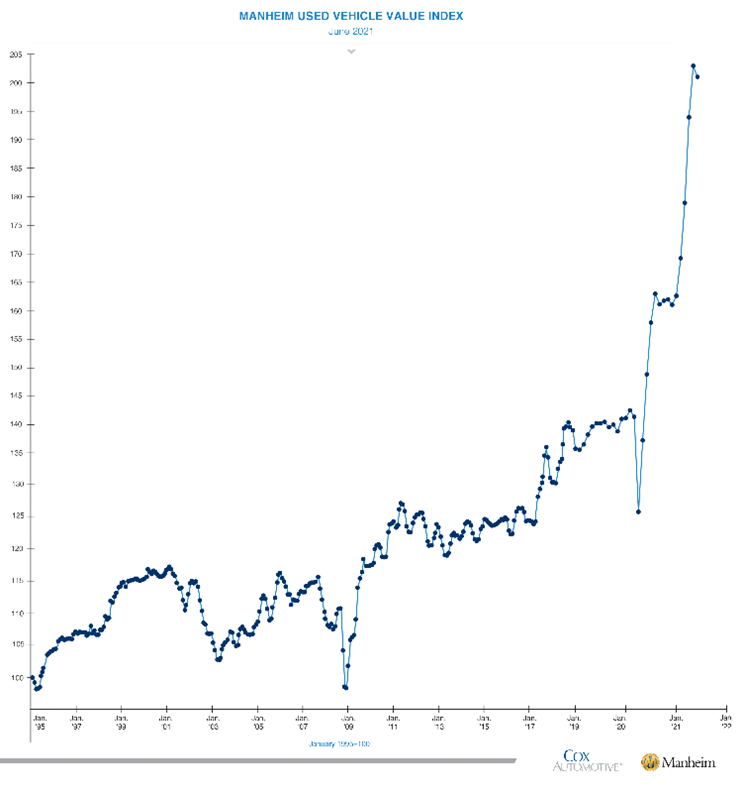 According to the most current Manheim report, Manheim Market Report (MMR) prices posted weekly increases in the first two full weeks of June, but the remaining weeks saw accelerated price declines. Over the last five weeks, the Three-Year-Old Index declined a net .7%. Over the month of May, MMR Retention, which is the average difference in price relative to current MMR, averaged 99%. The sales conversion rate also slowed as the month progressed and ended the month at a level much more typical for the month of June.
All major market segments posted year-over-year, seasonally adjusted price increases during the first 15 days of June. Pickup trucks outperformed the overall market, while most other major segments underperformed the overall market, noted Manheim.
Overall, total used vehicle sales were down 11.1% year-over-year in June. Manheim estimates the June used SAAR to be 39 million – down from 43.6 million last June and down compared to May's 40 million SAAR. The June used retail SAAR estimate is 21.3 million – a decline from 23.1 million last year and 21.9 million recorded in May.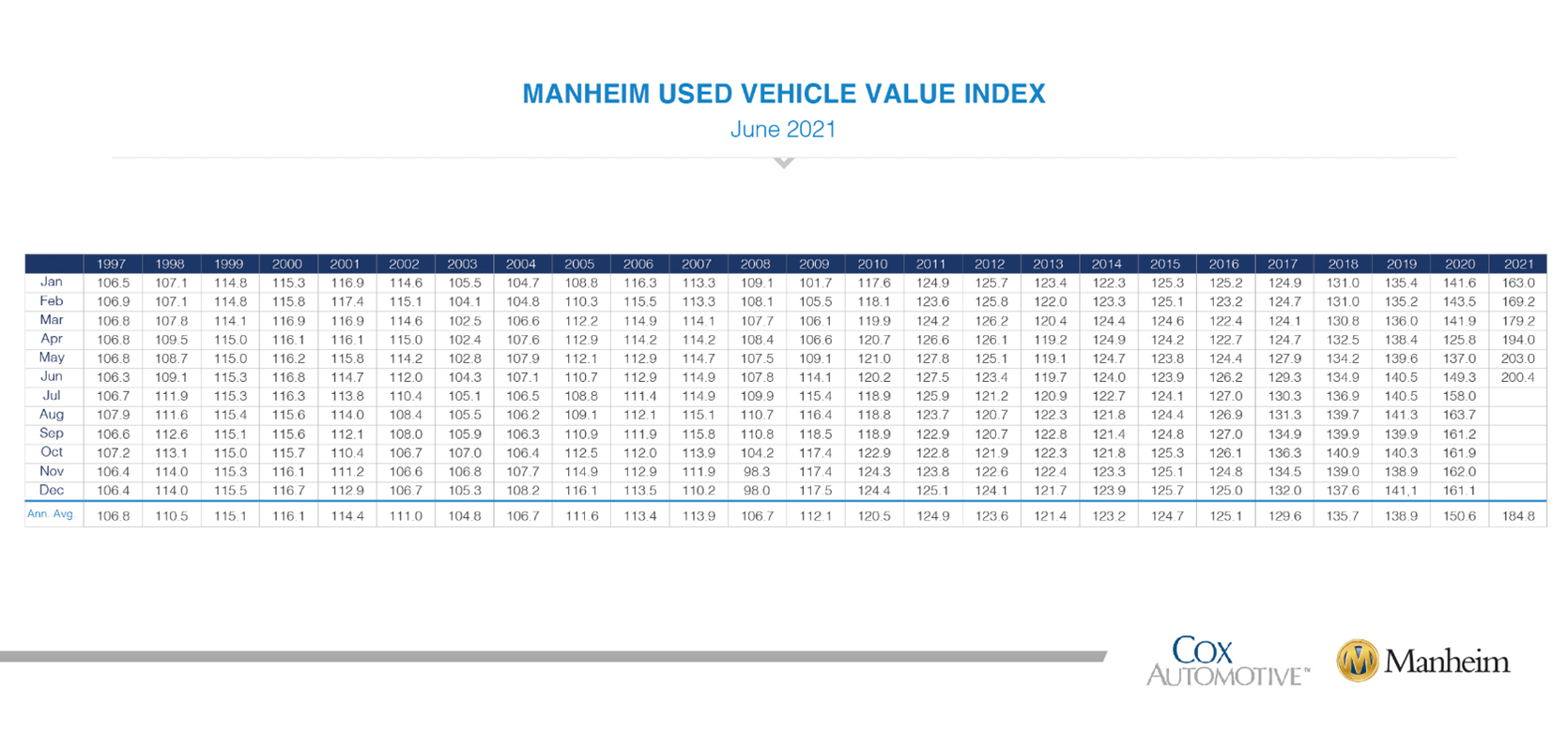 Automotive Aftermarket
Recently, SEMA released its 2021 SEMA Market Report. It offers a detailed overview of current conditions surrounding the U.S. specialty-equipment market, with the ultimate goal of helping businesses navigate challenges and opportunities across the industry.
Additionally, this year's data shows how consumers and business adapted to the pandemic, along with how much was spent, and where, on specialty-automotive parts and accessories in 2020.
Join SEMA Market Research Director Gavin Knapp and Market Research Manager Matt Kennedy for a live webinar on July 20 at 11:00 a.m. PDT, as they present highlights from the 2021 SEMA Market Report.
The countdown is on…
Social media is abuzz with industry professionals proclaiming excitement and anticipation for the resumption of a live SEMA Show, scheduled November 2-5 in Las Vegas, NV. This year's show will expand its exhibit space to all four Las Vegas Convention Center halls, including the newly constructed West Hall – a 1.4-million square feet facility that will be used to enhance the attendee experience, said SEMA.
Registration is now open, with exhibit halls nearly full. As exhibitors lock in their booth space, the floor plan will be updated several times throughout the day at www.semashow.com. Claim your spot today and join the fun and action in four short months!
The SEMA Launch Pad is gearing up to be an impressive attraction this year. "With an expanded prize package and increased benefits to applicants, the 9th annual SEMA Launch Pad competition included a record-high number of applications from entrepreneurs of new automotive-related products. At 181, the number surpasses the previous high of 120 applications," noted SEMA.
Fifteen applicants were selected as semi-finalists and will advance to the next round, according to a recent press release. The applicants will be narrowed down to five finalists who will pitch their business ideas at the 2021 SEMA Show in Las Vegas, NV. There, a panel of judges will select three winners to receive cash prizes in the amount of $5,000, $20,000 and $75,000 to directly benefit their business.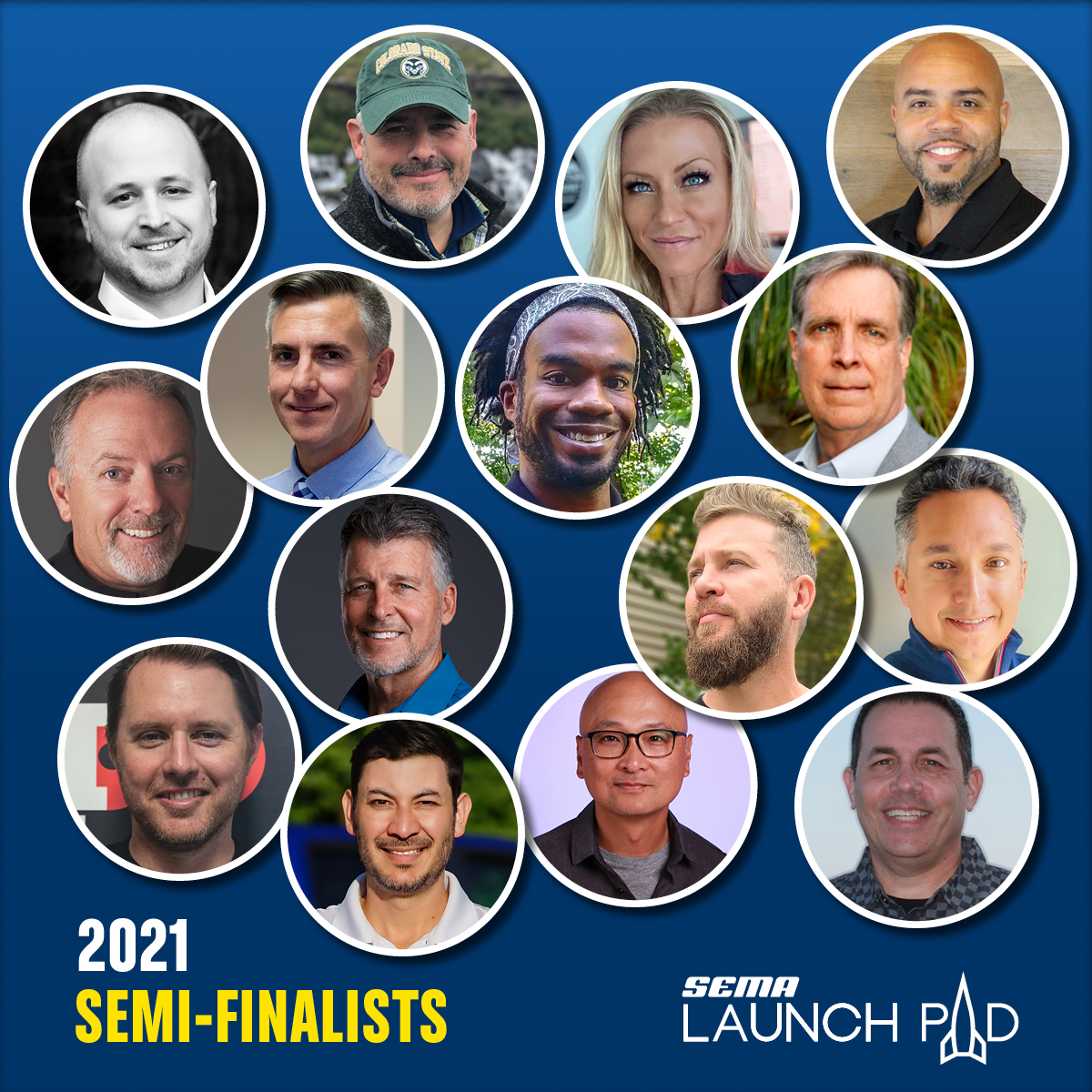 2021 SEMA Launch Pad Semi-Finalists:
Cameron Crummie, Owner, MDV
Product: Guard – Modular LED Bluetooth-controlled brush guard for trucks and SUVs.
Adam Gruener, CEO, Off Road In Mind
Product: RGB-Recovery Gear Box – Can be used for recovery gear, emergency gear, or for any other storage needs, and is typically attached to a spare tire on the back of a vehicle.
Jonathan Hurley, Owner, ToolBox Widget
Product: ToolBox Widget – Modular tool organizers that allow a mechanic to connect as many tool organizers together as needed, making them customizable to the mechanic.
Monika Kalenski, President and CEO, Removeable Trail Armor
Product: Removable Trail Armor – Printed side body protection paneling utilizing nano-hold technology to stick to aluminum and non-metal vehicles. Protects vehicles from scrapes and scratches when off-roading while adding style with printed graphics.
Brendan McGrath, CEO, Dyme Performance Systems Inc.
Product: Rattlesnake Toolkit – Toolkit that can measure the exact length and angle of a hose assembly down to the millimeter, significantly reducing time and cost.
Robert McKeirnan, President and Managing Partner, Stratos Meccanica LLC
Product: Strada and Corsa Concealed Quick Disconnect Interface – Concealed interface for mounting a license plate to the front of a vehicle. Does not require having to drill holes into the front bumper and does not require tools to remove once installed.
Product: Sawtooth STRETCH Tonneau Cover and Sawtooth SURFBOARD Cartop Carrier – Tonneau that loads, secures, and protects cargo taller than the pickup truck bed walls.
Alan Reyes, Co-founder and President, Xtrusion Designs LLC
Product: Modular Cargo Bedracks – Modular cargo solution that allows the usage of T-Slot aluminum profiles as its main component, allowing a complete customizable platform for the end user.
Kevin Robinson, President, TRAC LLC
Product: TRAC Tire Rotation Assistance Cart – Tool designed to simply lift and remove a wheel from a vehicle during service. The tool is designed to reduce workplace injuries while increasing productivity.
Paul Rooprai, CEO, AutoBio LLC
Product: AutoBio Tags – 2.5-inch round cling that goes inside the windshield and is embedded with technology (QR & NFC) that serves as a portal to a car's story and is scannable with a smartphone.
Michael Ruhs, Co-founder and CEO, TailHand
Product: TailHand – Customizable platform and accessories system that mounts directly to most pickup truck tailgates, providing an "extra hand" for securing tools and raw materials, transforming a tailgate into a versatile mobile-workstation.
Tom Sawarynski, Owner, Off-Road Research
Product: Smart Cap Module (SCM) – Allows any aftermarket shock absorber with a bridge or remote mounted reservoir to broadcast damper position to an external module or modules.
Michael Sullivan, Owner, Fox Products LLC
Product: RaZorTop Retractable Cap – Roll open tonneau cover that raises up to a full-size cap when needed and retracts by the press of a button on a wireless remote control.
Edward Tansingco, President, Thinskinz
Product: Thinskinz Door Protectors – Removable, hard plastic interior door panel protectors that snap onto OEM interior door panels without fasteners or adhesives to protect doors against damage from objects or pets inside the vehicle.
Dustin Woolf, Owner, Woolfpack Racing
Product: Natural Nitrous – Stand-alone refrigerated system for the air induction of the motor. It lowers the air charge and dehumidifies the moisture, which increases horsepower because there are dense oxygen atoms in the cylinder. It also lowers emissions because of the complete burn of the fuel.
Visit http://www.sema.org/launchpad to learn more.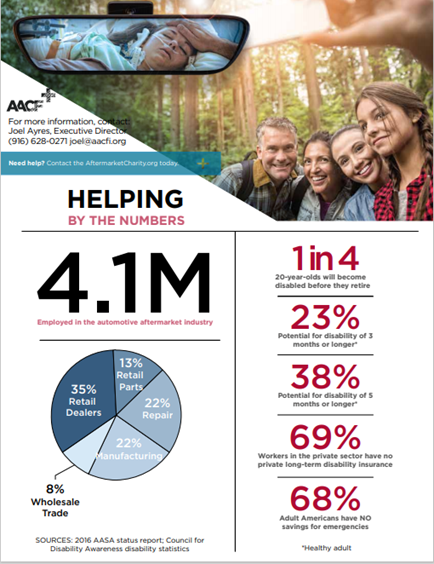 The Automotive Aftermarket Charitable Foundation was founded in 1959 to assist automotive aftermarket members and their families who, due to catastrophic illness or terrible accident, have exhausted all other available resources in maintaining a reasonable existence. The organization's mission is to provide sustainable solutions for those in calamitous situations.
Joel Ayres, Executive Director, asks for companies and individuals to join their cause of paying it forward – whether participating through the awareness partner program, hosting company fundraisers, becoming a sponsor or making a personal donation. For more information, contact Ayres at joel@aacfi.org.
KPI — July 2021: Recent Vehicle Recalls