While consumer confidence and sentiment are on the rise, sticky inflation, ongoing supply chain challenges and persistent labor shortages continue to impact consumers and business owners alike.
The Conference Board Consumer Confidence Index® climbed in December following back-to-back monthly declines. The Index now stands at 108.3 (1985=100), up notably from 101.4 in November. The Present Situation Index – based on consumers' assessment of current business and labor market conditions – increased from 138.3 to 147.2. The Expectations Index – based on consumers' short-term outlook for income, business and labor market conditions – improved from 76.7 to 82.4. Conversely, Expectations continue to linger around 80, a level associated with recession.
Conversely, the University of Michigan Survey of Consumers – a survey consisting of approximately 50 core questions covering consumers' assessments of their personal financial situation, buying attitudes and overall economic conditions – closed 2022 at a dismal 59.7.
"Sentiment continues to differ widely among demographic groups. Democrats, those earning more than $100K and those with a college degree show scores significantly higher than the total population. In contrast, Republicans, Independents, rural Americans and those earning less than $50K, continue to have significantly lower index scores," notes the Ipsos-Forbes Advisor U.S. Consumer Confidence Index.
The Consumer Sentiment Index January Preliminary Report, however, is currently 64.6 – up 4.9 (8.2%) compared to the December final, according to the University of Michigan Survey of Consumers. Joanne Hsu, director at Survey of Consumers, says consumer sentiment remains low from a historical perspective but looks promising for the second consecutive month.
According to Federal Reserve Vice Chair Lael Brainard, high inflation in the U.S is "easing." She says it is possible for the Fed's interest rate hikes to slow price acceleration without causing significant job losses, but small businesses continue to feel the squeeze.
According to the current NFIB Small Business Optimism Index, 32% of owners rate inflation as their top problem in business operations. Another 41% of owners point to job openings which remain hard to fill. Among owners reporting lower profits, NFIB says 30% blamed the rise in the cost of materials, 24% blamed weaker sales, 12% cited labor costs, 9% cited lower prices, 8% cited the usual seasonal change and 3% cited higher taxes or regulatory costs.
"Overall, small business owners are not optimistic about 2023, as sales and business conditions are expected to deteriorate," says Bill Dunkelberg, NFIB chief economist. "Owners are managing several economic uncertainties and persistent inflation, and they continue to make business and operational changes to compensate."
Professionals in the automotive, RV and powersports industries remain steadfast in their efforts to evolve their business models and grow their brands in the face of adversity. As such, the monthly Key Performance Indicator Report serves as an objective wellness check on the overall health of our nation, from the state of manufacturing and vehicle sales to current economic conditions and consumer trends. Below are a few key data points explained in further detail throughout the report:
This Month's Top Takeaways:
The Manufacturing PMI® registered 48.4%, 0.6 percentage point lower than the 49% recorded in November, according to supply executives in the latest Manufacturing ISM® Report On Business®.
The Consumer Price Index for All Urban Consumers (CPI-U) declined 0.1% in December 2022 on a seasonally adjusted basis, after increasing 0.1% in November, according to the U.S. Bureau of Labor Statistics. Over the last 12 months, the all-items index increased 6.5% before seasonal adjustment.
The NFIB Small Business Optimism Index declined 2.1 points in December to 89.8, marking the 12th consecutive month below the 49-year average of 98.
Total new vehicle sales for December 2022, including retail and non-retail transactions, are projected to reach 1,254,700 units – a 5.3% year-over-year increase, according to a joint forecast from J.D. Power and LMC Automotive.
Powersports Business says dealers across the country reported overall revenue growth in November 2022, according to composite data from more than 1,700 dealerships in the U.S. that utilize CDK Lightspeed DMS. On average, dealership parts revenue inched up .1%, service revenue climbed 14.2% and sales revenue increased 11%.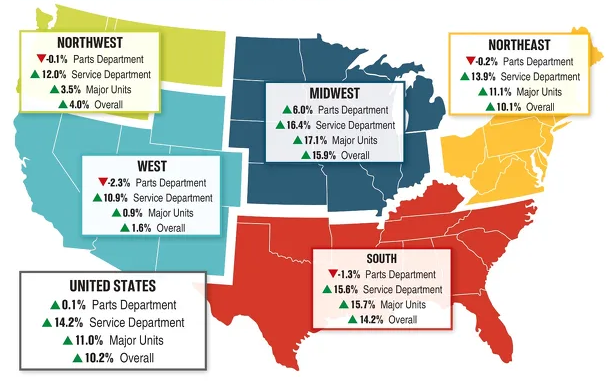 KPI — January 2023: State of Business — Automotive Industry
Key Performance Indicators Report — January 2023