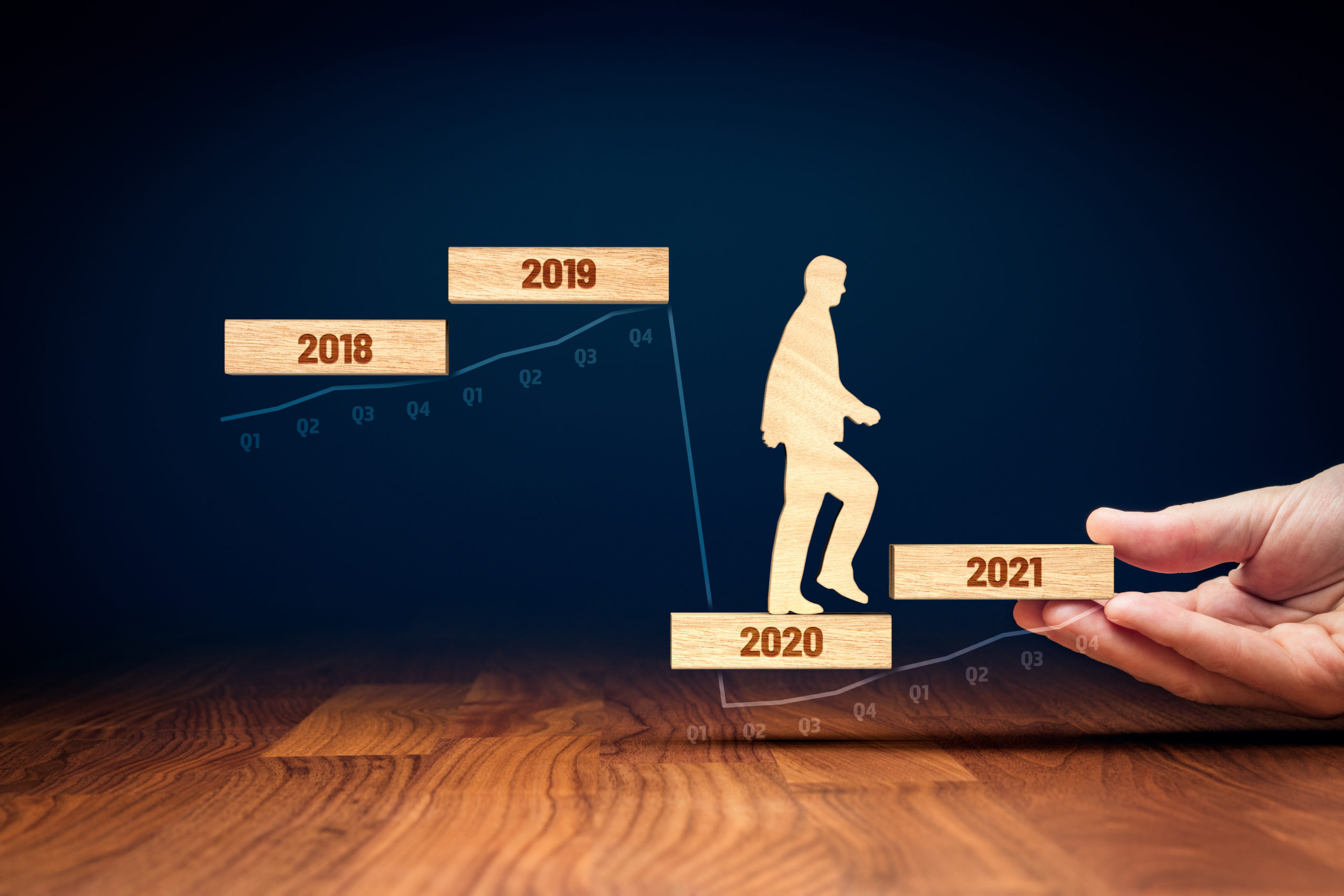 Nearly 104 million COVID-19 cases and 2.2 million deaths have been confirmed across 235+ countries, areas or territories.
Global markets remain hopeful of curbing the pandemic, leaning on the successful, albeit slow, deployment of Pfizer-BioNTech, Oxford-AstraZeneca and Moderna vaccines. In what could be a game-changer, a UK trial was launched to determine if administering different COVID vaccines for first and second doses is as effective as using the same type of vaccine twice, reported BBC News.
"The idea is to provide more flexibility with vaccine rollout and help deal with any potential disruption to supplies. Scientists say mixing jabs could also possibly give even better protection," added BBC News.
Global COVID-19 Cases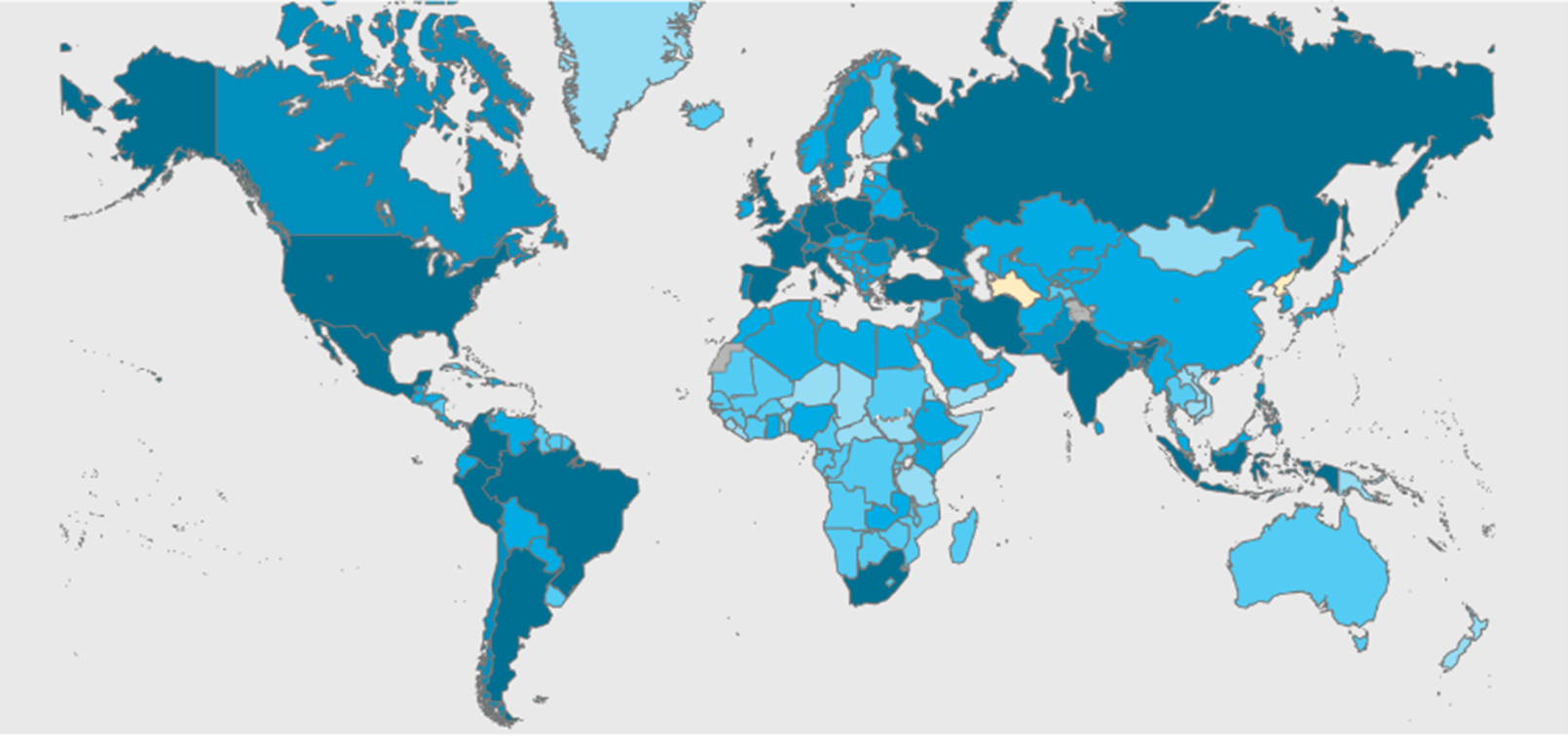 Stateside there are 26,172,274 confirmed cases and 443,256 deaths, with California, Texas, Florida and New York reporting the highest numbers.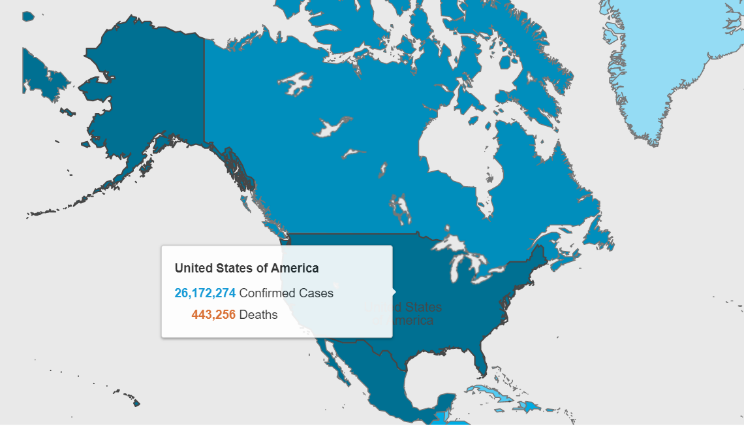 Officials are rolling out "a patchwork of restrictions" due to a rise in COVID-19 cases, according to USA Today. The orders vary by state, county and even city. Review a comprehensive list of current restrictions here.
COVID-19 Cases by State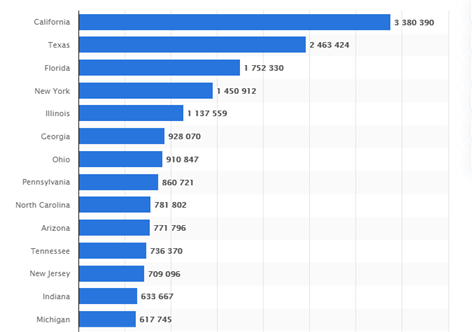 As of February 5, 2021, the state with the highest number of COVID-19 cases is California, which, coincidentally, also has imposed some of the strictest government orders throughout the pandemic. Almost 26.7 million cases have been reported across the U.S., with California, Texas, Florida and New York reporting the highest numbers.
While the U.S. is steering toward recovery, economic impacts remain widespread and challenges are ahead. The Consumer Sentiment Index—a survey consisting of approximately 50 core questions covering consumers' assessments of their personal financial situation, buying attitudes and overall economic conditions—finished at 79 in January, which is down 1.7 from a month prior and remains well below the average of 97 from 2017 to 2019, according to University of Michigan Survey of Consumers.
Conversely, The Conference Board Consumer Confidence Index® improved moderately in January, after decreasing in December. The Index now stands at 89.3 (1985=100), up from 87.1 in December.
While U.S. retail sales posted a slight monthly decline, holiday sales were solid. As reported in the December Key Performance Indicator Report, the National Retail Federation (NRF) predicted holiday sales to increase approximately 3.6% – 5.2% year-over-year, or a total of $755.3 billion to $766.7 billion. However, final calculations show unexpected growth closer to 8%, thereby exceeding the National Retail Federation's holiday forecast.
Economists are optimistic that as Americans get past the worst of the pandemic, they will be eager to act upon pent-up demand.
Many small businesses across the country continue to struggle, but professionals in the automotive aftermarket, powersports and RV industries remain steadfast in their efforts to evolve their business models and grow their brands. As such, the monthly Key Performance Indicator Report serves as an objective wellness check on the overall health of our nation, from the state of manufacturing and automotive industry to current economic conditions and consumer trends.
Below are a few key data points explained in further detail throughout the report:
The Conference Board revised its real GDP projection, expecting a 3.5% (annualized rate) increase during 4Q20 and 2% in 1Q21.
Total nonfarm payroll employment declined by 140,000 in December after increasing 245,000 in November.
Employment declines in leisure and hospitality, private education and government were partially offset by gains in professional and business services, retail trade, construction, as well as transportation and warehousing.
The Consumer Price Index for All Urban Consumers (CPI-U) increased .4% in December on a seasonally adjusted basis after rising .2% a month prior.
Posting a 15.5% decline, 2020 will go on record as the lowest sales year for new vehicles since 2011.
In December, 165,713 total fleet units were sold, compared to 132,145 in November. Combined sales among large rental, commercial and government buyers were down 25% year-over-year in December, according to Cox Automotive, which estimates fleet sales are down 36% for the year.
The NFIB Small Business Optimism Index declined 5.5 points in December to 95.9, falling below the average Index value since 1973 of 98.

Nine of the 10 Index components declined and only one improved. Owners expecting better business conditions over the next six months declined 24 points to a net negative 16%.
"This month's drop in small business optimism is historically very large and most of the decline was due to the outlook of sales and business conditions in 2021," said Bill Dunkelberg, NFIB chief economist. "Small businesses are concerned about potential new economic policy in the new administration and the increased spread of COVID-19 that is causing renewed government-mandated business closures across the nation."
Readers are encouraged to study the most current Small Business Optimism Index.
Important Takeaways, Courtesy of NFIB
The NFIB Uncertainty Index decreased eight points to 82.
The percentage of owners thinking it is a good time to expand decreased four points to 8%.
Sales expectations over the next three months declined 14 points to a net negative 4%.
Earnings trends over the past three months declined seven points to a net negative 14% reporting higher earnings.
The monthly Key Performance Indicator Report is your comprehensive source for industry insights, exclusive interviews, new and used vehicle data, manufacturing summaries, economic analysis, consumer reporting, relevant global affairs and more. We value your readership.