Features
KPI — February 2021: State of Business: Automotive Industry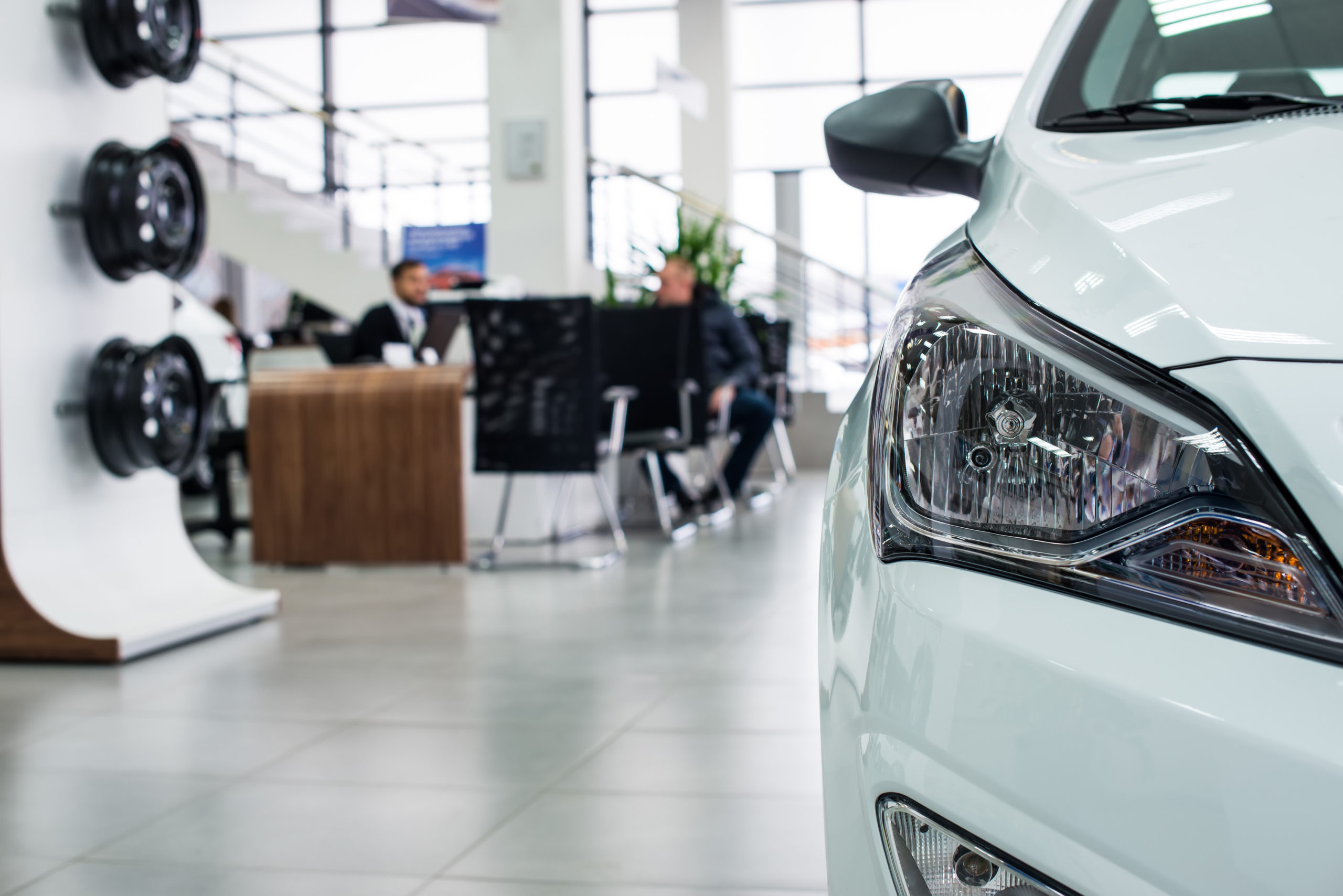 The final tally is in: Posting a 15.5% decline, 2020 will go on record as the lowest sales year for the automotive industry since 2011. However, a total of 14.5 million vehicles sold is much better than originally forecasted and quite admirable when considering the unprecedented global disruptions created by the outbreak of COVID-19, according to Edmunds.
"Thinking back to the dire state of the market at the outset of the pandemic, it's such a testament to the incredible durability of the entire automotive industry—and the resilience of the American consumer— that we've seen such a healthy rebound in new car purchases this year," said Jessica Caldwell, executive director of insights at Edmunds.
"A big comeback story of 2020 is without a doubt the recovery of retail vehicle sales, which have nearly returned to pre-pandemic levels," added Caldwell.
Indeed, no sector within the automotive industry was unaffected, whether negatively or positively. For example, lease credit approval rates rose to 72.7% in December. Recently, Swapalease.com—a national car leasing online marketplace—released high and low lease consideration details regarding some popular automotive brands, using Q4 2020 versus Q4 2019 as its baseline.
The results indicate: Tesla—+55%, BMW—+23%, Toyota—+9%, Lexus—+4%, Chevy—+2%, Silverado as a model—+39%, Ford—+2%, F150 as a model—-17%, Honda—+1%, Nissan—-7% and Infiniti—-30%.
Brands with unfavorable leasing policies reported either flat growth or declines in consideration for the year, such as Honda +1%, Nissan -7% and Infiniti -30%.
Noteworthy, "2020 was the first year Swapalease.com saw such explosive growth in consideration for Tesla, and it is interesting to see consideration grow for the Chevy Silverado (+39%), yet fall for the Ford F150 (-17%)," said John Sternal of Merit Mile—a digital marketing and public relations firm based out of Boca Raton, FL.
Outlook: In 2021, expect even more strategic partnerships, mergers and acquisitions, technological advancement and political agendas to impact the automotive industry—a reality most executives have been preparing to face for some time.
During her keynote address at the 2021 Consumer Electronics Show, General Motors CEO Mary Barra discussed this moment in history as an "inflection point" not only for advances in automotive technology but also for the political and environmental future of society as a whole, noted David Benjamin, author of General Motors CEO Boldly Foresees 'All-Electric Future'.
Click here to review a full rundown of important 2020 takeaways and 2021 predictions.
New and Used Vehicle Sales
Global light vehicle sales finished on a high note in December, posting another pre-pandemic selling rate record of 91.6 million units, according to LMC Automotive.
"After revising November upward, December also marks the fourth consecutive month well above the selling rate of 90 million units. The month was 2.5% stronger than December 2019, with continued support from China and the United States. In addition, some stability returned to volatile markets like South America and parts of Europe. Global light vehicle sales in 2020 ended at 77.7 million units—down 14%—as improvement in the second half of the year drove the recovery," explained Jeff Schuster, president of Americas operations and global vehicle forecasts at LMC Automotive.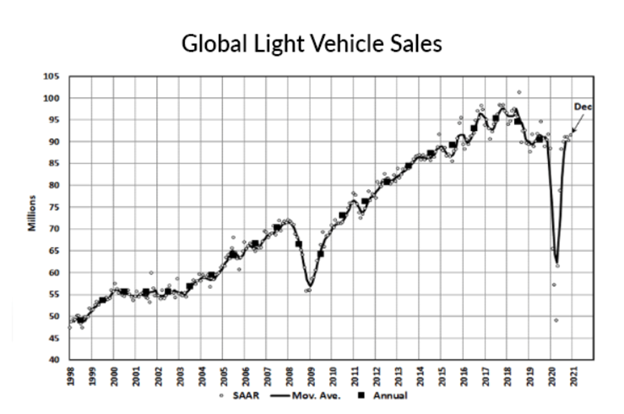 The 2021 forecast is a theme of continued recovery. Volume is projected to increase to 86.4 million units, an 11% increase from 2020, but the impacts of the pandemic are not behind us. "There are new risks emerging, such as the global semiconductor shortage and the potential for additional disruptions. Our initial assessment suggests there could be weakness in the first quarter due to vehicle production losses related to the lack of chips, but we don't expect a lasting negative effect on the year," said Schuster.
Stateside, total new-vehicle sales during January are projected to hit 1,073,100 units, a slight year-over-year decrease of .9%, according to J.D. Power.
While supply chain disruptions threaten overall recovery, "January continues the strong performance observed in Q4 of 2020 and points to a positive outlook for the balance of 2021," said Thomas King, president of the data and analytics division at J.D. Power. "The growth in retail sales is encouraging, especially as it is being achieved with higher transaction prices and lower incentive levels. While retail demand remains strong, non-retail sales are still recovering, which is hampering total vehicle sales and SAAR."
Important Takeaways, Courtesy of J.D. Power:
Inventory remains lean. The average number of days a new vehicle sits on a dealer lot before being sold is on pace to fall to 51 days, down 19 days from last year.
The average incentive from manufacturers on new vehicles is on pace to be $3,639 per vehicle, a decrease of $510 from a year ago. Expressed as a percentage of the average vehicle MSRP, incentives for January are 8.4%, down two percentage points from a year ago, and the sixth consecutive month below 10%.
Average transaction prices are expected to reach another monthly high, rising 8.4% to $37,165—the highest ever for the month of January and just below the record set in December 2020.
Low interest rates and higher trade-in values also are supporting higher transaction prices.
Used Market
Wholesale used vehicle prices (on a mix-, mileage- and seasonally adjusted basis) increased .7% during the first 15 days of January compared to the month of December—bringing the mid-month Manheim Used Vehicle Value Index to 162.3, a 14.6% increase from January 2020.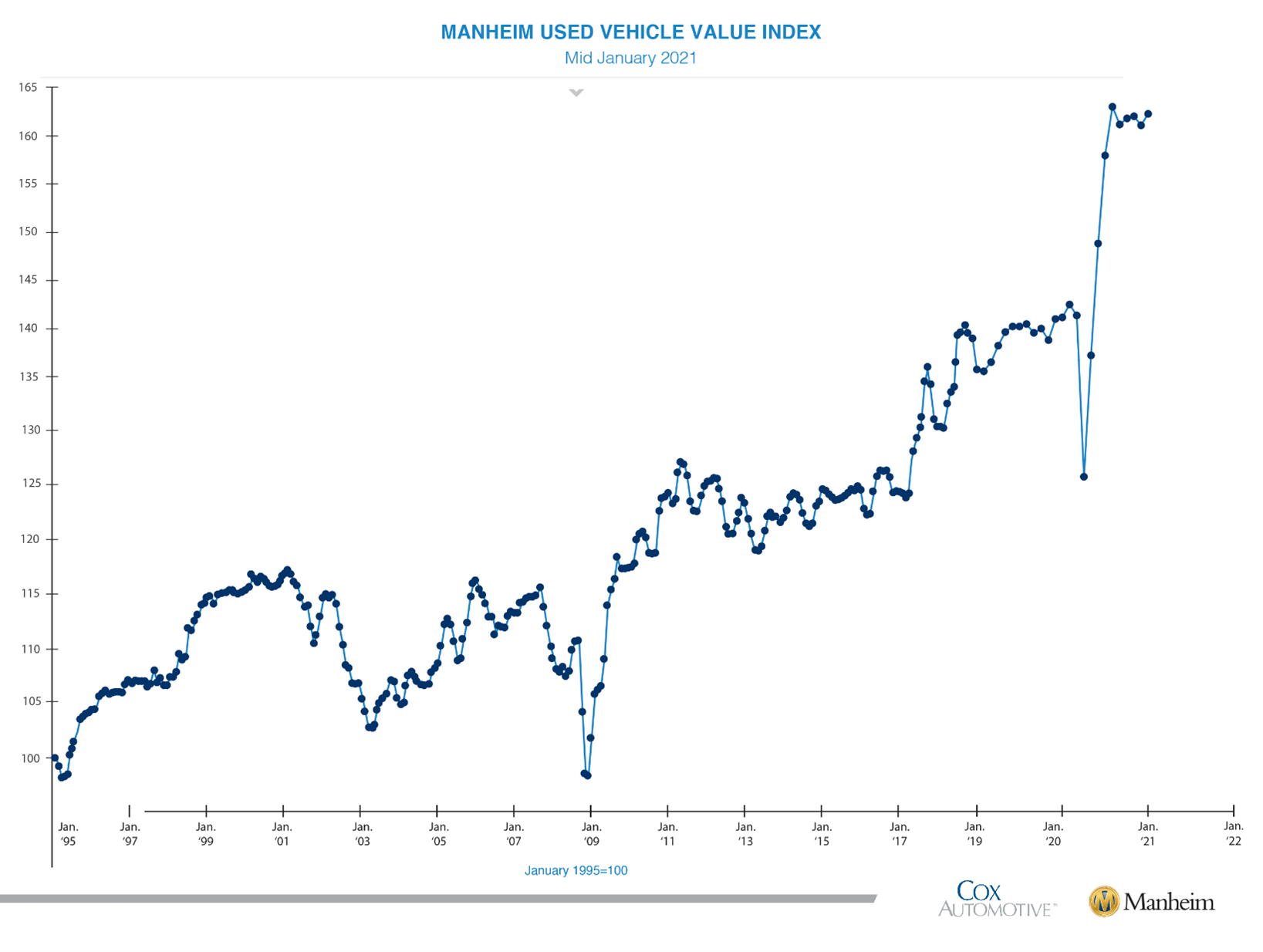 On a year-over-year basis, all major market segments posted seasonally adjusted price increases in the first 15 days of January. Luxury cars and pickup trucks outperformed the overall market, while most other major segments underperformed the overall market, according to Manheim.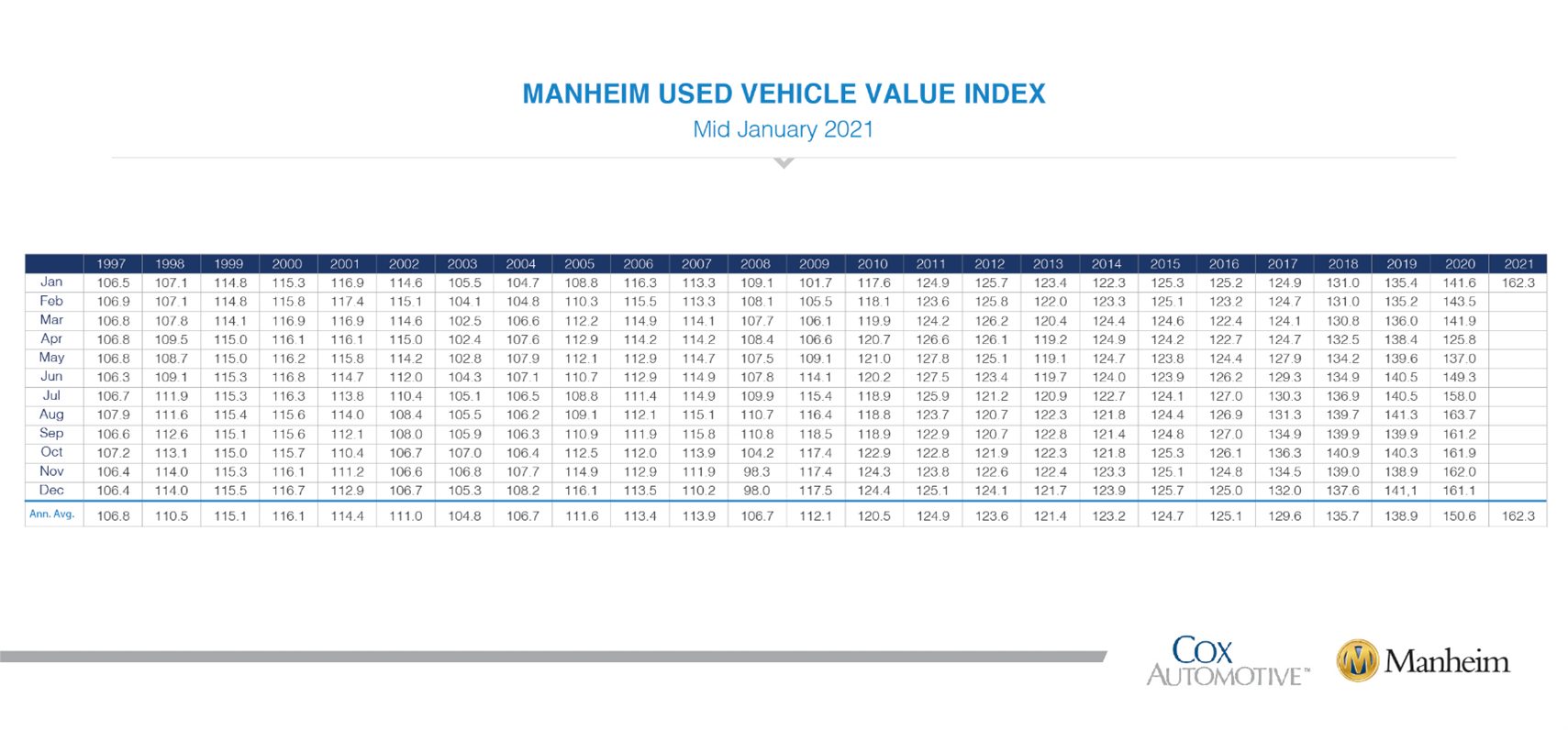 Manheim Synopsis: Auto loan performance deteriorated again in December, but performance remains better than last year and much better than what would have happened in a typical recession. Loan delinquencies and defaults have been low because of stimulus support and loan accommodations. Equifax estimates that 2.8% of auto loans were under an accommodation as of Dec. 29, which was down from 3.1% on Nov. 30 but was 2.1 percentage points higher than February. That 2.1% represents more than 1.5 million auto loans that likely would have fallen into delinquency and possibly complete default by now. In December, 1.40% of auto loans were severely delinquent, which was an increase from 1.31% in November; 5.03% of subprime loans were severely delinquent, which was an increase from 4.72%. Sixty-day delinquencies have increased in each of the last five months, but delinquencies were down 22% year-over-year in December. Better than normal loan performance and strong vehicle values have helped auto credit access improve in recent months. Our Dealertrack Auto Credit Index measured loosening of credit in September, October, November and December; but credit remains tighter than February and a year ago.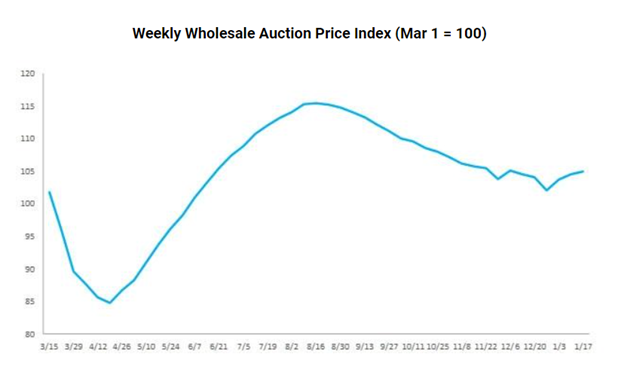 Wholesale auction prices continued to rise during the week ending Jan. 17, according to J.D. Power. Last week prices improved 0.5%, extending the longest streak of week-over-week price increases in the wholesale market since August 2020. Wholesale prices are now 23% higher than their trough in April 2020, and 5% above their level at the beginning of March 2020, the company said.
Automotive Aftermarket
This year's SEMA360 experience revealed far more than creative vehicle builds, new products and desirable trends for 2021. It really peeled back the layers and confirmed "while we may be eager to leave 2020 firmly planted in the rearview, the challenges of the past year don't just evaporate on January 1," said Michele Boyarsky, author of 2021 Automotive Aftermarket Outlook and Trends.
That said, "Enthusiasts have proven car culture is bigger than COVID. And while we may need to stick a pin in viable economic predictions, no such hesitation exists where automotive passion is concerned," she added.
The aftermarket remains as flexible as it is resilient, "exceeding expectations in the face of changing consumer interest, stifling government regulation and a nerve-wracking ICE-to-EV paradigm shift," said Boyarsky.
So, what automakers are serving as an inspiration to the aftermarket in 2021? Click here, here and here to review a few of many.
Automotive Aftermarket Charitable Foundation
This resiliency extends to the Automotive Aftermarket Charitable Foundation–founded in 1959 to assist automotive aftermarket members and their families who, due to catastrophic illness or terrible accident, have exhausted all other available resources in maintaining a reasonable existence.
The organization's mission is to provide sustainable solutions for those in calamitous situations. As such, a calling to do good is at the core of every highly-experienced industry executive who contributes his or her time to the cause.
The foundation relies on the generous financial and volunteer assistance of others across the industry in order to keep the organization afloat—understandably, a tall order during these trying times. Certainly, it was the kind of year that required everyone to pivot. Board meetings went virtual, travel and volunteer opportunities were postponed and fundraising opportunities were slim.
"It was more difficult with companies trying to just survive themselves. Plus, people working from home made it more difficult to fundraise, solicit donations and gain awareness for recipients," explained Joel Ayres, Executive Director.
Regardless, "Our volunteer board members remained active and continued to give much their time, even though they faced personal struggles," added Ayres. The generosity of our industry is second to none, he pointed out. "We still had many companies and individuals step up and donate even as they were facing their own fears and challenges."
Case in point, historically, AACF's major fundraiser is the annual golf tournament during AAPEX/SEMA week in Las Vegas, NV. The event was canceled due to COVID-19, but the foundation refused to let the unfortunate setback stifle its ability to secure funding for those who need it most.
"With innovative brainstorming by our Golf Committee, we arranged for Topgolf sites throughout the U.S. to host a virtual tournament. Based on the donations received, this was a major success," said Ayres.
Congratulations to the winners at TR Wholesale Solutions, who participated in Indianapolis, IN. First runner-up was awarded to Federated Auto Parts team, based in Richmond, VA, while Interstate Batteries out of Columbus, OH took second runner-up. A special thank you to Truck Hero for sponsoring trophies and gift cards to the winning teams.
Looking ahead, Ayres asks for companies and individuals to join their cause of paying it forward—whether participating through the awareness partner program, hosting company fundraisers, becoming a sponsor or making a personal donation.
Important Industry News