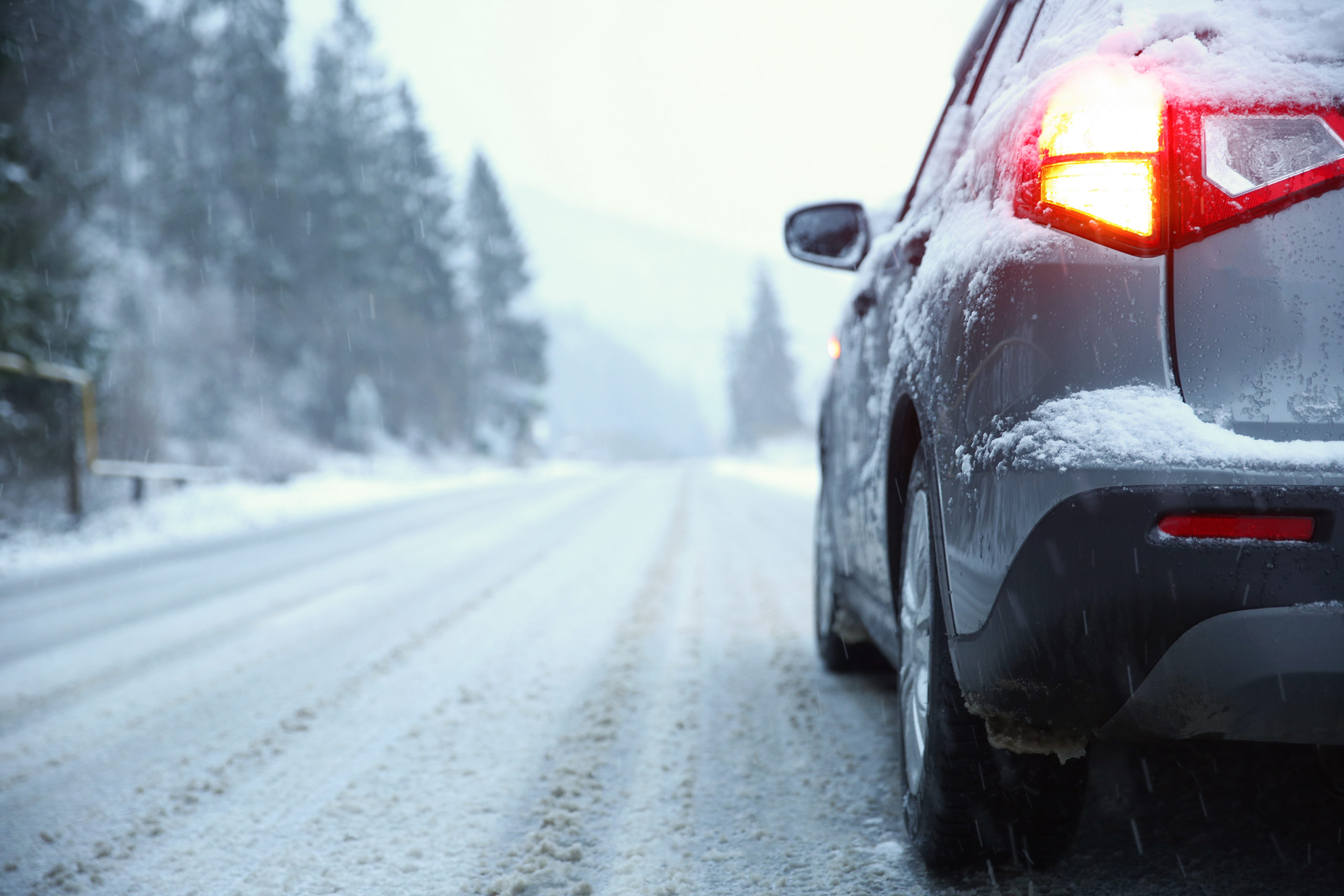 COVID-19 continues to infiltrate, impact and divide every facet of society as countries seek to balance public and economic health. Nearly 73 million cases and 1.64 million deaths have been confirmed across 235+ countries, areas or territories.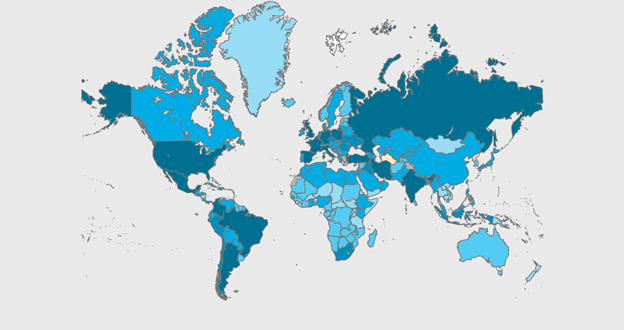 Global COVID-19 Cases
Another wave of COVID-19 is being monitored on an international scale, with various European countries imposing new stay-at-home mandates.
Approximately 12.8 million Canadians have been tested for coronavirus, with nearly 489,000 confirmed cases and 13,900 deaths. Toronto, Canada's largest city, recently entered a month-long shutdown, with officials closing shops, businesses and restaurants, as well as banning indoor gatherings to curb a growing spike in COVID-19 cases, according to news reports.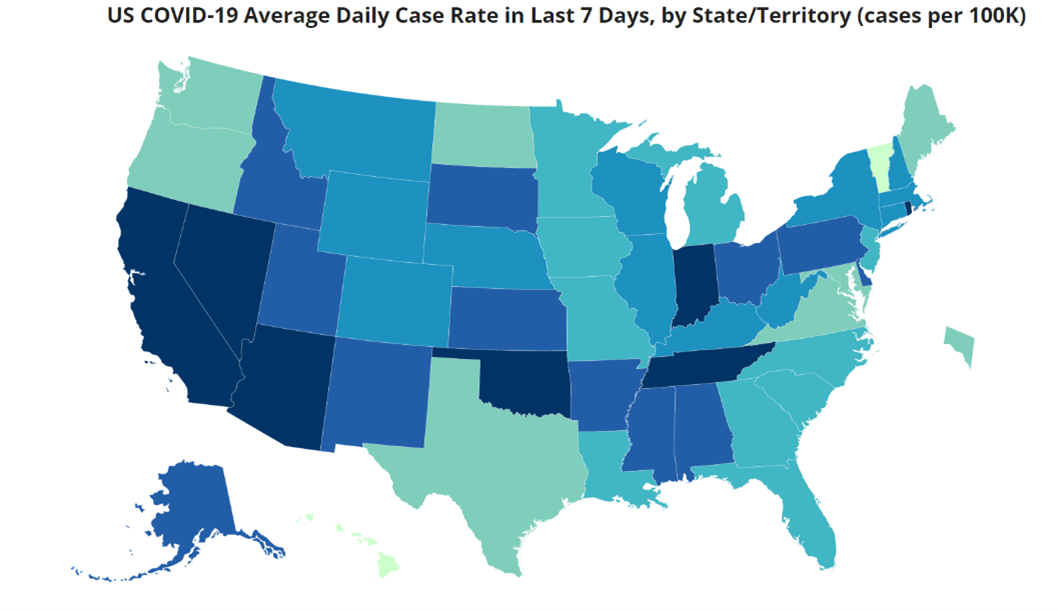 In the U.S., there are 16,756,581 confirmed cases and 306,000 deaths, with California, Texas, Florida and Illinois reporting the highest numbers.
Officials are rolling out "a patchwork of restrictions" due to a rise in COVID-19 cases, according to USA Today. The orders vary by state, county and even city. Review a comprehensive list of current restrictions here.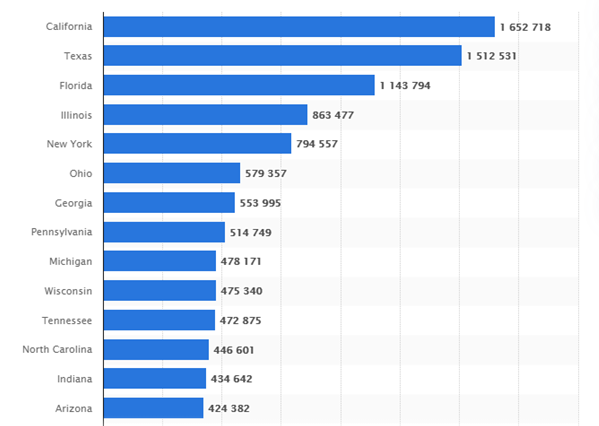 As of December 16, 2020, the state with the highest number of COVID-19 cases was California, which, coincidentally, also has imposed some of the strictest government orders throughout the pandemic. Over 16.7 million cases have been reported across the United States, with California, Texas, Florida and Illinois reporting the highest numbers, according to Statista.
Global markets are reacting positively to recent news of two COVID-19 vaccines by Pfizer-BioNTech and Moderna showing more than 90% effectiveness in late-stage trials. However, economic impacts due to the pandemic remain widespread, with tens of millions left unemployed to face new challenges.
While the U.S. is steering toward recovery, challenges are ahead. The Consumer Sentiment Index—a survey consisting of approximately 50 core questions covering consumers' assessments of their personal financial situation, buying attitudes and overall economic conditions—finished at 76.9 in November, down from 81.8 in October and far below last November's 96.8, according to University of Michigan Survey of Consumers.
The Conference Board Consumer Confidence Index® declined in November as well, after remaining relatively flat in October.
Furthermore, for the first time since April, U.S. retail sales declined in spending at stores, car dealerships, restaurants and eCommerce during November, reported Retail Touchpoints®, an online publishing network for retail executives.
Many small businesses across the country continue to struggle, but professionals in the automotive aftermarket, powersports and RV industries remain steadfast in their efforts to evolve their business models and grow their brands. As such, the monthly Key Performance Indicator Report serves as an objective wellness check on the overall health of our nation, from the state of manufacturing and automotive industry to current economic conditions and consumer trends.
Below are a few key data points explained in further detail throughout the report:
Read this month's SPECIAL REPORT: State of Business to learn what industry leaders have to say about a challenging year, market conditions, new product development and a bright future.
Real economic growth is likely to rise by 2.8%* (annualized rate) in 4Q20, while the U.S. economy continues to wrestle with the COVID-19 pandemic, said The Conference Board.
Total nonfarm payroll employment increased by 245,000 in November, and the unemployment rate decreased to 6.7%.
Notable job gains occurred in transportation and warehousing, professional and business services, as well as health care. Employment declined in government and retail trade.
The Consumer Price Index for All Urban Consumers (CPI-U) increased .2% in November on a seasonally adjusted basis after being unchanged in October, reported the U.S. Bureau of Labor Statistics.
The November Manufacturing PMI® registered 57.5%, down 1.8 percentage points from the October reading of 59.3%.
Total new-vehicle sales for the month of November, including retail and non-retail transactions, are projected to reach 1,208,100 units, a 3.5% year-over-year decrease when adjusted for selling days. Reporting the same numbers without controlling for the number of selling days translates to a year-over-year decrease of 14.6%, according to a joint forecast from J.D. Power and LMC Automotive.
In November, 132,145 total fleet units were sold, compared to 132,560 in October. Combined sales into large rental, commercial and government buyers were down 29% year-over-year, according to Cox Automotive.
The NFIB Small Business Optimism Index declined 2.6 points in November to 101.4 but remains well above the 47-year historical average reading of 98.

Six of the 10 Index components declined and four increased. The NFIB Uncertainty Index decreased eight points to 90, still a historically-high reading. Owners expecting better business conditions over the next six months declined 19 points to a net 8%.
"Small business owners are still facing major uncertainties, including the COVID-19 crisis and the upcoming Georgia runoff election, which is shaping how they're viewing future business conditions," said Bill Dunkelberg, chief economist at NFIB. "The recovery will remain uneven as long as we see state and local mandates that target business conditions and disproportionately affect small businesses."
Readers are encouraged to study the most current Small Business Optimism Index.
Important Takeaways, Courtesy of NFIB
Earnings trends over the past three months declined four points to a net negative 7% reporting higher earnings quarter over quarter.
Inventory investment plans for the next 3 – 6 months decreased seven points from a 48-year record high of a net 12% in October to a net 5% in November.
The monthly Key Performance Indicator Report is your comprehensive source for industry insights, exclusive interviews, new and used vehicle data, manufacturing summaries, economic analysis, consumer reporting, relevant global affairs and more. We value your readership.
KPI — December: Special Report: State of Business