Features
KPI — December: New and Used Vehicle Sales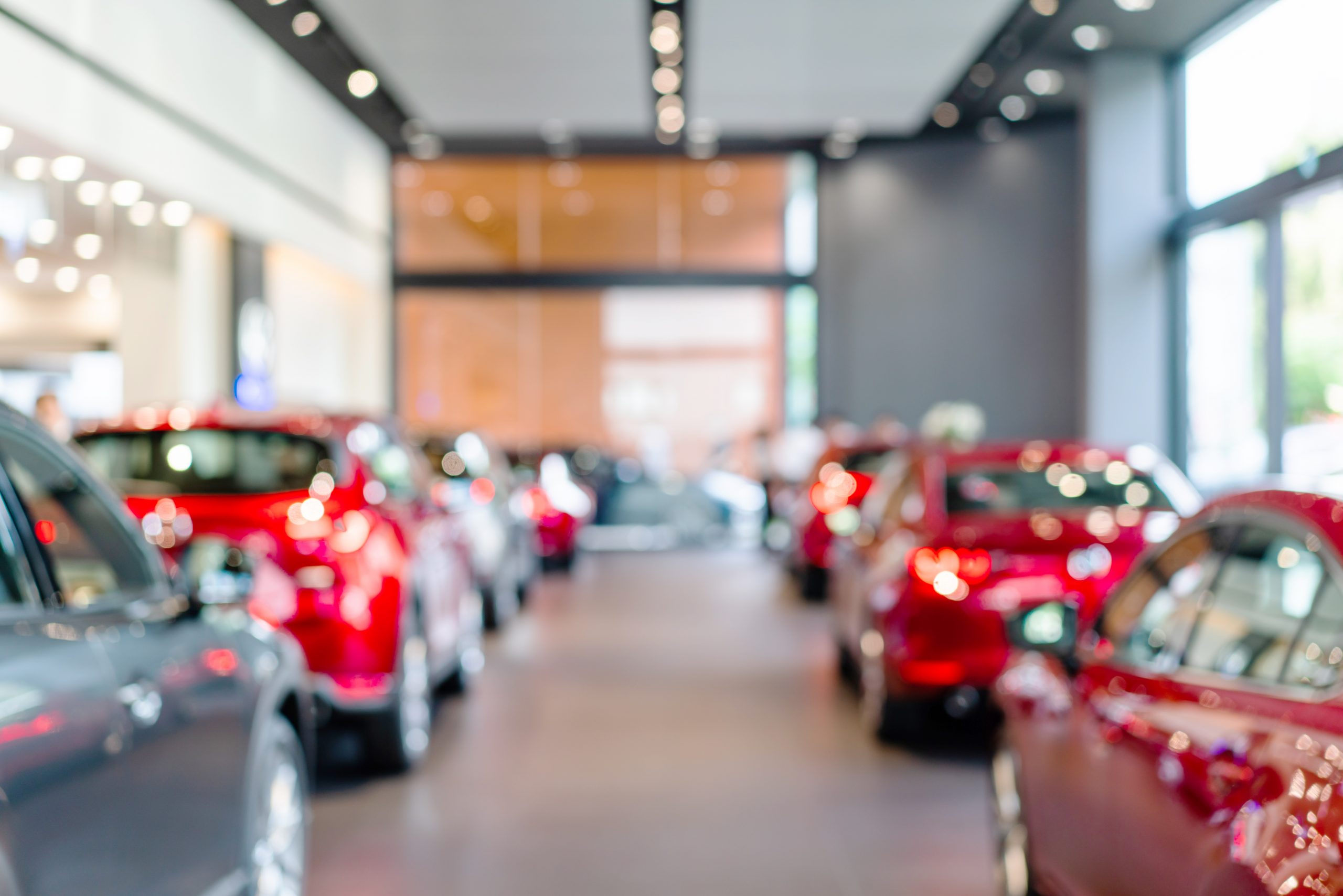 New Vehicle Sales
Total new-vehicle sales weakened in November, with three fewer selling days compared to last year. The SAAR registered at 15.6 million, a notable decrease compared to 16.3 million in October and 17 million a year ago, according to Cox Automotive.
New light-vehicle sales fell to approximately 1.21 million units—a decline of 11% month-over-month and 14.8% year-over-year; however, "SUVs and trucks are on pace to account for a combined 78% of retail sales compared with 74% a year ago," according to J.D. Power.

Despite the dip in total new vehicle sales, "the overall automotive market sales pace does not appear to have fallen significantly in November and will likely end the year near our projected 14.3 million," said Charlie Chesbrough, senior economist at Cox Automotive.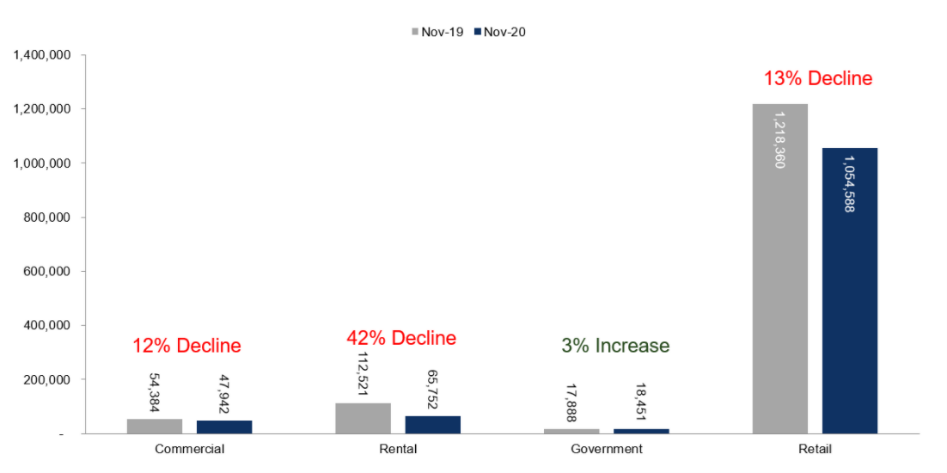 In November, 132,145 total fleet units were sold compared to 132,560 in October. Combined sales into large rental, commercial and government buyers were down 29% year-over-year. Cox Automotive estimates fleet sales are down 38% through November 2020, with retail sales down 12% and the overall new-vehicle market down 17% to date.
Important Takeaways, Courtesy of Cox Automotive
With factories back to nearly full production and sales slowing, new-vehicle inventory climbed during November—though it remains below normal. Total supply is up 18% from early September but remains 19% below last year's volume.
2021 models are finally arriving at dealerships in significant numbers. Of all available inventory, 53% is model year 2021, which is close to the 54% of the new model year offerings available a year ago at this time.
December opened with a days' supply of 75, up from 65 in early November but off from last year's 88. Non-luxury vehicle inventory was at 75 days' supply. Luxury vehicle inventory was at 71 days' supply.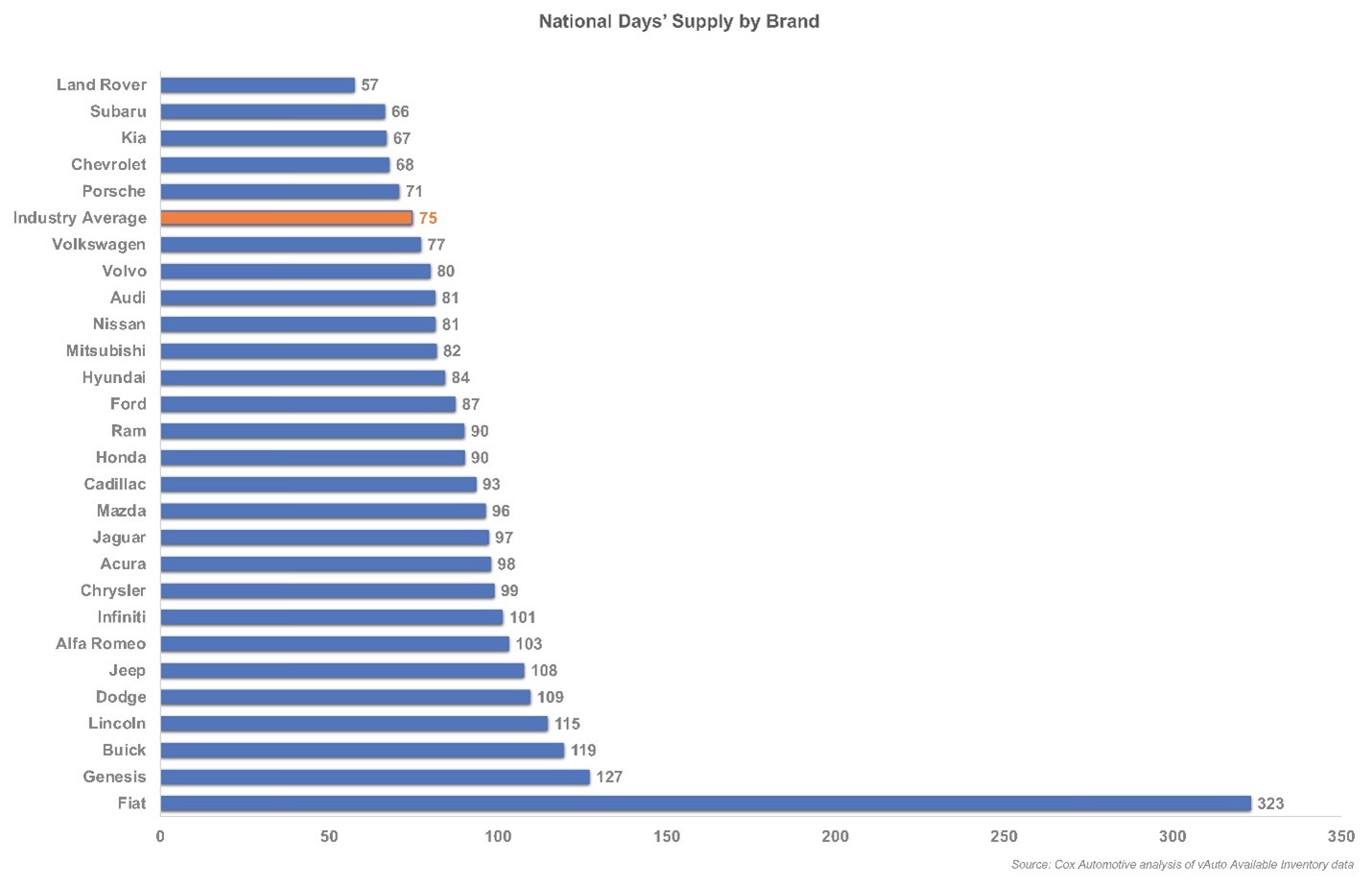 The total U.S. supply of available unsold new vehicles stood at 2.87 million as December opened. That is up from 2.67 million at the start of November but is well below last year's 3.56 million vehicles.
New-vehicle list prices were up 3.5% compared to the first week of January and up 6.7% since the start of pandemic-driven lockdowns. Despite rising inventories and softening sales, list prices continued to climb, nearly hitting the $40,000 mark for the first time. *The year's low point was $37,211 in March at the height of pandemic-triggered lockdowns. The average list price of a non-luxury new vehicle was $36,660 in November. The average list price of a luxury vehicle was $57,222.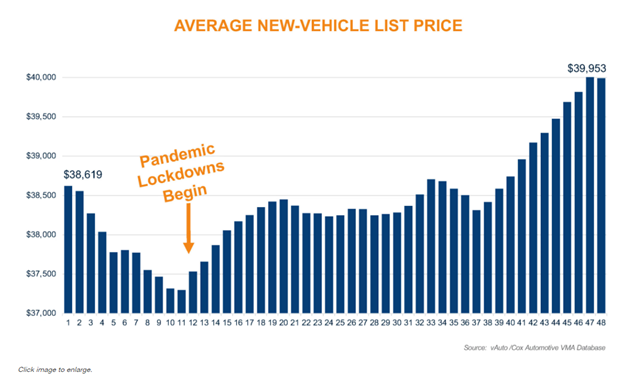 Dealer sentiment significantly decreased in Q4, according to the latest Cox Automotive Dealer Sentiment Index (CADSI). The overall current market index dropped below the positive threshold into negative territory with a score of 49, a statistically significant seven-point decrease from last quarter's 56. Year-over-year, the current market index was up by two points.
Used Vehicle Sales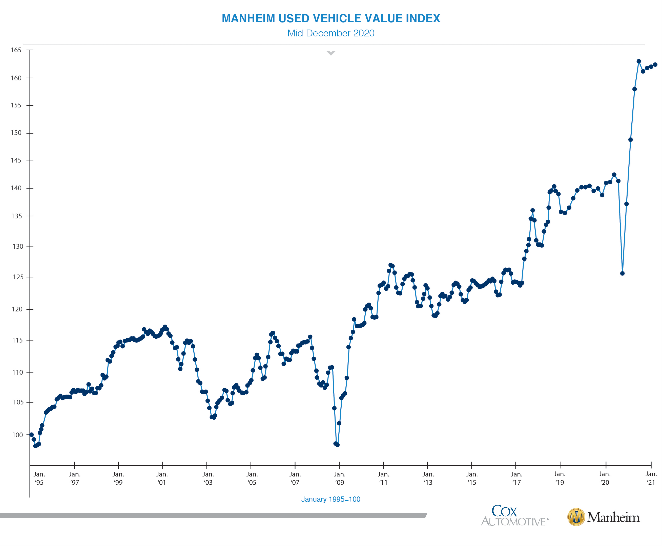 Like many (surprise) success stories during the pandemic, an unprecedented period of uncertainty and "existential crisis" presented a boom in the buying and selling of used vehicles, said Eric Rosenbaum, CNBC contributing writer.
Wholesale used vehicle prices (on a mix-, mileage- and seasonally adjusted basis) increased .4% during the first 15 days of December compared to November—bringing the mid-month Manheim Used Vehicle Value Index to 162.6, a 15.3% year-over-year increase.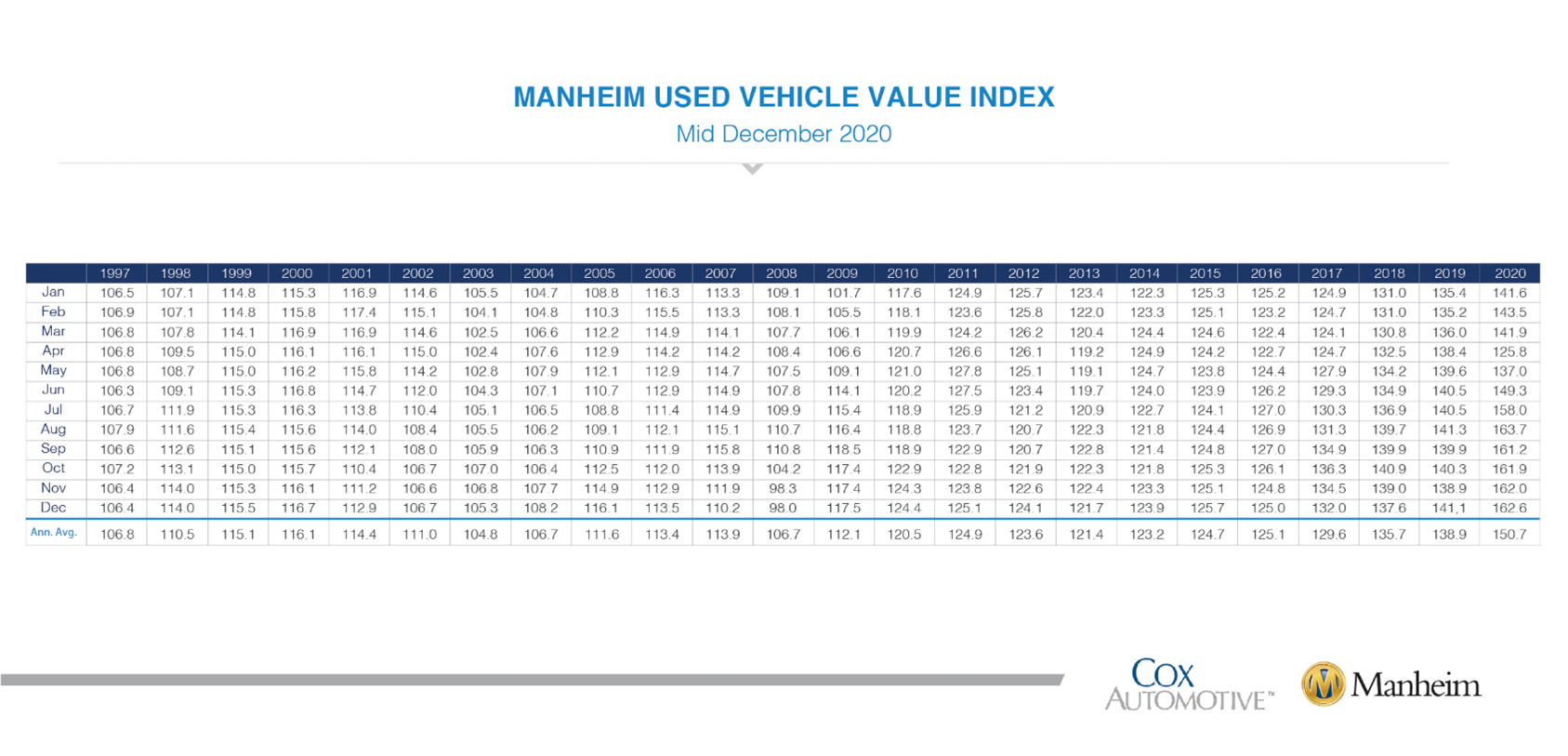 "The increase observed thus far in December is primarily a reflection of mix shift, rather than seasonal adjustments as we had observed in the prior two months," explained Manheim. "The reason the average prices increased in December is more expensive vehicles are being sold, especially pickups and SUVs. The first half of December also saw a notable increase in younger vehicles as the share of model year 2018s also grew substantially," according to the company.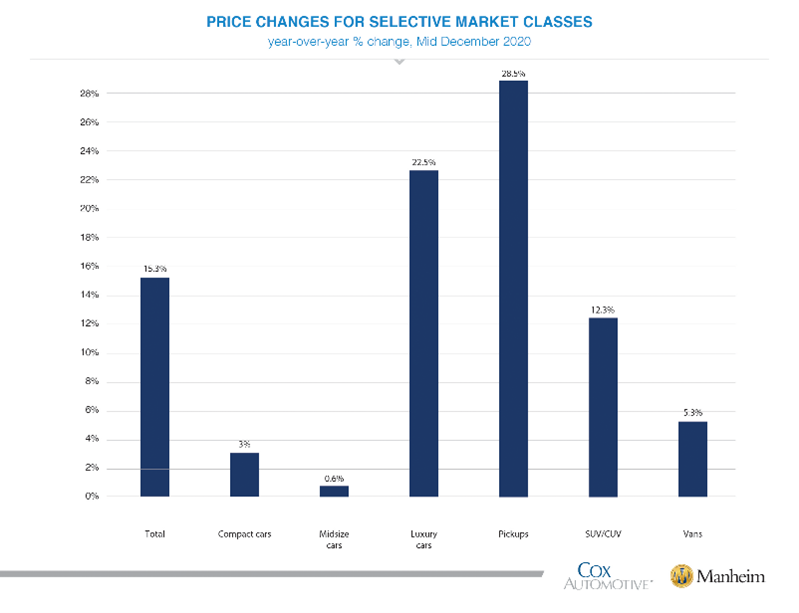 On a year-over-year basis, all major market segments saw seasonally adjusted price increases in the first 15 days of December. Luxury cars and pickup trucks outperformed the overall market, while most other major segments underperformed the overall market.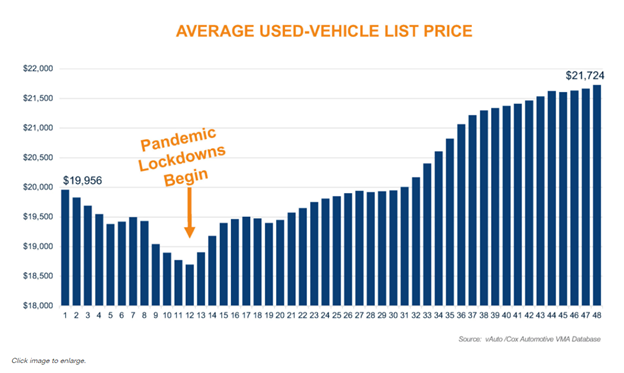 Used-vehicle list prices are up 8.8% since the beginning of the year.
Additionally, Cox Automotive calculates a 13-month rolling used-vehicle SAAR. According to recent estimates, total used-vehicle sales volume decreased 10.3% year-over-year in November, with a used SAAR of 37 million—a dip from 38 million in October and 39.7 million last November.
The used retail SAAR takes the calculations a step further by only reporting used vehicles sold via a dealership (both franchised and independent), thereby removing private party sales from the equation. The November used retail SAAR estimate is 19.6 million, down from 20.7 million last year and down month over month from October's 20.2 million rate.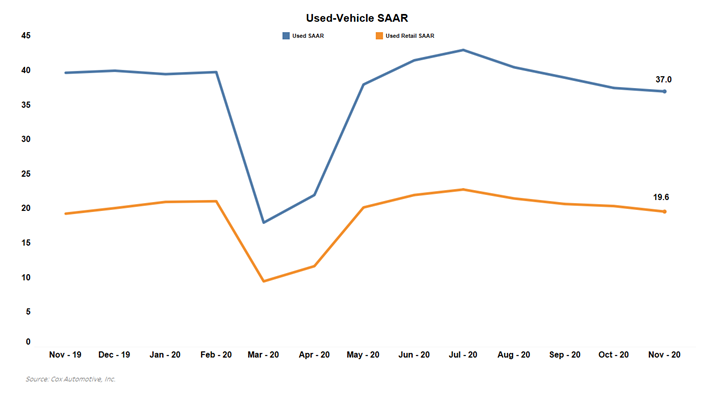 Important Takeaways, Courtesy of Manheim:
Both retail and wholesale supply have increased modestly in recent weeks. Using a rolling seven-day estimate of used retail days' supply based on vAuto data, used retail supply is slightly above normal levels, at 49 days. Wholesale supply has increased to 26 days for the most recent seven-day period when normal supply is 23.
Auto loan performance deteriorated again modestly in November, but performance remains better than last year or a typical year and much better than a typical recession. Loan delinquencies and defaults have been low because of stimulus support and loan accommodations.
Sales of certified pre-owned (CPO) vehicles declined 21% year-over-year in November and 20% month-over-month.
KPI — December: Recent Vehicle Recalls