Features
KPI — December 2022: State of Business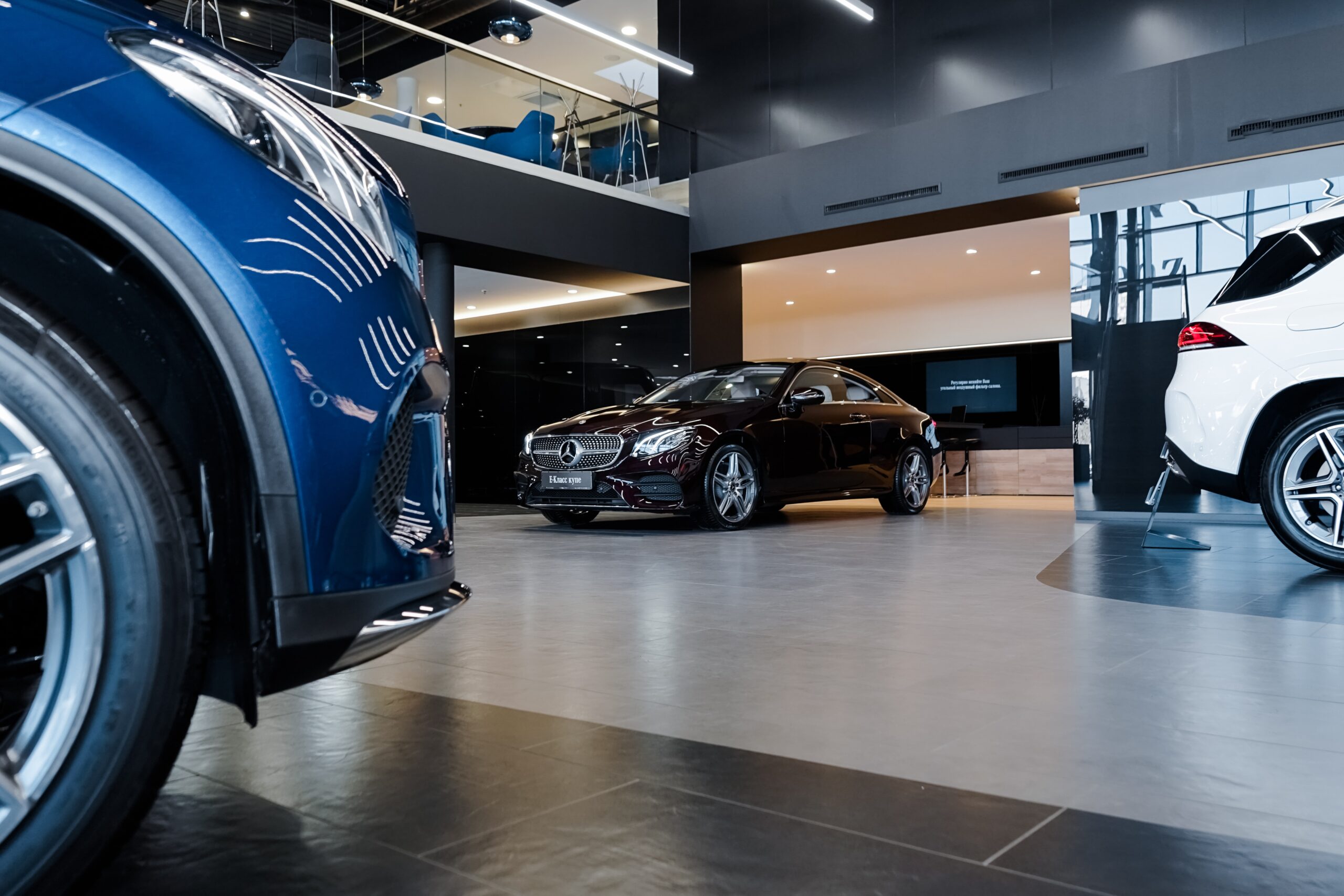 LMC Automotive reports Global Light Vehicle (LV) sales volume edged down to 84 million units per year in November, compared to 85 million units per year last month. The Chinese market decelerated sharply, falling 7% to end five straight months of "strong rebound." North America and Europe continue to battle supply-side factors impacting sales volume.
"The full-year outlook for 2022 slipped to 81.5 million units, which is just 70,000 units higher than 2021. In 2023, we expect to see a rebalancing of supply and demand, and the overall volume effect due to supply disruption should fall to 2.9 million units from 7.3 million units in 2022. The 2023 outlook is tempered slightly by weakening economic conditions, down to 84.6 million units from our previous forecast. The market remains quite dynamic, as some improving variables are countered by negative ones," according to Jeff Schuster, president of Americas operations and global vehicle forecasts at LMC Automotive.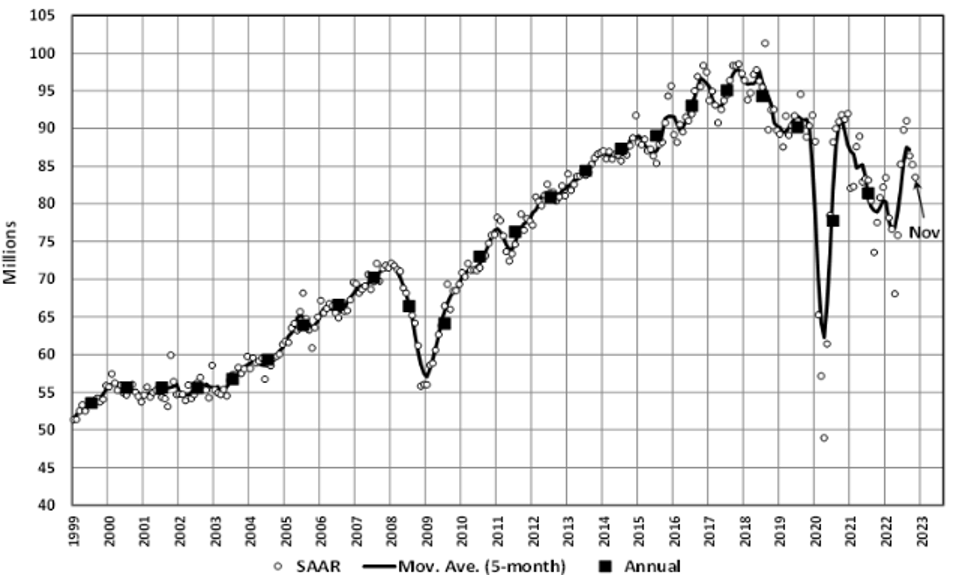 State of Manufacturing
After 29 consecutive months of growth, economic activity in the manufacturing sector contracted in November for the first time since May 2020. The Manufacturing PMI® registered 49%, 1.2 percentage points lower than the 50.2% recorded in October, according to supply executives in the latest Manufacturing ISM® Report On Business®.
"With Business Survey Committee panelists reporting softening new order rates over the previous six months, the November composite index reading reflects companies' preparing for future lower output," says Timothy R. Fiore, CPSM, C.P.M., chair of the Institute for Supply Management® (ISM®) Manufacturing Business Survey Committee.
As such, companies continue to monitor manufacturing conditions and judiciously manage hiring. Panelists' companies confirm they are continuing to manage head counts through a combination of hiring freezes, employee attrition and now layoffs.
Fiore says order backlogs, prices and now lead times are declining rapidly, which should bring buyers and sellers back to the table to refill order books based on 2023 business plans.
Important takeaways, Courtesy of the Manufacturing ISM® Report On Business®:
Aside from October 2022, the month-over-month supplier delivery performance was the best since February 2012 when it registered 47%. In addition, material lead times declined approximately 9% from the prior month and approximately 18% over the last four months.
Demand eased, with the (1) New Orders Index remaining in contraction territory, (2) New Export Orders Index below 50% for a fourth consecutive month, (3) Customers' Inventories Index effectively in 'just right' territory (climbing 7.1 percentage points) and (4) Backlog of Orders Index moving deeper into contraction.
Output/Consumption (measured by the Production and Employment indexes) declined month-over-month, with a combined negative 2.4-percentage point impact on the Manufacturing PMI® calculation.
The Employment Index moved back into contraction, and the Production Index decreased but still remained in modest growth territory.
Inputs – defined as supplier deliveries, inventories, prices and imports – mostly accommodated future demand growth. The Supplier Deliveries Index indicated faster deliveries, and the Inventories Index expanded at a slower rate as panelists' companies continued to manage the total supply chain inventory.
The Prices Index decreased for the ninth consecutive month, falling deeper into contraction territory.
U.S. New Vehicle Sales
Total new vehicle sales for November 2022, including retail and non-retail transactions, are projected to reach 1,102,300 units – a 5.6% year-over-year increase. Comparing the sales volume without adjusting for the number of selling days translates to a 9.9% boost, according to a joint forecast from J.D. Power and LMC Automotive.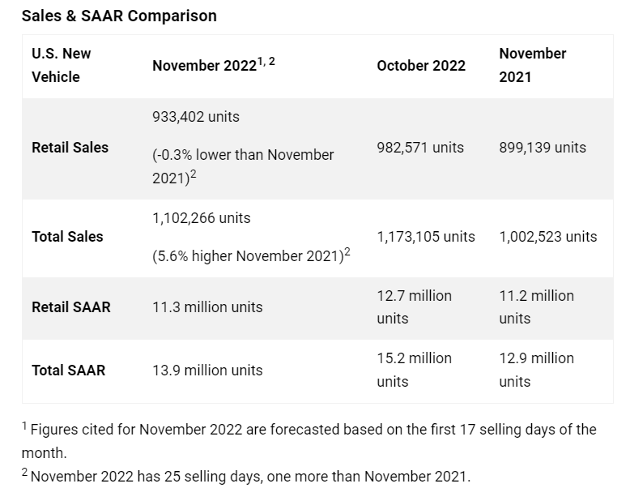 "November results demonstrate that vehicle production is continuing to improve, with available retail inventory exceeding one million units for a second consecutive month and a larger share of manufacturers' production being allocated to fleet customers. The increased production is enabling a 9.9% increase in total vehicle sales (non-selling day adjusted) for the month of November," says Thomas King, president of the data and analytics division at J.D. Power.
"On the retail side, demand continues to exceed supply, as evidenced by continued strength in transaction prices, retailer profits, inventory turn rates and minimal manufacturer discounting.  However, as inventories and interest rates rise, these metrics will show signs of either moderation or decline," he adds.
Important Takeaways, Courtesy of J.D. Power:
Buyers are on pace to spend $42.8 billion on new vehicles, up $2.8 billion year-over-year.
Truck/SUVs are on pace to account for 77.6% of new vehicle retail sales in November.
The average new vehicle retail transaction price is expected to reach $45,872, a 3.1% year-over-year increase. The previous high for any month was $46,171, set in July 2022.
Average interest rates for new vehicle loans are expected to increase to 6.37%, 238 basis points higher than a year ago.
Dealer profits are falling but remain "extraordinarily strong." Total retailer profit per unit – inclusive of grosses and finance plus insurance income – is on pace to be $4,359, down 15.4% from a year ago but still more than double 2019 levels. The decline is due primarily to fewer vehicles being sold above MSRP. In November, nearly 41% of new vehicles were sold above MSRP, which is down from 50% in July 2022.
Fleet sales are expected to total 168,900 units, up 56.8% from November 2021 on a selling day adjusted basis. Fleet volume is expected to account for 15% of total light-vehicle sales, up from 10% a year ago.
"Looking at December and into 2023, the dynamics observed in November are expected to persist. Gradual improvements in vehicle availability will lead to improvements in the new vehicle sales pace, but per-unit prices and profitability will moderate. Rising interest rates and falling used-vehicle values will compound this rebalancing of the industry price-volume equation," King says. "However, it is important to recognize that the overall health of the new-vehicle industry is exceptionally strong and will remain so in the coming months."
U.S. Used Market
Wholesale used-vehicle prices (on a mix, mileage and seasonally adjusted basis) decreased 0.3% in November. The Manheim Used Vehicle Value Index (MUVVI) declined to 199.4, down 14.2% from a year ago. Manheim reports this is the first time the MUVVI has dropped below 200.0 since August 2021. The non-adjusted price change in November posted a decline of 1.6% compared to October, moving the unadjusted average price down 12.4% year over year.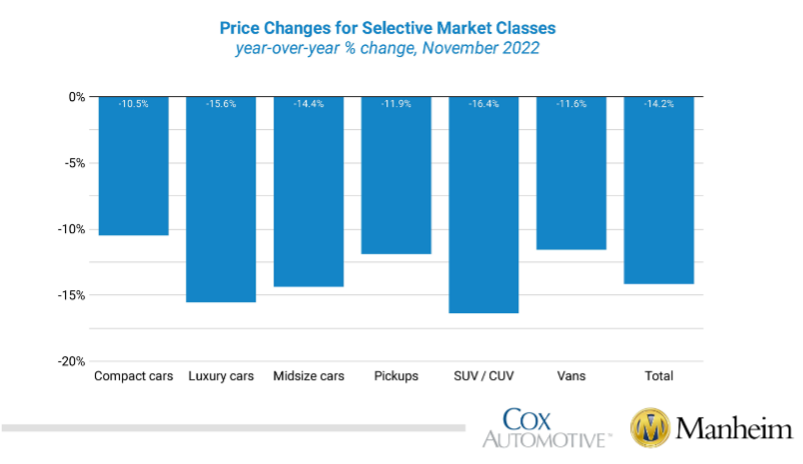 In November, Manheim Market Report (MMR) values recorded larger-than-normal declines, culminating in a 2.2% total decline in the Three-Year-Old Index over the last four weeks. During November, daily MMR Retention (the average difference in price relative to current MMR) averaged 98.4%, meaning market prices were below MMR values. The average daily sales conversion rate decreased to 49.8%, which was below normal for the time of year.
According to Manheim, all eight major market segments posted seasonally adjusted prices that were lower year-over-year in November. Compact cars had the smallest decline at 10.5%, followed by vans and sports cars at 11.6% and pickups at 11.9%. The other four segments' prices were lower than the industry. Compared to October, six of eight major segments' performances were down. Full-size cars declined the most at 6.4%, followed by midsize cars at 1.1%. Four other segments lost under 1%. Sports cars were up by 1.2%, while pickups gained 0.9%.
KPI — December 2022: Recent Vehicle Recalls