Features
KPI — December 2021: State of Business: Automotive Industry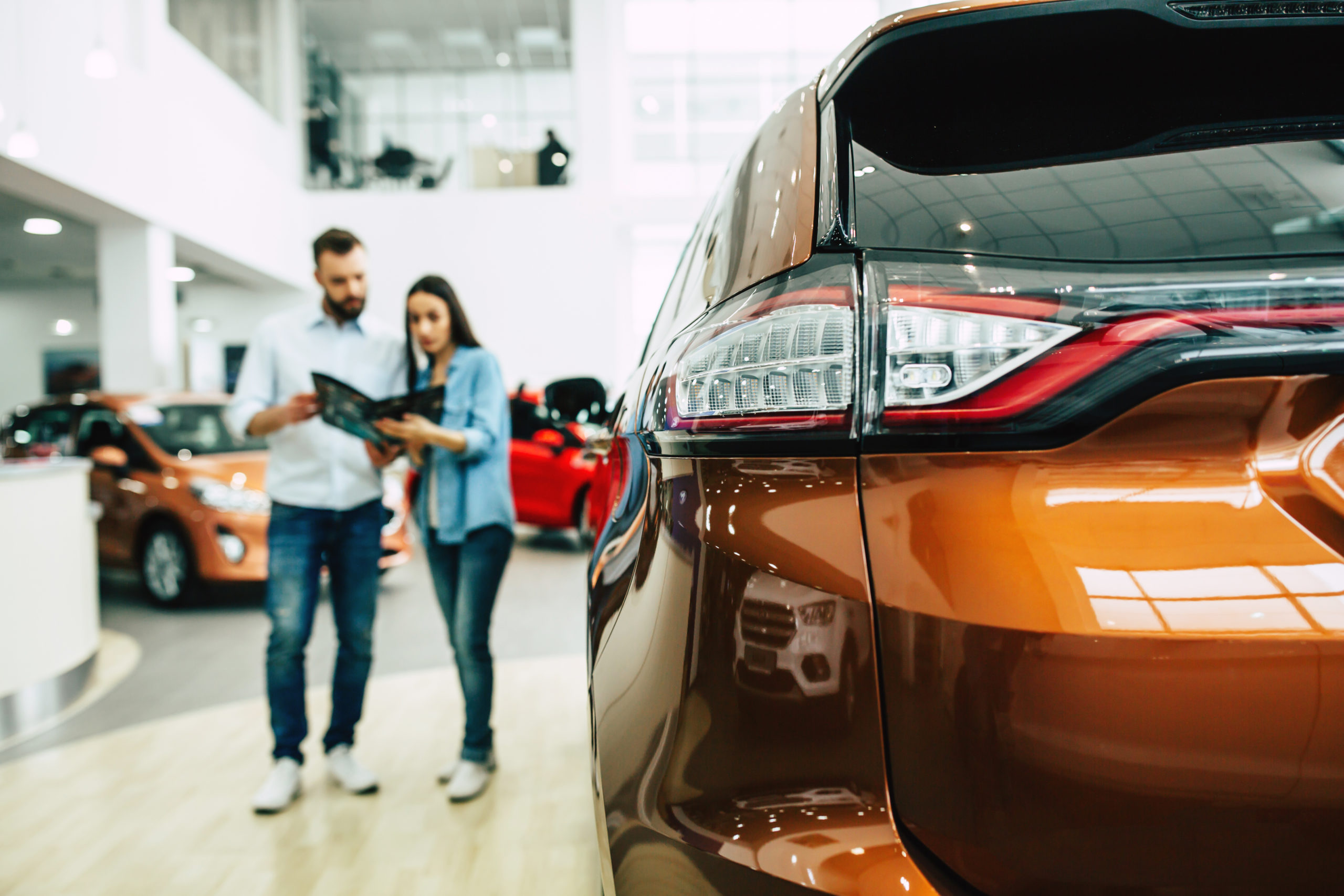 Global Light Vehicle (LV) sales registered 76 million units in October – slightly higher than last month's low, though still a clear sign of a troubling supply chain crisis.
"Supply shortages are being managed in very creative ways, from building vehicles without certain content to bringing chip development and production in-house for better supply chain visibility," said Jeff Schuster, president of Americas operations and global vehicle forecasts, LMC Automotive.
However, improvements in vehicle production are inconsistent around the world, he noted. China and India, for example, both posted stronger vehicle production in October, but North America and Europe remain constrained.
"Even as plants restart after being down for several weeks, they are not running near normal levels," explained Schuster. "While the solutions are intended to minimize the disruption now or in the future, consumers will continue to find it difficult to purchase the exact vehicle they want for several months to come."
November 2021 is expected to show slight improvement but is expected to be down 14% year-over-year. The selling rate is projected to increase marginally to 77.2 million units.
Moreover, "The outlook for 2021 has been quite fluid, though the forecast this month remains at the 80-million-unit level – with a 200,000-unit improvement – representing a decline of 4% from 2020," said Schuster. "The recent performance in China suggests that there may be some upside potential in the world's largest market as the year closes. With the chip shortage appearing to level off, we have increased the 2022 forecast by 400,000 units to 85.2 million," he said.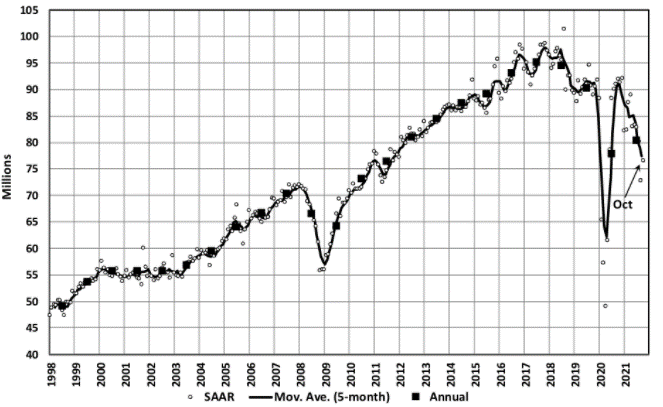 The November Manufacturing PMI® registered 61.1%, an increase of .3 percentage points from the October reading of 60.8%. This figure indicates expansion in the overall economy for the 18th month in a row after a contraction in April 2020, according to supply executives in the latest Manufacturing ISM® Report On Business®.
"The U.S. manufacturing sector remains in a demand-driven, supply chain-constrained environment, with some indications of slight labor and supplier delivery improvement. All segments of the manufacturing economy are impacted by record-long raw materials and capital equipment lead times, continued shortages of critical lowest-tier materials, high commodity prices and difficulties in transporting products. Coronavirus pandemic-related global issues – worker absenteeism, short-term shutdowns due to parts shortages, difficulties in filling open positions and overseas supply chain problems – continue to limit manufacturing growth potential," said Timothy R. Fiore, CPSM, C.P.M., chair of the Institute for Supply Management® (ISM®) Manufacturing Business Survey Committee.
Important takeaways, courtesy of the Manufacturing ISM® Report On Business®:
Demand expanded, with the (1) New Orders Index growing, supported by continued expansion of the New Export Orders Index, (2) Customers' Inventories Index remaining at a very low level and (3) Backlog of Orders Index staying at a very high level.
Consumption (measured by the Production and Employment indexes) grew during the period, with a combined 3.5-percentage point increase to the Manufacturing PMI® calculation.
The Employment Index expanded for a third month, with some indications that the ability to hire is improving, partially offset by the challenges of turnover and backfilling.
Inputs – expressed as supplier deliveries, inventories and imports – continued to constrain production expansion, but there are early signs of supplier performance improving.
The Supplier Deliveries Index slowed again but at a slower rate, while the Inventories Index expanded more slowly.
The Prices Index expanded for the 18th consecutive month, though at a slower rate – indicating continued supplier pricing power and scarcity of supply chain goods.
U.S. New Vehicle Sales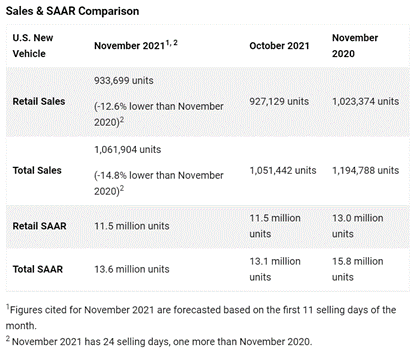 New vehicle retail sales are expected to decline year-over-year in November 2021, according to a joint forecast from J.D. Power and LMC Automotive.
Total new vehicle sales, including retail and non-retail transactions, are projected to reach 1,061,900 units – a 14.8% decrease compared to November 2020
"Retail inventory on dealer lots is expected to end below one million vehicles for a fourth consecutive month, with sales in each month being dictated by the number of vehicles delivered to dealerships rather than reflecting actual demand," said Thomas King, president of the data and analytics division at J.D. Power.
"The lack of vehicles in inventory this month is particularly significant as the typical Black Friday sales surge will be difficult to support," he continued. "Nevertheless, strong underlying demand for new vehicles, coupled with rising pent-up demand due to the inventory shortage, is sustaining record transaction prices and profits for each unit sold."
Important Takeaways, Courtesy of J.D. Power:
Buyers are on pace to spend $41.1 billion on new vehicles, up $3 billion year-over-year.
Truck/SUVs are on pace to account for a record 81.2% of new vehicle retail sales in November.
Average incentive spending per unit is expected to reach $1,612, down from $3,701 a year prior.
The average new-vehicle retail transaction price in November is expected to reach $44,043.
Total retailer profit per unit – inclusive of grosses and finance & insurance income – is on pace to reach a record $5,164, an increase of $3,060 from a year ago and a second consecutive month above $5,000.
Fleet sales are expected to total 128,000 units in November, down 28.3% year-over-year on a selling day adjusted basis. Fleet volume is expected to account for 12% of total light-vehicle sales, down from 14% a year ago.
"Looking forward to closing out 2021, retail sales again will be dictated by the number of vehicles shipped from plants and ports to dealerships," said King. "However, indications are that shipments will not rise materially. Therefore, the traditional year-end sales push will be somewhat non-traditional. Overall, even with the extremely constrained supply in the second half of 2021, the industry will still sell more vehicles than in 2020. However, 2021 sales will not come close to the sales volume potential that could have been realized if production and supply were at historical levels. The silver lining is that many of the shoppers who could not find a vehicle in 2021 will likely still be in the market in 2022," he said.
U.S. Used Market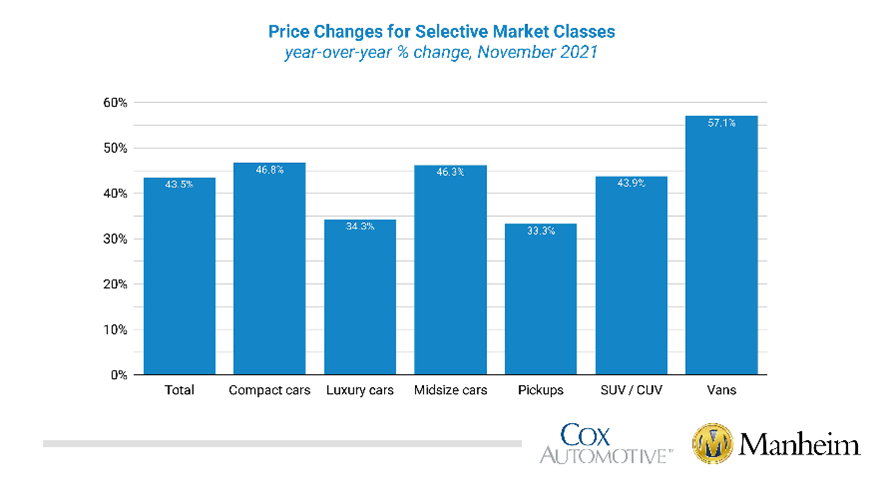 Wholesale used vehicle prices (on a mix-, mileage- and seasonally adjusted basis) increased 3.9% month-over-month in November – bringing the Manheim Used Vehicle Value Index to 232.5, a 43.5% increase from a year ago.
According to the most current data, Manheim Market Report (MMR) values saw weekly price increases decelerate and reverse over the course of November.
All major market segments saw year-over-year, seasonally adjusted price increases. Vans recorded the largest year-over-year performance, while the pickup and luxury car segments lagged the overall market. On a month-over-month basis, no segment posted declines, with compact cars outpacing the market and remaining segments.
According to Cox Automotive estimates, total used vehicle sales were down 2% year-over-year in November. The estimated SAAR is 37.2 million, down from 38.1 million last November and flat compared to October's 37.2 million SAAR. The November used retail SAAR estimate is 20.4 million, up from 20.2 million last year and flat month-over-month.
KPI — December 2021: Recent Vehicle Recalls