Features
KPI — April: New and Used Vehicle Sales

New Vehicle Market Data
Vehicle sales continued to nose dive in relation to COVID-19, with March total new-vehicle sales down 37.9% year-over- year. The March SAAR plummeted to 11.4 million—down from 16.7 million the month prior and a decrease from 17.3 million last year. Additionally, new vehicle inventories came in over 3.7 million units.
• Combined rental, commercial and government purchases of new vehicles were down 27.6% year-over-year in March.
• Commercial (-17.7%) and rental (-34.3%) fleet channels were down year-over-year in March.
• Retail sales of new vehicles were down 40.5% year-over-year in March, leading to a retail SAAR of 8.7 million, down from 13.8 million last March and down from February's 13.3 million rate. This is the lowest monthly retail SAAR since February 2010. Fleet sales are down 11.4% in 2020 through Q1, and retail sales are down 13.1%, as the overall new vehicle market is down 12.7% so far this year.
"No automaker was spared from dismal March sales," stated Colin Beresford of Car and Driver. Quarterly reports indicate sales tanked 12.5% for Ford, 10.4% for Fiat Chrysler (FCA) and 7.1% for GM. Sales for automakers that still report monthly fell anywhere between 35% – 50% during the same timeframe. Volkswagen of America, for example, commented that its monthly sales fell 42%, while Subaru of America's dropped by 47%.
Ford: -12.5%
Fiat Chrysler Automobiles: -10%
Porsche: -20.2%
General Motors: -7%
Toyota: -8.8%
Hyundai: -11%
Mazda: -4.5%
Nissan: -29.6%
Mitsubishi: -15.5%
Volkswagen: -13%
Subaru: -16.7%
Audi: -14%
Honda: -19.2%
Genesis: -5.9%
BMW: -15.3%
Volvo: -11.7%
Tesla: +40.3%: The company posted its strongest first-quarter sales ever, delivering 88,400 vehicles globally. That represents a 40.3% increase over its Q1 deliveries last year. In January, Tesla began manufacturing the Model Y crossover, and deliveries of the new model began in March.
Kia: +1%: Q1 figures were supported by strong sales of the company's SUVs, including the Telluride, Sportage and new Seltos.

If there is a silver lining in all the chaos, "Through the first quarter, truck sales were relatively strong and helped reduce some of the downturn," added Beresford. For example, Chevy Silverado sales surged 26.6% in the first quarter of 2020 as compared to the year prior. Likewise, sales for the GMC Sierra climbed 30.7%. Together, pickups made up nearly a third of all of GM's sales—up nearly 10% from a year ago. In fact, Car and Driver reported it was the best first quarter for the company's full-size pickups since 2007.
Ram experienced similar success with its pickup line. "In 2019, Ram outsold the Silverado for the first time ever, but the uptick in Ram sales this past quarter couldn't keep up with Chevy this time around. Ram saw pickup sales climb 7% in the first quarter, making it one of three FCA models—the others are the Dodge Durango and the Chrysler Pacifica—to see positive sales in the previous three months," added Beresford.
Unlike GM and Ram, Ford F-150 sales dropped 13.1%. In its sales release, Ford explained the timing of fleet sales as well as the spread of COVID-19 pushed sales down for its biggest seller. Dismal sales aside, it remains the leader of the pickup pack.
Despite the overall downturn, Kelley Blue Book recently reported average new-vehicle prices are up approximately 3% year-over-year in March 2020, with the estimated average transaction price for a light vehicle in the United States being $37,736.
"While the automotive industry and broader U.S. economy were brought to a near halt in March, average transaction prices remained stable from February and increased from this time last year, showing strength in line with the first two months of the year," said Tim Fleming, analyst for Kelley Blue Book. "Prices were supported by the abundance of incentives quickly enacted by manufacturers and their captive finance companies, including 0% financing for 84 months and payment deferrals of up to 180 days."
Automakers are doing all they can to stop the bleeding. Pickup sales for the Detroit Three, as noted above, were helped by record incentives that averaged $7,200 in the final days of March, according to J.D. Power. Both FCA and GM are offering buyers with top-tier credit a zero-percent loan for up to 84 months and deferred payments up to 90 days on new vehicles. Ford is offering up to three months of deferred payments and will pay for another three months—that is six months of total payment assistance.
"With most of the country encouraged to stay at home for at least another month and unemployment skyrocketing as a result, the impact of this year's auto sales will be severe. However, production is also at a standstill, as North American factories have been shut down for weeks. This coincidental drop in demand and lack of new supply is extraordinary. For March, new-vehicle prices remain solid, but there are still many unknowns about April and what the state of the economy will be for the remainder of the year," according to Kelley Blue Book.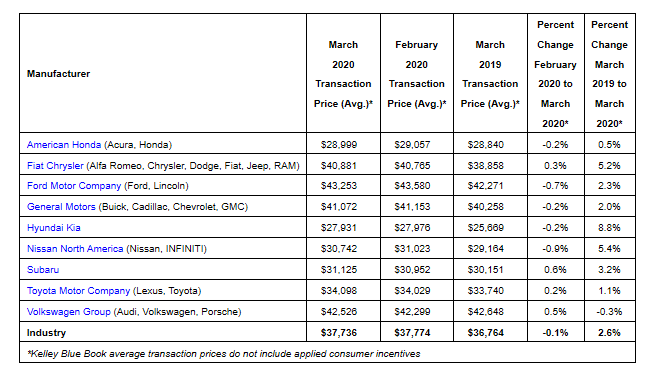 *Noteworthy takeaways from Kelley Blue Book reporting:
• Hyundai and Kia are still seeing the biggest gains for the major manufacturers as Hyundai rose 13% and Kia was up 5%. The redesigned Sonata helped Hyundai the most as it climbed 13% and second place in the mid-size car segment behind the Subaru Legacy. In March 2019, the Sonata had the lowest ATP in the segment. In addition, the Palisade continues to perform well, making up more than 10% of Hyundai sales with transaction prices above $40,000. At Kia, the Telluride rose 7% year-over-year, while the redesigned Soul was up 4%.
• At the segment level, cars continue to suffer. In addition to falling sales and market share, average transaction prices were roughly flat in March and down year-to-date. In a month where oil prices dropped to about $20 per barrel and gas prices to $2 per gallon nationally, no segment was hurt worse than hybrid cars, which fell nearly 3%. Electric vehicles did see prices rise, but that was tied more to the Audi e-tron, which was not available at this time last year.
• Prices of full-size SUVs, a segment that usually performs well when gas prices are low, were up just 1%. However, General Motors' SUVs (Tahoe, Suburban, Yukon, and Yukon XL), which together make up more than half of the segment sales, have redesigns on their way in the coming months.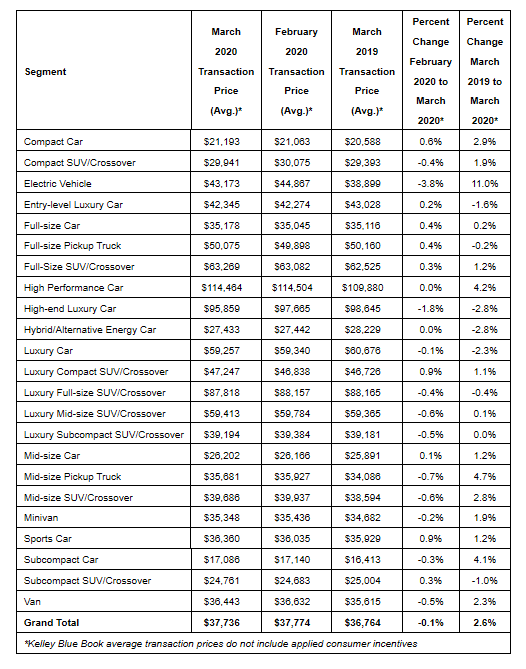 Used Vehicle Market Data
Wholesale used-vehicle prices (on a mix-, mileage- and seasonally adjusted basis) decreased 1.10% month-over-month in March, bringing the Manheim Used Vehicle Value Index to 141.9, a 4.4% increase from a year ago.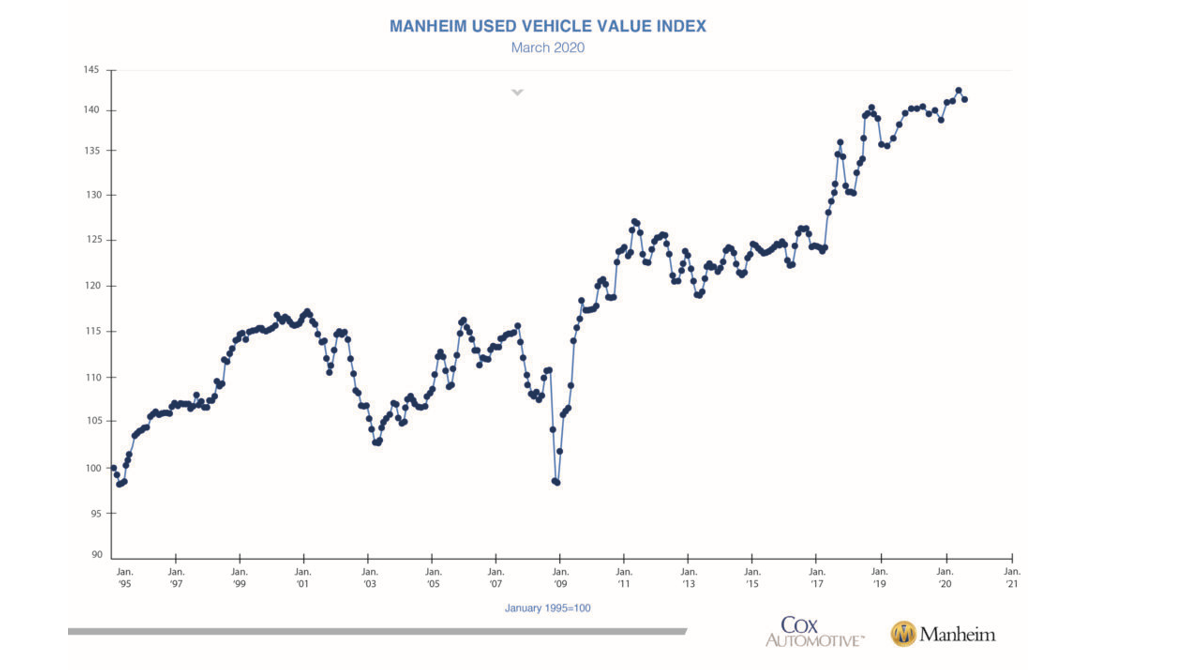 According to Cox Automotive estimates, total used-vehicle sales volume was down 18.4% year-over-year during March, while Manheim projected the used SAAR to be 32.0 million—down from 39.2 million last March and a decrease from February's 39.8 million rate. The March used retail SAAR estimate stands at 17.3 million, down from 20.6 million last year and down month over month from February's 21.2 million rate.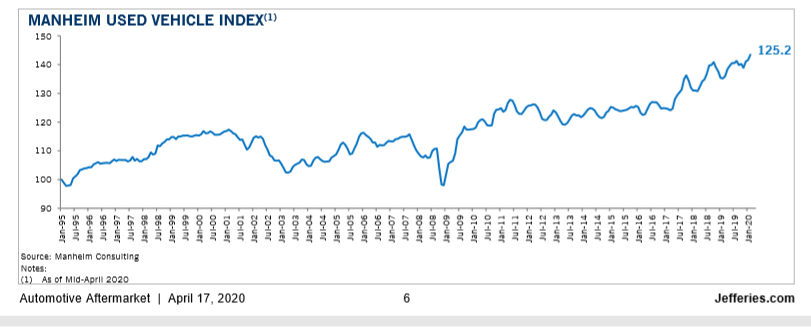 Three-year-old vehicle values in aggregate were up 1.7% after the first two weeks but began to decline and ended up 1% for the month. On a year-over-year basis, most major market segments saw seasonally adjusted price increases in March. Luxury cars and SUVs/CUVs outperformed the overall market, while most other major segments underperformed the overall market.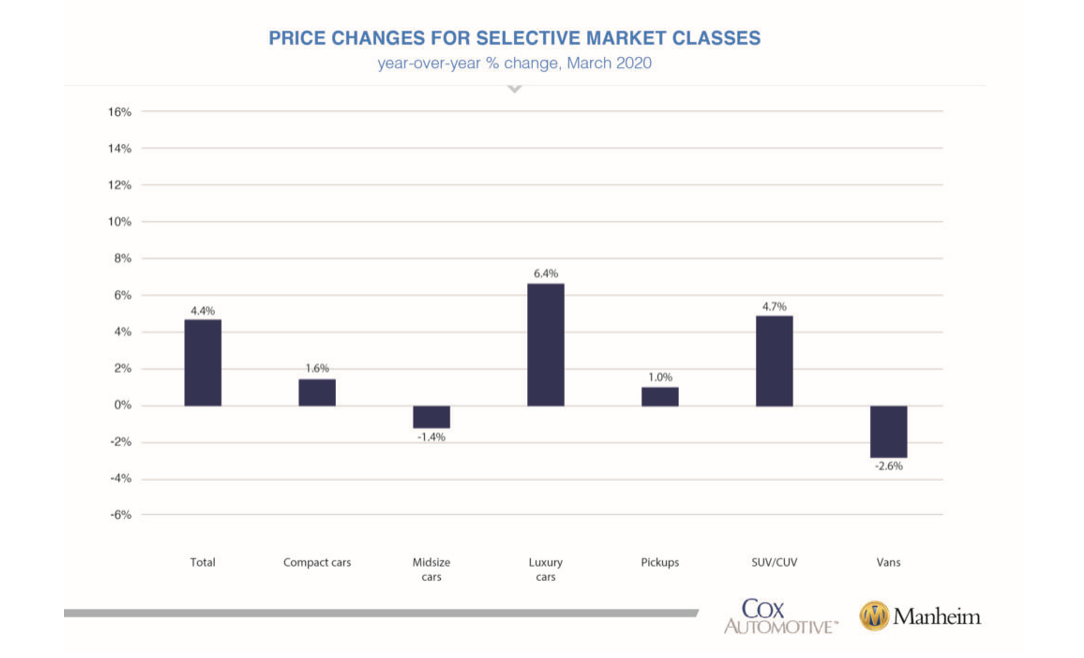 Furthermore, wholesale used vehicle prices (on a mix-, mileage- and seasonally adjusted basis) decreased 11.8% when comparing the first 15 days of April to the month of March. This brings the mid-month Manheim Used Vehicle Value Index to 125.2—a 9.6% decrease from April 2019. "If the mid-month value of the Manheim Index holds for the full month, the monthly decline will set a record. The prior decline record was 5.5% in November 2008," said Manheim.
Retail prices have remained very stable despite such a drastic decline in retail sales, according to Cox Automotive. Analysis of retail prices from Dealertrack show a decline of less than 1% since March 16.
Ultimately, "The path forward depends on the status of the pandemic and the economic response, neither of which is certain. While the decline in wholesale used vehicle prices so far in April is historic, retail prices are holding steady. When the Manheim Index fell 10.5% over two months in the fall of 2008, the horizon looked bleak. Yet vehicle values fully recovered after just seven more months," explained Manheim.
A replay of the Q1 2020 Manheim Used Vehicle Value Index call hosted by Cox Automotive Chief Economist Jonathan Smoke and Zo Rahim, manager of economics and industry insights for Cox Automotive, is available here.