Features
KPI — April 2022: State of Business — Automotive Industry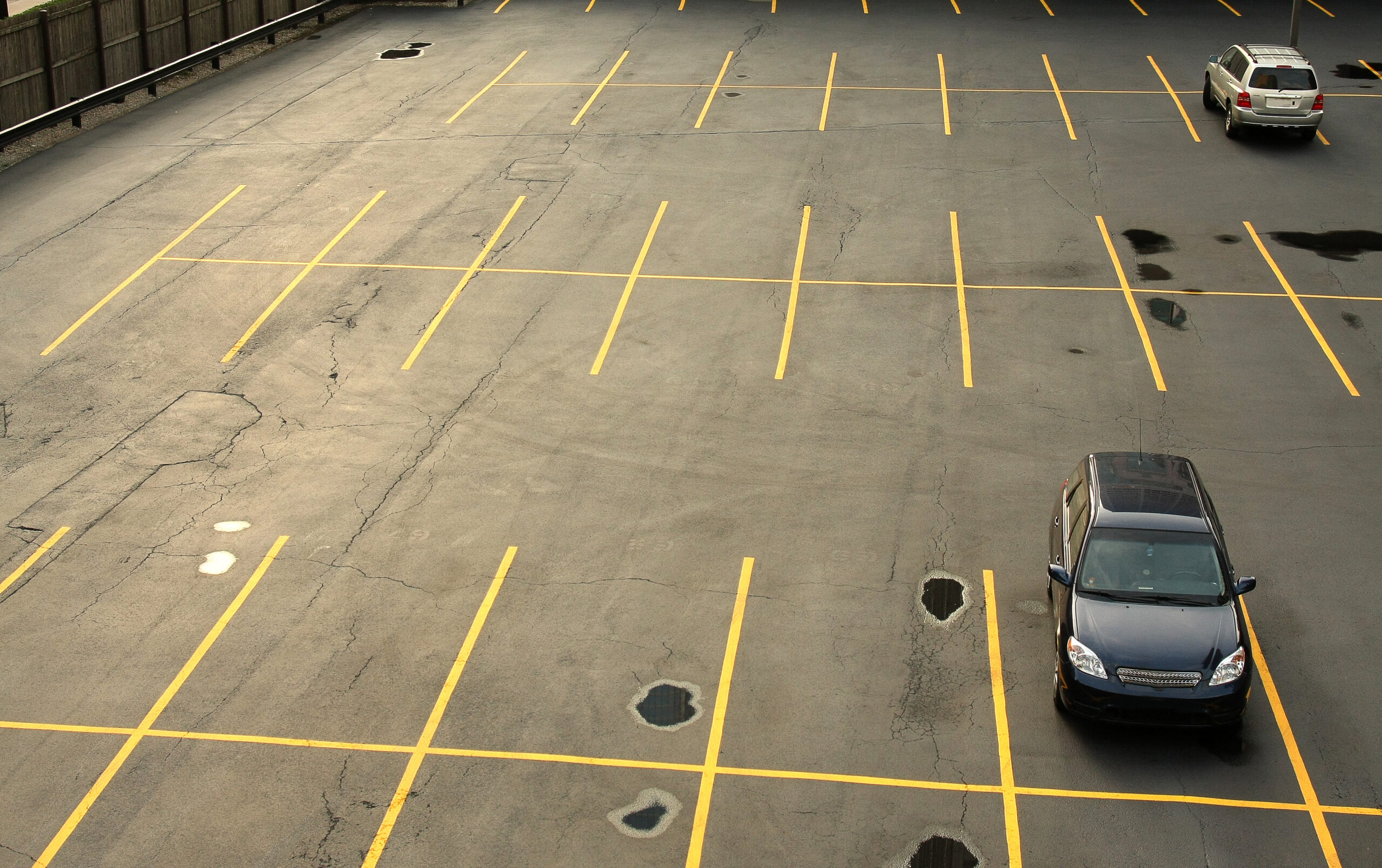 Global Light Vehicle (LV) sales crossed the finish line at 81.3 million units in 2021. Despite a 5% year-over-year increase, the global market remains down 10% compared to 2019.
Any small but hopeful gains made at the beginning of 2022 have evaporated. The Global Light Vehicle selling rate dropped to 75 million units per year during March, dragging the Q1 average to 79 million units per year. Supply chain woes, rapid inflation and now fears surrounding war are impacting the industry at large, with March figures down 14% year-over-year. While the U.S. experienced a continuation of tight inventories and high transaction prices, LMC Automotive says China's sales were surprisingly resilient considering lockdowns and a worsening global outlook.
"Risk in the outlook for the global economy and vehicle sales has increased significantly since last month," says Jeff Schuster, president of Americas operations and global vehicle forecasts at LMC Automotive. "The compound of extending existing disruptions from supply shortages and the war in Ukraine has created a volatile market, causing to make a substantial downgrade to the 2022 outlook. Global light-vehicle sales are forecast at 82.6 million units in 2022, down 4% or 3.2 million units from our forecast last month. The revision cuts the growth rate to just 1% from 2021 and additional risk for the remainder of the year could push volume down below the 2021 level, potentially affecting the recovery pattern over the medium-term."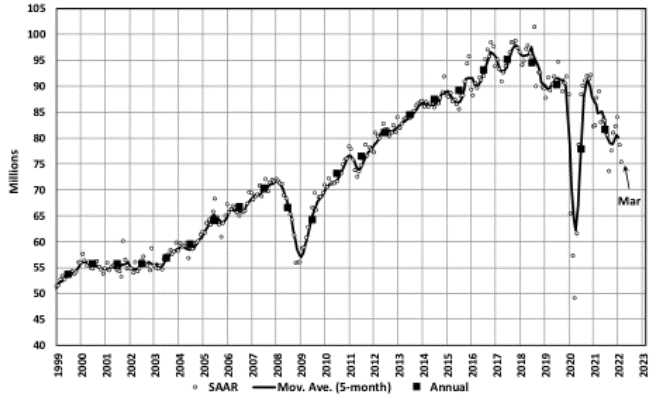 The March Manufacturing PMI® registered 57.1%, a decrease of 1.5 percentage points from the February reading of 58.6%, according to supply executives in the latest Manufacturing ISM® Report On Business®.
"The U.S. manufacturing sector remains in a demand-driven, supply chain-constrained environment. In March, progress was made to solve the labor shortage problems at all tiers of the supply chain, which will result in improved factory throughput and supplier deliveries. Panelists reported lower rates of quits and early retirements compared to previous months, as well as improving internal and supplier labor positions. March brought back increasing rates of price expansion, due primarily to instability in global energy markets. Suppliers are not waiting to experience the full impacts of price increases before negotiating with their customers," says Timothy R. Fiore, CPSM, C.P.M., chair of the Institute for Supply Management® (ISM®) Manufacturing Business Survey Committee.
Important takeaways, courtesy of the Manufacturing ISM® Report On Business®:
Demand expanded, with the (1) New Orders Index remaining in growth territory, supported by weaker growth of new export orders, (2) Customers' Inventories Index remaining at a very low level and (3) Backlog of Orders Index continuing in strong growth territory.
Consumption (measured by the Production and Employment indexes) grew during the period, though at a slower rate, with a combined minus-0.6-percentage point change to the Manufacturing PMI® calculation.
The Employment Index expanded for a seventh straight month; panelists indicate their ability to hire continues to improve, to a greater degree than in February. Challenges with turnover (quits and retirements) and resulting backfilling continue to plague panelists' efforts to adequately staff their organizations, but to a lesser extent compared to February. Amid signs of staffing and supplier delivery improvements, production expanded at disappointing levels, likely due to timing issues.
Inputs – expressed as supplier deliveries, inventories and imports – continued to constrain production expansion.
The Supplier Deliveries Index again slowed, but at a slightly slower rate in March, while the Inventories Index increased at a slightly faster rate and the Imports Index grew at a slower rate.
The Prices Index increased for the 22nd consecutive month, at a dramatically higher rate compared to February.
U.S. New Vehicle Sales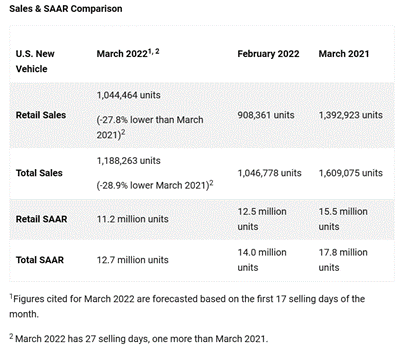 New-vehicle retail sales for March 2022 are expected to decline when compared with March 2021, according to a joint forecast from J.D. Power and LMC Automotive.
Total new-vehicle sales for March 2022, including retail and non-retail transactions, are projected to reach 1,188,300 units – a 28.9% decrease from March 2021.
"In March 2021, consumers purchased almost 1.4 million new vehicles at retail. This year, with fewer than 900,000 units in inventory, it will be impossible for the sale pace to even approach last year's level," says Thomas King, president of the data and analytics division at J.D. Power.
"Given the strong demand and extremely constrained inventory situation, it should be no surprise that manufacturer discounts are at their lowest level ever, while prices and profitability set records for the month of March," he adds.
Important Takeaways, Courtesy of J.D. Power:
Buyers are on pace to spend $45.7 billion on new vehicles, down $6.2 billion year-over-year.
Truck/SUVs are on pace to account for a record 80.5% of new-vehicle retail sales in March.
Average incentive spending per unit is expected to reach $1,044, down from $3,334 in March 2021.
The average new-vehicle retail transaction price is expected to reach $43,737.
For Q1 2022, total retailer profit per unit is on pace to reach $5,013, a 126% year-over-year increase. Aggregated retailer profits from new-vehicle sales are projected to reach $14.2 billion during the same timeframe, an astounding 95% year-over-year increase despite the 14.8% decrease in sales volume.
Fleet sales are expected to total 143,800 units in March, down 35.9% year-over-year on a selling day adjusted basis. Fleet volume is expected to account for 12% of total light-vehicle sales, down from 13% a year ago.
"In April, with inventory and production levels still projected to be at historical lows compounded by global events, the overall industry sales pace will continue to be supply constrained. Therefore, April's sales pace will be dictated mostly by manufacturers' procurement, production and distribution efforts. Regardless of inventory position or production levels, manufacturers and retailers will continue to benefit from both the elevated – and pent-up – levels of consumer demand, giving them the ability to maintain historically high profitability on nearly every unit sold," explains King.
U.S. Used Market
Wholesale used-vehicle prices (on a mix-, mileage- and seasonally adjusted basis) declined 3.3% in March. The Manheim Used Vehicle Value Index declined to 223.5, which was up 24.8% from a year ago.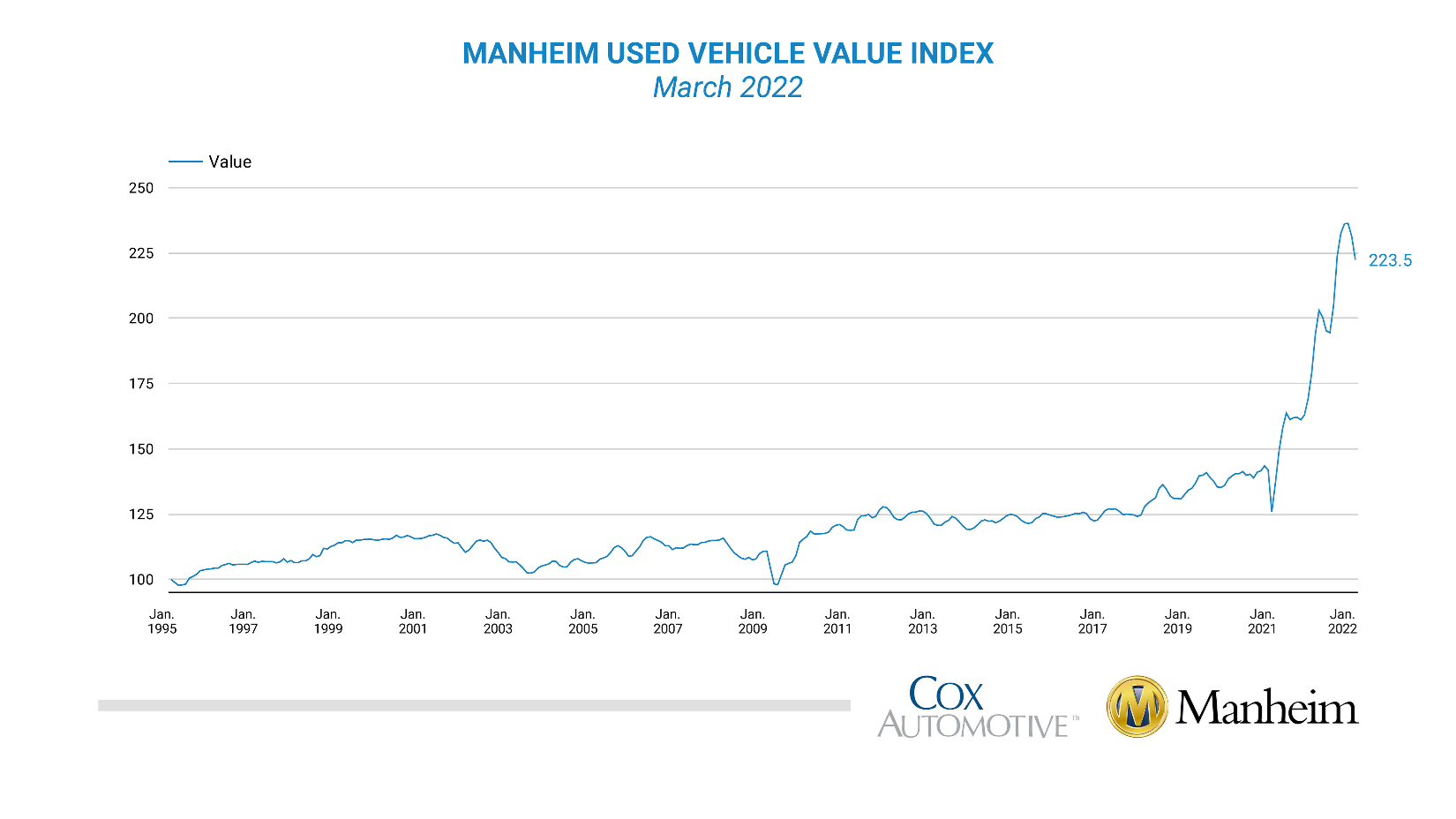 Manheim Market Report (MMR) values saw weekly price increases that accelerated in each full week of March after the first week saw the smallest decline of the year, according to Manheim.
All major market segments posted seasonally adjusted prices that were higher year-over-year in March. Vans recorded the largest year-over-year performance, followed by compact cars. Pickups and luxury cars lagged the overall market. On a month-over-month basis, all major segments saw seasonally-adjusted price declines, with pickups declining the most.
KPI — April 2022: Recent Vehicle Recalls