Features
KPI — April 2021: State of Business: Automotive Industry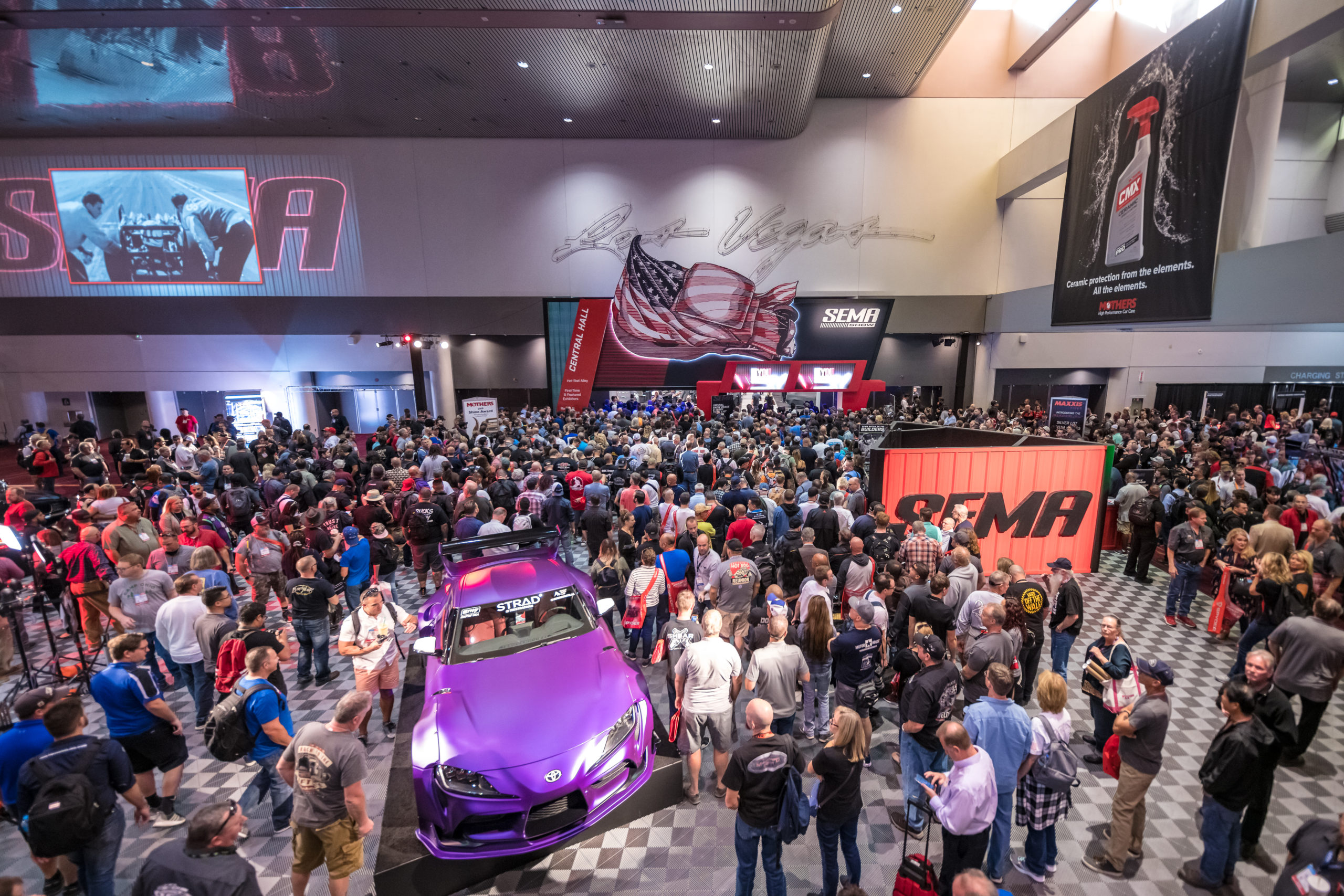 Global Light Vehicle (LV) sales dropped to 80.7 mn units/year in February—down from an already-poor 82.3 mn units/year in January. Sales posted a 12.4% year-over-year improvement; however, LMC Automotive reports the figure is distorted because annual comparison data runs parallel to the pandemic spreading across Asia.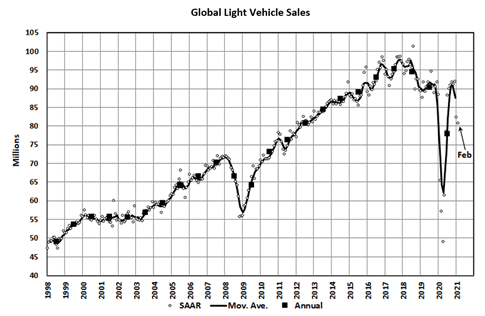 "There are new risks emerging, such as the global semiconductor shortage and the potential for additional disruptions," said Jeff Schuster, president of Americas operations and global vehicle forecasts at LMC Automotive.
The global shortage of semiconductors has forced General Motors and Ford to cut production at their North American factories as chip supplies seem to be growing tighter, reported Fox Business. The shutdowns likely will impact dealer inventory levels.
"Our initial assessment suggests there could be weakness in the first quarter due to vehicle production losses related to the lack of chips, but we don't expect a lasting negative effect on the year," added Schuster.

U.S. New Vehicle Sales
Stateside, total new vehicle retail and non-retail sales are projected to reach 1,468,300 units in March, a 43.6% year-over-year increase and a 5% decrease from March 2019 when adjusted for selling days, according to a joint report from J.D. Power and LMC Automotive.
The seasonally adjusted annualized rate (SAAR) for total new vehicle sales is approximately 16.4 million units, up 5.2 million units from 2020 but down .9 million units from 2019.
"Strong consumer demand, tight new- and used-vehicle supply along with disciplined incentives and dealer discounting, low interest rates, high used vehicle values, higher trade-in values, in addition to the continued shift towards more expensive trucks and SUVs, are the key drivers of higher prices," stated Thomas King, president of the data and analytics division at J.D. Power.
Such unrelenting demand means multiple performance records will be broken during the first quarter. "On a volume basis, Q1 retail sales of 3.16 million units will be the second-highest ever, and records will be established for average transaction price, total consumer spending on new vehicles and retailer profitability," added King.
Important Takeaways, Courtesy of J.D. Power:
The average price of a new vehicle is on pace to reach $37,314 in Q1—the highest ever for the first quarter—nearly $3,000 higher than 2020 and more than $4,000 higher than 2019.
The combination of strong retail volumes and higher prices means that consumer expenditures on new vehicles is expected to reach a Q1 record of $177.9 billion, up 31% from 2020 and 18% from 2019.
Retailer profits from new vehicle sales will reach record levels on both a per unit and total basis. Q1 profit per unit will reach $2.225, up $786 from 2020 and up $835 from 2019, while total profits will reach $7 billion, up $3.3 billion from 2020 and up $2.8 billion from 2019.
The average manufacturer incentive per vehicle is on pace to be $3,527, a decrease of $888 from a year ago.
Manufacturer profits from retail sales also likely will set a record for Q1 due to the combination of strong retail sales, higher average prices and reduced incentives. Q1 incentive spending per unit expressed as a percentage of average vehicle MSRP is trending towards 8.2%, down from 10.4% in Q1 2020 and down from 9.8% in Q1 2019.
SUVs and trucks are on pace to account for a combined 77% of retail sales, the highest mix on record for the month of March, compared with 73% a year ago.
Retailers continue to turn inventory quickly as the average number of days a new vehicle sits on a dealer lot before being sold is on pace to fall to 53 days, down 20 days from last year.
U.S. Used Market
Wholesale used vehicle prices (on a mix-, mileage- and seasonally adjusted basis) increased 5.87% month-over-month in March—bringing the Manheim Used Vehicle Value Index to 179.2, a 26.2% increase from a year ago and a record high for the Index, according to Manheim.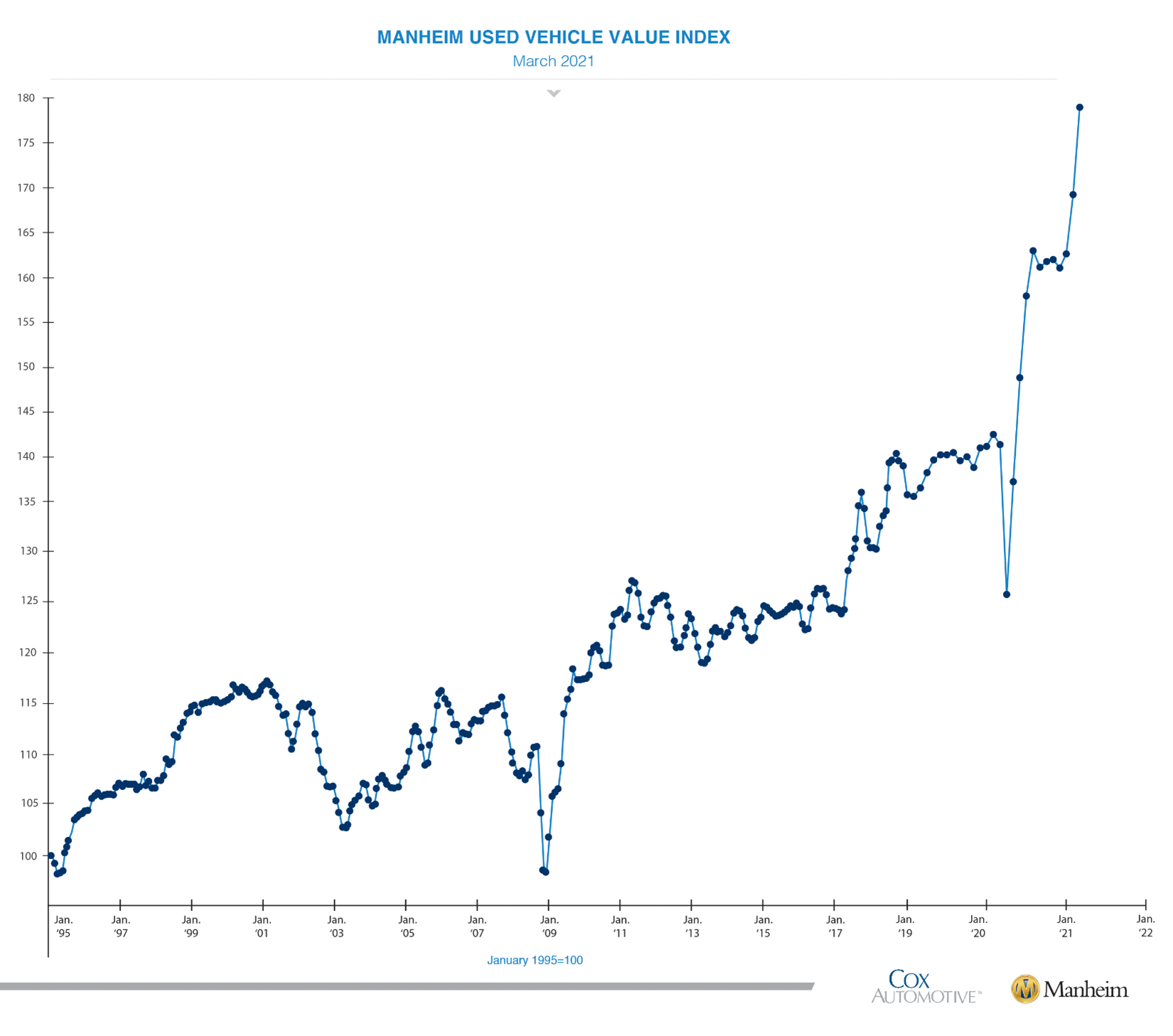 According to the most current Manheim report, the Three-Year-Old MMR Index, which represents the largest model year cohort at auction, increased 1.7% in each of the last three weeks. Over the four full weeks of March, the Three-Year-Old Index increased 6.4%. Over the month of March, MMR Retention, which is the average difference in price relative to current MMR, averaged 102.9%. The sales conversion rate also increased for most of the month.
All major market segments posted year-over-year seasonally adjusted price increases in March. Pickup trucks outperformed the overall market, while most other major segments underperformed the overall market.
According to Cox Automotive, total used vehicle sales jumped 117% year-over-year in March, with Manheim estimating the used SAAR to be 40.5 million—up from 38 million last month and up 18.5 million compared to a year ago. The March used retail SAAR estimate is 22.2 million—up from 20.8 million last month and 9.8 million compared to last year.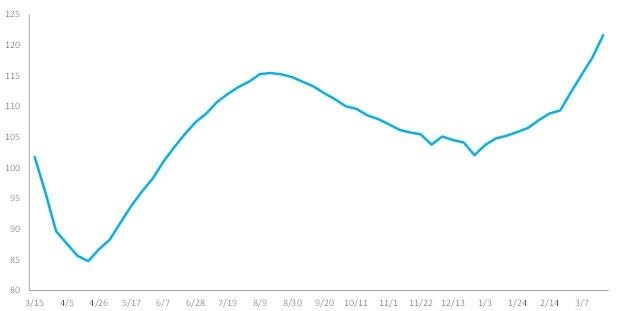 After increasing 2.5% the week ending March 14, wholesale auction prices increased another 3.1% during the week ending March 21, according to J.D. Power. The week's exceptional performance extends the streak of week-over-week price increases in the wholesale marketplace to 12 weeks. Wholesale prices are now 5.4% greater than their previous peak back in August 2020.
Automotive Aftermarket
Industry professionals are enthusiastic to gather once again at the annual SEMA Show, slated for November 2-5 in Las Vegas, NV.
According to SEMA eNews, the Las Vegas Convention Center recently finalized the construction of a new 1.4 million square foot facility expected to house exhibitors from the Restyling & Car Care Accessories, Powersports & Utility Vehicles and Truck, SUV & Off-Road sections.
"People are eager to get back to the SEMA Show and reestablish their in-person connections with colleagues and customers," said Vice President of Events Tom Gattuso. "The groundswell of excitement among exhibitors increases each day, and the Show is the 'Main Event' that the industry is looking forward to in 2021."
Companies across the racing industry are chomping at the bit as well. Booth space is now available for the 2021 Performance Racing Industry (PRI) Show from Dec. 9-11 in Indianapolis, Indiana.
"We know there is a lot of demand for the PRI Trade Show. And while many in the motorsports industry have done well these past 12 months, they still very much need this face-to-face interaction that's so important to doing business," said Karin Davidson, PRI trade show director. "PRI is fully committed to an in-person Show in 2021, one that may very well be the best and most important PRI Show ever."
Until then, SEMA-member companies are preparing to cast their vote for candidates seeking a seat on the SEMA Board of Directors. Voting will take place May 11-25, click here for more details:
Chairman-elect (one open seat)
Kyle Fickler – Director, Driven Racing Oil
Les Rudd – President, Bob Cook Sales
Distributors/Retailers (two open seats)
Larry Montante – Vice President, Keystone Automotive Operations, Inc.
Brian Rowland – Director, Walmart
Steve Whipple – Director, Jegs High Performance
Manufacturers (two open seats)
Ian Lehn – Founder, BOOSTane
Kim Pendergast – CEO/Owner, Magnuson Superchargers
Brian Reese – President/CEO, The Retrofit Source
Service (one open seat)
Lindsay Hubley – Managing Partner, Lodestone Events
Jim Liaw – President/Co-Founder, Formula Drift Holdings
The Automotive Aftermarket Charitable Foundation was founded in 1959 to assist automotive aftermarket members and their families who, due to catastrophic illness or terrible accident, have exhausted all other available resources in maintaining a reasonable existence. The organization's mission is to provide sustainable solutions for those in calamitous situations. Joel Ayres, Executive Director, asks for companies and individuals to join their cause of paying it forward—whether participating through the awareness partner program, hosting company fundraisers, becoming a sponsor or making a personal donation. For more information, contact Ayres at joel@aacfi.org.
Move Over Wrangler—There's a New Ride in Town
The all-new Ford Bronco platform was on full display at the recent Easter Jeep Safari, hosted in Moab, Utah March 27 – April 4. As reported by The SHOP Magazine, Bronco is collaborating with three of the off-road aftermarket companies to expand the growth of parts and accessories for customers to personalize their Bronco and Bronco Sport SUVs.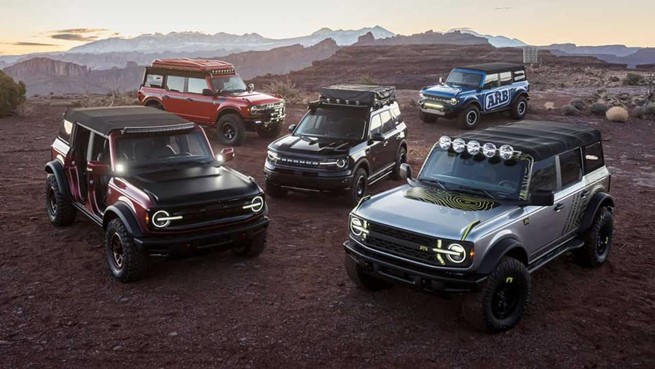 RTR Vehicles, a Ford custom vehicle collaborator founded by Vaughn Gittin Jr.; ARB 4×4 Accessories, an Australian manufacturer and distributor of 4×4 parts and accessories; and 4 Wheel Parts, an off-road parts retailer, are developing parts for the summer launch of Bronco two- and four-door SUVs.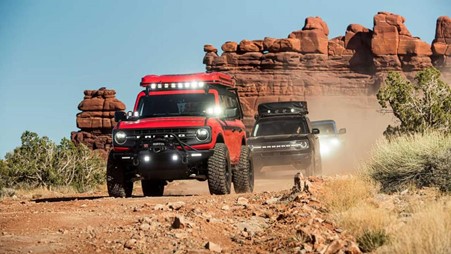 The restyled Broncos impressed onlookers at Easter Jeep Safari. "Not one, but two Broncos were built in record time, with the 4 Wheel Parts and Ford teams outfitting both Broncos with over 35+ aftermarket parts. It was a labor of love and an ultimate testimony of cross functional teams working in synchrony," said Kathryn Reinhardt, senior marketing manager at 4 Wheel Parts and SEMA board member.
Images Courtesy of Ford Motor Company and 4 Wheel Parts, Easter Jeep Safari.
Important Industry News
Holley, a performance automotive aftermarket company based in Bowling Green, Kentucky, will become a public company as part of a definitive merger agreement with Empower Ltd.—a publicly-traded special purpose acquisition company, according to SEMA. As a result of the agreement, Holley will become a publicly listed company on the New York Stock Exchange (NYSE) under the new ticker symbol "HLLY."
Barrett-Jackson Scottsdale smashed expectations last week, exceeding $105 million in sales. The event recorded a 100% sell-through rate for 1,054 vehicles, including Carroll Shelby's personal 1966 Shelby Cobra 427 Super Snake, which sold for $5.5 million. Read more here.
Hagerty, a brand known for its insurance coverage of classic and modern collector cars, boats and motorcycles, announced its acquisition of the prestigious Concours D'Elegance of America. The acquisition marks a bright spot in Hagerty's growing automotive portfolio, as the company works on rebranding itself as a leader in the classic car lifestyle.
Fab Fours' Project Goldstar Jeep Gladiator pays respect to America's Gold Star Families — a non-profit organization created to offer honor, hope, and healing to those who have lost family members in active duty service. The group provides programs and services, at no cost, to families who have lost a loved one in the U.S. Armed Forces. Read about the build here.
KPI — April 2021: Recent Vehicle Recalls