Features
Just 29 of 102 Drivers Finish King of the Hammers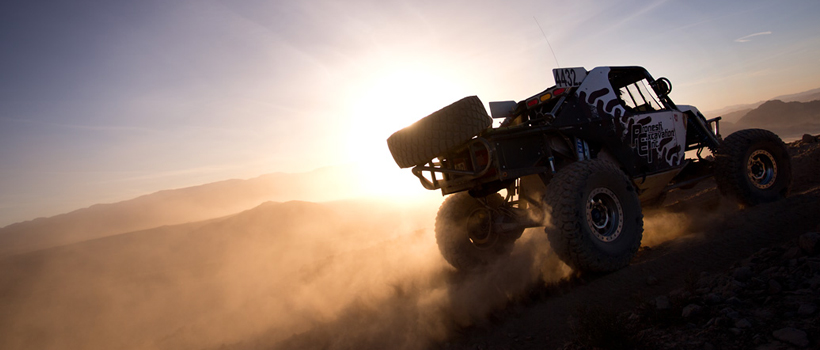 For the second time in his off-road career, Jason Scherer climbed high on the podium at the 2018 Nitto King of the Hammers Powered by OPTIMA Batteries in Johnson Valley, California. Scherer on on Friday, Feb. 5, claimed his first crown in 2009 and is now one of five drivers to win the event more than once.
In a post interview, Scherer explained that while KOH used to be a race of attrition, in 2018 it was a head-to-head race from start to finish. And what a race it was.
"We had the raw speed in the desert," he said. "We were trying to save it all the time in the rocks and that's the balance and that's the part that's tricky. We fixed the transfer case in the car, but we never changed a tire. We didn't have to stop for anything but fuel. It was flawless."
For almost the entire 202 miles, Scherer battled with former King, Randy Slawson. The two went back and forth across the dry and dusty Mojave Desert and through the Hammer's infamous rock climbs like Jackhammer and Chocolate Thunder.
"Randy and I were mixing it up," said Scherer, who swapped leads with Slawson on Backdoor and Outer Limits. "It's easy to reel someone in in the rocks because you're hunting. (Randy) got up behind us on Spooners, though, and we let him go and then we passed him. But that's racing, and we had fun and it was clean. Then he drove over our car and I was like, 'it's on brother, it's on.'"
As Slawson streaked across the Melville dry lake bed just miles from the finish, his car suddenly died and coasted to a stop, giving Scherer his second King of the Hammers crown.
Scherer was just one of 29 drivers to finish from the field of 102 who started the race.
Trailing behind Scherer by 12 minutes in second place was two-time winner Erik Miller who finished the course in seven hours and 20 minutes. While Scherer battled with Slawson most of the race, Miller went back and forth with Wayland Campbell throughout the day. Overall it was a rough day for Miller, though, who expressed his exhaustion in the finish.
"We pushed ourselves to the limit all day," he said. "I woke up feeling like hell and battled that all day. It was a bad luck kind of day. I'm just grateful to be here. If I was in a single seater car today like Wayland or Levi, I don't think I could have done it."
Rounding out the podium in third was the youngest driver to finish in the top ten, Wayland Campbell, age 21, from Gilbert, Arizona. Campbell was the only driver on the podium to solo the race and has been quick to prove himself in the ULTRA4 world. He won the ULTRA4 series in 2017, and he now has two podiums at KOH. He finished second in 2017 behind his father Shannon who is the only three-time winner.
"I just tried to catch everyone all day," says Wayland. "I couldn't see anyone, I just heard chatter on the radio about where people were at and then I would try and go faster."
Six former Kings took the start line in 2018 and all but Slawson finished the race. Slawson actually led much of the race before suffering a mechanical issue just miles from the finish.
All the other Kings finished in the top 10, proving that experience is key at the Hammers: Scherer (first); Miller (second); Shannon Campbell (sixth), Loren Healy (seventh).
*Top photo comes courtesy of Jason Zindroski