Features
Iowa Shop to Continue Retro Vibe at SEMA Show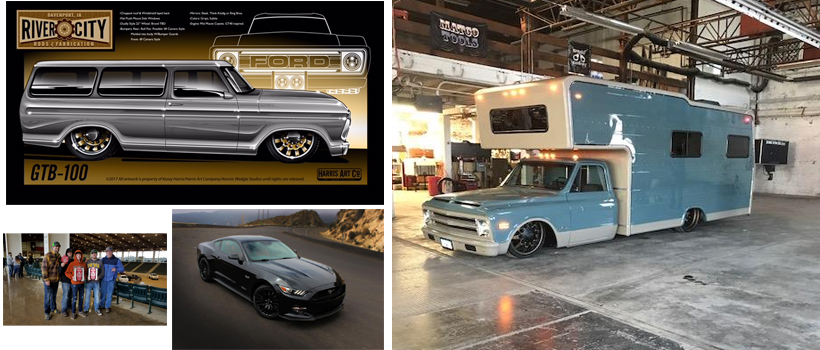 Craig Piggott and River City Rods & Fabrication are set to completely rebuild a 1976 Ford GTB100 for the upcoming SEMA Show. The shop was behind a popular project build at last year's SEMA Show-a converted 1968 C30 camper that was displayed in the AccuAir project vehicle corral.
Plans for the GTB100 include:
A complete Roadster Shop chassis with a retro-influenced Coyote engine and many old-school aesthetics
A custom red interior designed by Auto Kraft Upholstery, with a modern touch by Dakota Digital
An exterior with the modern look of flush-mounted glass and Mustang mirrors and a complete facelift with a 2-inch chopped top and a laid-back windshield
Wheels designed and machined by Delmo and Curtis Speed, wrapped in Falken tires
"We have a long way to go on the GTB100, but we are determined to make it our most impressive project yet," Piggott said. "With support from partners like AccuAir, ididit, Dakota Digital and Currie, our vision for the build is coming together."
The team at River City Rods is currently sourcing products from aftermarket and performance manufacturers while finishing fabrication work on the body.
Craig Piggott
The scope of the GTB100 build is a big undertaking for any builder-add running a busy construction company and fabrication business to the picture and a snapshot of Piggott's dedication and determination becomes clear.
In fact, Piggott's first SEMA vehicle was only the result of his tenacity to grind out the impossible, according to the shop. With just weeks until SEMA 2016, AccuAir had a prime spot open up unexpectedly in its corral right outside the Las Vegas Convention Center. After seeing River City Rods' projects trending on social media, the company reached out to Piggott. Always up for a challenge, Piggott installed AccurAir suspension and got his flagship build, a 1968 Chevrolet C10 with a utility bed, SEMA show ready in just two weeks.
After making quite the impression at SEMA 2016, Piggott further solidified his status as the builder to watch when the C30 Camper became a hit last year. Now, all eyes are on Piggott and River City Rods to create another unforgettable SEMA vehicle.
Manufacturers interested in participating in the GTB100 build are encouraged to contact Michael Murray with Performance Business Media at michael@performancebusinessmedia.com