Features
Industry Pitches in on Student Jeep Build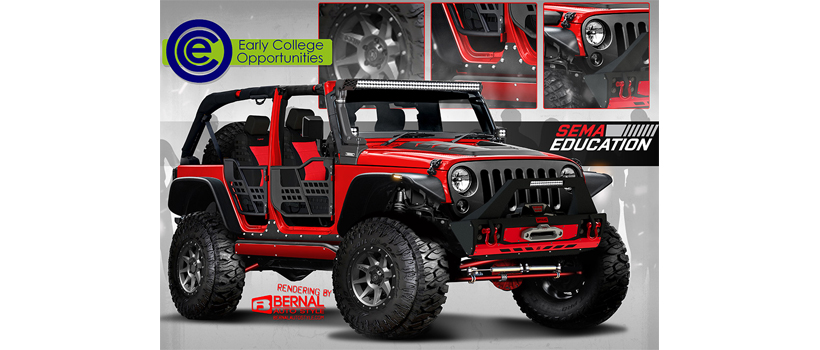 SEMA has launched a new program designed to support and engage high-school students in the automotive hobby. As part of the pilot program, high-school students from the Santa Fe Early College Opportunities (ECO) Auto Shop Program in Santa Fe, New Mexico, will oversee and execute an entire project Jeep build-including tracking time, expenses and associated resources-using a pre-owned vehicle purchased and donated by SEMA.
Matt Bernal of Bernal Auto Style, which offers design services and project-vehicle support, was recently invited to participate in a teleconference with the Santa Fe ECO Auto Shop Program and help bring their vision to life.
"I like to think the rendering is what turns an idea into a real project, not only for the students, but all involved," Bernal explained. "It's also a marketing tool to incite public excitement about a project, while at the same time validating that project."
Prior to meeting with Bernal, the students created a build sheet for the 2015 4WD Jeep Wrangler Unlimited that included:
A 6-inch arm suspension kit with an external reservoir
A front/rear locking differential
Headlights
17×10-inch rims
37×12.5-inch tires
Front/rear fenders
Snorkel
Front bumper
Vented hood
Spare tire swing carrier
Winch
Rock sliders
Skid plates
A 50-inch light bar
A 30-inch light bar
Cube LED light pods
LED halo headlights
LED taillights
A front grille
Door rockers fenders
A hood cowl scoop
SEMA continues to support the project, and is helping to secure parts donations and volunteers to serve as mentors to the students, according to the association. Those interested in supporting the project or wanting more details should contact SEMA Senior Director of Education Zane Clark by emailing zanec@sema.org.