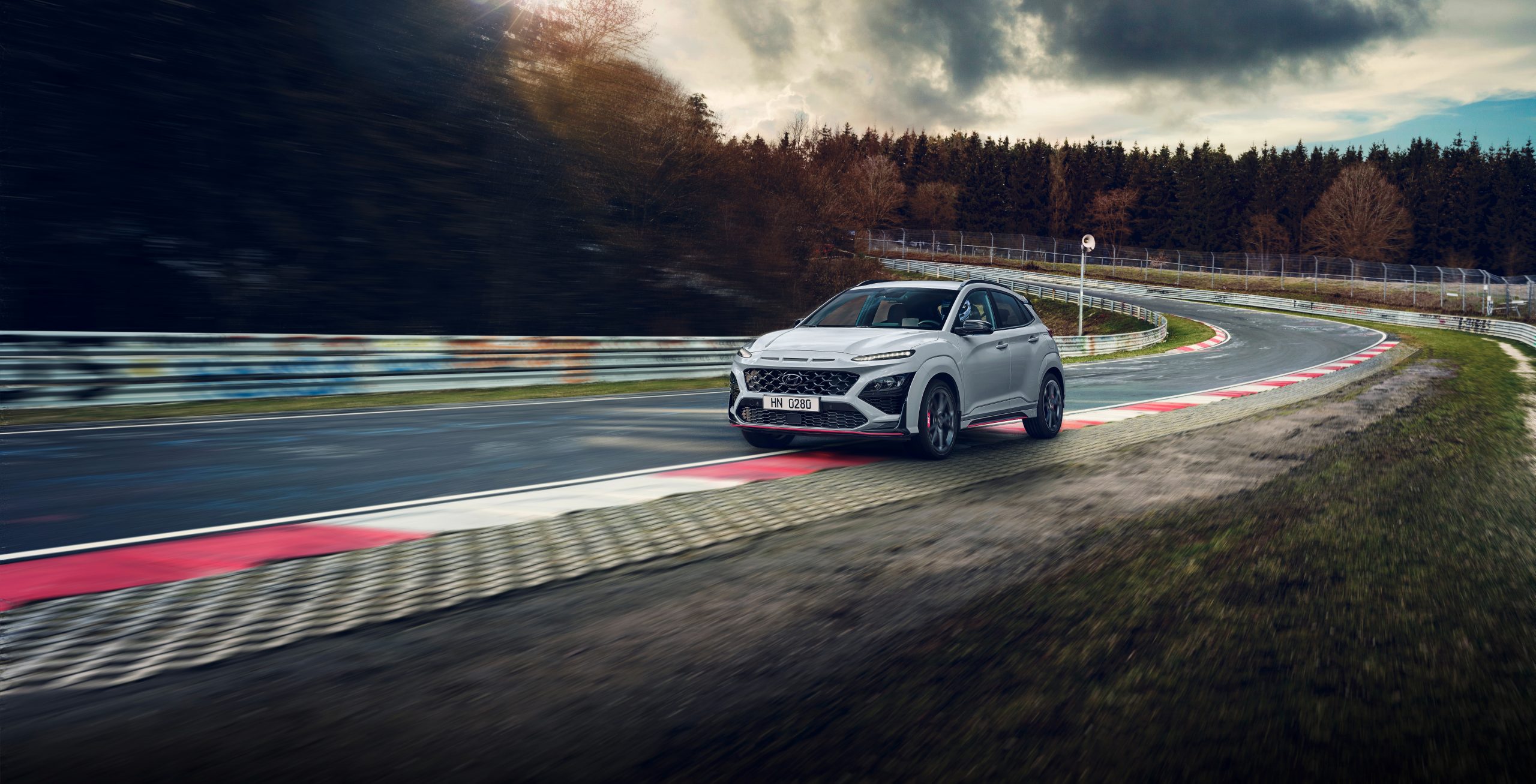 Hyundai Motor Company unveiled the latest addition to Hyundai's growing high-performance N lineup, the all-new Kona N, which becomes the first N model with an SUV body style.
"We are thrilled to share the mindset, spirit and vision of the N brand to be a leader in the high-performance category powered by traditional internal combustion engines as well as our proven industry-leading battery electric and fuel cell electric vehicle technologies," said Thomas Schemera, executive vice president and head of customer experience division at Hyundai Motor Company. "Our continuously growing and more balanced N portfolio will open new high-performance options, delivering the 'grin factor' no matter what the propulsion technology or body type may be."
"KONA N is a true hot SUV with the performance level of a hot hatch. It breaks the rule that SUVs are less fun to drive. As an N model, it goes beyond the limits of an ordinary SUV," said Albert Biermann, President and Head of R&D Division at Hyundai Motor Group. "KONA N can carve corners on the racetrack and bring excitement to everyday driving."
KONA N is powered by a 2.0L turbocharged GDI engine with an 8-speed wet dual-clutch transmission (N DCT). N DCT is the enhanced version of Hyundai's in-house developed 8DCT, an eight-speed wet-type dual-clutch transmission. To make it suitable for N models, the 8DCT received improvements in durability, Hyundai said, allowing it to handle the demands of high-performance vehicles.
The powertrain delivers a maximum output of 280 horsepower, has a maximum speed of 149 mph and can accelerate from 0-60 mph in 5.5 seconds when launch control is activated.
Hyundai equipped the Kona N with N Corner Carving Differential, an electronic limited slip differential (E-LSD) for control of torque distribution to driving wheels. Kona N also is outfitted with 19-inch lightweight forged wheels with high-performance brakes and tires.
Even at the base trim, Kona N comes with launch control, variable exhaust system and N Grin Control System. N Grin Control System offers customers customization, with five distinct drive modes: Eco, Normal, Sport, N and Custom. These drive modes change the character of the all-new Kona N by adjusting the operating parameters of the engine, electronic stability control, exhaust sound and steering to optimize them for a variety of driving conditions.
The body's extra welding points, improved strut ring structure and reinforced skeleton enhance rigidity to minimize body roll during maneuvers, Hyundai said.
Kona N is equipped with a new 10-inch infotainment and digital cluster system featuring an exclusive racing head-up display (HUD) under N or Sport drive modes. The new infotainment system's 'N mode design' which provides a game-like experience with digitalized elements, communicates updates such as lap time and N track maps that help place the driver's location within the circuit along with other information.
Kona N has customizable N buttons that can be set to toggle custom modes. The custom modes can be pre-set according to the driver's preferences. The buttons can also turn on and off the lap timer.
The newly developed, N-exclusive Sonic Blue exterior color is a new spin on the N brand's Performance Blue, Hyundai said, and provides contrast with the N-exclusive red accent that skirts the lower edge of the body.
Kona N's front lip spoiler, double-wing roof spoiler and side skirts enhance aerodynamic efficiency. The wide lower air intake provides engine cooling during hot laps and spirited driving. The double-wing roof spoiler, which is integrated with an N-specific triangular brake light, enhances downforce.
The Kona N's interior also features brand-specific details such as the Performance Blue color accents, seats, steering wheel, shift knob and metal pedals.
To ensure safe and convenient daily drives even as a high-performance vehicle, Kona N is equipped with a full array of advanced driver assistance system (ADAS) features.
Also available in the Kona N is Bluetooth Multi-connection support and an enhanced natural language voice recognition system that incorporates Speech-to-Meaning and Deep Meaning Understanding technologies.
The SUV is also equipped with Traction Control to handle a variety of terrain and surfaces, including snow and mud.