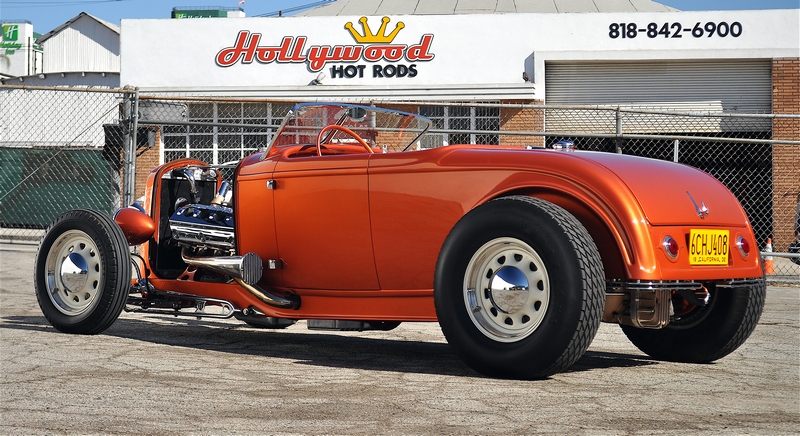 We had been hearing so many positive things about Troy Ladd and Hollywood Hot Rods, located in Burbank, Calif., that a shop tour seemed in order.
HHR has been featured on the television show Rides, and in the past eight years has seen its share of the limelight. Who wouldn't want to take a look inside?
Ladd has a business degree and used to work in the corporate world-however, during his time behind a fancy desk, all he could do was think about metal crafting and building hot rods. His dream was to create projects that would appear to have been built in the 1950s and '60s, but feature modern parts here and there-a unique blend of old and new.
And the name of his shop? "It came to me in a dream," he recalls.
At the 61st annual Grand National Roadster Show in 2010, HHR was voted Builder of the Year-a great honor for one of the industry's youngest and most talented builders. But it didn't necessarily come easy.
When Ladd first opened for business, money was so tight that he had to sleep on the shop floor and basically live on a single meal a day from the nearby McDonalds.
His hard work and dedication seems to have paid off, however, and in the years since he's earned two America's Most Beautiful Roadster awards, plus in 2007 Ladd was named Trendsetter of the Year by the folks at Goodguys.
"Our motto at Hollywood Hot Rods is 'Respect Tradition,' and really what that means is we are not building period-perfect cars, but respecting the heritage and history of hot rodding," he explains.
What better way to truly get inside HHR (www.hollywoodhotrods.com), than by taking a closer look at a pair of show-stopping projects the shop has created that exemplify what Ladd's vision is all about.
Coyote-Powered Roadster Pickup
The general idea came up to build a traditional-looking hot rod that could have been a shop truck in the 1960s for the Raybestos Co.-a cool truck that could have been used as a service vehicle at places like Gasoline Alley at the Indianapolis Motor Speedway.
The theme was based on the fact that Raybestos supplied brake shoes to Indy 500 racecars throughout the 1950s and '60s, so the idea was to inject styling cues from open-wheeled Indy roadsters and Sprint cars of the era into the general design of the project vehicle.
"Raybestos Brakes have been around since 1902, and they have an incredible history in providing high-performance brakes for street cars, hot rods, and even NASCAR and open-wheel racecars," says Ladd. "It's a perfect brand, and group of people who really 'get it,' for Hollywood Hot Rods to partner with on a corporate build."
The decision was made to have it centered on the 1932 Brookville Steel roadster pickup. In the case of their RPU product, it is actually a "phantom body." Its extended-cab configuration solves the age-old problem of insufficient legroom in those early Ford trucks.
The styling is rare. According to Ford Motor Co. records, there were only 593 of the 1932 open-cab pickups originally built, and today few remain. The Brookville reproduction was sure to turn heads!
The next thing to do was to select a power plant and transmission for the project. The decision was to go with a new Coyote 5.0-liter Ford, mated to a Tremec 5-speed manual gearbox. Then HHR's "old with new" theme was put into action.
The modern Ford mill received a set of "427 Cammer" (as they were called) valve covers via a pair of custom-machined aluminum plates engineered by HHR. The crew then fabricated new intake manifold parts and pieces in order to facilitate the use of a completely new retro setup, which gave the appearance of it going from a state-of-the-art modern engine to that of a nostalgic motor, switching to a direct-port Hilborn arrangement.
While it looks "old school" to the eye, there's a mix of old and new technology in it, as the stack-style Hilborn injectors are actually controlled by the ultra-modern electronic injection system as equipped on production modern 5.0-liter Ti-VCT engines. FAST (Fuel Air Spark Technology) brainpower mounted behind the dash provides the programming.
The custom exhaust headers were built by HHR using Meg's components and include Lakester-style block-off plates that can quickly be removed for unrestricted exhaust flow. A custom C&R Racing aluminum radiator is used for cooling.
The frame for the project was created using a pair of '32 Ford stamped outer rails (featuring the OE-style reveal line) and from there everything on it was custom-made by HHR. Because the vehicle was built to provide good handling and cornering capabilities, special racecar-style tubular reinforcements were incorporated throughout.
In addition to the front of the frame being raised, pinched and clearanced (as well as other numerous unique touches), completely new rear sections of the frame rails  (with "S" stepped in the rails) were designed for placement of the shortened truck bed, and pinched in the rear as well.
At first glance the overall front suspension appears to be built in a traditional manner, using a 4-inch drilled and dropped I-beam axle, gusseted stainless steel hairpins and a pair of what looks like old-fashioned twin-tube hydraulic shock absorbers. However, upon closer inspection, there's no leaf or coil springs to be found (HHR fabricated an adjustable floating torsion bar arrangement) and what look like old-school shocks are actually QA-1 adjustable units.
The shop added bell-shaped dust sleeves, and the now era-correct-appearing shocks offer rebound-valving control for specific ride characteristics. Meanwhile, the nerf bar up front gives the nose a Sprint car look, and the chromed piece also acts as the mounts for the shock absorbers and headlights.
A Vega-type steering system is used, while in the rear a Speedway Engineering quick-change axle is supported by an adjustable 4-link (triangulated) setup using gusseted stainless steel hairpins, along with a custom HHR-designed and built torsion bar suspension. QA-1 adjustable aluminum shocks are also used out back, and a handmade rear bumper bar was added to continue the Sprint car flavor.
Up front, Raybestos disc brakes were chosen off the shelf, with 1965 Corvette calipers getting the nod. They were matched to 1967-'72 Chevy passenger car 11-inch rotors. On the rear, the company's Professional Grade rear drums were used-originally listed for 1959 Cadillac DeVille applications.
Meanwhile, dual Wilwood Engineering master cylinders were built into the system, complete with balance bar, and connected to a Wilwood racing pedal assembly.
Bodywork on the project took place at Burgess Auto Body (Lancaster, Calif.) and paint was applied by Tracy Tichenor, owner of T&R Auto Body in Hammond, Ind., who flew in to do the SATA paint gun duties applying the "Raybestos Red" paint (blended from Deltron 2000 PPG pigments).
A DuVall-style windshield adds a stylish accent to the body and retro Raybestos red, white and blue lettering was added to the doors-actually the shield "Safety in Speed" logo that was one Raybestos-equipped Indy roadsters back in the day. In addition to the body receiving a coat of red paint, the chassis and several small parts were given a coat of the same hue, done by Anthony Rico of Pacific Coast Powder Coating in Palmdale, Calif.
The interior upholstery work was handled by Elegance Auto Interiors in Upland, Calif., and was done in the traditional tuck-and-roll style, and a full set of customized instruments (speedometer, tachometer, fuel level, volt, oil pressure, water temperature) was creatively done by Redline Gauge Works, Santa Clarita, Calif.
Behind the seat is a pair of Optima Red batteries, and Dynamat material was added throughout to help reduce heat and noise in the interior.
Special Halibrand-style one-off wheels were specified in the original design process (but were not finished in time for the photo shoot).
And possibly the best part? The truck was given away in a special Raybestos sweepstakes.
Respect Tradition '32 Ford Roadster
When Ladd's business was first getting going, he knew that one way to show potential customers his visions of how to build hot rods was to create a shop car-a "rolling business card," if you will, that showcases the talents he and his crew possess.
Besides respecting the hot rodding tradition, HHR also allows room for added creativity. So his shop car choice, a '32 Roadster, naturally blends old and new.
The car, which can only be described as a "low highboy," features a very traditional 392-ci "Firepower" Chrysler Hemi engine, but with modernized electronic fuel injection. Add in the overdrive-equipped 200R4 automatic transmission and ABS braking, and enthusiasts will start to appreciate the shop's full efforts.
(Hemi historians will point out that the Chrysler Corp. actually did offer an optional fuel injection system on 1958 300-D models, a Bendix electronic unit mounted atop the 392-ci Hemi engine called the Electrojector. Unfortunately it proved to be unreliable and too complicated, plus few if any out in the field knew how to repair them. )
While many hot rod builders today start their projects with a Brookville '32 Roadster body, as Hollywood Hot Rods did in this case, not too many of them immediately start cutting it up and removing strips of sheet metal. The body and cowl were sectioned two inches, plus material around the rear wheel well area was yanked out.
Ladd wanted a hot rod that had tall tires on the rear, but it was important to him that the car ended up with an appearance that kept the arches of the wheel wells on the body above the tops of the oversized rubber as well. This was the key reason for all the extra "slicing and dicing" of the sheet metal.
Also, because the frame of the car had five inches of rear kick-up added, the body needed some creative changes in order to look "right." Ladd says it took a ton of work and planning, but the body is now far from stock, yet achieves the desired look.
The interior features bucket seats and a tubular center console-effect feature; however this work wasn't done just to be different, it was added to increase structural strength and support to the cabin (eliminating vibrations and unwanted squeaks and rattles).
Circular-themed patterns were incorporated into the overall design at various points on the car, including the hairpins, front frame horn boxing plates, motor mount plates, lower section of the grille shell and corner gussets on the cowl, and they have the extra detailing of being made from stamped material complete with contoured radius.
(Notes: the rounded corners on the deck lid are a custom touch added that doesn't jump out at first glance; door handles are Limeworks items recessed into the door; the center-mounted fuel cap offers a European sports car flavor; and the wheel wells were not sectioned, as it would have upset the arches. However, they were moved up two inches. )
This low-slung roadster screams nostalgia and when you peer into it a bit closer, one realizes all the subtle changes done are important modifications to solve the problem of this car just looking like another '32 Ford roadster with a Hemi engine-not that there's anything wrong with that! But the fact is, Ladd likes to do things a little bit differently. Amen to creativity!