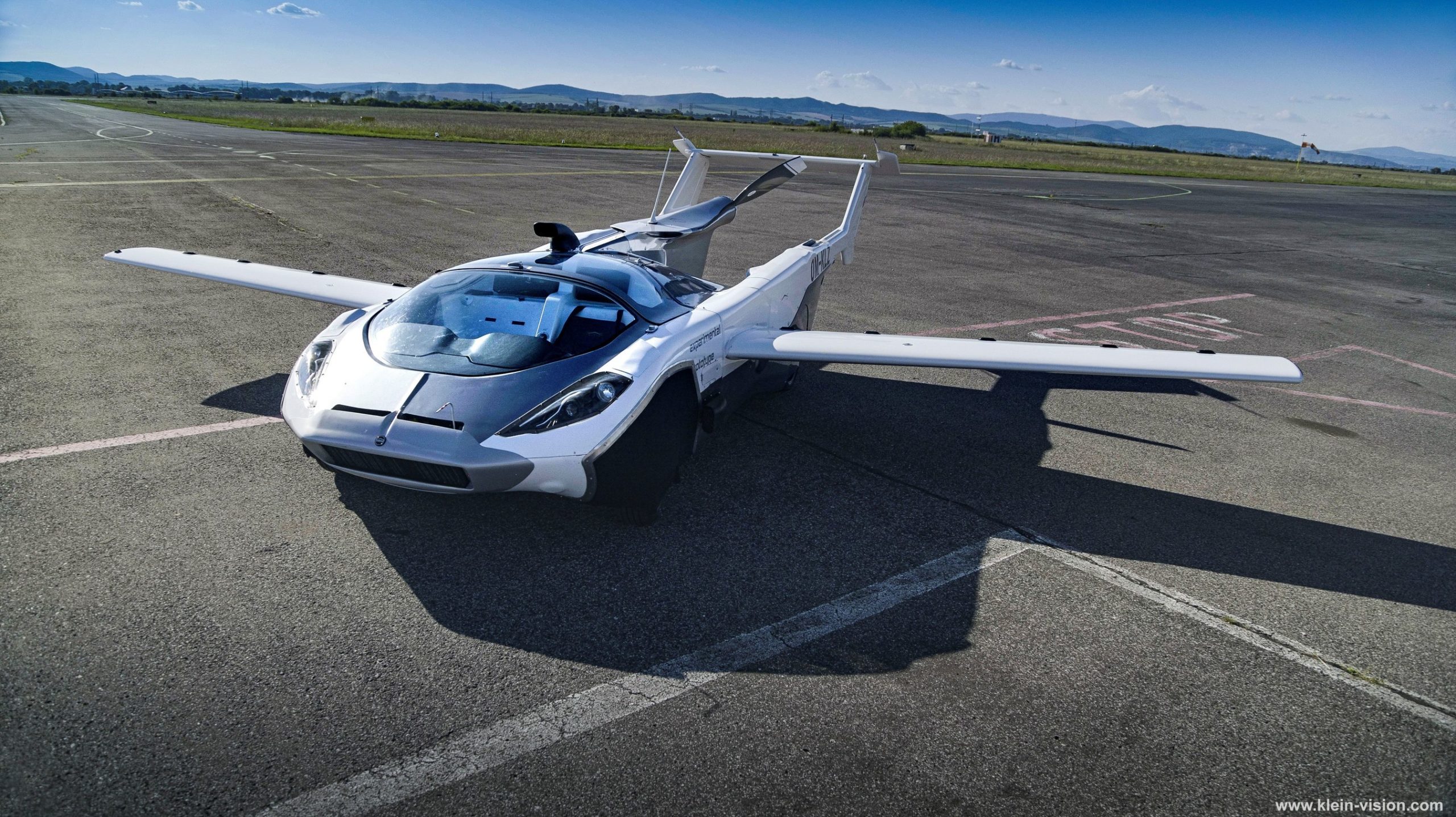 The fifth-generation AirCar (V5) is a flying car that transforms from road to air vehicle in 3 minutes.
Chances for a sci-fi-predicted future are looking up after three flying car companies recently made headlines:
AIRCAR
The fifth-generation AirCar (V5), a flying car that transforms from road vehicle into air vehicle in under 3 minutes with one click of a button, has passed an important milestone, the company announced.
Designed by Prof. Stefan Klein, the AirCar (V5) completed two 1,500-foot AGL (Above Ground Level) flights at Piestany airport in Slovakia. The model safely achieved two full airport patterns, including two takeoffs and landings, according to reports.
"With AirCar, you will arrive at your destination without the hassle of getting a ride to the airport and passing through commercial security. You can drive your AirCar to the golf course, the office, the mall or your hotel and park it in a normal parking space," said Anton Zajac, Klein Vision's co-founder, investor and pilot.
The two-seat model is powered by a BMW 1.6L engine and has an effective power output of 140 hp. Klein predicts future models will feature a 300-hp engine and surpass an estimated travel range of 600 miles.
PAL-V
Meanwhile, another flying car, the PAL-V Liberty, is now being tested on European roads.
The Liberty recently passed stringent European road admission tests and now is allowed on the streets with an official license plate, the company states. The design has been going through aviation certification with EASA (European Aviation Safety Agency) since 2015, with finalization expected in 2022.
"We have been cooperating with the road authorities for many years to reach this milestone," said Mike Stekelenburg, CTO of PAL-V. "It was very challenging to make a folded aircraft pass all road admission tests."
SWITCHBLADE
Another double-duty vehicle, the Switchblade flying sports car, hit 88 mph in runway test runs recently—coincidentally, the same speed a famous DeLorean had to reach before it could travel through time in the 1985 movie Back to the Future.
Technically classified as a motorcycle by the U.S. Department of Transportation, the Samson Sky team calls Switchblade a flying sports car because of its high performance. The lightweight, turbocharged, 200-hp liquid-cooled V-4 engine is capable of 0-60-mph runs of 6.5 seconds and a top speed of 125-plus mph on the ground, according to the company. Airborne, the craft is designed to cruise at 160 mph with a range of 500 miles.
"Say goodbye to traffic congestion, weather delays and rental car/Uber hassles. Say hello to freedom," said Sam Bousfield, designer of the Switchblade and CEO of Samson Sky, which reports having more than 1,300 early reservations for the $150,000 vehicles.