Features
Hall & Oates Guitarist Curates 'Cars of the Rock Stars'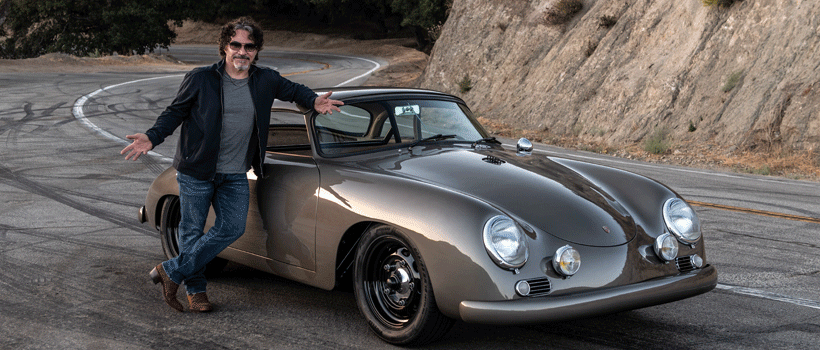 Rock & roll hall of famer and long-time automotive enthusiast John Oates of the legendary duo Hall & Oates curated a special exhibit at the 2019 Amelia Island Concours d'Elegance in Amelia Island, Florida.
Cars of the Rock Stars featured Oates' custom 1960 Emory Outlaw Porsche 356 Cabriolet alongside famous cars owned by notable musicians with some of the guitars they played. Other cars in the exhibit include Janis Joplin's Porsche 356 Cabriolet, ZZ Top's Billy Gibbons' Cadzilla Cadillac, AC/DC's Brian Johnson's Bentley, and Elvis Presley's Corvette. These hand-selected cars were part of the 225 pre-1974 vehicles chosen for display at the 2019 Concours d'Elegance, held March 9-10at the Amelia Island Ritz-Carlton Hotel.
"Throughout my life I have always had two major passions," Oates said, "driving cars and playing guitars. Both the machine and the instrument are paragons of inspired and purposeful design. Both tell their unique story historically and culturally. Both have their roots in the late 19th century, evolving and continuing to fascinate and excite through the 20th and now into the 21st centuries."
Oates also had several guitars from his personal collection on display. To benefit the Concours' charitable foundation, he auctioned a special Fender Player Stratocaster painted with a custom image of his Porsche 356.
Esteemed classic Porsche customizer Rod Emory-who built John Oates' Emory Outlaw 356-spearheaded the guitar project through his work using Rust-Oleum metal-prep and finishing products on Oates' car. Rust-Oleum's new electroluminescent LumiLor product is a light-emitting coating developed with Darkside Scientific.
Worldwide airbrush-supply leader David Monning of Coast Airbrush teamed up with renowned artist Ryan "Ryno" Templeton to apply the image of Oates' 1960 Porsche 356 Emory Special on the Stratocaster. When a switch is flipped, the paint comes to life on the guitar.