Features
Hennessey Unveils Track-Focused Venom F5 Hypercar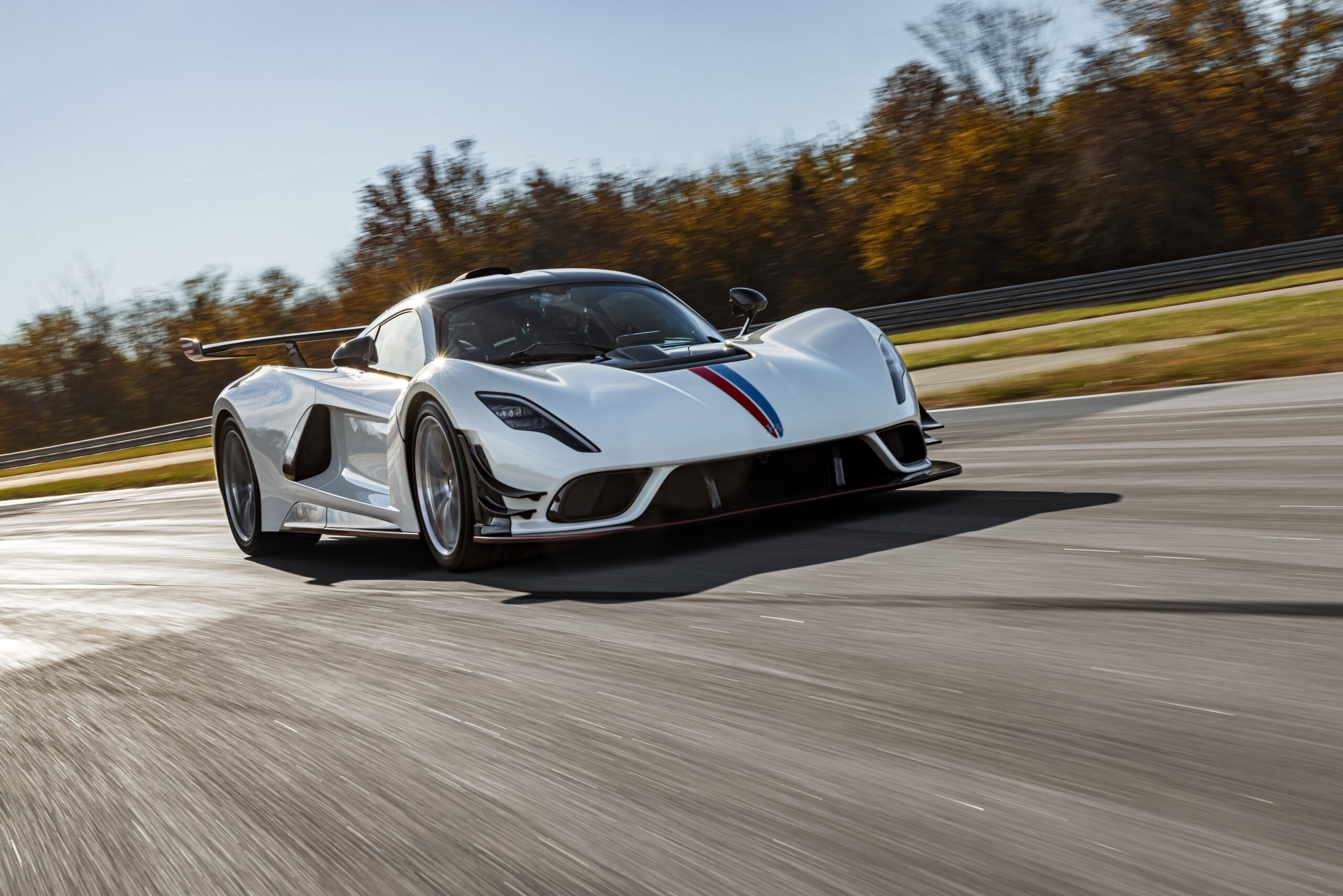 Hennessey has unveiled a new, lighter-weight, track-focused version of the Hennessey Venom F5, the Texas-based company announced.
The Venom F5 Revolution Coupe is based on the Hennessey Venom F5 Coupe, but features comprehensively reworked aerodynamics, suspension, engine cooling and digital telemetry, as well as a weight reduction that brings its total weight below 3,000 pounds, Hennessey engineers said.
Mirroring all other Venom F5 models, mid-mounted in the carbon-fiber monocoque chassis is Hennessey's twin-turbocharged, 6.6-liter, 'Fury' V8 engine rated at 1,817 hp. Power is sent to the rear wheels through an automated single-clutch gearbox calibrated for competitive use, engineers said. Carbon-ceramic brakes are fitted as standard and feature muti-piston calipers.
A significant addition is the Revolution Coupe's full-width rear-mounted carbon fiber wing. The adjustable wing (that allows the owner to adjust the angle of attack through a range of degrees) is fitted with end plates that stop the high-pressure air on top of the wing from spilling underneath. The end plates also generate vortexes that guide airflow and improve aerodynamics and stability, designers said. As a result, the rear wing delivers more than 800 pounds of downforce at 186 mph and over 1,400 pounds of downforce at 249 mph, according to Hennessey.
A significantly larger front splitter, crafted from carbon fiber, complements the rear-mounted wing and rear diffuser. The front splitter prevents air from flowing under the F5 Revolution Coupe, which creates a low-pressure vortex beneath the vehicle (aiding downforce). At the same time, the extended rear diffuser guides air out from the hypercar's smooth underbelly. Dive planes, positioned on the front fascia in front of the wheels, aggressively channel airflow to shift the aerodynamic balance forward – adding grip to improve turn-in. In addition, the Revolution features a new roof-mounted central air scoop.
The double-wishbone suspension, with more aggressive alignment settings, is fitted with adjustable dampers that may be calibrated trackside. In addition, new forged alloy wheels present a larger contact patch for improved cornering grip and enhanced braking, the company said. Lastly, Venom F5 Revolution owners are offered a digital on-board track telemetry system capable of measuring an array of data points including lap times, splits, cornering G-forces, and more.
The new Venom F5 Revolution Coupe will make its global debut at the Miami Motorcar Cavalcade Concours d'Elegance on Jan. 15 and will be limited to just 24 units.