Features
Hennessey Unveils 912-HP Audi R8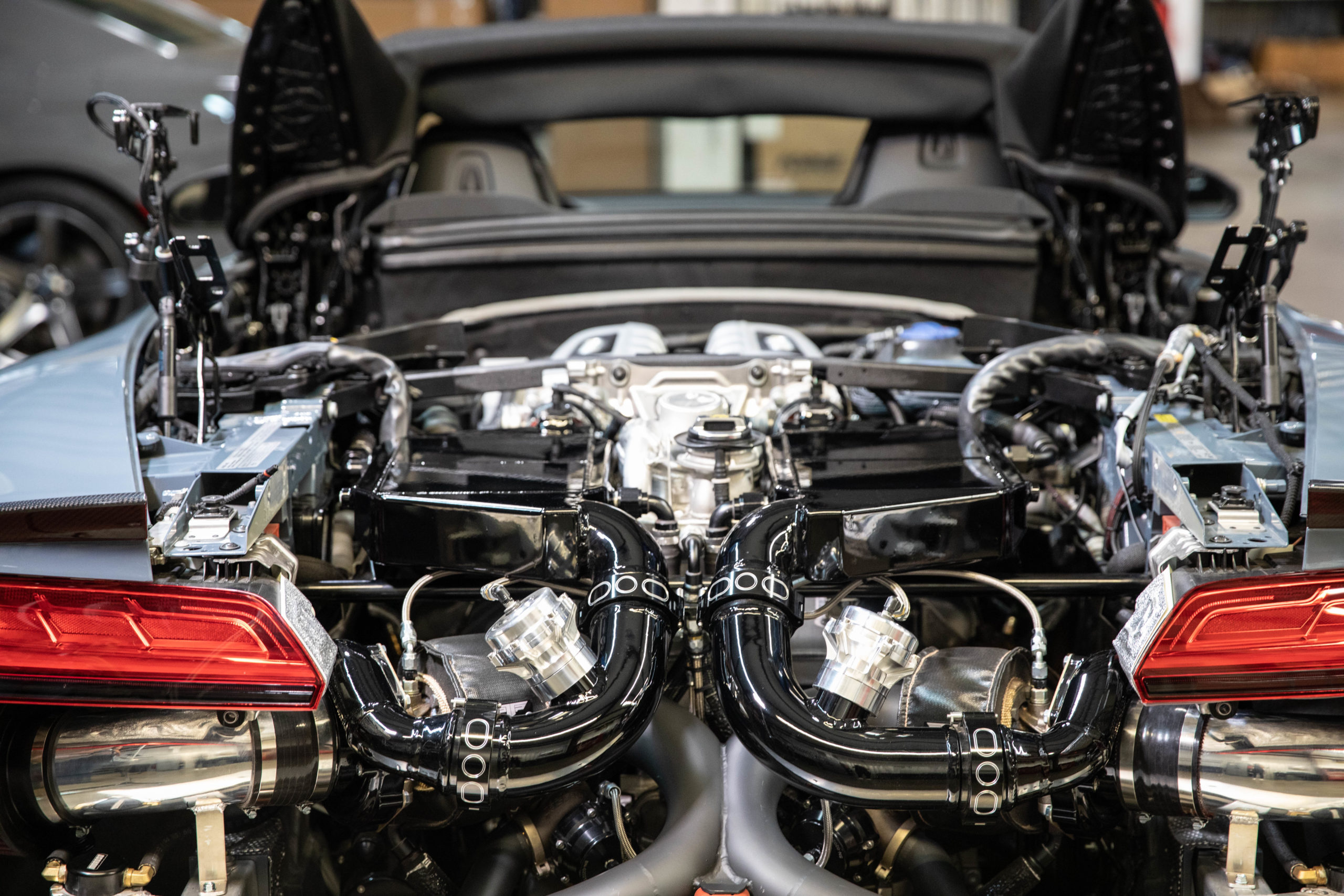 Turning sports cars into super cars has been a specialty of the Hennessey Performance team for nearly thirty years. The company also specializes in helping elevate supercars with hypercar levels of power and performance.
A good example is the Audi R8 V10 Plus. At 562 HP, the naturally aspirated Audi R8 V10 is no slouch. It does zero to sixty in less than four seconds. HPE adds two Precision twin ball turbochargers to take the V10 to a whopping 912 HP, blasting from 0 – 60 mph in 2.6 seconds.
Further enhancements include a High-Flow Air Induction System, Dual Inlet Pipes, Dual Blow-Off Valves, Stainless-Steel Turbo Downpipes with Thermal Coating, and a host of additional high-speed components and add-ons. The chassis is dyno tested and road tested for up to 200 miles.
"Most people know us for our performance enhancements on American vehicles," said company founder John Hennessey. "But we also apply the same engineering and design excellence to European supercars like the Audi R8 and its Italian cousin, The Lamborghini Huracan."
HPE900 Twin Turbo Audi R8 V10 Specifications
Power
• 912 bhp @ 7400 rpm
Performance
• 0-60 mph: 2.6 sec.
• ¼ mile: 9.8 @ 145 mph
Upgrades
• Twin Ball Bearing Turbochargers
• High-Flow Air Induction System
• Dual Inlet Pipes
• Dual Blow-O Valves
• Stainless Turbo Downpipes Thermal Coating
• Stainless Exhaust with Thermal Coating
• Turbo Oil Pump, Oil Tank & Oil Hoses & Fittings
• Dual Air-to-Water Intercooler System
• Intercooler Tanks, Pump, Hoses & Fittings
• Dual Intercooler Heat Exchangers
• Retains Factory Engine Compartment Covers
• Turbo Air Induction System
• All Necessary Gaskets & Fluids
• Pennzoil 10w60 Synthetic Motor Oil
• Shell V-Power 93 Octane Fuel
• Engine Management Calibration
• Chassis Dyno Testing
• Road Testing up to 200 miles
• Hennessey Interior & Engine Plaques
• Exterior Hennessey & Twin Turbo Badges