Features
Hennessey Kicks Off Production of Goliath 700 Pickup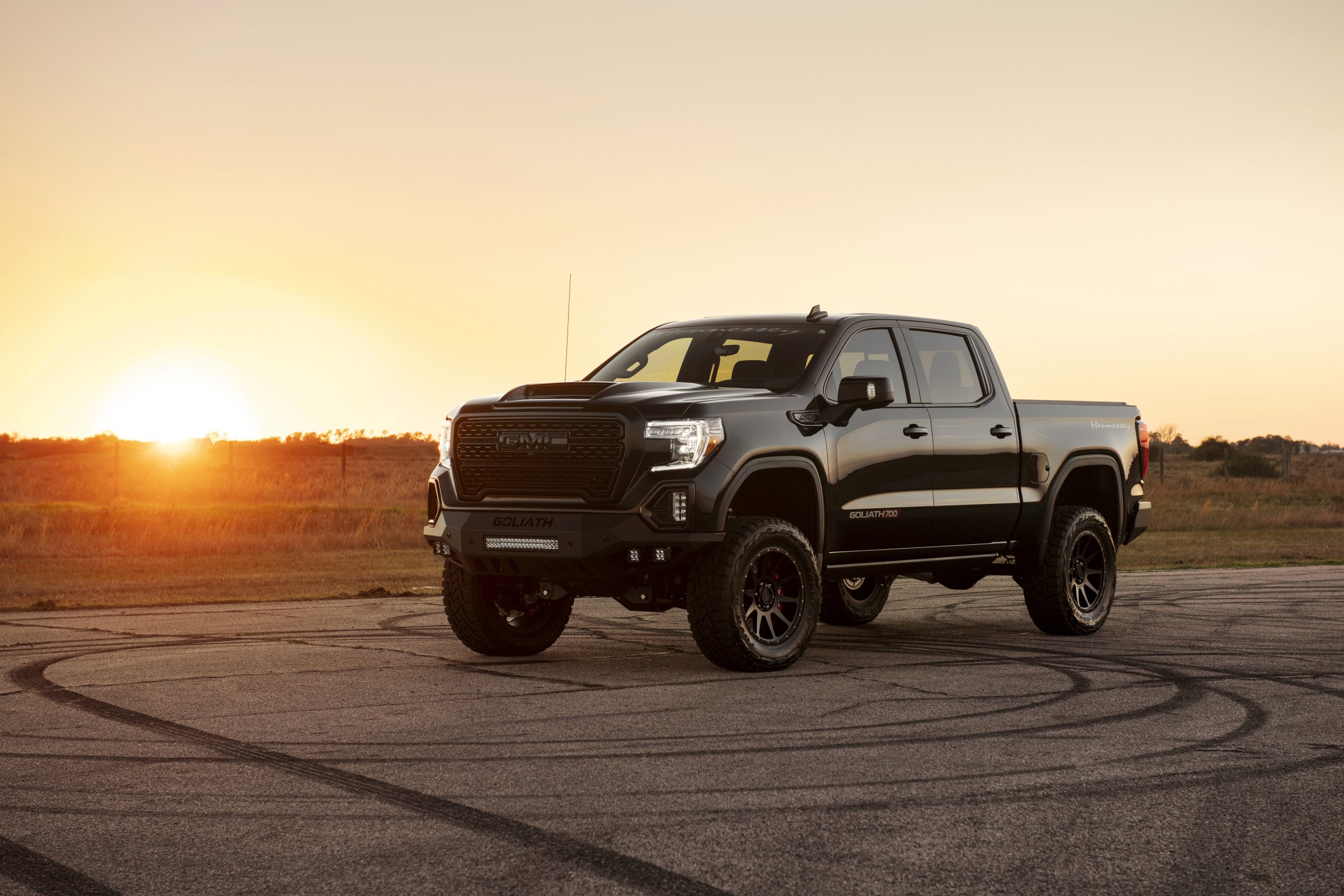 The Hennessey Performance Team (HPE) is kicking off production of its Goliath 700 GMC Sierra and Chevrolet Silverado trucks that will have the power and acceleration of a typical muscle car.
The GOLIATH 700 Supercharged upgrade, which is available for 2020 GMC Sierra & Chevrolet Silverado 6.2L V8-powered pick-up trucks, is now in full swing production. HPE is geared to produce a very limited 100 units per year.
The package takes the 420-hp, 6.2-liter V8 and ups the ante with a 2.9-liter supercharger producing six lbs. of boost, for a total of 700 hp. Further enhancements include upgraded camshaft, upgraded pushrods, professional installation and dyno tuning.
Rounding out the HPE Goliath 700 package is HPE's Stage-1 Off-Road package, complete with six-inch lift, custom 20-inch Hennessey wheels, 35-inch off-road tires, custom Hennessey front bumper with LED lighting and much more.
"The demand for upgrading luxury pickups is at an all-time high," said company founder John Hennessey. "A serious truck should have serious power and the GOLIATH 700 delivers on this mantra. We're offering a complete turnkey power package with warranty that delivers an exciting driving experience both on and off-road."
Other options include stainless steel exhaust system, drop-down side steps, a GOLIATH-branded interior and an electric retractable bed cover.
Click here for more information.
Goliath 700 Supercharged Specifications
2.9 Liter Supercharger System
High-Flow Intercooling System
High-Flow Air Induction System
Custom HPE Camshaft
Chromoly Hardened Pushrods
Crankcase Ventilation System
HPE Engine Management Calibration
All Necessary Gaskets, Fluids & Hardware
Professional Installation
Chassis Dyno Testing
Road Testing – Up To 200 Miles
Hennessey Exterior Rear Badge
Hennessey Embroidered Headrests
Goliath 700 Exterior Badging
Serial-Numbered Dash Plaque
Serial-Numbered Engine Plaque
Goliath Off-Road Stage 1 Specifications
Goliath Front Bumper
5 LED Lights in Front Bumper
20-inch Hennessey 10-Spoke Wheels
35-inch Toyo Off-Road Tires
6-inch Lift Kit (*depends on trim level)
Hennessey & Goliath Exterior Graphics
Optional Upgrades
Goliath Diamond Stitched Interior
Goliath Ram Air Hood Installed
Stainless Steel Cat-Back Exhaust Installed
Retractable Electronic Bed Cover
Upgraded Electronic Fold Out Steps