Features
Hennessey Introduces VelociRaptor 500 Ranger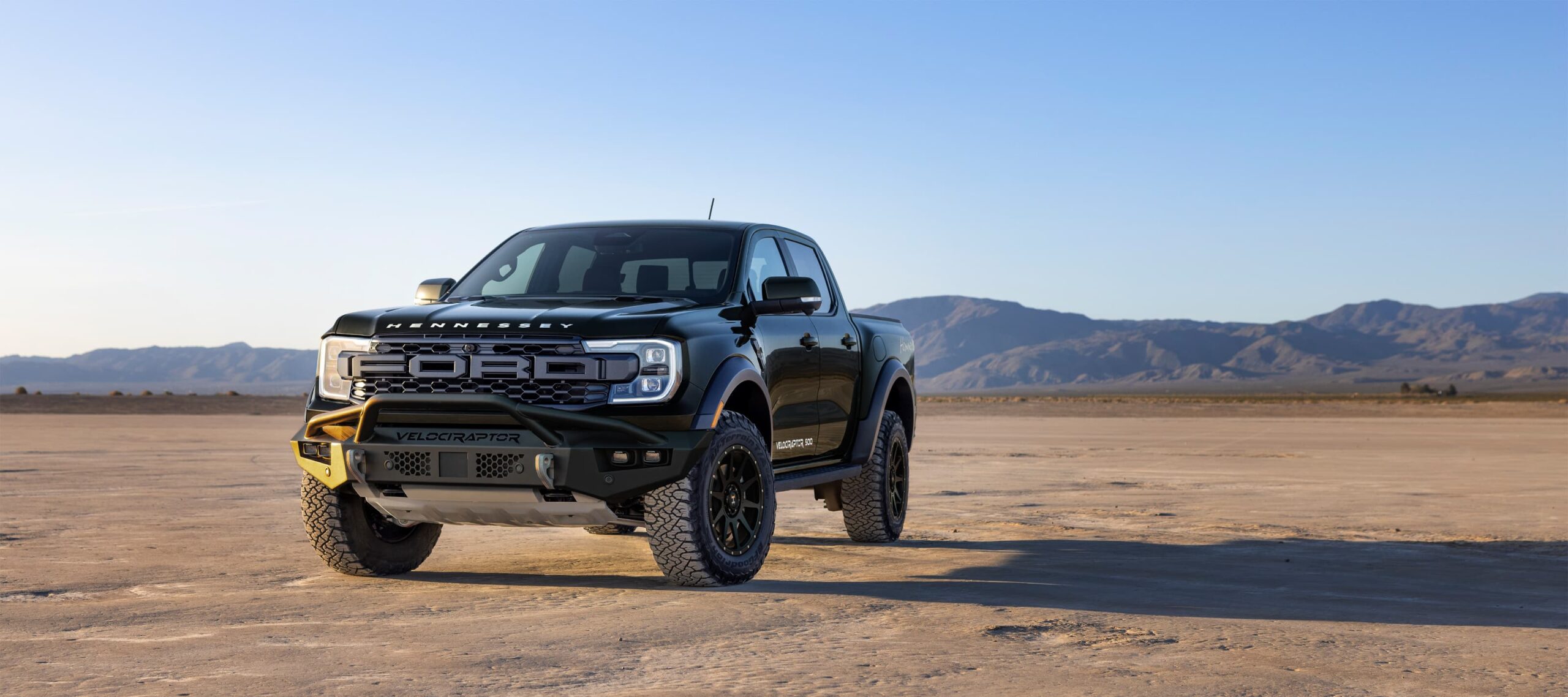 Hennessey has launched development and engineering for the 'VelociRaptor 500′ Ranger based on the all-new 2024 Ford Ranger Raptor, the Texas-based tuner announced.
The high-performance midsize pickup is based on the all-new 2024 Ford Ranger Raptor, to which Hennessey's engineers applied their extensive expertise to boost power and improve capability.
According to Ford, the Ranger Raptor's stock powerplant is rated at 405 hp and 430 lb.-ft. of torque. Thanks to a new high-flow air induction system, a larger front-mounted intercooler, and an engine management software upgrade, Hennessey's engineers boosted output to 500 hp and 550 lb.-ft. of torque, the company said.
As is the case with the Hennessey' VelociRaptor 500′ Bronco Raptor, the powerplant is mated to a 10-speed automatic transmission sending power to an all-wheel drive system that has locking front and rear differentials, and a low-range transmission for additional off-road capability. The extra horsepower will further improve the capabilities of the Ranger Raptor, which is fitted with an active exhaust system, Fox 2.5-inch' Live Valve' internal bypass shocks, and factory G.O.A.T driving modes: Normal, Eco, Sport, Slippery, Sand, Mud/Ruts, Rock Crawl, Baja, and Tow-Haul.
"The VelociRaptor 500 Ranger is an excellent choice for the pickup enthusiast who doesn't need the capacity of our full-size VelociRaptor 600 F-150. The midsize pickup is incredibly capable and very agile, [and] it's actually lighter than the Bronco SUV," said John Hennessey, company founder and CEO. "In addition, our 500-horsepower upgrade will noticeably improve low-end torque, and it's got a lot more power for those who like to really push their trucks in mud, sand, or on the open road."
The VelociRaptor 500 package features enhanced air induction, a high-capacity intercooler with a blow-off valve, and an upgraded engine management system. Hennessey will also upgrade the exterior with custom VelociRaptor bumpers, LED off-road lights, Hennessey 18-inch 10-spoke alloy wheels, 35-inch off-road tires, and 'VelociRaptor 500' badging. The interior features Hennessey's embroidered head restraints, all-weather floor mats, and a build number plaque.