Features
GM Leaks New Corvette for Charity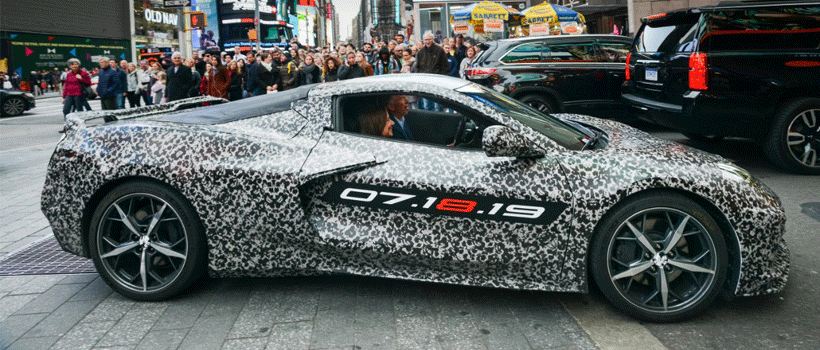 General Motors Chairman and CEO Mary Barra has been getting a lot of publicity lately. She was first in the news for reviving a plant and hiring workers to build a new Chevy electric car. But her latest media blast was a promotion in New York City during which she leaked a look at the all-new 2019 Corvette C8.
Barra was in the Big Apple to be honored at the Stephen Siller Tunnel to Towers Foundation's annual Footsteps to the Future Gala in New York. The Foundation is named for New York City firefighter Stephen Siller, who died during the 9/11 attacks. It builds mortgage-free, accessible smart homes for catastrophically injured service members and helps pay off mortgages for families of first responders killed in the line of duty.
Barra also announced that General Motors will auction the final seventh-generation Chevrolet Corvette this summer and give the proceeds to the Tunnel to Towers Foundation.
"GM, GMC and Chevrolet support the Stephen Siller Tunnel to Towers Foundation and its commitment to injured and fallen military members, first responders and their families," said Barra. "The sale of this iconic Corvette will help the foundation continue its good work, and pave the way for the Next Generation Corvette that we will introduce on July 18."
The final seventh generation Corvette, a black 2019 Z06 model, will be auctioned at the Barrett-Jackson Northeast sale in Connecticut on June 28. Registration information is available at barrett-jackson.com.
Every dollar of the winning bid will go to the foundation.
Frank Siller, chairman and CEO of the Foundation thanked GMC and Chevrolet for supporting the cause.
"This generous gift will help us provide more injured veterans with the independence they deserve," he said.
This year marks five years of GM backing for the Tunnel to Towers Foundation as its national foundation of choice. In that time, GM has helped the foundation raise more than $10 million. That includes $2.2 million raised last year, with $925,000 of it coming from the auction of the first production 2019 Corvette ZR1, purchased by Chevrolet dealer and NASCAR team owner Rick Hendrick at the 2018 Barrett-Jackson Scottsdale sale.
Other money has come from employee donations and events across the country such as 5K Tunnel to Towers races and other activities sponsored by GMC dealers. Barra said that GM is committed to helping those who have given so much for their country. GM's current and retired workforce includes 60,000 veterans.